Unique Blazer Project Using bernette Buttonhole Foot
This summer, I worked on a project for a client of mine creating a custom-made blazer. She wanted a blazer that had a longer body, with pockets, and overall a unique look. I found a beautiful mustard and navy brocade leopard print fabric that she loved instantly. I then used the pattern for guidance to create this blazer.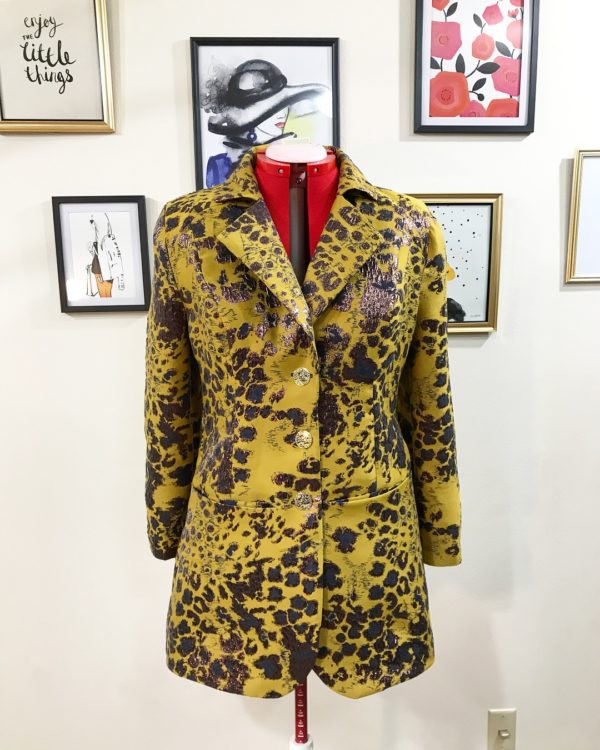 This was my first time sewing a blazer and I did run into many challenges. I am used to making formal dresses. Going from that type of sewing technique to a very complex structure form was a little confusing at times. The worst part of the project was that I completely sewed the shoulders pieces wrong, basically backward, without realizing and connected the sleeves. Obviously, after the first fitting, I noticed it was bulging weird and defiantly knew something was wrong but I didn't know what was wrong! I had to get more the one person to look at it to tell me what was wrong (because it was a fiasco if I am being honest). I thought I read the pattern right but I didn't connect the pattern dots right to place them in the right direction to the collar and sleeve. That was the biggest roadblock of the whole project. Everything went pretty smoothly after that.
The most fun part of the project creating the blazer was sewing the button holes for the unique buttons we picked out together. Using my bernette 38 sewing machine, it automatically sews the button holes for you. Using the buttonhole foot for my machine you place your button on the back of the foot and it then tells the machine how long and wide the slit should be for the button. How cool! Here are the four-step instructions from the My bernette website: "Buttonhole foot with slide for four-step buttonholes":
Mark the position and length of the buttonhole on the fabric.
Position the fabric underneath the foot and insert the needle at the start of the buttonhole.
Lower the foot, making sure that the slide is in the rearmost position (the two markings must meet).
Sew the buttonhole, selecting the next step of the buttonhole at the relevant markings.
Finally, the blazer was finished and turned out beautiful. Truly unique and professional at the same time. I am proud of figuring out this project and being able to deal with these challenges that came my way. No sewing project is ever easy and gets done as fast as you want it to. Accept the challenges and apply them to learning experiences of what could I have done better to prevent this and what will I do better next time? No one is perfect so no project will be perfect either. It's the flaws of the process that influence future projects and keep us striving for perfection.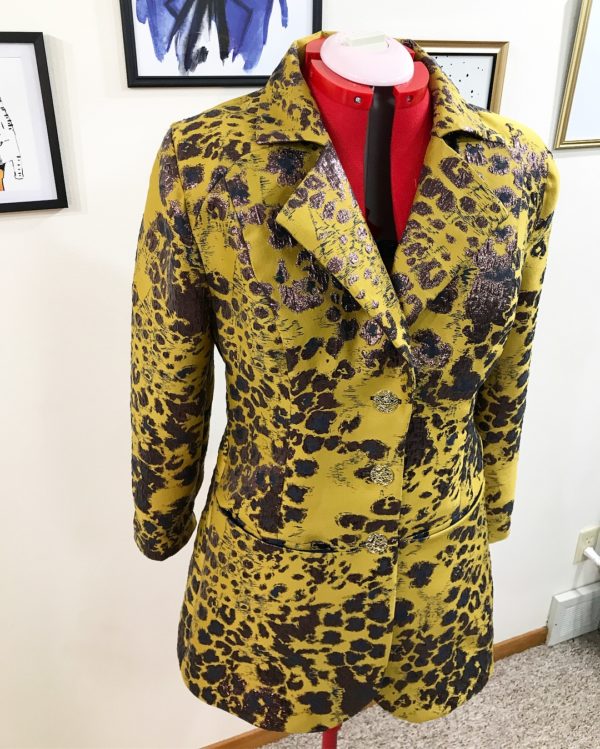 Difficulty level

Advanced

Time to Complete

A week or more

Projects

fashion, jacket

Techniques

sewing
Used Products
What you might also like
One comment on "Unique Blazer Project Using bernette Buttonhole Foot"