Five 2022 Fall Fashion Trends to Sew
If you're like me, once the calendar flips to September, I want all the fall things!  The pumpkins, the cozy sweaters, the pumpkin spice lattes.  Are you with me? Even though it will be some time before the cooler temps arrive where I live, I am eager to start sewing for fall.
Hello everyone!  It's Sharon with Sharon Sews with a few of this season's fashion trends that you can sew now as you transition from summer to fall.  You can connect with me on YouTube, Instagram and my blog, where I share sewing tips, projects, reviews, and fashion trend sewing ideas.
Here are five trends for Fall 2022, each with a pattern suggestion, that you can use to sew fall fashions for yourself.
White Tank Top
Let's start with a basic, classic white tank top. Yes, you read that correctly. Many fashion articles deemed the white tank top the "it" piece for fall 2022. One high-end brand is offering a white tank with a logo that retails for more than $1,000! Aren't you glad you sew?
If you think about it, a white tank top is actually quite a versatile, as well as transitional, piece. Pair it with jeans, a skirt, or wide-leg pants, and layer it under a cardigan or jacket as the weather turns colder.
By sewing one yourself you can get the fit and style you want. You can sew it with a high or low neckline, make it cropped or tunic length, and even choose the right shade of white that looks best on you.
Almost any knit fabric will work. I especially like a mid-weight cotton jersey, or a rayon jersey for a softer look.  Go ahead and splurge on a high-quality knit as you won't need much yardage.
The Lago Tank from Itch to Stitch, a free PDF pattern, is a traditional scoop neck tank top with neck and arm bands.  When I sew bands like these, I like to use my Edgestitch Foot #10D and my topstitching is perfection.
If you prefer a woven tank, Simplicity 9271 includes a tank top that can be sewn in a woven fabric, such as linen or cotton. It also has darts and a square neckline for a slightly different take on the trend.
Sweater Vest
The sweater vest seems to return to fashion every decade, and they are back again for fall 2022.  This is another great transitional piece, as it can be sleeveless or short-sleeved and can be worn alone, or over another top when the weather cools down.
Try layering it over a white button-down shirt or a close-fitting knit tee or turtleneck.  It's up to you if you want to sew this in a solid color, a stripe, or a colorful print.  You could sew multiple vests because it's such a quick sew!
Sew your sweater vest with or without contrasting bands in a cozy sweater knit, a rib knit, a cable knit, or even a Ponte knit.
The Keith Knit Vest Pattern from Style Arc patterns hits the oversized sweater vest trend perfectly!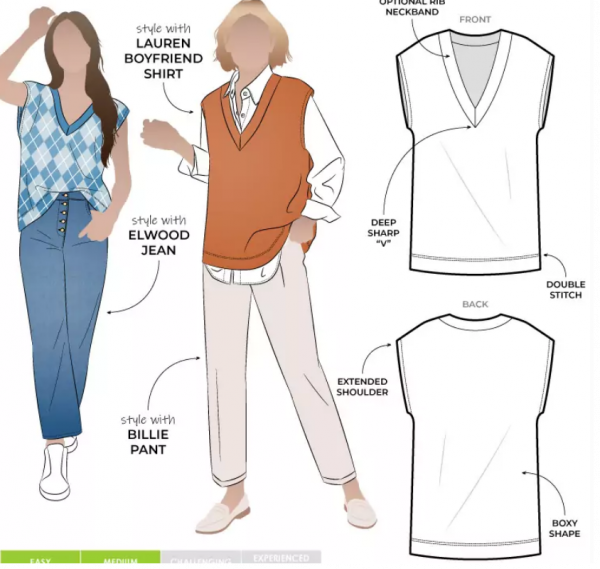 Simplicity 9374 is a pullover sweater vest with the hem gathered into a band and includes options to sew a button-front sweater vest.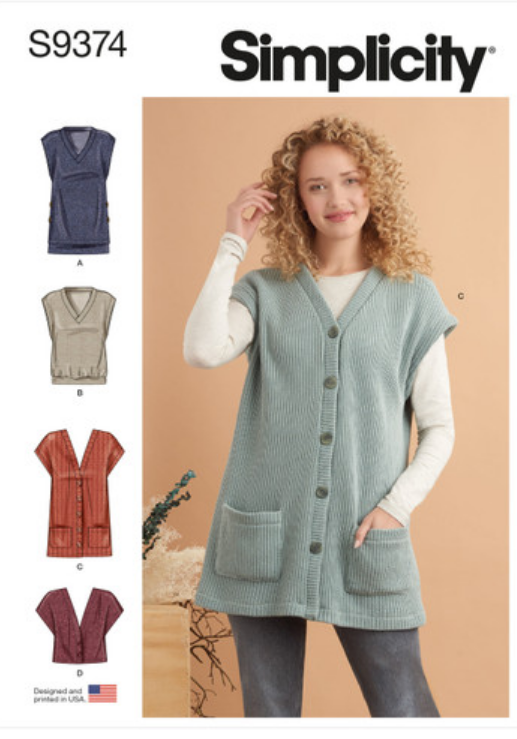 By the way, if you're hesitant about sewing knits, this blog post has some great tips for sewing knits without a serger.
Shacket
If you're not familiar with the term it is a combination of shirt and jacket. It is a layering piece that burst onto the fashion scene a few years ago and remains popular this season.  The easy oversized look can be worn with jeans, leggings, a jumpsuit or even a dress or skirt.
Almost any woven fabric will work, such as linen, corduroy, flannel, wool, and even fleece. I sewed one last year in a linen/rayon blend and it became my go-to jacket for the fall season!
Because shackets are usually unlined you'll want to finish your seams.  I like to use my Overcast Foot #2 to easily finish my seams. But why not go the extra mile and do a Hong Kong Seam Finish?! Follow this tutorial How to Sew a Bound Seam (Hong-Kong Seam Finish) for a beautiful look inside your shacket.
Simplicity 9388 is a unisex shacket pattern featuring two lengths, a button front, patch pockets and side seam pocket. You can never have too many pockets!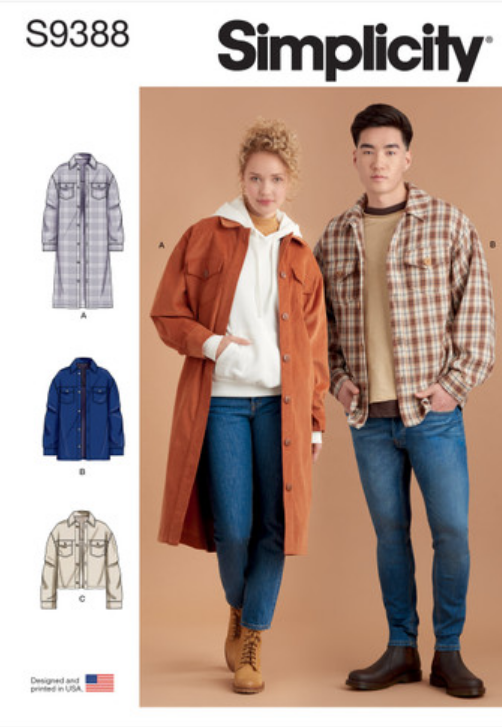 Another unisex shacket pattern is the West End Jacket from Peppermint Magazine. How fun would it be to use your scraps to sew a mini quilt to use as the patch pockets?!
This pattern will give you a chance to practice your topstitching (using the Edgestitch Foot #10, #10C or #10D of course!) as well as flat-felled seams. Make perfect flat-felled seams using the Lap Seam Foot #70 or #71.
Tailored Waistcoat
Waistcoats, and vests, are another must-have item for fall, at least based on how many can be found in the shops.  The one seen most often is a fitted v-neck with buttons down the front, with or without front pockets, in a woven fabric. As a transitional piece, you can wear it alone, over a t-shirt or button-down shirt, or under a blazer.
Sew one in a tropical wool plaid, linen, denim, or even quilting cotton. Now if you want to combine two fall trends, jump on the Barbiecore bandwagon and sew your vest in hot pink!
Since this is a trend that returns frequently, you may already have a favorite vest pattern on hand. If not, Jalie 3129 has a number of lined vest options. For this season's look sew the one without the peplum.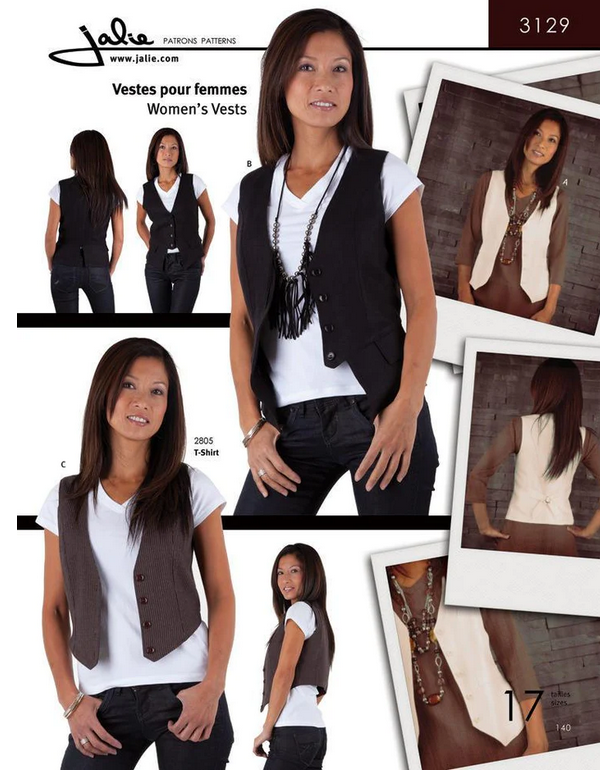 Butterick 6901 includes a fitted, lined vest as well as the pattern for the shorts and pants.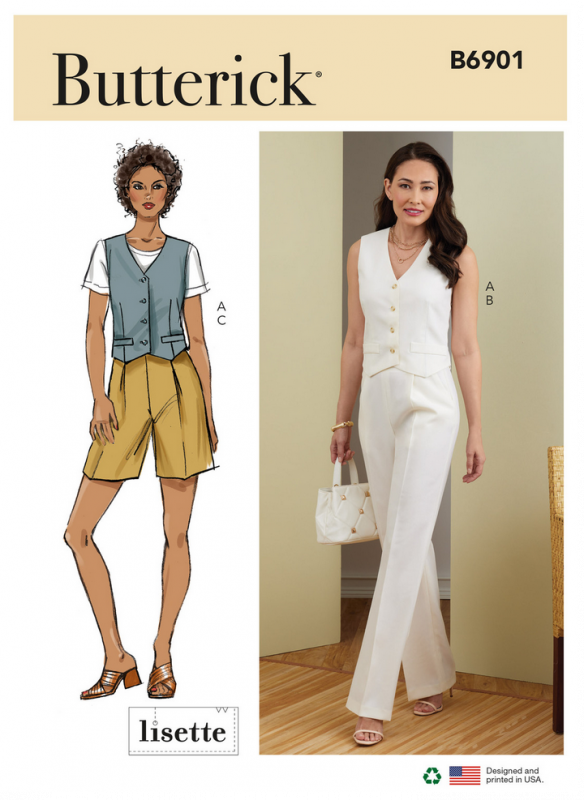 Use your specialty BERNINA Buttonhole Foot to sew stress-free buttonholes, and the Button Sew-on Foot #18 means no more sewing buttons by hand. That's a big "yay" in my sewing world!
Bomber Jacket
Whether it's a nod to the 90s or the renewed popularity of Maverick from the movie Top Gun, bomber jackets are back!
Any light to medium weight woven fabric will work when sewing a bomber jacket. But think beyond cotton and denim.  Designers showed bomber jackets in wool plaid, embellished silk, color-blocked velvet, and faux leather.  If you sew a velvet or leather one, use a BERNINA foot designed for those fabrics.
The Zigzag Foot with Non-Stick Sole #52/52C/52D is good for sewing on faux leather, as well as velvet. In addition, Roller Foot #51, has rollers on the bottom to move easily over fabric, like velvet.
Because bomber jackets were quite popular in 2016, you may have a sewing pattern already that you can use.
I like the unique look of  The Sewing Workshop Charlie Bomber Jacket with its quilted body and contrast collar and yoke.  Use the BERNINA Seam Guide to keep the spacing of your stitches perfectly parallel.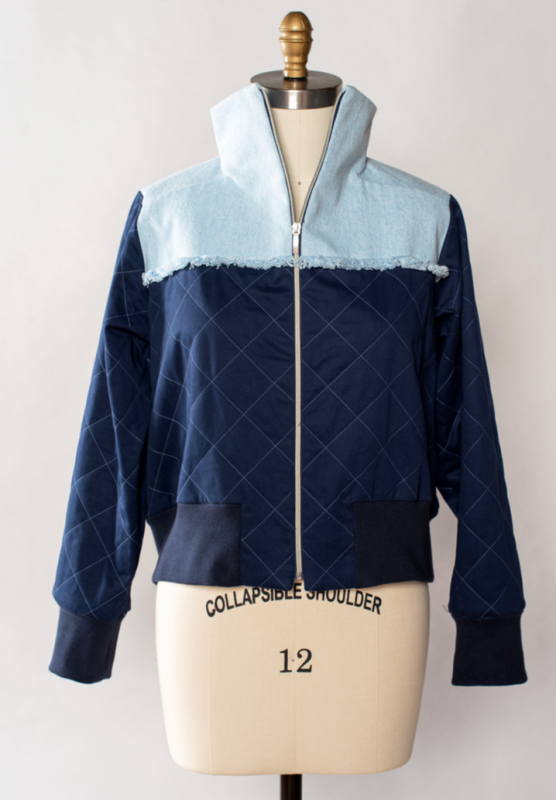 Simplicity 8418 is a classic bomber jacket that allows you to personalize it by adding embellishments. Use your favorite embroidery design to customize the back like the sample on the pattern cover.
Dopamine Dressing
This is a bonus trend! About a year ago reports began circulating about dopamine dressing and that it would be a 2022 trend. It's a fancy phrase that simply means dressing in a way that makes you happy, and boosts your mood. Choose colors and fabrics you like, as well as outfits you like.  How many times have you put on a favorite outfit and it instantly boosted your mood? That's what this trend is about.
If you enjoy fashion trends with pattern suggestions, consider watching my Sew the Trends videos on my YouTube.
Now, I have to head to my sewing room where my BERNINA 770 QE PLUS is eagerly awaiting me to begin sewing my fall bomber jacket.
What are you sewing for fall? Happy Sewing!
Seasons

fall

Techniques

garment sewing
What you might also like
One comment on "Five 2022 Fall Fashion Trends to Sew"