Five Fashion Trends for Spring 2023
By the time spring rolls around I'm eager to ditch the bulky sweaters, sweatshirts, and winter coats.  Give me lots of sunshine and milder temperatures so I can show off my new spring makes.
Hello everyone! It's Sharon from Sharon Sews and I have a few wearable trends for you to sew for the spring season. You can connect with me on YouTube, Instagram and my blog, where I share sewing tips, projects, reviews, and fashion sewing ideas.
There were many trends to choose from, and I narrowed them down to five. You can reference them as you begin to sew your spring fashions. Remember, trends are just suggestions, not something you have to sew and wear. You may already have some of them in your closet. If not, sew one or two to compliment your own personal style.
A Classic White Shirt
We often think of sewing tailored pieces when we plan our fall or winter wardrobes. But this year tailored pieces, such as blazers, button up shirts, and trousers, are trending for spring.
You can't go wrong sewing a crisp, white button up shirt to add to your wardrobe.  It will become a go-to piece as you can pair it with trousers, skirts, tailored shorts, or even wear it open as a lightweight jacket.  If white is not your color, choose another solid color such as cream, navy, or black. By choosing a color that works with what you already own, you increase the wearability of the shirt.
Simplicity 9707 is a classic button up shirt suitable for woven fabrics. The shirt has a relaxed fit with classic features including a back yoke. Use your embroidery machine, or decorative stitches on your sewing machine, to add an embellishment to the back yoke for an unexpected surprise.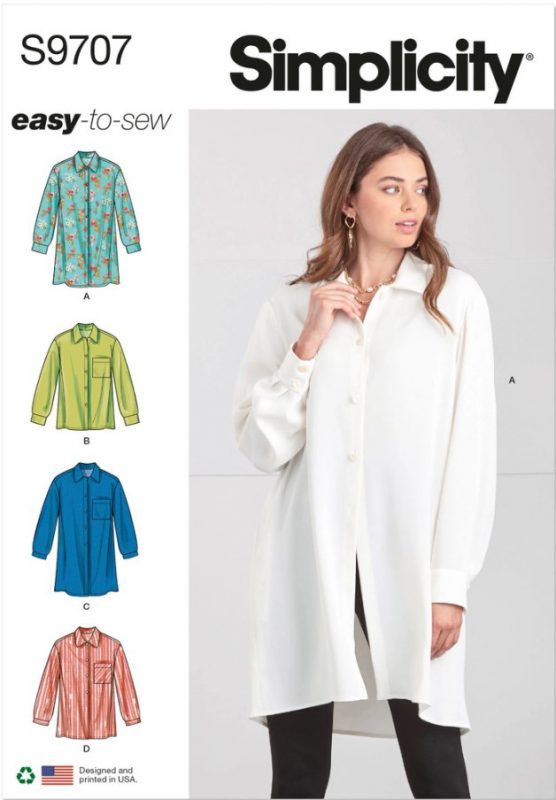 If you have a larger bust and find button up shirts gape in the front, try sewing the Cashmerette Vernon Shirt.  It's designed for cup sizes C-H, eliminating the need to do a full bust adjustment on the pattern.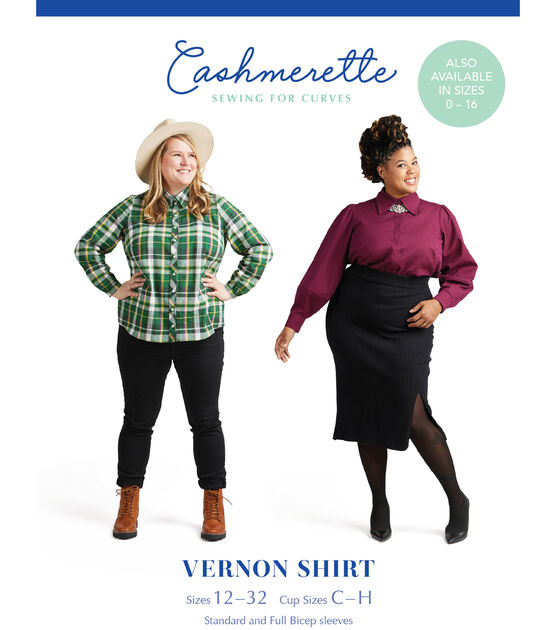 I used to cross my fingers every time I sewed a buttonhole on a button up shirt, hoping they would all be perfect. But now I never have to worry about that as my BERNINA 770QE PLUS makes the best buttonholes! I use the Buttonhole Foot #3A for perfectly identical buttonholes
Need some tips on sewing buttonholes? We got you covered. Check out this blog post, How to Create Buttonholes Three Ways.
Sheer Fabrics
Okay, stick with me here. While the runways showed entire garments out of sheer fabrics, many of us aren't eager to have our undergarments on display.  However, there are ways you can incorporate sheer fabrics into your wardrobe.
Sew a duster using a pattern that has minimal seams, and no zipper or button closures, such as Butterick 6802.  If you don't like the hi-lo hem, well, you sew! That means you are the designer and can make any change you want.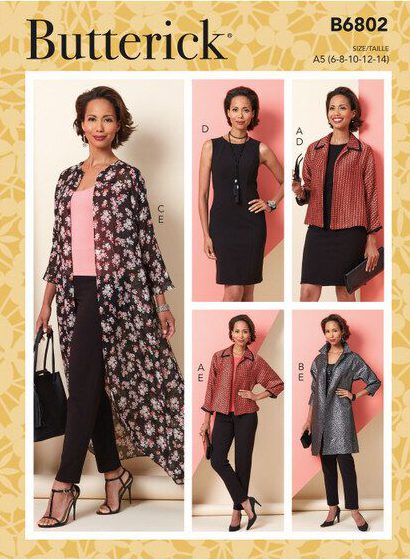 If you want to go bolder, sew McCall's 8110, a loose-fitting, tiered dress that can be sewn out of sheer fabrics. Layer it over a cami and leggings, or a tee and jeans. You could even use it as a beach coverup.
Another option is to include sheer fabric in only a portion of a garment.  Sew the sleeves or yoke of a top in sheer fabric, or add a band of sheer fabric to the bottom of a skirt or dress.
When sewing lightweight fabrics, including sheers, changing the stitch plate to the straight and cutwork stitch plate will help keep the fabrics from being 'eaten up' by the machine.  Learn more about different stitch plates in this blog post.
Another tip is to sew a French seam for a professional finish. If you've never tried this before, rest assured it's an easy technique to do. We even have a French Seam tutorial for you.
Maxi Skirts
Micro-mini skirts had a moment last season, but this spring we're back to the maxi length. I, for one, am happy about the return of the maxi skirt as I find it both practical and versatile. A variety of maxi skirt styles are popping up in retail shops, including the column maxi skirt which is a nod to the current 90s fashion inspiration. Since they have a straight up and down shape they are easy to sew and can be sewn in a wide range of fabrics.
Sew the column style skirt from New Look 6741.  The multiple seams provide a lot of opportunity to fine-tune the fit, and it can be sewn in a wide variety of woven fabrics. You could pair this with a button up shirt for a truly classic 90s look.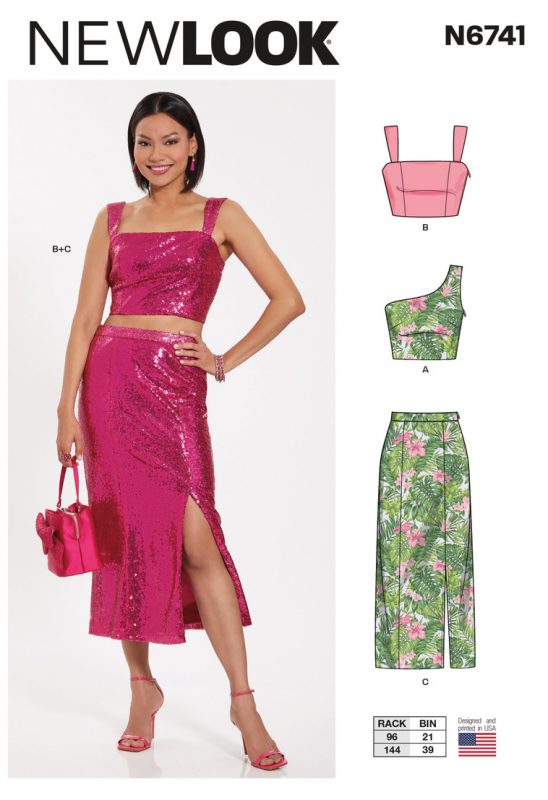 If you prefer a fuller maxi skirt, take inspiration from multiple designers and sew a multi-tiered maxi skirt.  Follow my We All Sew tutorial and sew a five-tiered maxi skirt in a beautiful floral print or one solid color. Choose soft fabrics such as rayon challis, lightweight cottons, lawn, crepe de chine, or silk.
Head-to-Toe Denim
Another throwback to 90s fashion is the head-to-toe denim trend.  This season you can pair a denim jacket with jeans, or a maxi-length jean skirt. You can wear a denim jumpsuit, shirt dress, or button-up shirt. If you sew a pair of jeans choose a pattern with a wider leg, such as the Peppermint magazine wide-leg jean pattern. Wider leg not your style? That's okay! Trends are just suggestions and you get to wear whatever you like best.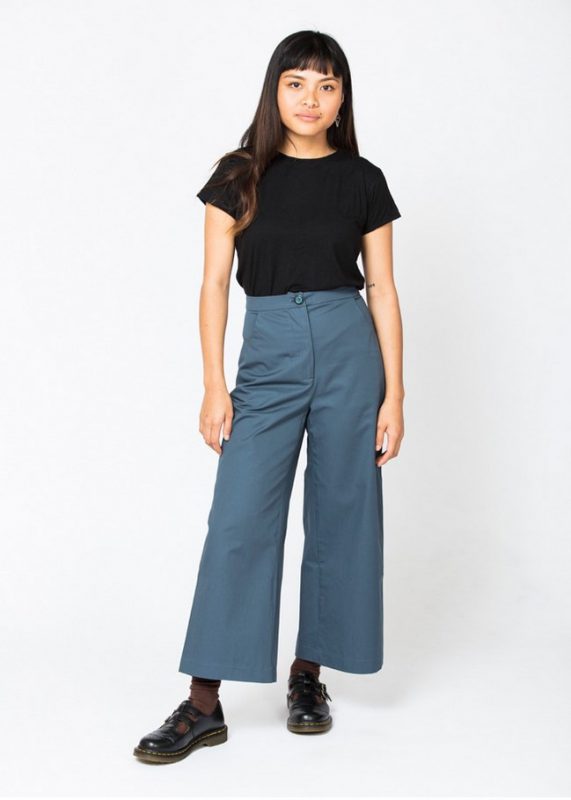 The Zadie jumpsuit has been a popular pattern in the online sewing community. Sew it in a light weight denim and dress it up or down depending on how you accessorize. Wear trainers and carry a large tote for a trip to the farmers market.  Put on a strappy heel and a beautiful necklace and your ready for a lunch date with your girlfriends.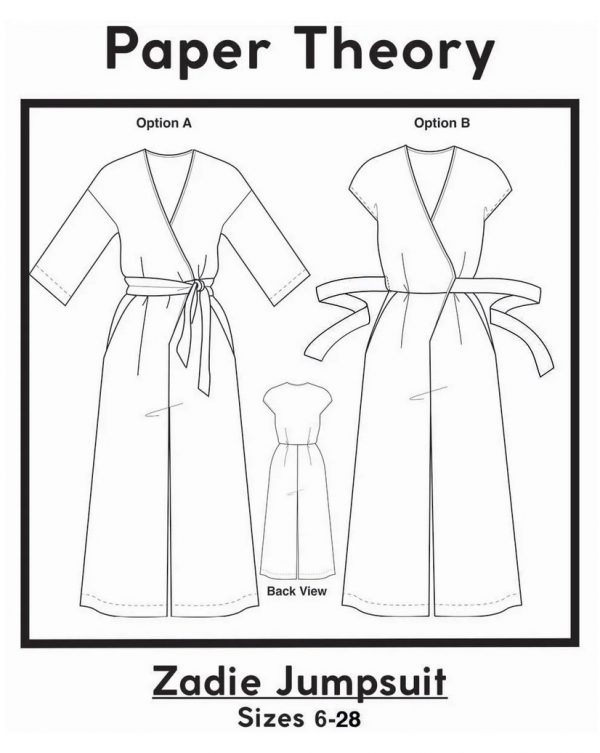 If sewing a jean jacket has been on your to-sew list, this is your season! The Atenas Jacket from Itch to Stitch is a classic denim jacket that includes multiple cup sizes.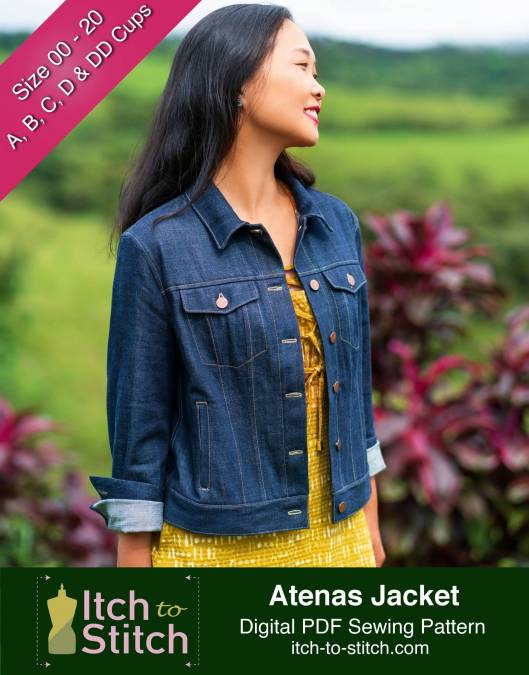 Be sure to use the Jeans Foot #8 as this foot is designed for sewing straight-stitched seams in heavy fabrics, including denim. Check out this blog post for tips on sewing with denim.
Ruffles and Flounces
Is it really be spring without ruffles? They are almost synonymous with spring and summer and this year is no different. The runways were filled with skirts, tops and dresses adorned with ruffles, both big and small.
If you're not sure whether or not ruffles are for you, start out by choosing a pattern that includes a small ruffle. I like the Style Arc Selina Top as the ruffle is barely there, yet adds a great little detail to the top. Choose a soft and drapey fabric, like a rayon challis or silk. Or go bold! Sew it in a sheer fabric and wear it layered over a cami.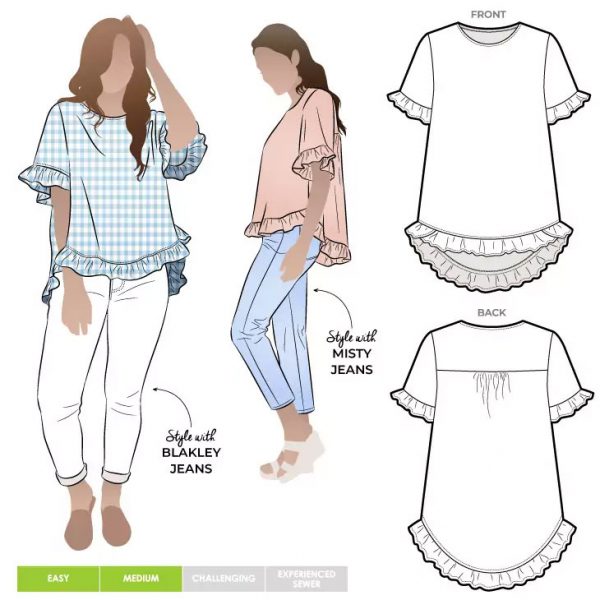 Sew a dress with a ruffle hem detail, such as New Look 6692, which can be sewn in a wide variety of fabrics including cottons, crepe, and rayon.  The princess seaming and square neckline are flattering on many, and the shirred elastic in the back helps with fitting.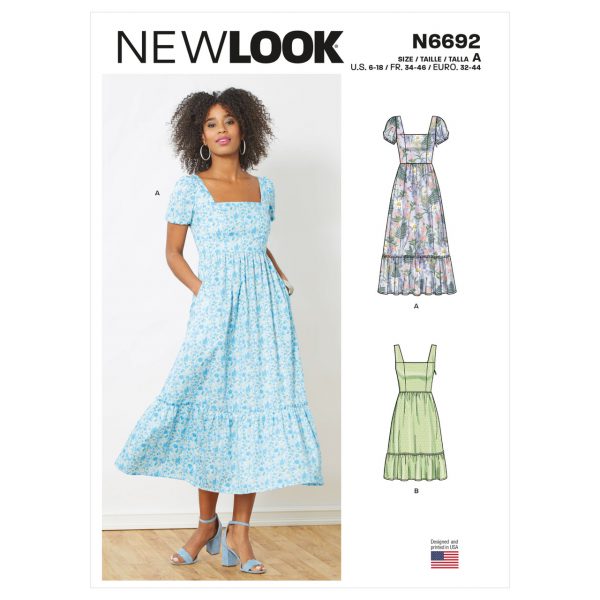 Now, if you really want to make a statement with your ruffles, sew the ME2022 KnowMe skirt pattern. I would pair it with a close-fitting tee and let the skirt be the focal point. By the way, as I was researching trends, I came across a similar skirt in an online boutique selling for hundreds of dollars. Aren't you glad you know how to sew?
Spring 2023 Colors
Spring always brings lighter and brighter shades of colors to our wardrobes.  This year you'll see more cobalt blue, tropical greens, saffron (an orange/red), and pink, in addition to the Pantone Color of the year, Viva Magenta. You'll also see metallic and sequin fabrics, something that is usually reserved for the holiday season.
If you enjoy fashion trends with pattern suggestions, consider watching my Sew the Trends videos on my YouTube.
What trend are you most excited to sew this spring? Happy Sewing!
Seasons

Spring, Summer

Techniques

sewing
What you might also like