Another Oscars Here and Gone
It's typical for the Oscar's that the evening's fashion celebrates the era of one of the best pictures. So it should come to no surprise that much of the night's fashion gives a shout out to the 70's, a la American Hustle, with a lot of plunging necklines, pastels, metallics accessorized with nude lips. Another trend seen on the red carpet at the 86th Academy Awards was black—apparently actresses (or is it actors?) are told that black does not transfer well on the red carpet. Well, I have to disagree!.
photo credits: Getty Images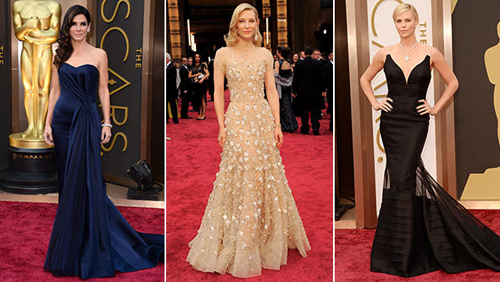 So here go my top four favs:
Cate Blanchett: Continually one of my best-dressed actresses; she manages to push to boundaries in all that she wears, teetering on the edge of going too far, but she never does. Last night was no exception. Taking the lead with the illusion trend, Cate sports a Giorgio Armani dress adorned with crystals and silver appliqué. The fit is a simple: high neck line, cap sleeves, form-fitting until it hits the knee then slowly flaring out. What I liked about it so much is that I've NEVER seen it done before. Bravo Ms. Blanchett.
Amy Adams in a strapless sapphire blue gown, which is THE color this spring, made by Gucci. It's architectural details like the modern petite-peplum and fold-over neckline. With her upswept hair and the red tear-drop earrings; simply amazing. Really goes to show that less is more.
Charlize Theron: OK, is it really the dress or is it Charlize? This woman could make burlap sack look good. Regardless, stunning as usual, was Charlize in her black Dior gown with the plunging neckline and illusion shoulder straps. A "simple" accessory being the $15 million "Y" shaped accent necklace. Her sleek blonde bob really brings this look to the 21st century.
Jennifer Lawrence: Hollywood's newest It girl continues to take tinsel town by storm with one epic fall after the next. Wearing a red strapless Christian Dior Couture gown—*gasp* another color an actress is not supposed to wear on the red carpet. I thought it looked very classy with its, well, classic peplum shape adorned with a reversed-fall diamond statement necklace. Also, another short pixie do modernizing the look.
And it is with a heavy heart that I announce my least favorite:
As beautiful as she is, I was not a fan of Lupita Nyong'o's pastel blue custom-made Prada gown. I really wanted to like it … I liked the color, I liked the pleats and I liked the fabric; but as a whole, I didn't like the ensemble. Maybe it was the headband? No, I know it was the headband. Goes to show that one simple accessory can throw off an entire look. Someone didn't heed Coco Chanel's advice, "look in the mirror before you head out the door and take one accessory off." And I soooo much loved her Ralph Lauren dress at the 2014 Golden Globes. Oh well, no doubt you'll see Lupita again on the red carpet.
I know this is very subjective, so if anyone has any other thoughts, please feel free to leave a comment.
What you might also like