Textile Flowers Plus Free Fabric Flower Give-away
Paula Nadelstern, a lifelong New Yorker, introduces you to one of her favorite stops in the New York Garment District, a genuine textile lover's shopping mecca.
I fell in love the first time I walked through the door of M&S Schmalberg, the single remaining custom, handmade fabric flower manufacturer in the New York City Garment District.  It's my kind of place: colors, textures and creative process everywhere plus a historic backstory of kindness and survival.
Family owned for four generations, the business will celebrate its 100th anniversary in February, 2016. Brothers Morris and Sam opened a storefront at a time when every woman wore a hat and every hat wore a fabric flower. In the 1920s they were competing with twenty similar businesses in the neighborhood; by the 60's and 70's this number was down to ten. Like many others that defined the "garmento" trade in its heyday, these jobs have moved overseas.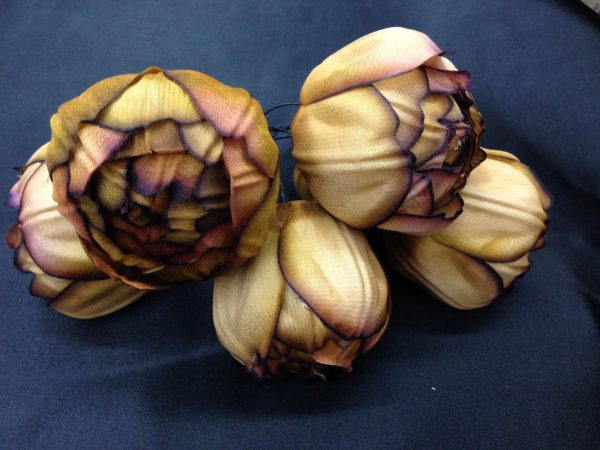 The current owners are Warren and Debra Brand; Warren's son, Adam, helps run the business. During World War II, Warren and Debra's father, Harold, miraculously survived Birkenau, a concentration camp in contemporary Poland, but lost his entire family in the holocaust. After the chaotic forced march from the camp prior to its liberation by the Allies, Harold had a chance meeting with an American soldier who offered to contact Harold's NYC cousins. They arranged for him to immigrate to the US and live with them in Forest Hills, Queens. Harold worked in their fabric flower business, taking it over when Morris and Sam retired and passing it on to his children.

Reds and greens and blues. Oh my. Yellows, oranges, magentas, purples, plaids, black and white. Silk, suede, leather, velvet, burlap, sheers like organza. Whimsical, life-like, elegant, delicate and everlasting. It's deliciously mind boggling.

Warren, the consummate tour guide, enjoys revealing how his flowers grow, leading you deep into a maze of industrial shelving housing boxes of flowers for instant purchase and rows of last century's 'dies' imported from Europe. Also known as molds, these are used like cookie cutters to form the perfect flower. By combining multiple layers of petals and embellishments, the possibilities are infinite. A mold can cut as many as twenty layers of organza, six layers of lace or four layers of leathers at once.
Warren drops factual gems like bread crumbs, peeling layers of the process for an insider view. Immersing the fabric into a mix of hot water and starch is the first step. Next, the fabric is stretched out on frames. Once dry, the fabric is layered and die-cut into petal shapes. Often a pneumatic press equipped with molds marks veins replicating a real leaf or forms delicate rippled edges suggesting an orchid. Alcohol based dyes are used on premises for hand dyeing because it dries fast and doesn't wilt the flowers.
The nine employees embed quality workmanship into every flower. At the last work station, the petals are stacked and glued together. An intricate embellishment, for example a combination of pearls or crystals, may be added before the finished blossoms are hung on a wire to dry.
If you need flowers for a wedding dress or a quilt project, one flower or a wheelbarrow, these are your Flower People. For one hundred years, they've practiced making flowers for clients like Vera Wang, Manolo Blahnik, Kate Spade, Disney and Broadway shows. They are responsible for Carrie Sex-In-the-City Bradshaw's oversized signature pin and iconic Marchesa gowns like Ann Hathaway's 2008 Oscar dress. Now they are finally ready for you. You can send your own choice of fabric. Call, go online, or plan a visit next time you are in NYC.
M&S Schmalberg Custom Fabric Flowers
242 W 36th St. 7th Fl. • New York, NY 10018 • 212-244-2090
Contact Adam or Warren Schmalberg at customfabricflowers@verizon.net or visit their website.
For a complete Guide to the Garment District visit http://paulanadelstern.com/guide.php
M&S Schmalberg's Gift For You
Debra and Warren offer two of their beautifully handmade fabric flowers to one awesome WeAllSew reader. The lucky winner can choose a color and Warren will pick two flowers from his vast fabric garden in that color.
All you have to do is post a comment below answering the following question:
Where would you decorate with your custom made fabric flowers?
A winner will be chosen at random on February 29, 2016 and announced later that week!
Good luck!
Congratulations "gympygirl", the winner of the two textile flowers.
Techniques

crafts, sewing
What you might also like
76 comments on "Textile Flowers Plus Free Fabric Flower Give-away"