Join WeAllSew for Amanda Murphy's Modern Holiday Blog Tour and Book Give-Away!
Welcome to Day 6 of Amanda Murphy's Modern Holiday blog tour! We're thrilled to have Amanda as a BERNINA Sewing Celebrity and delighted to be part of her Modern Holiday blog tour and book give-away!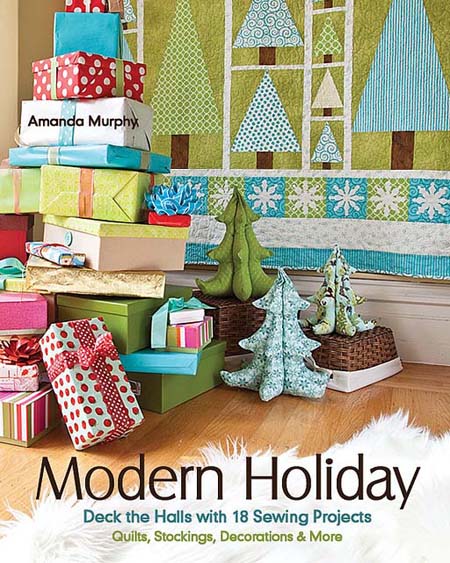 We adore Amanda's quilts, fabrics, embroidery designs, and everything else about her. How does she do it all? We're just happy she does, and that she shares her fabulous creations with us. Her Medallion Pillow graced the cover of January 2013's Through the Needle ONLINE, BERNINA of America's free online magazine…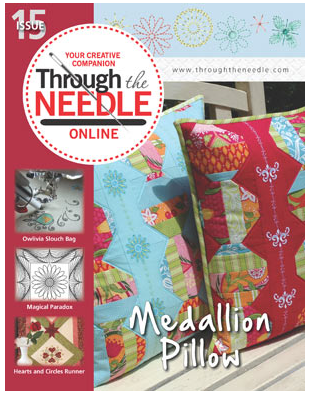 …and she has another coming up in Issue 19, September 2013. Here's a sneak peek: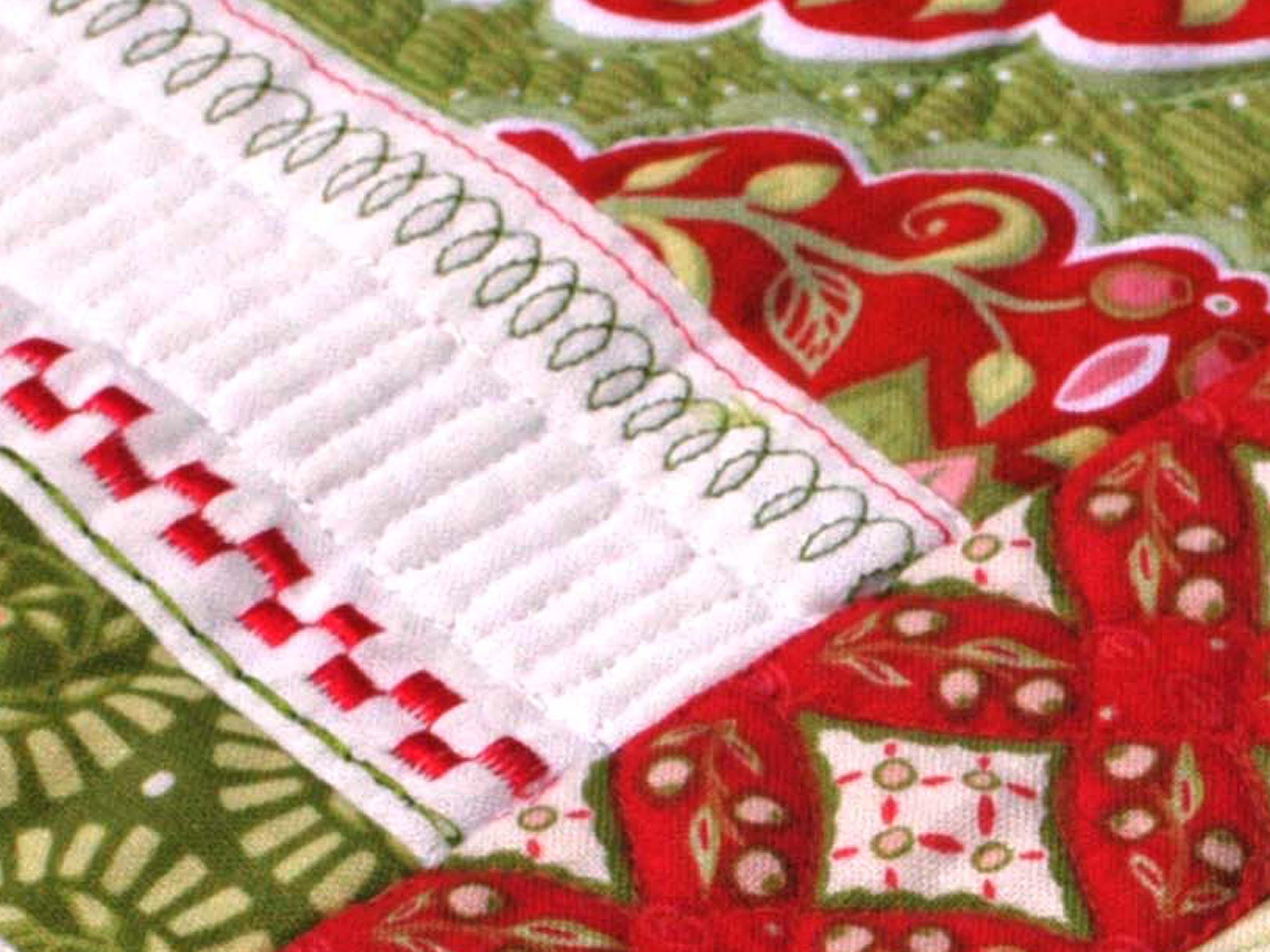 Don't you just adore the fabrics? They're from her festive Holiday Bouquet collection. That's all I'm going to say about it; you'll have to wait until September to see more. On to Modern Holiday…
For me, the holiday season starts with the first snowfall, and I find it hard to get in the holiday spirit without it. Growing up in the Catskill Mountains of upstate New York, there was never any shortage of snow for the holidays, from Halloween till my birthday in February. This is me staying warm in a sweet little vintage coat. (It wasn't vintage at the time.)

And we usually have a fair amount snow here in the Blue Ridge Mountains of western NC.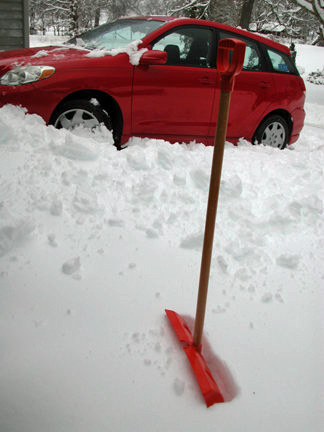 But… we haven't had snow in two years! So you can understand why, after two highly unusual snow-less winters here in NC, it's been a while since I really got into the holiday spirit before the holidays actually arrived.
2013 will be different 🙂 Amanda's new book, Modern Holiday, has provided a "Christmas in July" jolt of pre-holiday excitement for me. I saw some of her samples last month and absolutely fell in love with her Snowflake Pillow. Good thing it was tied down, as I was tempted to take it home with me! (Sorry for the fuzzy photo; it's cropped from one I took with my iPod.)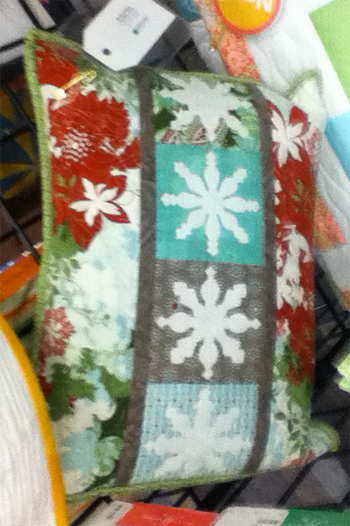 If you're a regular reader of BERNINA's Through the Needle ONLINE magazine, you've seen bits and pieces of my home – a sweet little 1925 cottage in the woods – where I do some of the photography for the magazine and WeAllSew. This photo of Lisa Klingbeil's Quilted Holiday Stocking includes some of my favorite decorations – snowflakes crocheted by my late Aunt Thelma – hanging from the mantle of my stone fireplace.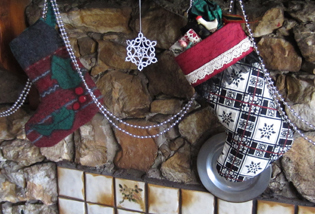 And in Tuesday's post you saw my Scrappy Plaid Quilt (and my mountain-bred Plott hound), so you know how happily Amanda's Snowflake pillows will fit into my rustic retro décor. Those leftover plaid shirt pieces are perfect for the patchwork.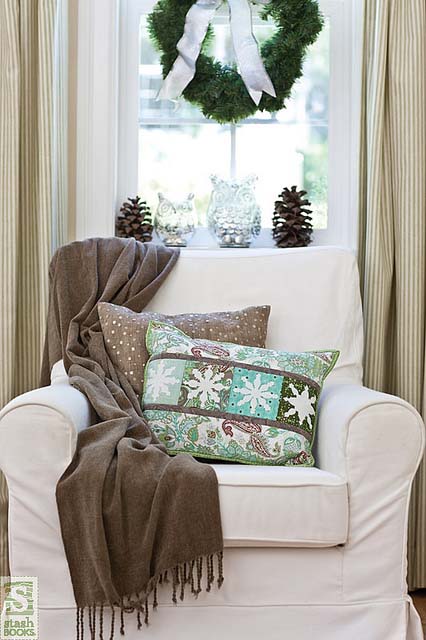 The filigreed snowflakes appear again in the peaceful Holiday Forest quilt…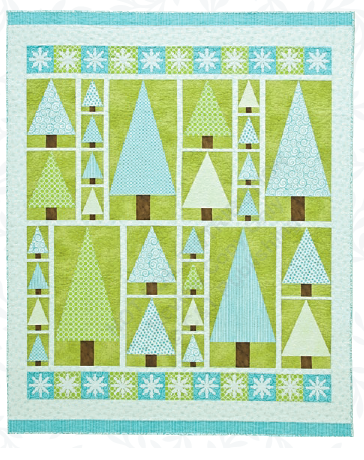 … and Snowflake Coasters.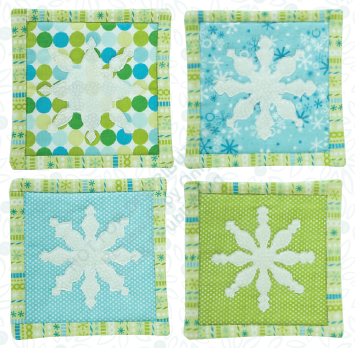 Another favorite is Amanda's Snowfall Quilt, which evokes memories of wintry schooldays spent staring out at the snow, wondering if we'd get to go home early. A warm and cozy way to ensure we'll have a  "blanket of snow" for the holidays, regardless of whether the weather cooperates!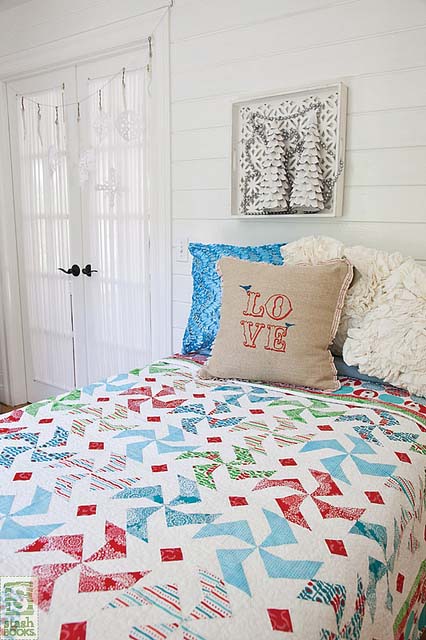 Modern Holiday is also full of projects featuring trees, ornaments, and stockings as well as fun 3-D techniques and embellishments.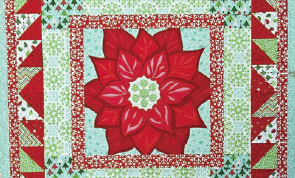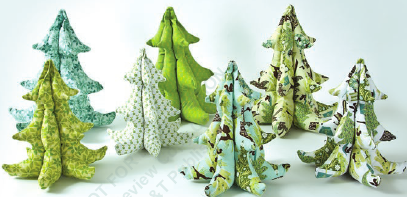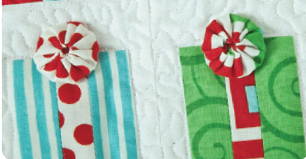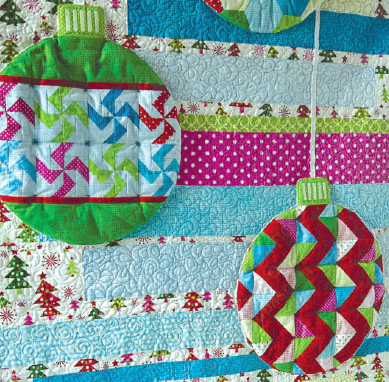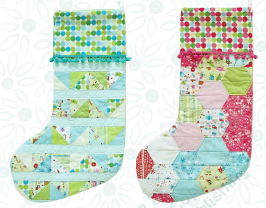 How can you get a your very own copy of Modern Holiday? Visit your local quilt shop, bookstore, or online bookseller, or… be one of the lucky winners of Amanda's Modern Holiday Give-Away (hard copy for U.S.A winners; e-book for international winners). To enter for a chance to win, leave a comment below about your favorite snow-related memory or project. Not only will you be entered in our contest; you'll also help keep me in the holiday spirit! A winner will be selected on 7/24/13.
Let it Snow, Let it Snow, Let it Snow! Jo
Be sure to check out the other stops on the Modern Holiday Blog Tour for more stories and more chances to win!
Mon 7/8/13 – Stash Books and Amanda Murphy Designs
Tue 7/9/13 – Sew We Quilt
Wed 7/10/13 – Sew Sweetness
Thurs 7/11/13 – Me and My Sister Design
Fri  7/12/13 Fat Quarterly
Mon 7/15/13 BERNINA/WeAllSew (that's us!)
Tues 7/16/13 – Cherry Blossoms Quilting Studio
Wed 7/17/13 – Diary of a Quilter
Thurs 7/18/13 – Ellison Lane Quilts
Fri 7/19/13 – A Quilting Life
Mon 7/22/13 – Aurifil Threads
Tues 7/23/13 – Laurie Wisbrun/The Scarlet Fig
Wed 7/24/13 – Amanda Murphy Design
Seasons

Winter

Techniques

quilting
What you might also like
69 comments on "Join WeAllSew for Amanda Murphy's Modern Holiday Blog Tour and Book Give-Away!"