Arrow Baby Quilt with HST's Plus a Giveaway!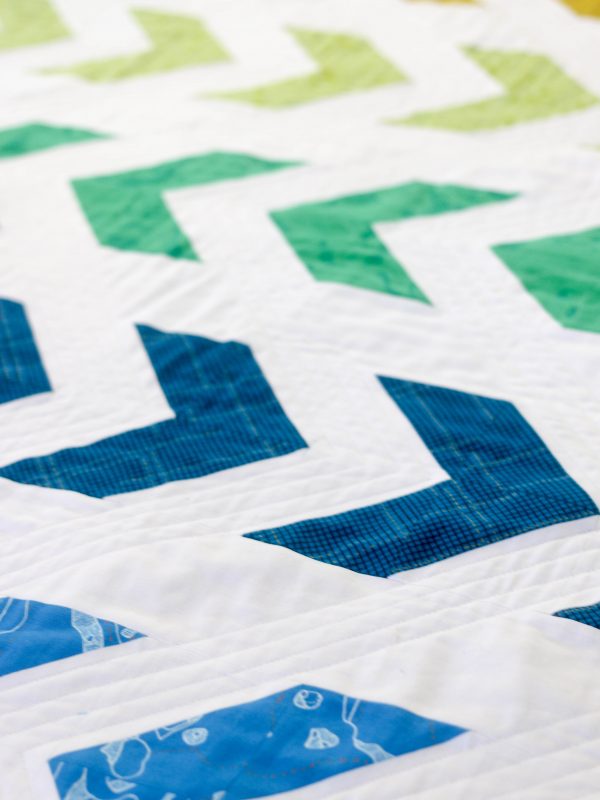 Half-square triangles are the bread-and-butter of the quilting world: You can't make much without them! But yet, they are a finicky unit to make, and a little inaccuracy in your finished HSTs can put you in a world of hurt. Here are two different half-square triangle tutorials that appeared on We All Sew a while back, this Half Square Triangles tutorial and this Half Square Triangle Piecing Tip. As you can see, there are nearly as many ways to make HSTs as there are HST designs—but most of them involve marking diagonal lines onto the backs of squares and/or squaring up the finished unit. A time-consuming necessity, right?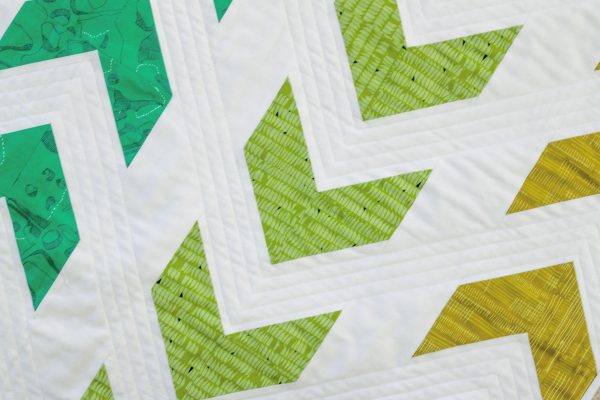 Maybe not! If you've ever used HST papers, you know that they can cut down on the time it takes to make these units. And I recently released a new product that brings HST papers into the digital age: It's called Perfect HSTs. These templates will allow you to make HSTs without marking the backs of fabric or trimming them later, speeding up the process considerably! (My PDF includes templates for 10 different sizes of HSTs, plus all the fabric requirements and cutting instructions for various quantities, so I've done all the math for you! You can purchase and download the templates by clicking here.)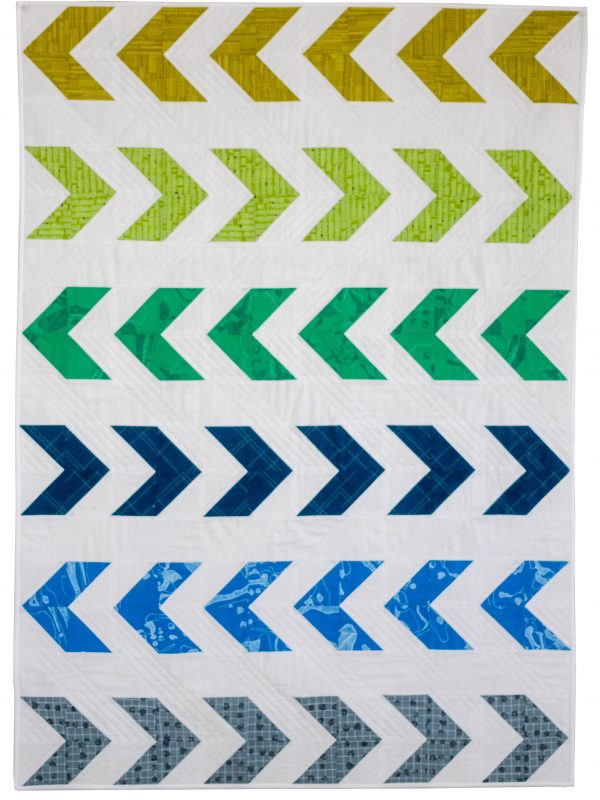 So today I thought I would take you through the process of making this adorable Arrow Baby Quilt that I just made for my newborn nephew, using my Perfect HST templates. I'm giving you the instructions using Perfect HSTs, and I'm also giving you instructions to do it the "old-fashioned way"—because yes, we're quilters. We do still like the old-fashioned way from time to time. : )
And, I'm going to give away a PDF of my Perfect HST templates to one We All Sew reader! Just comment below to enter the giveaway—one winner will be randomly selected on Friday, March 9th.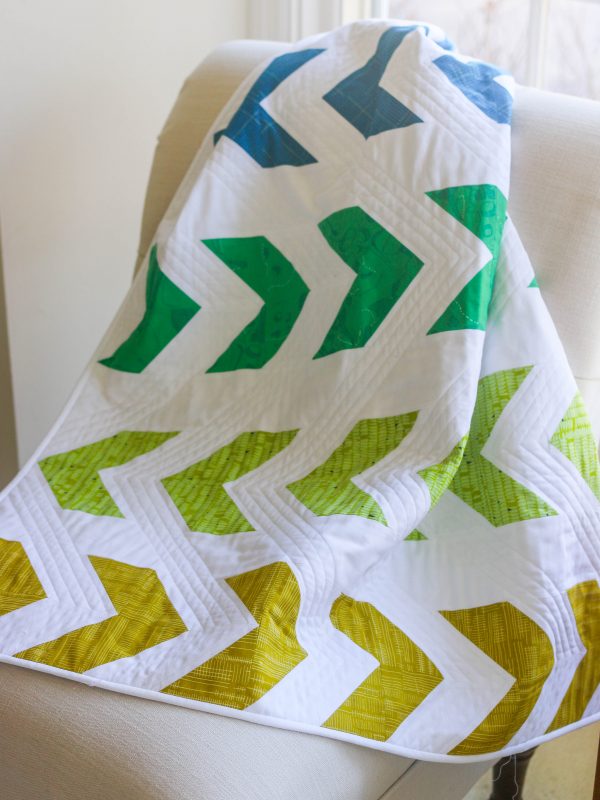 So, want to make an Arrow Baby Quilt of your own? It's super easy and comes together lightning-fast!
Finished size: 36″ x 51″
Materials to Make an Arrow Baby Quilt
• 6 fat quarters (or straight-cut quarter yards)
• 1-5/8 yard of white (background fabric)
• 1-1/2 yards of backing fabric
• 1/2 yard of binding fabric
Cutting list (if using the "Perfect HST" templates):
• Cut 3 pieces 7-1/2″ x 9-1/2″ from each fat quarter
• Cut 18 pieces 7-1/2″ x 9-1/2″ from the white (background fabric)
• Cut 5 strips 3-1/2″ x 36-1/2″ from the white (background fabric)
Cutting list (if using the standard HST method):
• Cut 12 squares 4″ x 4″ from each fat quarter
• Cut 72 squares 4″ x 4″ from white (background fabric)
• Cut 5 strips 3-1/2″ x 36-1/2″ from the white (background fabric)
Make the HSTs (if using the "Perfect HST" templates):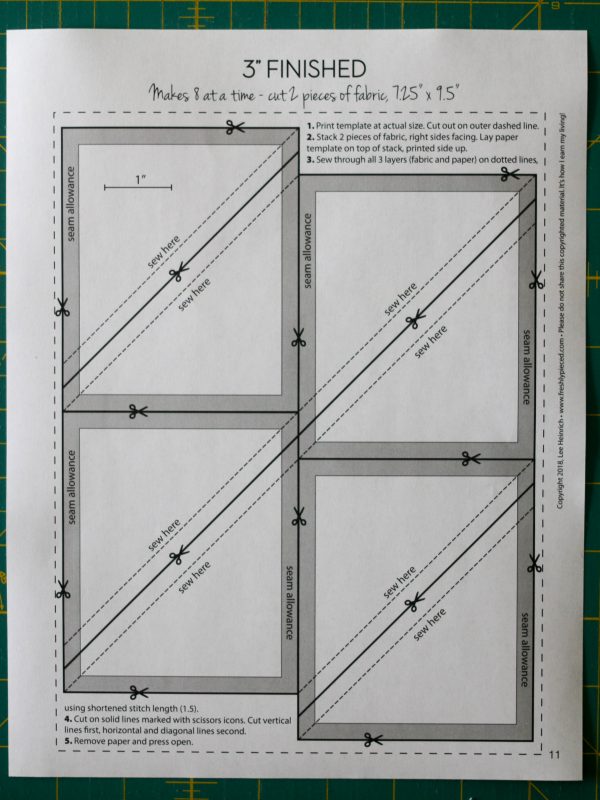 1. Purchase and download my Perfect HST Templates (found here.) Print 18 copies of the 3″ Finished HST template (found on page 11 of the PDF). Be sure to print your template at Actual Size (100% scaling). This setting can be found under "Page Sizing and Handling" in the print dialogue box ("Shrink to Fit" is often the default, which will result in HSTs that are too small!). After printing, use a ruler to check the template's 1″ scale to ensure the size printed accurately. You can print your templates on standard office paper/copy paper, or use blank sheets of newsprint for even easier tearing later.
2. Cut out the templates on the outer dashed line. The template size is designed to approximately match up to the 7-1/2″ x 9-1/2″ fabric pieces you cut earlier.
3. Stack two pieces of fabric, right sides together, as shown. Place the trimmed paper template on top of the stack, printed side of the paper facing up.
4. Sew on the dotted lines that say "Sew here," through all three layers (the two pieces of fabric and the paper template). Before you start sewing, be sure to turn down the stitch length on your sewing machine—I bring mine to about 1.5. The shorter stitch length will help you tear off the paper when you're done stitching.
5. Using a rotary cutter and quilting ruler, cut along the solid lines marked with scissors icons. Cut the template's vertical lines first, then the horizontal and diagonal lines.
6. Carefully remove the paper by folding it back along the stitching and tearing along the seam line. Press HSTs open. No squaring up needed!
Make the HSTs (if using the standard HST method):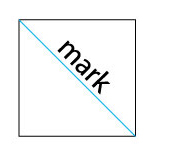 1. Mark a diagonal line from corner to corner on the backs of the (72) 4″ white squares.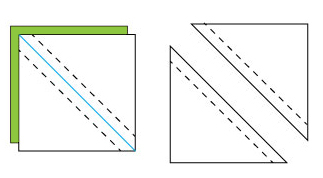 2. Pair up one 4″ colored square and one 4″ white square, with right sides facing. Stitch 1/4″ away on each side of marked diagonal line. Cut HSTs apart on the marked diagonal line and press open.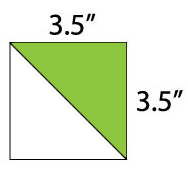 3. Square up each HST to 3-1/2″ unfinished.
Complete the quilt (both methods):
1. Join HSTs to create a four-patch block as shown.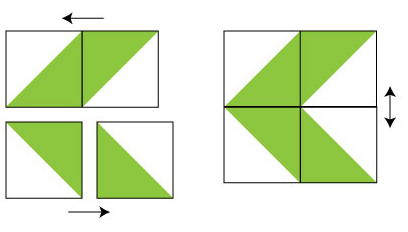 2. Make 6 four-patch blocks in each color, for a total of 36 blocks.
3. Join the 6 four-patch blocks of each color into a row, as shown.

4. Assemble the quilt top by joining the rows of blocks and and the 3-1/2″ x 36″ sashing strips.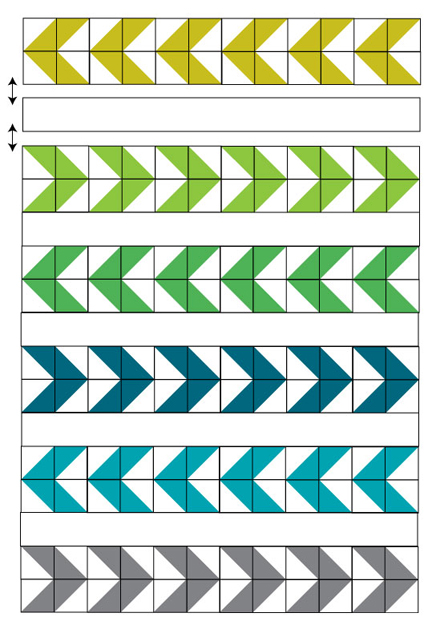 5. Quilt and bind as desired. I quilted in a wide zig-zag pattern 1/2″ apart for more angled movement in the completed quilt.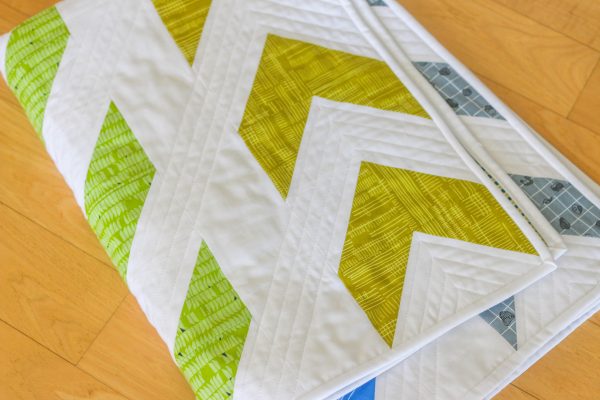 You could be the Lucky WeAllSew winner of a PDF of my Perfect HST templates used in this tutorial!
All you have to do is post a comment below and answer the question, "What is your favorite half-square triangle quilt design?" The the giveaway is open through Friday, March 9th!
The giveaway is open to residents of the 50 United States and the District of Columbia. One comment per fan. Comment must be submitted to the WeAllSew.com blog by Friday, March 9th at 11:59 PM Central Time. Winner will be chosen randomly. Winner will be notified by email and will have 48 hours to contact to claim the prize.
Difficulty level

Intermediate

Time to Complete

Weekend

Used Material

coordinating thread, cutting mat, quilt batting, quilting cotton, rotary cutter

Projects

baby quilt, home décor

Seasons

all seasons

Techniques

patchwork, quilt piecing, quilting
Used Products
What you might also like
210 comments on "Arrow Baby Quilt with HST's Plus a Giveaway!"