How to Make Quilted Baby Booties
Random fun fact about me . . . During the time when my husband and I first decided to start a family, I received 40 baby shower invites. FORTY!!! In those 18 months, I became the master at making burp cloths and bibs. Why oh why did I never try to sew quilted baby booties?! They are fast and easy to make! Now that my last little boy is close to walking, I'm going to make him a different pair for every day. BONUS: If you checked out my adult house slipper tutorial and saved the scraps, you already have some of your quilted pieces.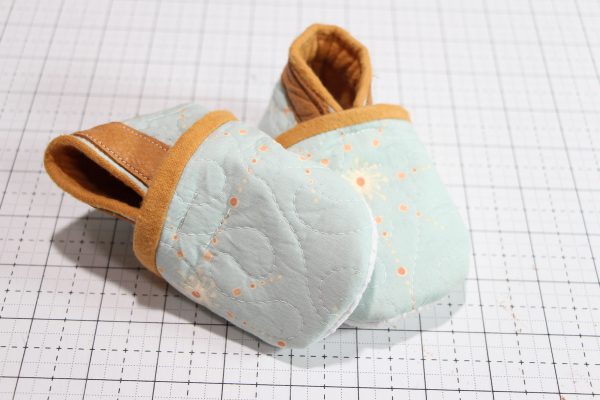 What You Need to Make Quilted Baby Booties
If you follow me at all Honymfin.com or @honymfin on Instagram, you know I'm a fly by the seat of my pants kinda lady. Basically, when I have an idea I make it up as I go! These went so smoothly that I only have one tip I learned along the way that will hopefully help you . . .
I liked using leather for the elastic encasing—no raw edges to tangle with. I choose a leather that is on the thinner, more moveable side
Time
You will need just a few hours, and if you're using your scraps, only about one hour! Depending on your life, this could take an evening or a weekend working one step at a time . . . I've broken it down into steps to help you with your timetable.
Stitching
Length: 3.00
1/4 seam allowance (unless specified)
Always start and finish with a backstitch
Terms
Sewing Tools to Make Quilted Baby Booties
Rotary Cutter
Quilting Ruler
Cutting Mat
Pins
Thread
MicroTex Needles
Elmers Glue (A Quilter Magic Secret)
Materials to Make Quilted Baby Booties
Quilt panel: 8in x 18in
Fabric: 6in x 10in
Leather scraps (cuts below)
Elastic: 1/4in flat
Anti-skid gripper fabric: 14in x 11in (optional additional sole)
Sewing Machine
Presser Feet
*As always, you CAN make this project with your standard Reverse-pattern Foot #1, but you will need to take a slower approach and make adjustments as you go. The different presser feet will make this project faster and easier.
Let's Get Sewing!!!

Steps to Make Quilted Baby Booties
Step 1: Print out Pattern
Print out the pattern

I like using card stock for all of my patterns

The Size provided is for 6-12months and 12-18months, if you need a different size, you can always scale up or down on your printer, start with 5- 10% increments.
Step 2: Cutting
Cut everything you need and lay it all out before starting. Cuts Based on smallest Printable size.
Quilted Panel
Use a fabric marker to trace the pattern
Cut within the line
Mark the dots like the pattern for the sole
Mark the bottom edge of the heel piece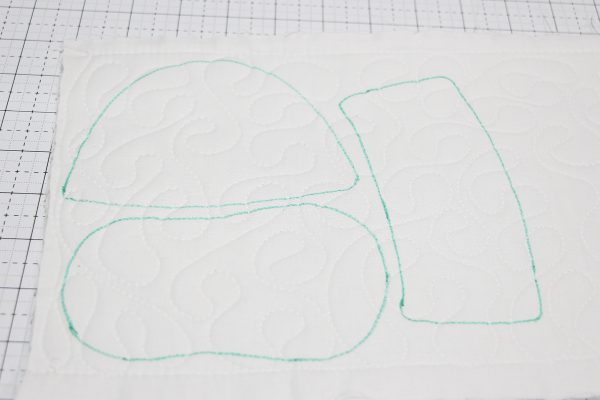 Leather
2 pieces: 1in x 5in
2 pieces: 1in x .5in
Elastic
2 pieces: 7in 1/4in flat elastic
Step 3: Start Sewing
A: Cover Outer Edges
Sew flannel pieces to the right side of both the:

TOE pieces—sew only on the straight edge
HEEL piece—sew only on sides and top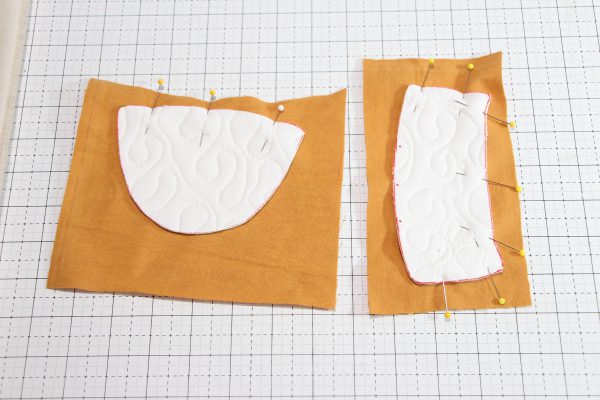 B: Glue and Pin
Toe Piece
Add a little glue to the just sewn seam, fold over and iron.
Pin down the flannel covering the back fabric. Stitch all the way around.
Trim so that the fabric and Toe piece are even.
Then use an overlock stitch with the Overlock Foot #2 to finish up the raw edges.


Heel Piece
Trim up flannel on the Heel piece leaving a 1/4in seam allowance
Right side it out and pin opening closed
Overlock raw edge closed

Sole Piece
If using the Anti-skid fabric, trace it and cut it out.
Attach it to the Sole piece wrong sides together
Overlock all the way around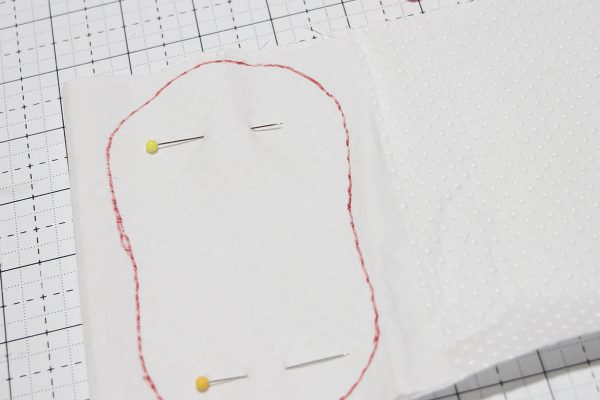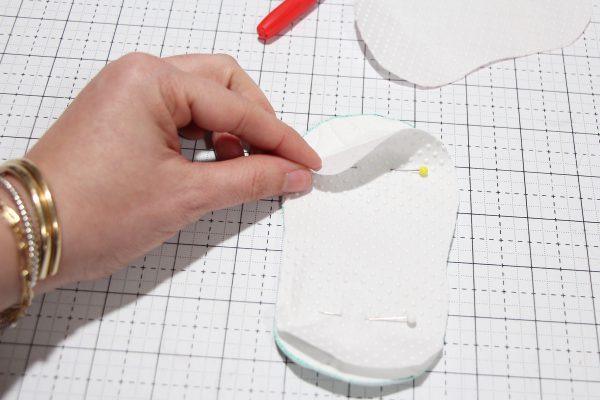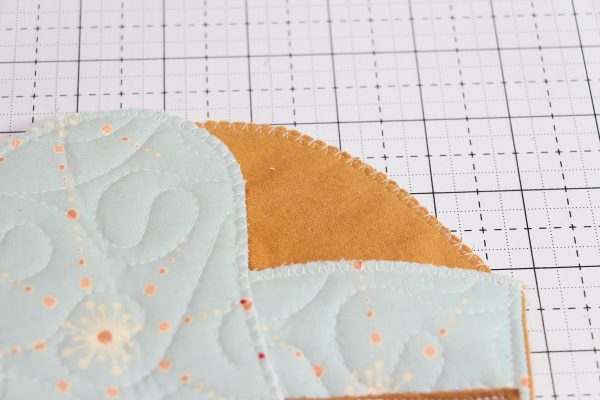 Step 4: Add Elastic Casing
Take 1in x 0.5in pieces and sew them to the flannel side of the Toe pieces

Sew top and bottom, leaving ends open.

Using the 1in x 7in pieces and sew them to the right side fabric of the Heel pieces

Sew top and bottom, leaving ends open.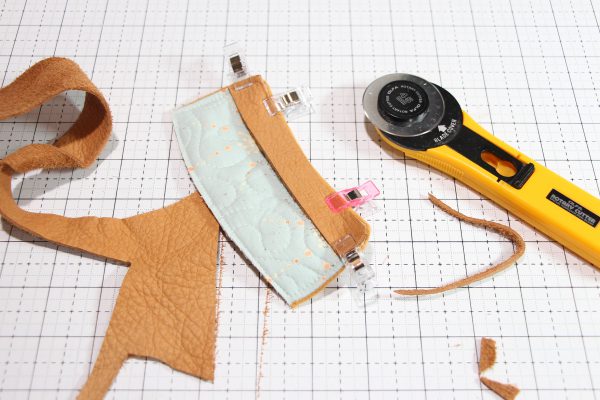 Step 5: Attach it All
Using the dots on the Sole as a guide
Attach the Toe piece to the outside of the sole, the part the little one will walk on. Starting at the dots closest to the Heel, start at one dot working your way with pins to the other dot.

Sew down, backstitching at both the start and finish.

Attach the Heel the same way.
Sew all the way around again.
Turn right side out!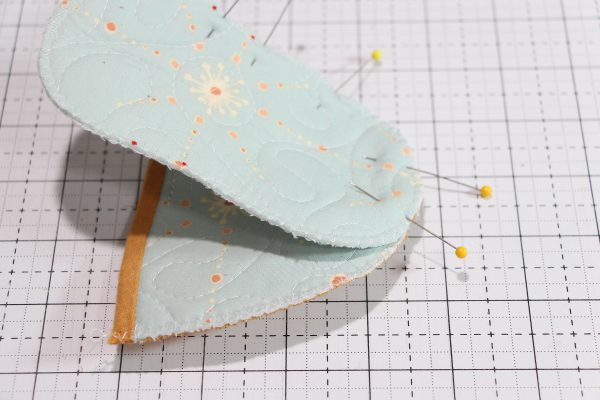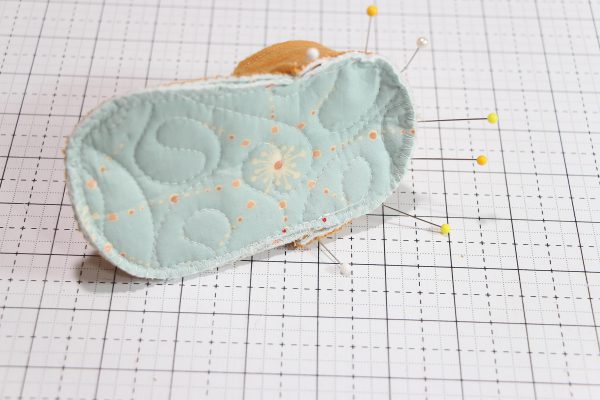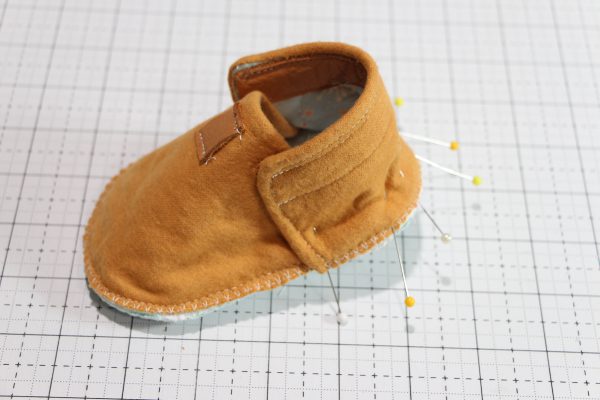 Step 6: Final Step
Thread your elastic through all the leather pieces using a flat needle or whatever you have
Tie a knot and hide it in the toe piece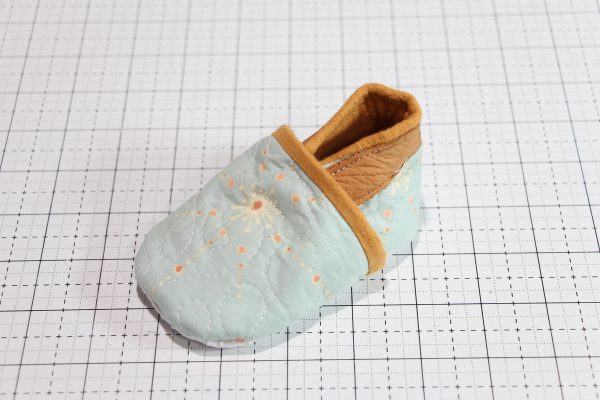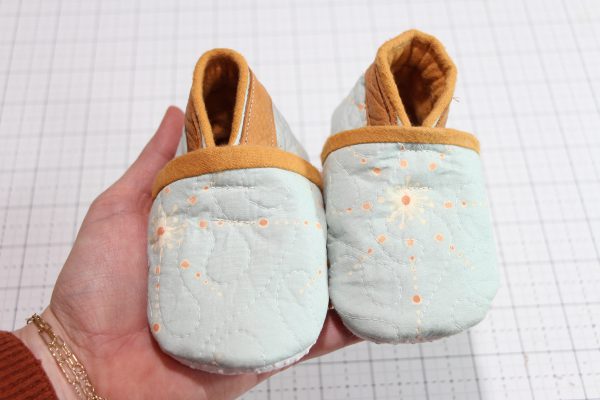 And that is it—you are done! You've made a pair of quilted baby booties.
How easy were those? Now go make a bunch for your little one and to have on hand for baby showers. I can't wait to see how you customize yours . . . leather, ribbon, velvet, etc.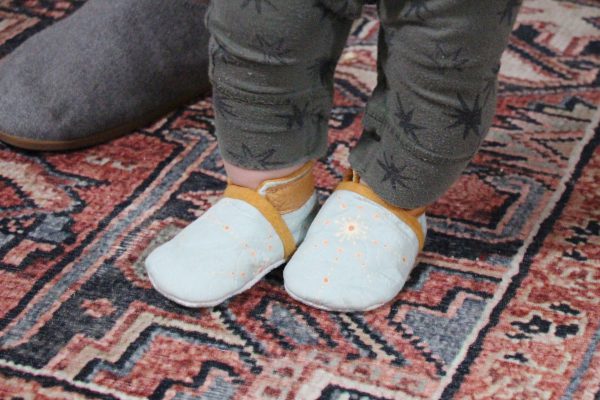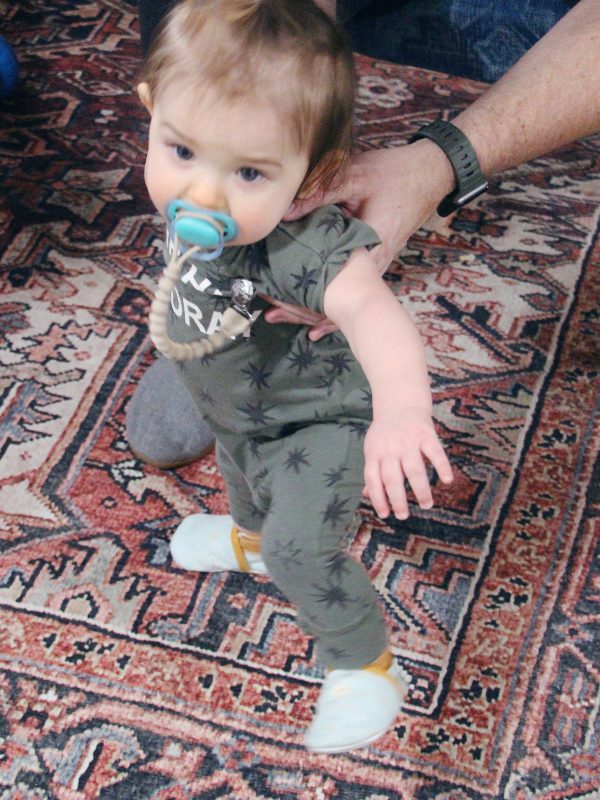 My little one can't keep his little toes from tapping and moving! Nine months and ready to run!
Happy sewing, and thanks for being here! Don't forget to tag me (@honymfin) and BERNINA on Instagram so we can see all the wonderful things you've made with this step-by-step tutorial!
If you like this post, be sure to check out more on WeAllSew and Honymfin.com
Aynsley Campbell – @Honymfin
Check out some of my other WeAllSew blogs!
Difficulty level

all levels

Time to Complete

Evening

Used Material

basic sewing supplies, cotton quilting fabric

Projects

fashion

Seasons

all seasons

Techniques

sewing, sewing with leather, sewing with quilting cotton
Used Products
What you might also like
6 comments on "How to Make Quilted Baby Booties"