QuiltCon 2022 Recap
Modern quilting artists and enthusiasts from all over the country and 19 different countries cleared off the dust from their suitcases, picked off the bits of thread from their clothes, sewed up a few fresh fabric face masks, and joyfully headed over to Phoenix, AZ, for the Modern Quilt Guild's QuiltCon 2022 event.  
QuiltCon Attendees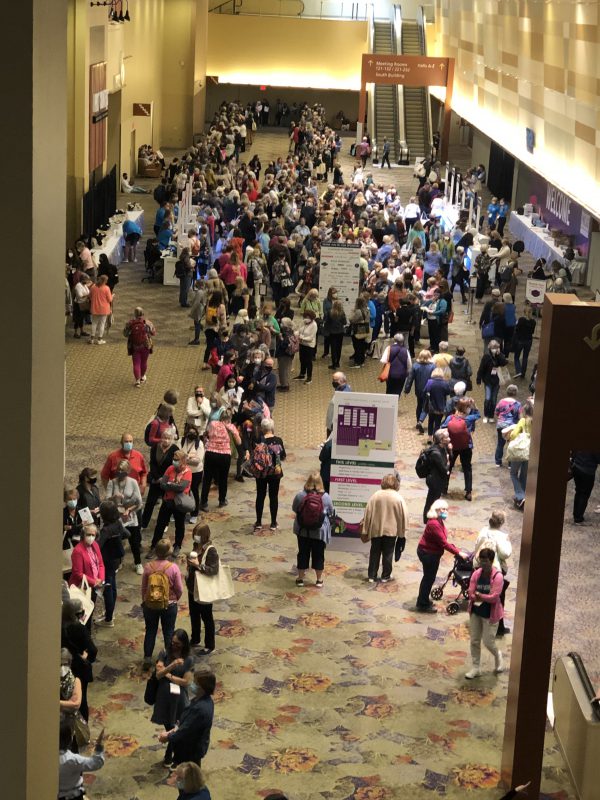 Quiltmakers attended lectures, workshops, viewed quilts, and did some shopping at the Modern Quilt Guild's QuiltCon event.
And, boy, were the 7,300 attendees ready for some live-action inspiration, creation, and facetime with quilt friends. They were happy to put on their trendy quilted coats, vests, and skirts to be at one of the first gatherings for modern quilt creatives in over two years. (Dang, Covid!)
"My favorite thing about QuiltCon is my quilty friends, no doubt about it.  Getting to spend the week creating and laughing with friends who also get joy out of quilting is special.  Meeting other quilters that I've known online for years but never met in person is also special.  The quilting community is an amazing bunch of people.  It's fun to be a part of it," said Tricia Schroeter, a quilter from California.
Over 150 Lectures, Workshops and 650 Quilts on Display
This five-day event was packed with over 150 lectures and workshops, vendors, awards ceremonies, demonstrations, make and takes, stunning quilts, special quilt exhibits, and a whole bunch of hugs and elbow bumps.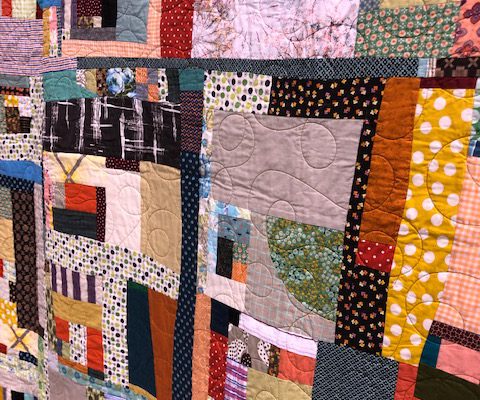 Here is a close-up view of the "Death of Perfection" quilt by Kari Vojyechovsky from Colorado. She entered this quilt in the Improvisation category. "I had so much fun piecing this improv quilt," writes Kari in her description. "The part I love the most is the way the various blocks are composed together and how different parts speak to each other even though nothing is repeated."
"Quilters were ready to get out of the house and connect with fellow quilters and online sewing friends," said Karen Cooper, Executive Director of the Modern Quilt Guild. "We are very happy with the attendance numbers. We did not know that when we walked out of QuiltCon in February of 2020, what was in store for us."  The MGQ team pivoted when they could not hold their annual live event in 2021 and hosted a virtual "QuiltCon Together" event. Many of the award-winning quilts from that virtual show were in Phoenix. "The thing I kept hearing over and over was THANK YOU for having an in-person event because people wanted to be together," said Cooper.
A Day at QuiltCon
Classes and Lectures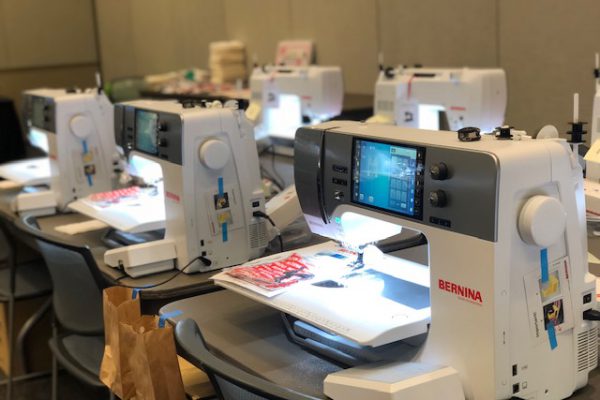 BERNINA provided machines used in some of the classrooms at QuiltCon 2022
For those early birds, each day started with yoga hosted by quilter Heidi Parkes, followed by a special exhibits tour by writer, editor, and quilting history buff and enthusiast, Mary Fons.  And, for others –who stayed up late connecting with friends or swapping homemade goods–the day started by grabbing a coffee and jumping into a lecture, or a half-day, or an all-day workshop.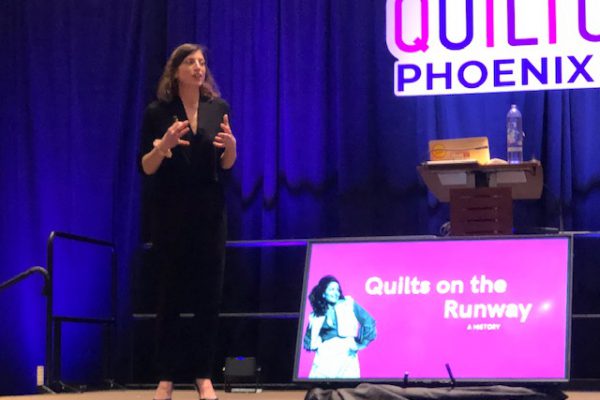 Mary Fons gave a lecture on "Quilts on the Runway," which includes a history of quilts in the fashion world, and she addressed today's trend of cutting up vintage or antique quilts to be used in the making of clothing.
The Lecture series covered topics including using your stash of fabric, creativity and mental wellness, redefining the perfect quilt, finding your style, and quilting techniques. The hot topic of whether or not one should cut up an antique or vintage quilt to make clothing was discussed by Fons.
Have you ever wanted to learn to matchstick quilt?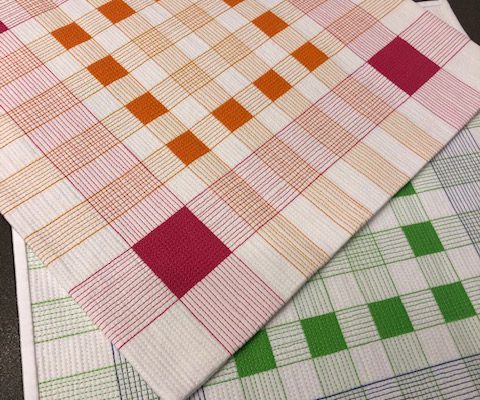 Cassandra Beaver has won multiple awards in quilt industry shows over the years, and her class on the technique of matchstick quilting was one of the first classes to sell out at QuiltCon.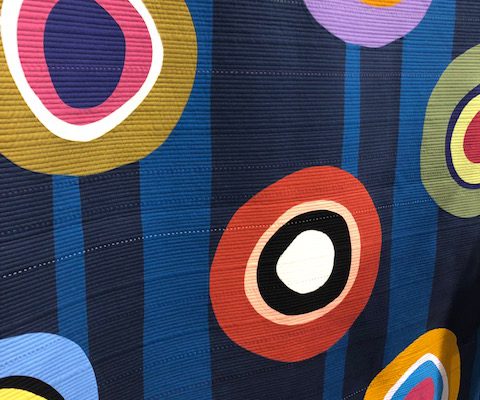 "Free Wheeling" is a quilt entered by Laurie Sheldon from North Dakota in the Improvisation Quilt category. The hand-drawn circles within circles were machine pieced using a reverse applique method.
Have you wanted to perfect your techniques for English Paper Piecing or Foundation Paper Piecing? Or wanted to learn to design a quilt using software or improvisational piecing methods? All of these workshops were among the many taught by industry experts.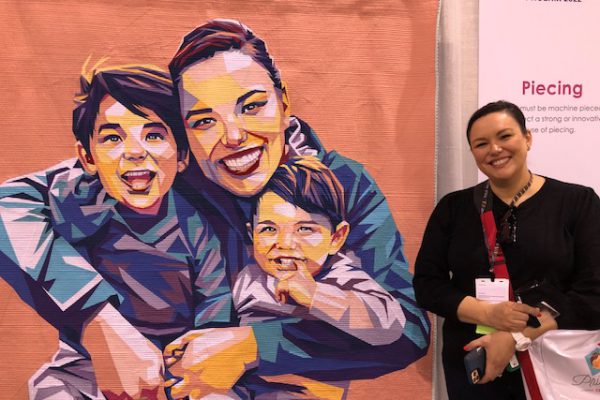 This self-portrait quilt of Veruschka Zarate, and her two boys, placed first in the Piecing category and was also awarded the Viewer's Choice award at the end of the show. Using the Foundation Paper Piecing technique, Veruschka used 20 different colors of solid fabrics, which make up the 2,359 shapes. It took her four months to complete.
The Quilts and Special Exhibits
"Over 1,200 quilts were submitted to be entered into QuiltCon this year," said Elizabeth Dackson, MQG, Director of Events. Of those quilts, 481 made it into the show, and another 250 quilts were included in special exhibits.
There were over a dozen different quilt categories and challenges for submissions. Are you ready to submit a quilt with applique, handwork or have an eye for using negative space or improvisational piecing?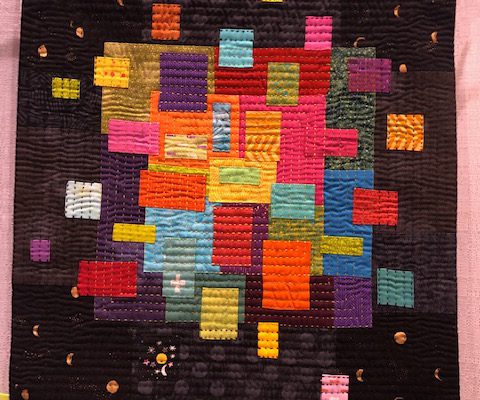 The "Jubilation" quilt was entered into the Small Quilts category by Melinda Gross of California. She made this quilt in a Sujata Shah kawandi technique workshop. "My goal for this quilt was to play with color and value and pay homage to the Siddi people while expressing this technique in my own style," she wrote.
Check out the winning 2022 quilts and list of sponsoring businesses on the QuiltCon website.
For the Artisan Cotton Fabric Challenge exhibit, quilters were challenged to use at least three of the four fabrics that included pink, aqua, blue, and orchid and could consist of other approved neutrals in the quilt or for the binding.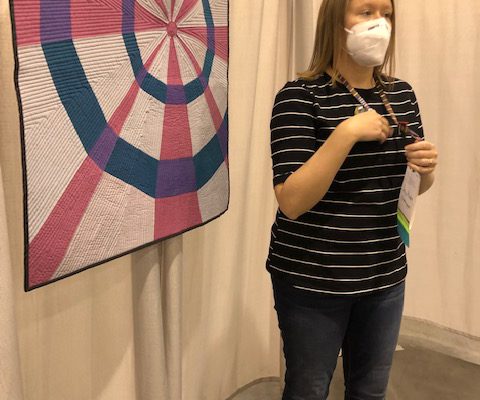 Jessica Plunkett stands in front of her quilt; she entered the Artisan Cotton Fabric Challenge, where quilts were created using at least three of the four challenge fabrics. Jessica also presented a couple of lectures, including "Redefining Perfection" in your quiltmaking.
Angles were the name of the game for the Community Outreach Quilt Challenge. This outreach project was one of the largest scale MQG charity programs, which challenged guilds to create a quilt using angles—"whether acute or obtuse, let the angles be the focus of the quilt," states the challenge guidelines. The guilds then had the opportunity to sell their community quilts at the show to raise funds for the Women of Color Quilters Network and the Navajo Quilt Project.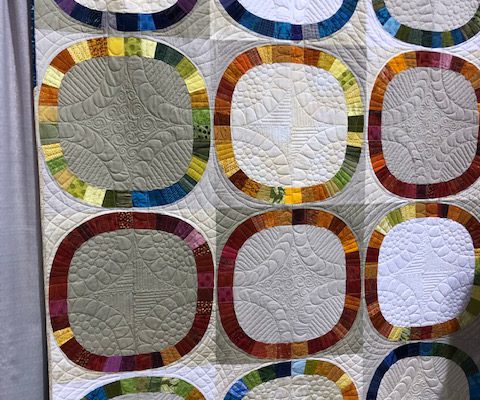 Laura Nisi's take on the Temperature Quilt challenge included using Denyse Schmidt's Free-Wheeling Single Girl pattern. "This quilt shows the high temperatures for each day, shown month by month, with the first day of each month at the "twelve o'clock" position of the block. There were no days over 100 degrees or below zero degrees that year, which was a pleasant change from the extremes we often experience," said Laura, who is from Minnesota.
Who needs a weather forecaster or the Farmer's Almanac to check the high and low temperatures of the year when you could just pull out a Temperature Quilt to check? Temperature Quilts were another unique challenge created by MQG members worldwide as a fun way to visualize the different climates where quilters live.  In general, a specific fabric color was assigned for a certain temperature range.  The quilter then used those specific fabrics to document both the high and low temperatures of the day.  Each temperature quilt recorded the daily temperature using a unique quilt design and color pallet for an entire year.
"These are the most amazing quilts I have ever seen," said first-time QuiltCon attendee Nancy Crouch from Arizona.  "I am totally inspired.  I want to learn how to use applique in my quilts, and I want to go home right after the show and start!  This show is very impressive; these quilts are pieces of art."
Two special exhibits featured quilters with foundational ties to the MQG. The quilts pieced by the late Susanne Woods, who served on the MQG board of directors for six years, were on display. "Susanne was a true advocate for modern quilters and their craft," said Cooper.  Guildmates of Susanne finished her quilts for the exhibit.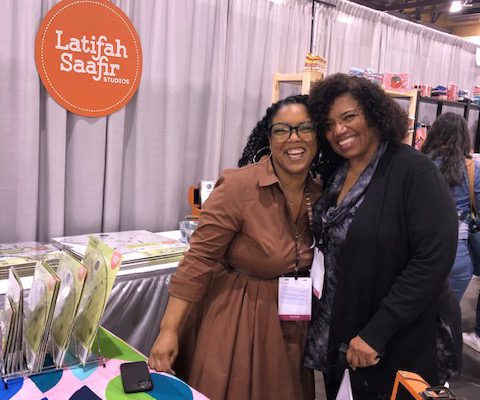 QuiltCon's featured quiltmaker is Latifah Saafir, a founding member of the MQG and the Los Angeles chapter of the MQG. Latifah spent most of her days in the classroom, so she put her mom to work selling her goods on the vendor floor.
Latifah is known for her bold and innovative modern quilts. She has combined her training as an engineer with her lifelong passion for sewing to create graphic and contemporary designs. Her most impactful quilt on display was a remembrance quilt titled "We Still Matter," which she designed and made for the family of Steven Taylor, who was tragically killed about two years ago. "This quilt is really important to me," she said.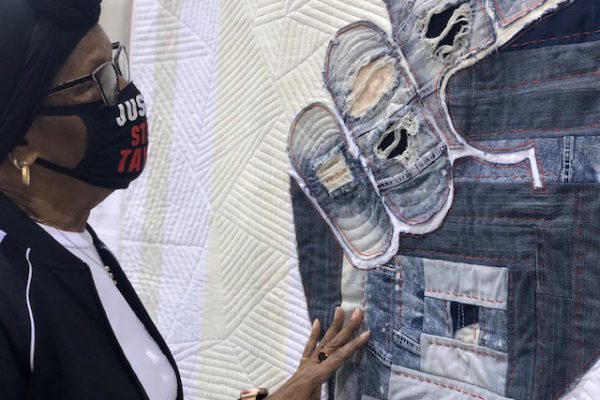 This quilt was the fourth remembrance quilt Latifah made for Taylor's family using his clothing. "I was hoping to give the family an "anchor in peace and hope." The quilt was presented to Addie Kitchen (pictured with the quilt above), the grandmother of Taylor.
"QuiltCon was pleased to present select works created by Indigenous quiltmakers who are using their art to tell stories of their ancestors," stated Cooper.  Also on display was a selection of panel quilts from the Social Justice Sewing Academy, whose mission is to empower individuals to use textile art as a framework for activism.
The Vendors
The curated vendor hall had a wide variety of exhibitors with fabric, notions, threads, rulers, notions, and all the cool gadgets.  Some of the vendors did demonstrations of new products and provided "make and take" mini-classes where attendees tried a new skill or product and completed a project in just a few minutes.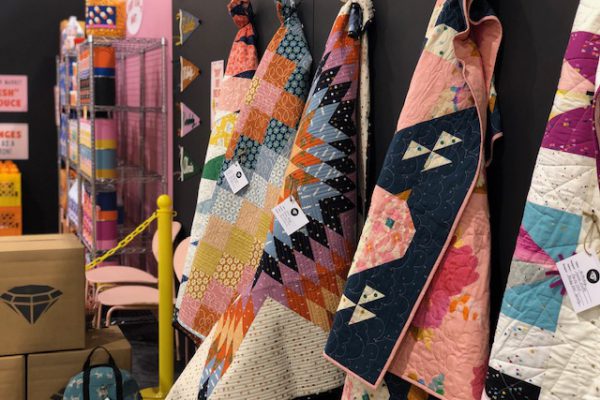 Vendors at QuiltCon, including this Ruby Star Society booth, had the latest fabrics, patterns, notions, gadgets, threads, and sewing machines.
And if you felt the need to test drive a new sewing machine or longarm quilting machine, there were booths full of machines to ogle and dream over or sit down and push the pedal to the floor in a test drive. From simple to fancy, there were machines available in a large variety of styles, features, and price points. Machine vendors also provided machines and technicians in the various classrooms at the event, giving the attendees a chance for trouble-free sewing all day on a new machine.
The Best of Show Quilt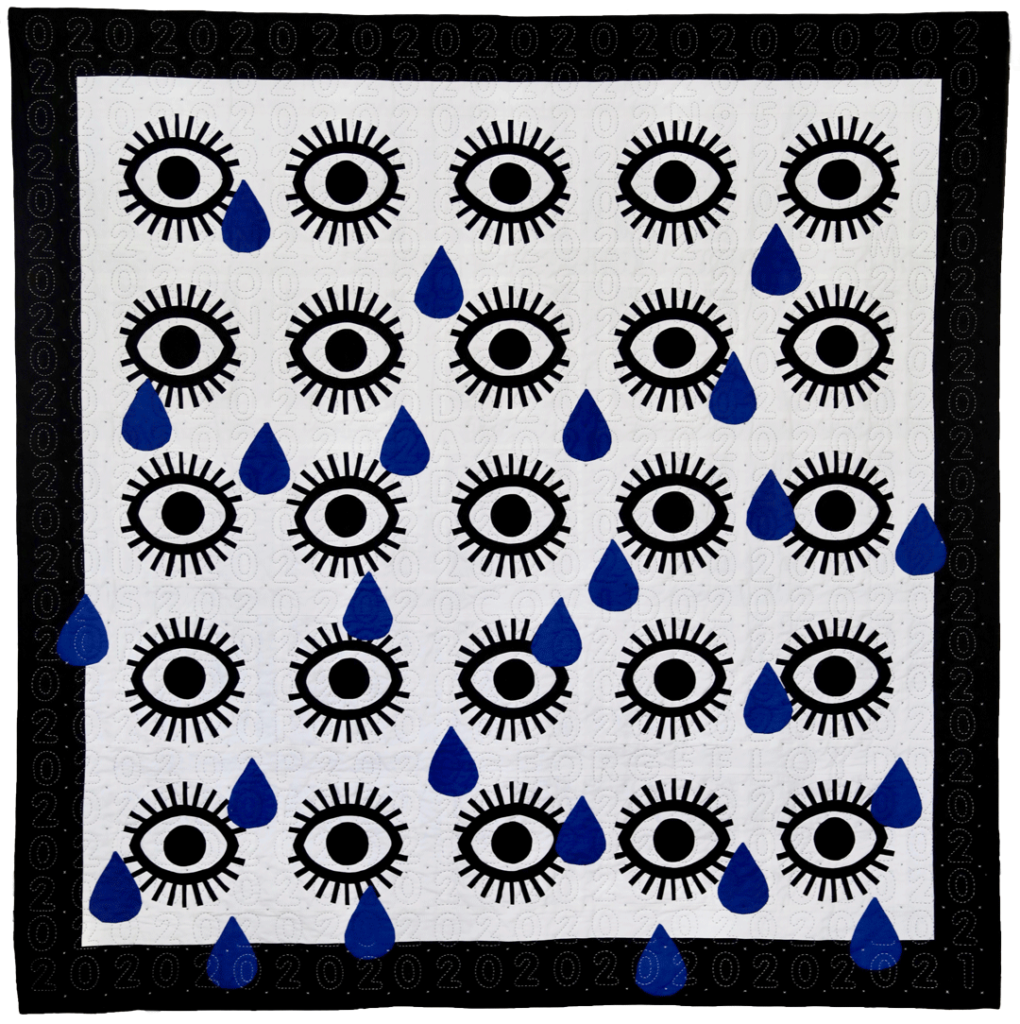 The Best of Show quilt, "2020 Vision" by Hillary Goodwin, impacted many attendees. Goodwin writes about this year's QuiltCon and her award-winning quilt on her Instagram:
"Remember that QC (QuiltCon 2022) where we all wore masks?  Where the folks who felt safe enough to go were so giddy because they had not gotten out much in two years? The year I made a quilt I hated and wanted to burn (it) and almost didn't send in, but much to my surprise, resonated because of our collective trauma?  The year there was brightness amidst some heavy themes in the pieces shown? The year we wore quilted clothing because it was kind of cool to do so in that era?  I suspect the pictures from this last QC have important stories to remind our future selves. Looking forward to some different pictures next year!"
Quiltmaker, Hillary Goodwin donated her $5000 prize money to support the children of Ukraine.
What's Next?
"We are going to spend the next 12 months celebrating as 2023 will mark the 10th anniversary of QuiltCon," said Cooper.  "We are planning another virtual event later this year.  It will be in the fall and it will not be on the scale of QuiltCon or QuiltCon Together but we want to provide some unique educational opportunities and opportunities for connection for members. We know that not everyone can or wants to attend QuiltCon but we are envisioning a unique MQG event that will become an annual event.  We are excited about QuiltCon 2023 which will be held in Atlanta, GA," she said.
Other News
Attendees at QuiltCon 2022 came from all 50 states and 19 different countries. There were 7,300 unique attendees. QuiltCon 2023 will be held in Atlanta, GA, February 23-26, 2023.  The featured quilt artist will be Chawne Kimber.  QuiltCon 2024 will be held in Raleigh, NC, February 22-25, 2024.  
For details about upcoming QuiltCon events and guidelines for quilt submissions, visit the QuiltCon website. For more information about the Modern Quilt Guild or if you are interested in finding a local chapter to join, visit the Modern Quilt Guild website.
Seasons

all seasons

Techniques

longarm quilting, patchwork, patchwork, quilt piecing, quilting, straight-line quilting
What you might also like
2 comments on "QuiltCon 2022 Recap"