Houston International Quilt Festival 2022 Recap
For over 40 years, quilt makers and quilt shop owners have looked forward to going to Houston, Texas each Fall to attend the trade show, Quilt Market, and the retail show Quilt Festival. These back-to-back shows have provided a place to go for quilting enthusiasts to attend classes and check out the latest fabric lines, patterns, notions, sewing machines, tools, and gadgets.
These two events put on by Quilts, Inc. are on the bucket list for many in the quilting industry and quilting enthusiasts. Over the past three years, the covid pandemic has forced Quilts, Inc. to cancel or reschedule many events. But this Fall's Quilt Market and Quilt Festival took place without a hitch or the mandatory wearing of masks.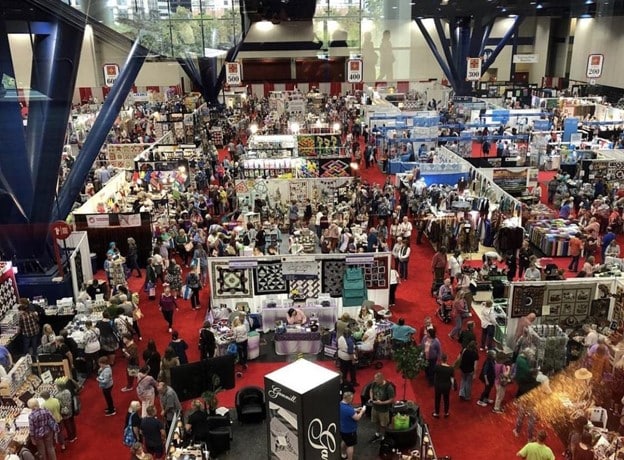 Quilt Festival in Houston was attended by 35,678 people, 350 classes were held and over 1,100 quilts were on display.
Quilt Market, which is for credentialed people in the quilting trade, is a chance for quilt shop owners to check out and order soon-to-be-released fabrics, patterns, and products. They can attend classes, business seminars, and connect with designers and establish wholesale accounts.
For quilt makers and sewists, last month's retail show, Quilt Festival (which is held right after Quilt Market and is open to the public) had 612 booths full of fabric, notions, patterns and books, sewing machines, and quilt samples. The event included four days of classes, workshops, book signings, make-and-takes, and more.
"The pandemic has changed a lot in terms of our industry and business. We saw a literal army of sewists heed the call to make protective masks (and purchase a lot of fabric, notions, and sewing machines in the process!), stated Karey Bresenhan, President/CEO at Quilts, Inc.
"We were very pleased about the turnout for Quilt Market, as it was the first one we have been able to have in three years. And while it did not have the numbers in terms of exhibitors or attendees as 2019, it was a strong start to building back the show post-pandemic. Most importantly, I know that people were excited to be back to see each other face-to-face and not over a computer monitor! The buzz and energy were palpable. I personally saw many happy reunions on the show floor with actual tears shed! It was wonderful for the industry to come back together again, and we're planning some new things for future Markets," said Bob Ruggiero, Vice President of Communications for Quilts, Inc.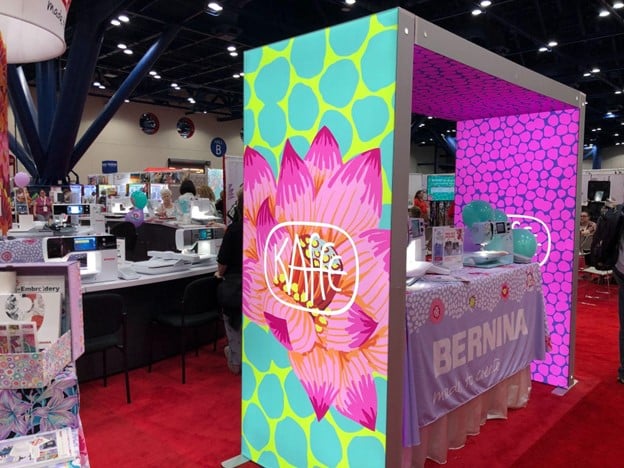 Designer Kaffe Fassett attended both Quilt Market and Quilt Festival. He was promoting his new limited edition sewing machines with BERNINA, a new book and fabric collection.
"We had a great show and sold out of Kaffe's new book very quickly," said Liz Lucy, visual artist, and collaborator with designer Kaffe Fassett. Kaffe, Liza, and fellow designer Brandon Mably attended, taught, and lectured at Quilt Market and Quilt Festival. "Yes, we are tired, but these events have been great for us; it has been great to be back."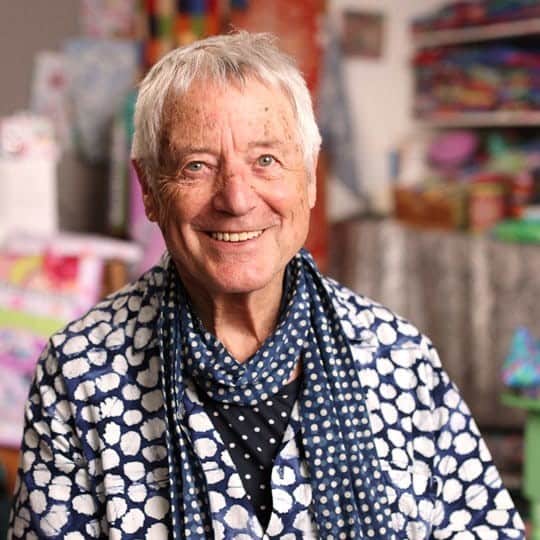 Kaffe Fassett
Kaffe, who turned 85 on December 7, has been traveling the country lecturing and teaching workshops. He is also promoting his new book, "Quilts in Wales", the limited edition Kaffe Fassett sewing machines for BERNINA, and new fabric lines in the Kaffe Fassett Collective collection.
At the show, there was also a special quilt exhibit of Kaffe's colorful quilted works. Click here to watch this video clip of Kaffe and Liza talking about his exhibition.
"Quilt Market is a place for us to promote our new fabric lines, patterns, "Quick Curve Rulers," and other products," said Helen Robinson, co-owner of Sew Kind of Wonderful. "We loved sharing our new and upcoming patterns and reconnecting with friends we have not seen in three years." After Quilt Market, they revamped their booth to get ready for Quilt Festival, where they connected with quilters who use and buy their rulers, patterns, and fabric.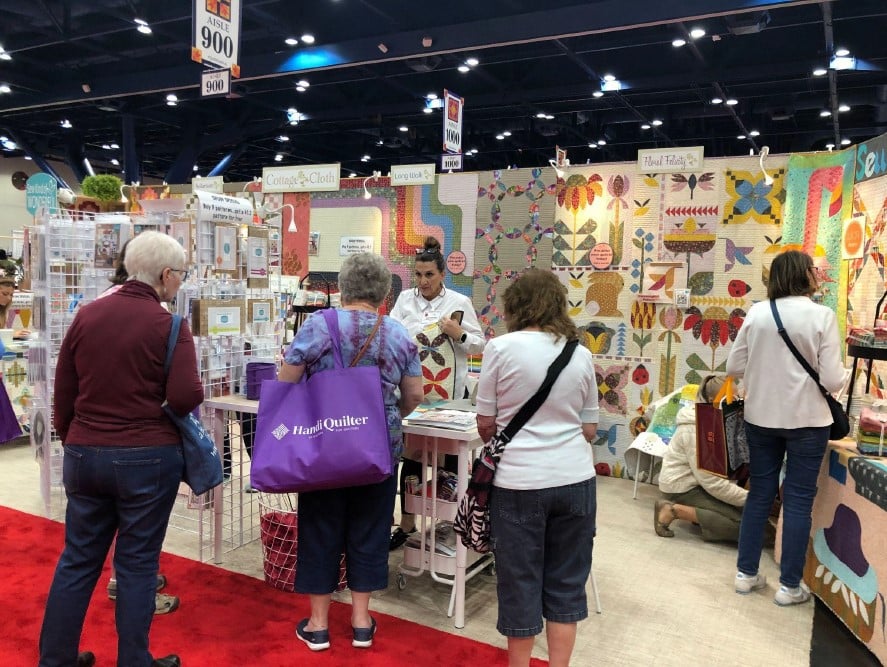 Helen Robinson, co-owner at Sew Kind of Wonderful, demonstrates the Quick Curve Ruler at her booth at Quilt Festival.
Many vendors stay to sell their goods at Quilt Festival when Quilt Market is over. Vendors have a day or two to redo their booths and stock up for the retail show that is open to the public.
"It was exciting to see that the 2022 Festival was up in both the number of total attendance (35,678), exhibitors (226), and booths (612) over the 2021 show. We also had more than 1,100 amazing quilts on display in 30-plus themed exhibits and 350 classes and lectures from scores
of teachers. And the international visitors are back! Festival was such a thrilling event for the quilting community and the city of Houston–with the added jolt of baseball's World Series doing on just a short walk from the convention center. My favorite part is seeing the quilts in the exhibit area. Even after more than 25 years with Quilts, Inc., I am continually amazed by the artistry, creativity, and skill of quilters whose works were on display," said Bob.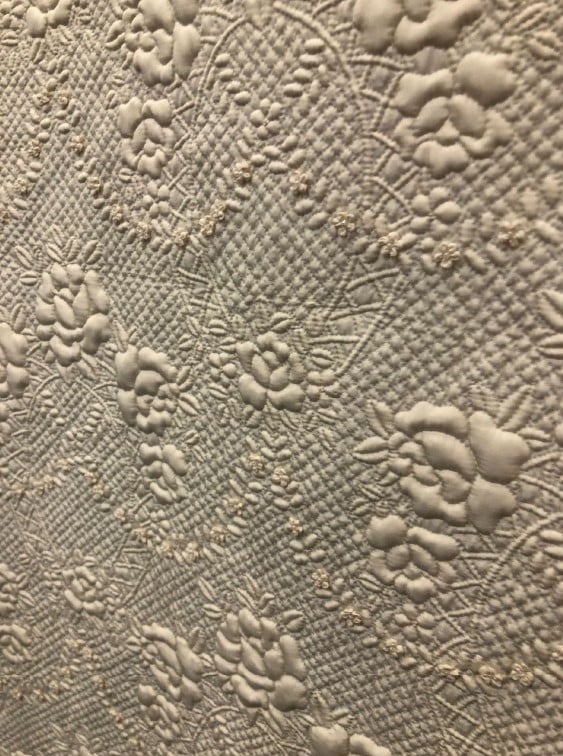 This is a close-up of the hand quilting by Zena Thorpe on her quilt she calls "Anaglyptic. Inspired by the wallpaper in her bedroom, Zena quilted with silk top from the back with silk quilting thread and attached tiny yo-yo flowers with pearl bead centers. This was one of the 1,100 quilts on display in over 30 different categories.
"This was my first time at the Quilt Festival," said Junie Tomshack from Utah. "We had been planning this trip and saving our money for a long time. We drove all the way from Utah and the show did not disappoint. I had to call my husband to tell him that he would have to rearrange my sewing room because I bought a sit-down longarm quilting machine at the show!"
"We loved watching the demonstrations at the booths, and I wanted to get into dyeing my own fabric, so it was great to see the hands-on demo of that process, and I decided that I could do it. My daughter and I bought a bunch of different dye colors, and we are excited to get home and try it," she said.
Junie's advice from a first-time attendee: "If you see something you want, don't wait to buy it because it might not be there when you circle back to that booth again. And I suggest you prepay for parking so you can park in the lot right next to the convention center–it was so worth
it!"
For more information about the 2023 show schedule for Quilt Market and Quilt Festival visit quilts.com.
Seasons

all seasons
What you might also like
2 comments on "Houston International Quilt Festival 2022 Recap"