Grüezi mitenand! Hello BERNINA Q . . . Quilters?!
Here is Carolina Asmussen from the BERNINA Ambassador Class of 2021 and of course, my "new, old friend", the BERNINA Q 20 Sit-down Model.
In my last post, we discussed machine delivery, new features, the quilting process, and the learning curve. My first tip for today is, "Don't wait to start quilting!" With this in mind, we will explore some quilting magic, the BERNINA Stitch Regulator (BSR)!
The BSR is the famous function that adjusts the machine's speed automatically and maintains stitch length. It reacts to the movement of the fabric and keeps the stitches consistent while quilting. I'm pretty sure that you noticed that the BERNINA Q 20 sit-down model, like all the Q Series, comes with three different BERNINA Stitch Regulator modes, plus the manual mode. If you have a BERNINA domestic sewing machine, you may also be familiar with this feature (BSR1 and BSR2). If you have a BERNINA 770 QE, don't forget to check the PLUS Upgrade (or the B 770 QE PLUS) and your machine will also have the BSR3 mode and KickStart Function.
So let's start!
BERNINA Stitch Regulator 1 (BSR1)
The BSR1 combines stitch regulation with an idle speed. It will move the needle at a constant speed as soon you move the fabric. The higher the speed setting, the faster the needle will move. I like to think of it as my "cruising mode." It's my favorite function for free motion quilting. I cannot talk about my favorite function mode for free motion quilting without talking about BERNINA Darning Foot #9, my favorite foot for free motion quilting! Darning Foot #9 is included with all the BERNINA Q Series.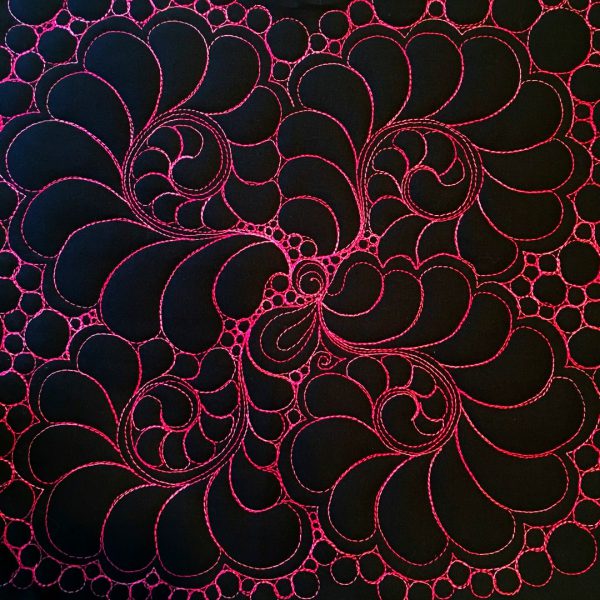 Free motion quilting sample from my collection
BERNINA Stich Regulator 2 (BSR2)
The BSR2 is full stitch regulation. The machine will stop stitching when you stop moving the fabric. The sensors are very precise and make this mode perfect for ruler work. Every time you need to stop to reposition the ruler, you just stop moving the fabric and the machine will also stop stitching. Don't forget to select the needle down position. My favorite foot for ruler work is the BERNINA Ruler Foot #96, you also have the option of Adjustable Ruler Foot #72 with adjustable height for ruler work, and don't forget the BERNINA Ruler Kit for sit down model system, a great starter kit! Yes, I like to keep the nested quilting rulers secure in place with washi tape, some people use painter's tape. No, you don't need a ruler base for the sit-down model—see one more advantage between the sit-down model and the frame!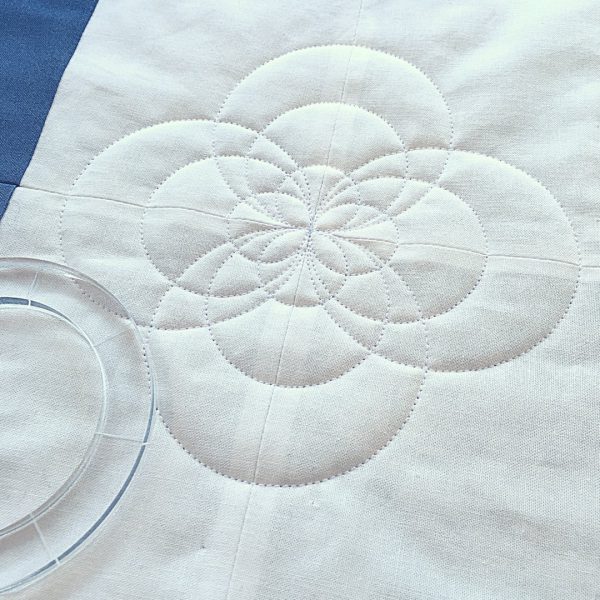 Ruler work detail of my show quilt "Water Mirror" exhibited at the 45th Sapphire Anniversary Edition of the International Quilt Festival in Houston
BERNINA Stitch Regulator 3 (BSR3)
The BSR3 is for basting!
If you have your Q 20 on the frame, I'm pretty much sure that the BSR 3 is the function you use every time to baste your top quilt and before you start quilting. But I have the impression that between the sit-down model quilters, this function doesn't get enough credit!
Believe me, the BSR 3 is your friend too! It comes with 3 different basting possibilities: 1, 2, and 4 stitches per inch.
One Stitch Per Inch
I like to use the BSR3 with one stitch per inch to baste my quilt sandwich all-around every three, sometimes even two-inch rows. This means that instead of having my quilt full of basting pins all over, I just remove all of them while I'm stitching around with the BSR3. Because the stitches are one inch apart, it is perfect to remove as you go quilting or even after all the quilting is done. It's also a great advantage not to have safety pins while quilting with rulers, you will have a flat surface to rest and hold the ruler in place. The quilt is also less heavy with the basting stitches instead of all the pins and easier to maneuver.
Two Stitches Per Inch
Perfect for basting all around the top quilt, the perimeter. And I have a confession, I also use this basting mode to stitch 1/8″ around the top quilt right after piecing all the blocks together so I am sure that everything will be in place for quilting.
Four Stitches Per Inch
You can also use four stitches per inch to baste around the perimeter of the quilt or for some big stitch quilting. It adds a very nice texture and almost mimics hand-basting stitches.
The Manual Mode
The Manual Mode has no stitch regulation—it's 100% in your control. It can sound scary for some of us . . . Now you might be wondering, why would you use this mode if you have all the stitch regulator options? Well, sometimes you don't want all your stitches absolutely the same length. Thread Painting, for example, is a very forgiving technique and as you add texture with multiple layers of thread and different colors, the effect is even more dramatic if the stitches don't look exactly the same. My favorite BERNINA foot for this technique is the Free-motion Embroidery Foot #24.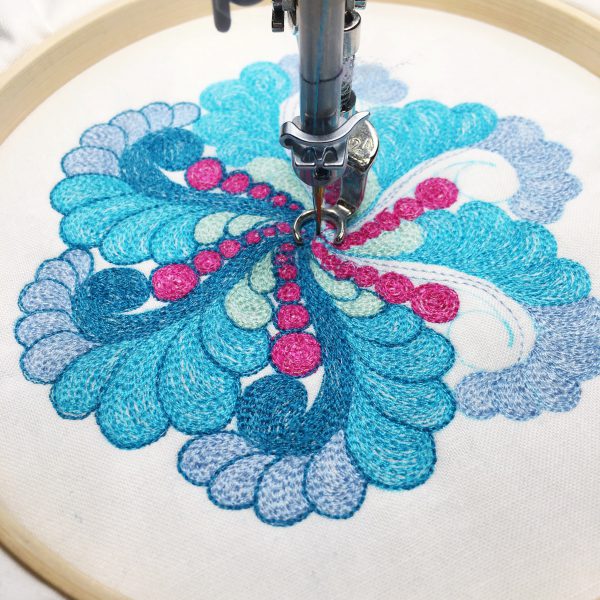 One of my quilting classes Thread Painting by Color – Feathers Edition
And that's all (for now)! I hope that I helped you to understand some of the wonderful features and possibilities of the BERNINA Q 20 Sit-down model and BSR functions. Now you have a direction to go no matter what your quilting plans are, and talking about quilting plans, be ready for some work because my next posts will be full of activities! So, try your machine! Discover what you like, don't run after your machine . . . YOU are in the control.
Uf Widerluege! (See you soon)