BERNINA Q 20 Sit Down: An Introduction
Grüezi mitenand! Hello BERNINA Q . . . Quilters?!
Here is Carolina Asmussen, an Architect, awarded professional Quilt Artist, Teacher, and recently a new member of the BERNINA Ambassador Class of 2021! This is my first WeAllSew contribution and I'm here today to talk about my "new, old friend," the BERNINA Q 20 Sit Down Model.
I say 'old, new friend' because I've been quilting with BERNINA Q Series for the last six years and SO many things have happened since then . . . firmware updates, new features–like Programmable Foot Control and Kick Start, FOUR different table models to choose from and even a younger sibling, the BERNINA Q 16 (and now the Q 16 PLUS)! It's for sure a lot to catch up on!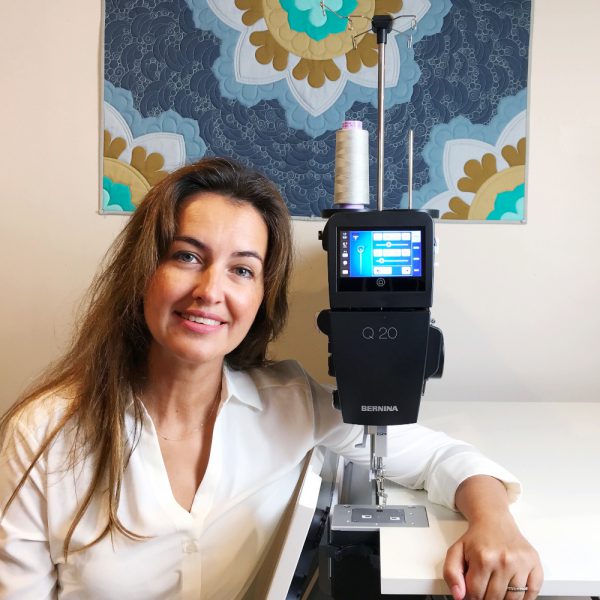 Why a BERNINA Longarm Sit Down?
Space and Set-Up Options
Lately, longarm sit down models have become very popular in the quilting industry. The most obvious advantage is the opportunity to have the same machine head and features of the frame but with a table that suits your home situation better. Of course, BERNINA Q Series Sit Down Models have all these options!
The Quilting Process
Apart from the extra space, in my quilter and teacher opinion, it's all about the learning curve. Transitioning from quilting with a domestic sewing machine to quilting with a longarm sit down model is easier than transitioning to a longarm with a frame.
With the BERNINA Q 20 Sit Down the quilting process is basically the same that with a domestic sewing machine, no new muscle memory needed. The integrated BERNINA Stitch Regulator (BSR 1, 2, and 3) plus the manual mode (we will explore in a future post). The preparation process of your "quilt sandwich" is also the same.
The quilt can be rotated in any direction because it's not attached to a frame. The quilting visibility in general is better with a longarm sit down model.
You can use any BERNINA hopping foot (about 11 different feet options) with the Q20 and the BERNINA domestic sewing machines.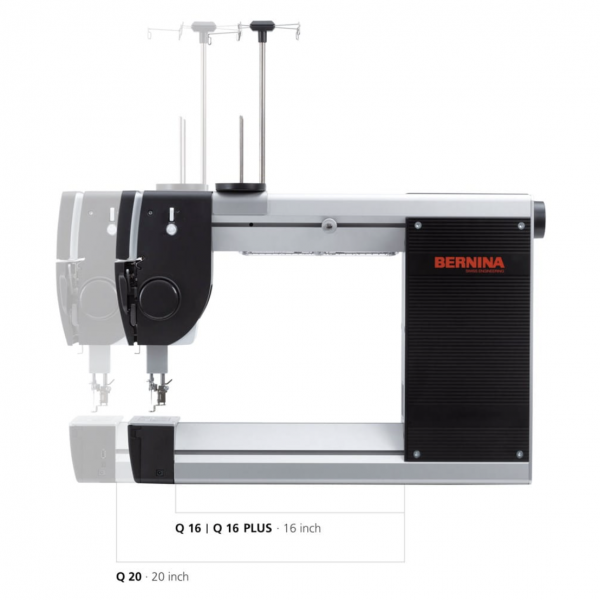 My First BERNINA Q20 Sit Down Model
Let's start with a blast from the past!
My first BERNINA Q 20 came with the Standard Table in the English White Ash shade which is still available as a table option. The solid wood cabinet is perfect to handle any project size and the tabletop surface can be expanded from 36″ x 45″ to 36″ to 77″.
I made several exhibition quilts and other projects with my BERNINA. The biggest quilt was probably a custom order from Aurifil, the 2017 Designer of the Month layout with Pat Sloan. The 12 blocks were quilted with individual free-motion quilting designs and the background with rulerwork 1″ straight lines apart, finished quilt size 86″ square.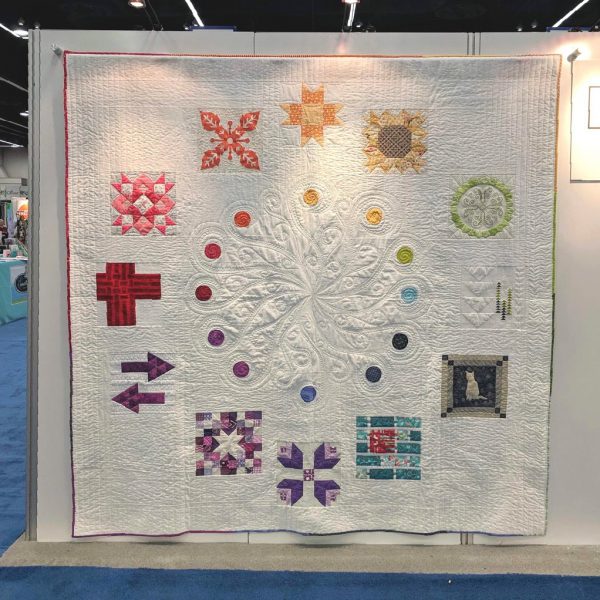 Photo Credit: Alex Veronelli/ Spring Quilt Market 2018
So, to demystify any prior concept about longarm sit down models that you possibly heard . . . There is no size project limitation, and yes you can also accept custom orders. In other words, the sky is the limit!
How to be Prepared for your BERNINA Q 20 Delivery
A BERNINA Q Series Longarm comes with all the accessories needed to start quilting the day your machine is delivered. Even a package of Mettler Threads with 2 cones of 50wt Silk Cotton thread and 1 cone of Seracor polyester is included. But I still have some preparation tips for machine delivery!
Protecting the Longarm
A longarm machine Sit Down Model or Frame is a big investment and before you plug in the power and turn it on, it's a good idea to get an Uninterruptible Power Supply (UPS). A UPS will protect the machine against minor electronic fluctuations. The device has a battery to keep the machine running for a short period of time. If the power outage lasts more than 30 seconds, you should immediately shut down your machine.
I have a 600VA UPS for EACH machine in my Studio and even if the device has multiple plugs it should connect only to the respective machine. The UPS battery can be changed every two to three years and some models have an indicator light.
Get your BERNINA Dealer Involved
My new BERNINA Ambassador Q 20 sit down came with the Foldable Table with Adjustable Height. It has the same top table size (36″ x 45″) but with three different height positions: 28″, 30″ or 32″. It's great for small spaces. For the delivery and set up, I had the help of my BERNINA Dealer, Ron Gattinella, from Close to Home Stores.
You don't buy a longarm machine every day or even every year, so ask for your dealer's help to deliver the machine. This will make sure that everything is set up and working as it should and have all your last-minute questions answered. If you are wondering how 1h 37m (Swiss precision) of machine delivery and set up looks like in 1m 10s just check the video below!
Don't Wait to Start Quilting
Every new machine can be a little challenging and intimidating in the beginning. But don't wait to start quilting, trying new things, and getting familiar with all features and accessories!
The BERNINA Q 20 is a very intuitive machine. It has plenty of support and instructional videos.
I didn't have the opportunity to quilt a big project with my new machine yet, but you can follow my video series "Let's Quilt That Fabric!" every Wednesday on my Instagram and YouTube! Every week, for 10 to 15 minutes, I will be showing how to create new quilting designs using fabric. No markers, templates, or rulers needed . . . just fabric!
The goal of this series is to help answer the most frequently asked question ever: "How to quilt that quilt?" So we will be adding a new quilted design to our sample inventory every week, something that you can use to practice or use on a real quilt.
Last but not least, I would like to thank BERNINA for the opportunity to be talking about my favorite machine and you for being here with me!
Uf Widerluege! (See you soon)
Seasons

all seasons

Techniques

quilting
Used Products
What you might also like
7 comments on "BERNINA Q 20 Sit Down: An Introduction"