Have You Downloaded the BERNINA Accessory App?
Have you downloaded BERNINA's new Accessory App? Currently available for Mac iOS 6 and 7 (iPad and iPhone) and Android 4.0 and up, the app will soon be available for Kindle devices in the Amazon app store.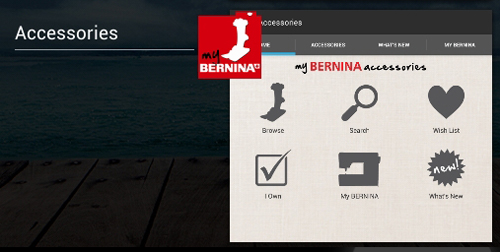 What does the BERNINA Accessory App do? Well…
Wondering what's available? There's a list of BERNINA accessories to browse, most with links to YouTube videos showing the accessory in action. Click to add to your "I Own" or "I Want" lists.
Looking for a particular item? There's a search function for that.
Want to see lists of the feet you have and those on your wish list? Click to access that info.
But will the accessories fit my machine? Tell the app about your BERNINA machine(s)– models 180 and newer – and it will let you know whether an item is available for that model(s).
What else does it do? Check the What's New link to find out about new accessories, BERNINA webinars, project instructions, and more.
Click HERE to visit the Google store
Click HERE to visit the iTunes app store
Update June 2016:
We regret to inform you that the My BERNINA Accessories App was discontinued in December 2014. As such, all future development such as updates, revisions or changes to the app have been placed on indefinite hold.
What you might also like
5 comments on "Have You Downloaded the BERNINA Accessory App?"