Longarm Quilting: Sit-Down Versus Frame
Hi there all you BERNINA fans! I'm BERNINA Expert Amanda Murphy and I'm happy to be visiting WeAllSew today to discuss various issues to consider when buying a longarm, whether it be in a frame or sit-down configuration. We all know that the Q Series are AMAZING machines, known for their smooth movement and even stitches in both set-ups, but how do you know which one is right for you?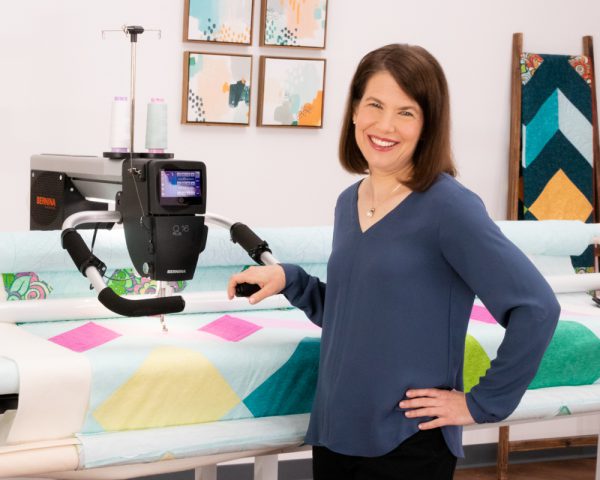 So today I'll be discussing some things to consider when looking at the various options.
Simple Analogy to Drawing
When you quilt on a sit-down you are moving the "paper". The machine is stationary, and you move the fabric.
When you quilt on a frame you are moving the "pen". The fabric is stationary and you move the machine.
A question that frequently surfaces at shows is, "Which one is better?" There are pros and cons of both setups.
Sit-Down Configurations
Let's look at sit-downs longarms first.  The various Q Series tables that BERNINA offers all support the Q 16, Q 16 PLUS and Q 20.  With any of these machines, you can work on quilts of all sizes. You are really only limited by the size of your throat space.  A bigger throat space is always nice, but it is really amazing how much fabric you can fit in the throat of even the Q 16—the smallest in the Q Series line-up.
With a sit-down set-up, you can quilt any area of the quilt at any time, in any direction! And of course, you have access to all three stitch regulation modes using any BERNINA free-motion foot, INCLUDING the BERNINA Adjustable Ruler Foot #72 and the BERNINA Ruler Foot #96!  There are two sensors in the bed of the machine, keeping your stitch length extremely accurate. Plus there is a manual mode which is AMAZING! Seriously. There is nothing like it on the market!
Choice of Tables
Your choice of table might be dictated by the amount of space you have in your studio.
The folding table is super-compact.  It can be set in one of three different heights and folds down to 9" so it can be stored in a closet. (Note: The machine must be taken out of the table for it to fold down to the 9".)  This is an excellent table for those with limited space.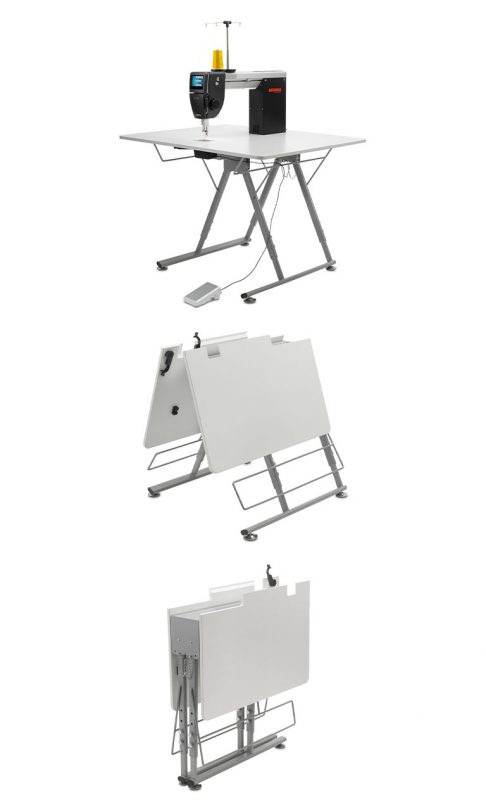 Next up is the regular Koala table. While it doesn't fold down, it does expand on both sides, giving you a ton of extra quilting space!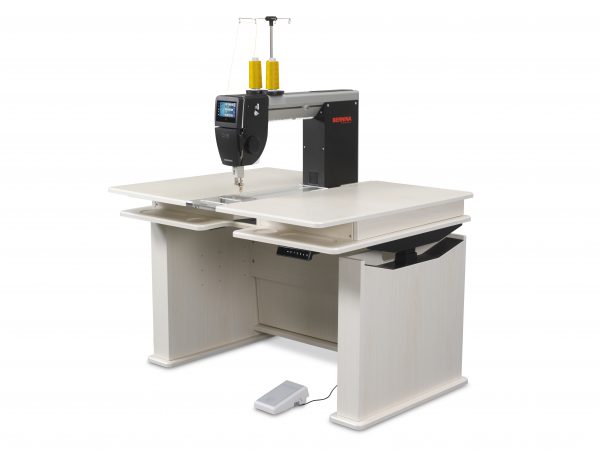 The Koala table also comes with hydraulics as an option. This is an excellent choice ergonomically if your budget allows for it, as you can quilt sitting and standing and every point in between.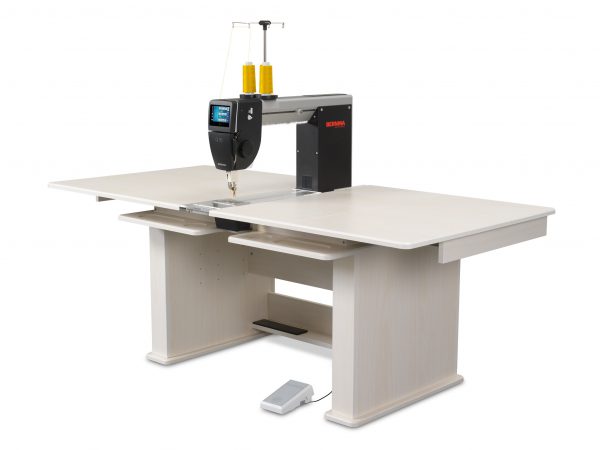 Next up is the Horn Lift Table. This is the option I have and I LOVE IT – especially with the extension that gives you both a shelf and extra quilting space! The quilting space extends out and around you, which is great for really bulky quilts. It works at any height from 29″ to 42″, which is particularly nice for Kick-Start, which is the feature where you can quilt without using the foot pedal.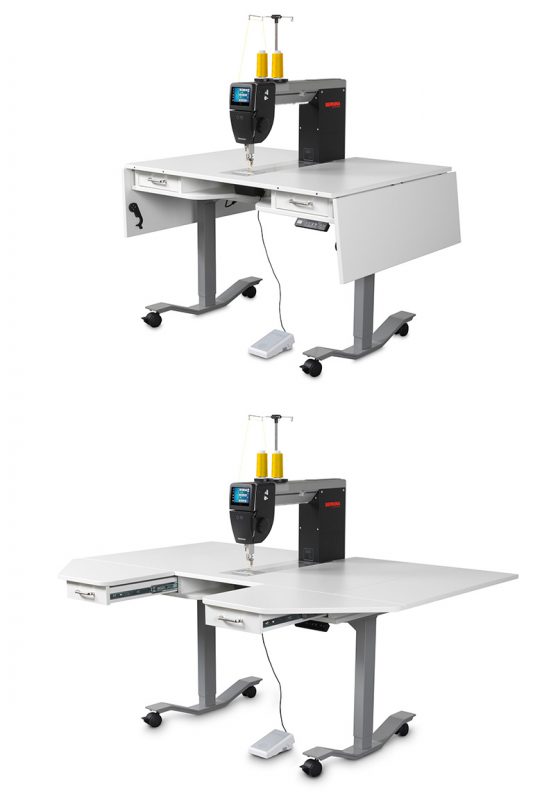 With any sit-down set-up, the main challenge is dealing with the bulk of the quilt.  Of course, there are tools to help with this, like quilting gloves, BERNINA gripper rings, and even suspension systems, but the challenge still remains. And, although the Q Series has a great basting mode that allows you to replace your pin basting with long stitches, the reality is that you still have to use some initial basting method prior to bringing the quilt sandwich to the machine.
Frame Configurations
This brings us to frame set-ups. One of the great things about quilting on a frame is it takes the headache out of the basting process.  You simply baste as you move down the quilt, and the frame itself helps keep the quilt nice and square!
When quilting on a frame, the weight of the quilt is LITERALLY off your shoulders.
BERNINA just introduced the new Studio Frame, which accommodates the Q 16, Q 16 PLUS, and Q 20 at a great price point. (Keep in mind the Q 16 PLUS and Q 20 can accommodate both automation and pantographs, while the original Q 16 is simply a free-motion machine.) The new Studio Frame can be set up at either 5 feet or 10 feet.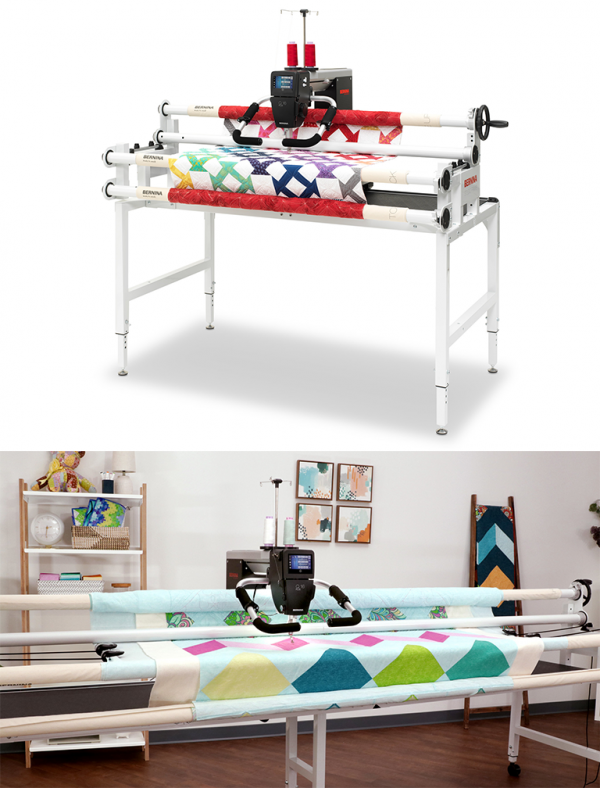 And, of course, there is the original line of Pro Frames, which can accommodate the larger machines—the Q 20 and Q 24. The Pro Frames come in three sizes and give you even more space to create!  (I have the Q 24 on a Classic Frame that gives me about 12 feet of quilting space, and I love it!)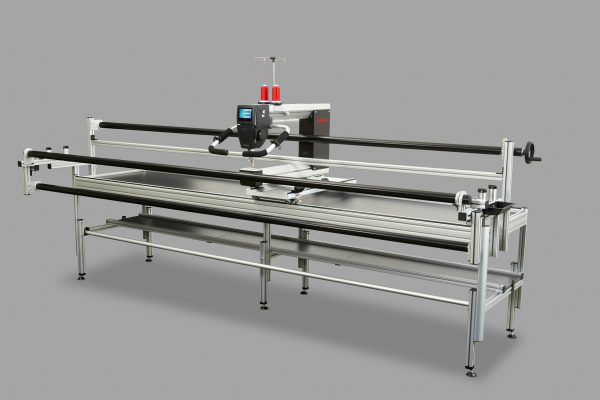 With a frame, you can add BERNINA Q-matic, which is the automated system in which the machine is hooked up to belts that are moved by a computer. This allows you to finish quilts quickly while doing other things—like more piecing! Of course, my favorite thing is to combine free-motion, ruler work, AND automation, because the results can be truly spectacular and make me look like a better quilter than I actually am.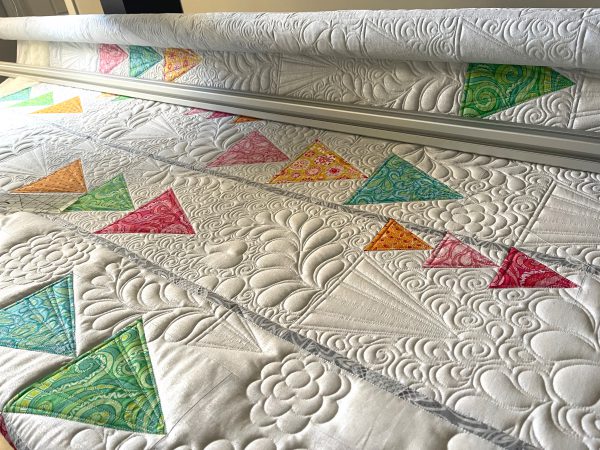 My soon-to-be-released Flag Day pattern—coming out in early 2022 and featuring my Free-Motion Fantasy 2 line for Contempo of Benartex
So what are the challenges of working on a frame?  You will be working from the top down, and you will have to learn to quit motifs in all different orientations.  Also, your quilt size is limited by the size of your frame. (You can't quilt a 7-foot wide quilt if you set up a Studio Frame at 5 feet!)  And last, but not least, you have to have the space.
One more thought.  The Q Series stands out in the longarm market for its smooth movement, beautiful stitches, and ease of use—but also because of its FLEXIBILITY. This is a machine that can grow with you! So, if you are currently looking at a sit-down but might eventually want to move to a frame, consider your options carefully. Extra throat depth is super useful when on a frame because it minimizes the need to roll the quilt, and the ruler base will eat into the working area as well. Conversely, if you are considering a frame but think you might down-size it in the future, look at the Q 16 PLUS and the Q 20, which will both work in a table configuration.
I hope this post helps you find the machine that is right for you. For more information, check my BERNINA USA Facebook Live Event!
For more information about the Q Series, stop in at your local BERNINA Dealer. And for more quilting tips, make sure to join me on Facebook Group for my free Thankful Thursdays at 11 am ET on the first and third Thursdays of the month, co-hosted by my amazing partners in crime, my Q 16 and Q 24 🙂
Happy quilting!
XOXO
Amanda
Seasons

all seasons
What you might also like
2 comments on "Longarm Quilting: Sit-Down Versus Frame"