Longarm Quilting Tip: User Profiles
Welcome, quilters! My name is Mandy Leins, and I teach quilting on both sit-down and longarm machines. I am a quilter who loves switching threads to suit my and my customers' projects, and I would like to share with you one of my absolute favorite features of the Q20 and Q24: the ability to easily switch between threads using the Profiles feature!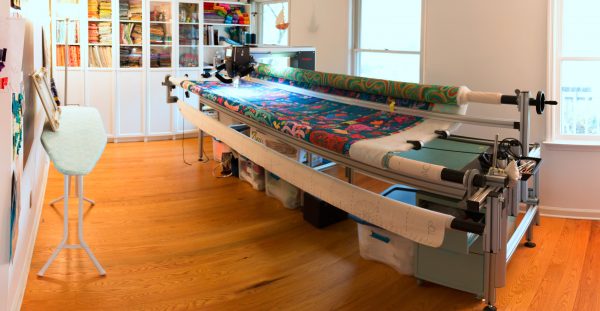 To best explain this awesomeness, it's necessary to understand a couple of things about how the Q-series works.
The first thing to know: unlike other longarm machines that use a dial to adjust tension, the Q-series has a digital thread tension adjustment which the operator controls using the interface on the machine head. To adjust the tension, the operator selects a number that is higher or lower relative to the starting point. For example, if I start off with thread tension at 4.0 but am seeing a slight hint of bobbin thread, I would try to fix it by reducing my tension to 3.75. As with other BERNINA machines, the number will appear in yellow to show that it has been changed from its original setting.
The second thing to know: BERNINA recommends that each bobbin be set to 220 using the BERNINA bobbin tension gauge, which comes with each machine. Because I know the tension of my bobbin will always be the same, I can adjust my top thread to be in balance relative to the bobbin. This is what makes Profile settings possible!
For example, when I use Invisafil, a 100 wt polyester thread, I know that I need to use a lower tension because I have tested it out. I write this down in my thread journal, and every time I use it, I know what the top tension should be. If I use Aurifil 50 wt, I know what the number is! In the photos below, I explain how I set up my Profiles for a single project: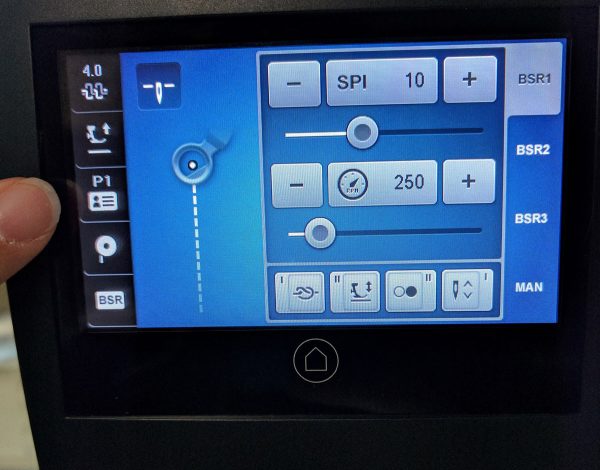 Touch the profile setting button, which is the middle button on your machine's home screen.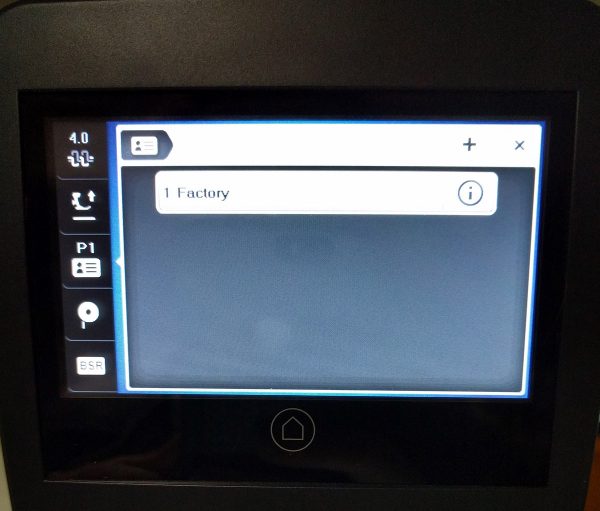 In this photo, there is only one profile set up, labeled "FACTORY". This is what you will see straight out of the box or after servicing. This first profile can be renamed and changed, and you can add up to four more.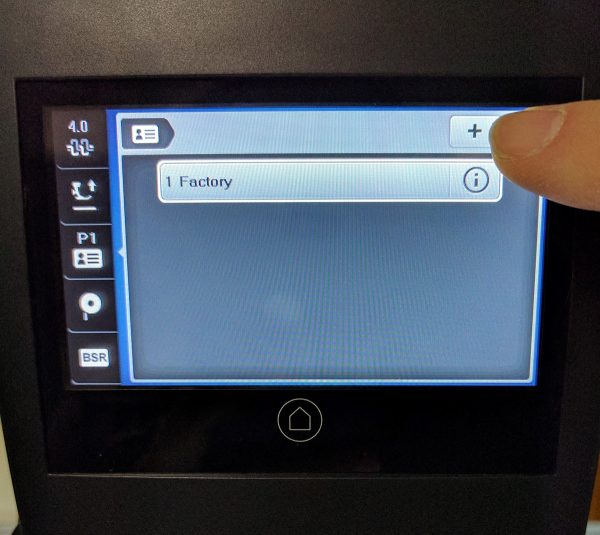 To add a new profile, touch the "+" button at the top right of the screen.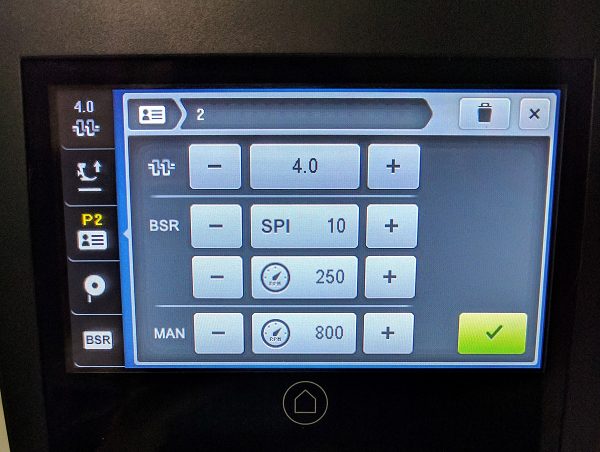 You will see a screen that shows you all of the settings you can change using the + and – buttons. From top to bottom
Tension
BSR modes: SPI (stitches per inch) and Machine Speed
Manual Mode (constant machine speed)
Note that the settings you change will appear in yellow, so that you can see where you have changed them. Once you save this profile, those will no longer appear yellow because you have established them as the "new normal".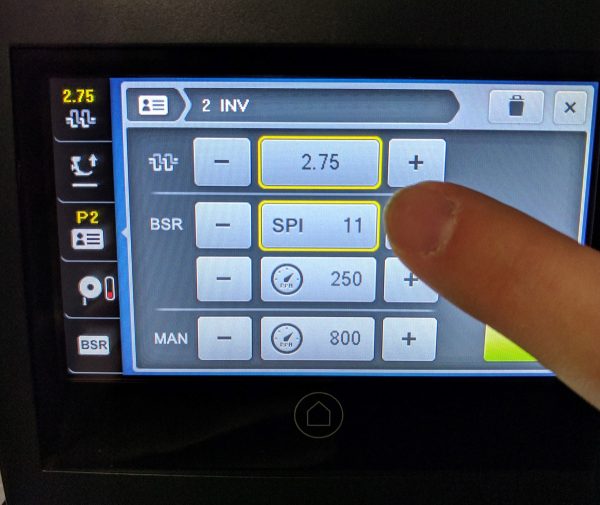 To name your new profile, touch on the long box with the number 2 in it, and a type pad will appear. Name your profile whatever you wish. I named mine "INV" for the thread I was using, Invisafil.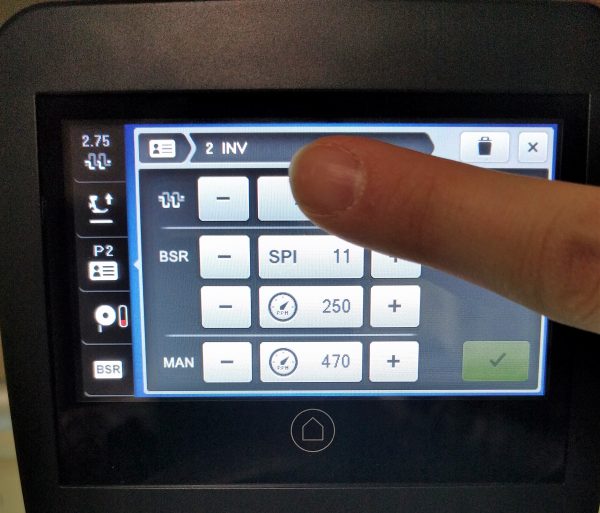 When you are satisfied with your selections, touch the green checkmark at the bottom right to save your profile.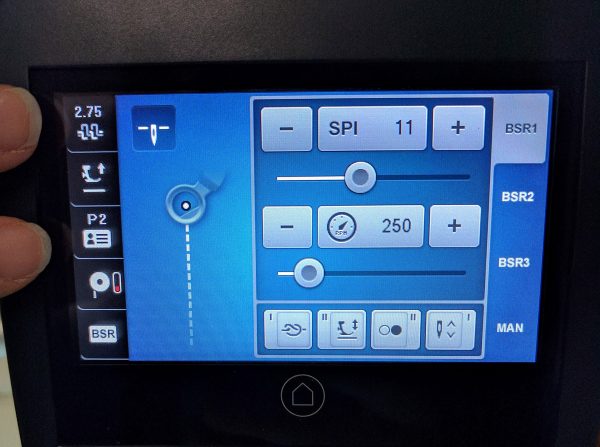 In this photo, I have selected Profile 2 (P2), and you can see that the tension is exactly where I set it, and that the numbers are no longer yellow. This means they are at the correct setting that I established when I set up the profile. If I were to change the tension using the top button (to 2.5, say), then it would appear yellow, to let me know there was a change.
But setting Profiles can go beyond simple thread choices. Let's say I am quilting pebbles, and would like to switch from BSR2 to Manual modes, and I have a specific speed I want my Q24 to be going. I also know that the top tension needs to be reduced slightly. I can set up a profile named "Pebbles" to accommodate all of these changes, and I can simply go into Profiles and choose "Pebbles." I have a running list of threads and quilting motifs so that I can easily set up profiles before I begin a new project. With five available profiles, I have plenty of options to make more efficient use of my time.
One word of caution: do check tension each time you switch profiles. While you may not need to make an adjustment,you never know if there might be some slight change in your threads due to humidity, the way the thread has been wound from one spool to another, etc. I always test a bit to make certain it is spot on, but I know my Profiles will "be in the neighborhood" so my tweaks, if any, are always minor.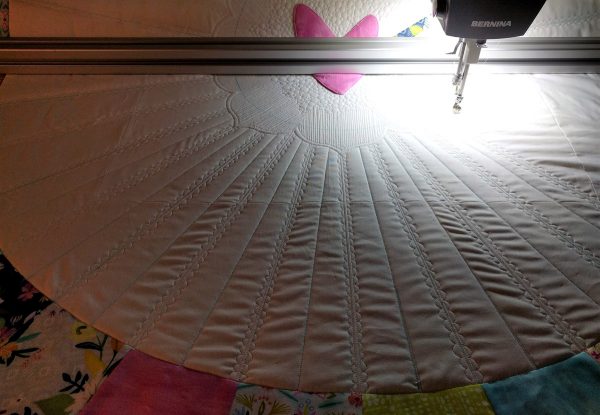 I've included a copy of the simple chart I use for myself, download the Thread Profile Template. Please feel free to print a copy and use
it to fill in your own thread preferences. Happy quilting, friends!
Difficulty level

Intermediate

Time to Complete

Evening

Seasons

all seasons, fall, Spring, Summer, Winter

Techniques

longarm quilting
What you might also like
3 comments on "Longarm Quilting Tip: User Profiles"