Longarm Quilting Tip: Hydraulic Lift
There is a saying that goes like this: "Use the right tool for the job." I must say that I am a HUGE believer in that theory. I simply do not have the time to waste on products that won't make my life easier; and time is not something I can afford to waste. That is the major reason why I have chosen to partner with BERNINA as my sewing BFF. This includes all aspects of my quilting business, domestic and longarm! And yes, I am keeping fingers and toes crossed for a serger in the near future. Bottom line, BERNINA products are top of the line. You just can't do better than BERNINA. At the time I received my BERNINA longarm the hydraulic lift wasn't ready. That didn't matter—hydraulic lift or not—I was thrilled to be the new owner of a BERNINA longarm.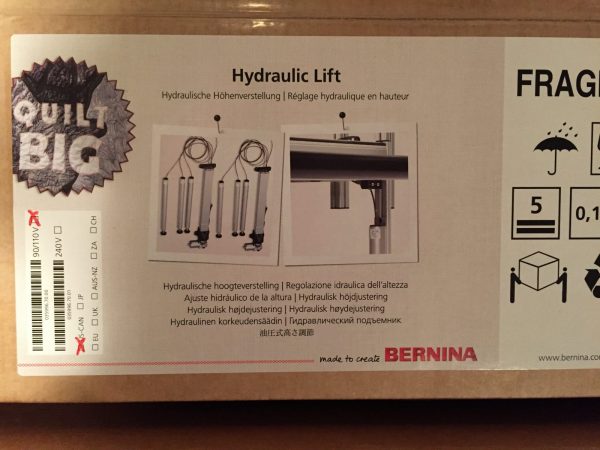 Now, let's add to the amazingness of my longarm. How, you might ask. Well, I am now the proud owner of the hydraulic lift! Yes quilters, it has been installed to my already incredible BERNINA. I am pretty proficient with some machinery, but I did draw the line when it came to installing this lovely addition to the quilt frame. Lucky for me I do have a wonderful, and mechanically educated individual to help with this kind of situation. I contacted Bill, my local BERNINA Dealer, from Ladyfingers Sewing Studio in Oley, Pa who came to the studio and installed this ingenious accessory. Please excuse the mess….it was all mine. Bill was highly organized, I am a work in progress when it comes to organization in the studio.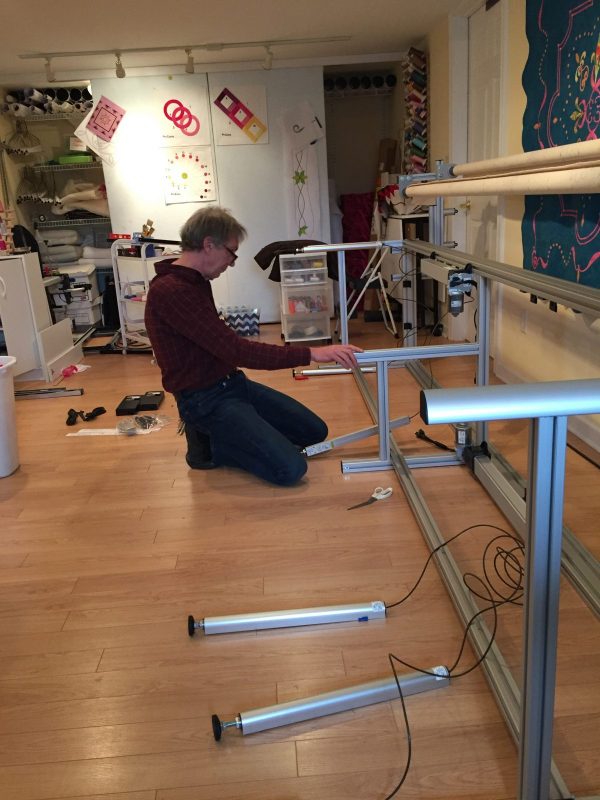 Perhaps you are wondering what a hydraulic lift is and what functions it performs? When your longarm is set up on a table or frame, you pick a height that feels right for you. But there are times when you wish the table or frame was a little higher or a little lower for various reasons. The Hydraulic lift is for just that purpose; and becomes the little slice of heaven you desire. With a mere push of a button you will witness the height of your table adjust to your needs. We all know what neck, shoulder and back issues we quilters endure while trying to enjoy the craft we love. Well, the lift will assist in alleviating these issues tremendously. Often a subtle 1″ change will put your neck in a different positions and enable you to quilt a little longer period of time. The end result will be diminished aches and pains after a long day quilting. Now, let's move on from subtle to drastic changes this lift can produce. This incredible addition can take things low, and I am mean as down to the floor, OR up, up, up as high as 46″. That's high enough to where your belly bar would be located. Yes, to think you get high, low and everything in between. Can my quilting tools get much better? Nope, or at least until I get my serger!
When I implement pantographs, which I perform from the back of the machine and follow a pattern, I like the machine a little lower. It allows me to move along the pattern with greater ease. From the front of the machine, I like to vary the height position of the table every 15-20 minutes. This allows me to change the position of my neck and shoulders, especially when I am doing small fill work.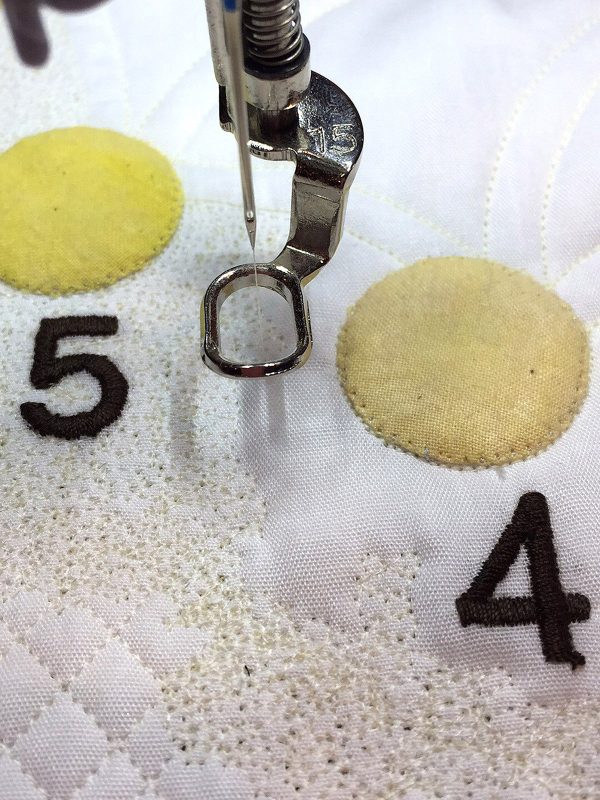 During a period when I am completing ruler work, I adjust the machine a bit higher. I am sure you can visualize the benefit of having the capability of changing the height of the table. In addition, there are even moments that I enjoy sitting while quilting. Yet again another example of when changing the height of table is necessary. Can you see how valuable this accessory can be to your quilting experience? The lift isn't just valuable, it is a physical and mental MUST! Not only will your find yourself designing with more enjoyment, but at the end of the day your body will thank you!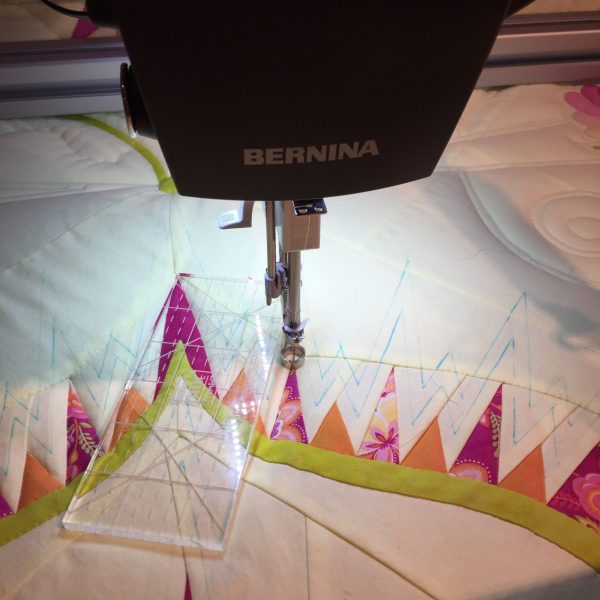 Difficulty level

Advanced

Seasons

all seasons, fall, Spring, Summer, Winter

Techniques

longarm quilting, quilting, rulerwork
What you might also like