Tips for Longarm Rulerwork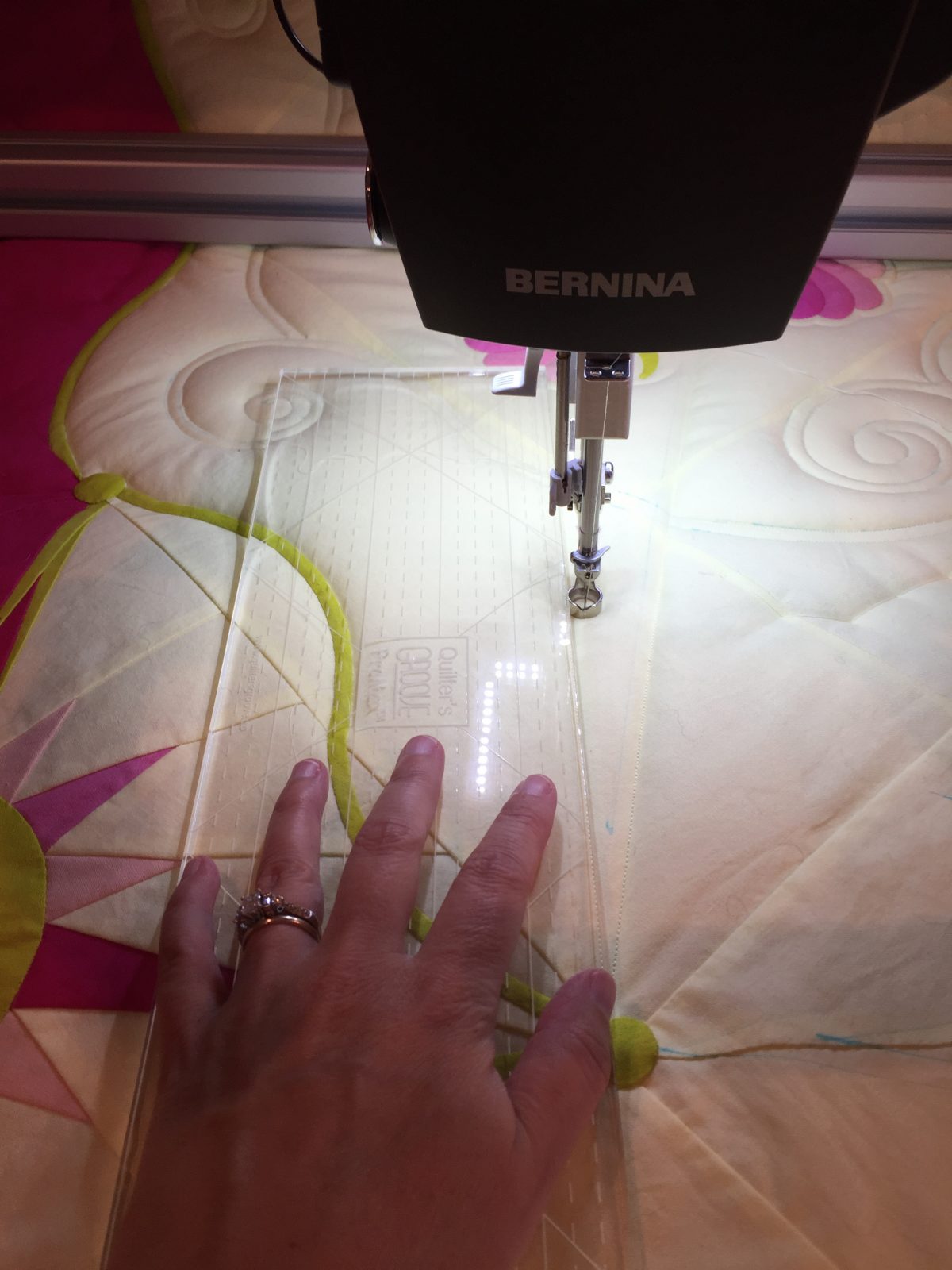 Quilting with rulers, I know the first rulers that come to mind might be rotary cutting rulers. However, I am speaking of quilting rulers or often they are referred to as "templates". They are implemented for executing those beautiful quilting designs you see magically appear on quilts. I personally, have a addiction to them. My love for these amazing tools gave me the inspiration to developed a line of rulers called the Quilter's Groove Rulers.
I love teaching beginner classes on quilting rulers to my longarm quilters and yes, even domestic quilters. Usually, I witness students entering my class with the look of apprehension on their faces as if there is no way by the end of our session they will have gained the skills required to use these rulers. Fears such as hitting the template and throwing their machine out of timing is just one of the many "what if's" I encounter. Just imagine the expression on their faces when they realize that yes it isn't rocket science and yes they are quite capable of walking out of my class with this skill under their cap. WOW, what a wonderful moment for me and them to behold! So, perhaps you are a novice to quilting, or maybe a seasoned quilter that hasn't stepped into the world of rulers, if that is the case, I am going to give you my tips for longarm rulerwork.
Please note:  do not attempt to quilt with rulers without the 96 Ruler foot and the EXTENDED BASE!
Tip #1:  Patience goes a long way! Rulers are all about accuracy not speed. So do not expect to stitch-in-the-ditch a quilt and think that is going to be faster than doing an all over quilting design. Wrong! Remember patience, patience, patience and more patience!
Tip #2: Get a Grip! What??? If you are holding your ruler with a death grip and pressing down on it, you will not be able to move your machine. In addition, you will notice that your hand gets awful tired. No wonder, you're trying to kill it will that death grip! But that doesn't imply that you want to have a grip that's loosy goosy either. This will result in your ruler slipping and the lines you've worked so hard on producing won't be nice and straight or a smooth curve. Do you really want to find yourself pulling out that nasty seam ripper?
Tip # 3:  Should you find that your hand does tend to get tired or cramped, you might want to consider using a pair of domestic machine quilting gloves or at least one. This provides a little bit of extra grip to your fingers. I use one when I know I have a large portion of ruler work to do, it definitely makes my quilting less stressful.
Tip#4:  When you are holding your ruler, make sure that you are situating it close to where the needle is stitching. This is key when working with longer rulers. Below I've given an example of how making sure the ruler's position is so important.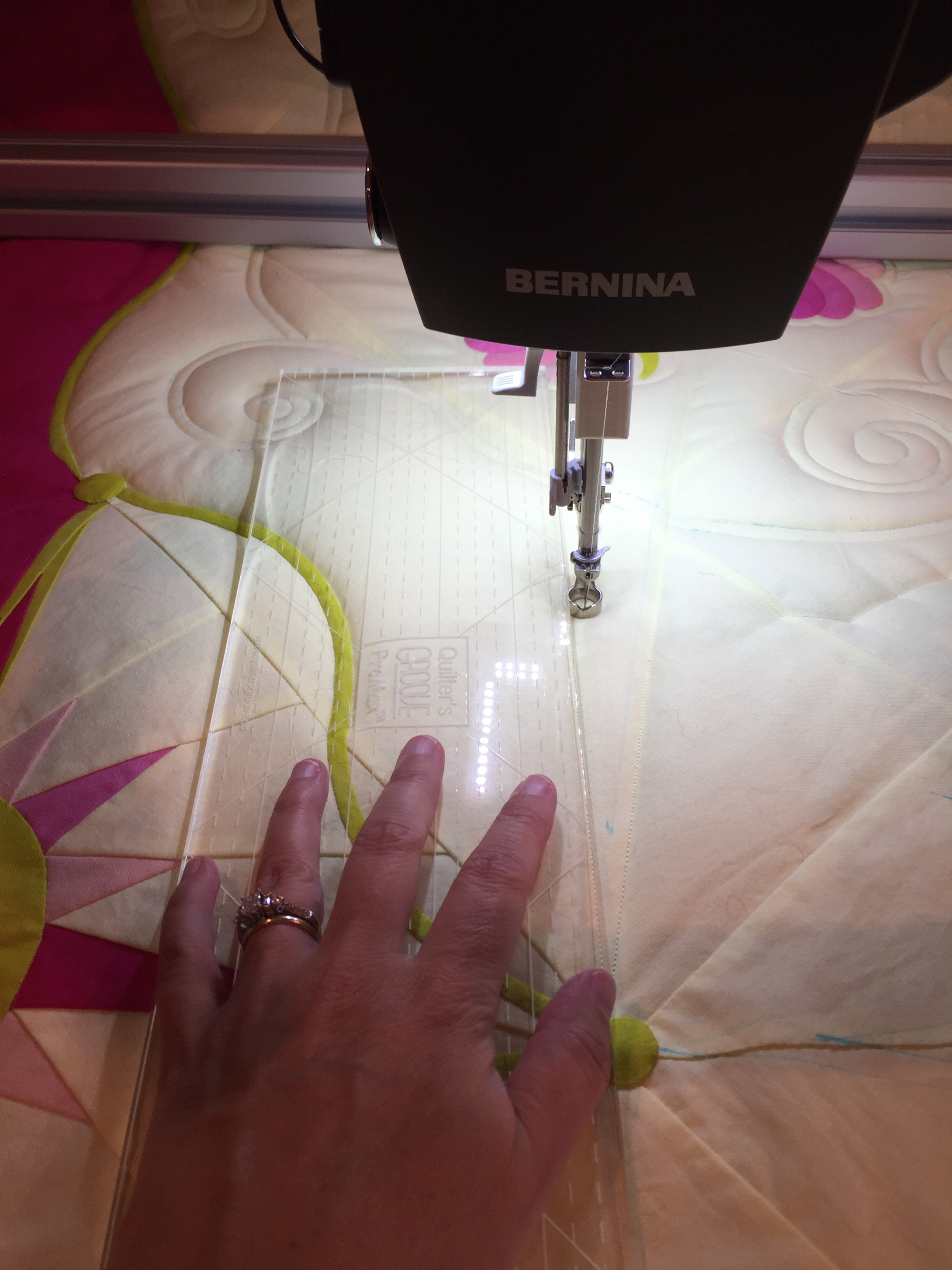 If I am stitching towards the top of this ruler, and my hand is located where it displayed in the picture above I won't have a lot of control.  Yes, I want to be in control, some say I have issues…lol.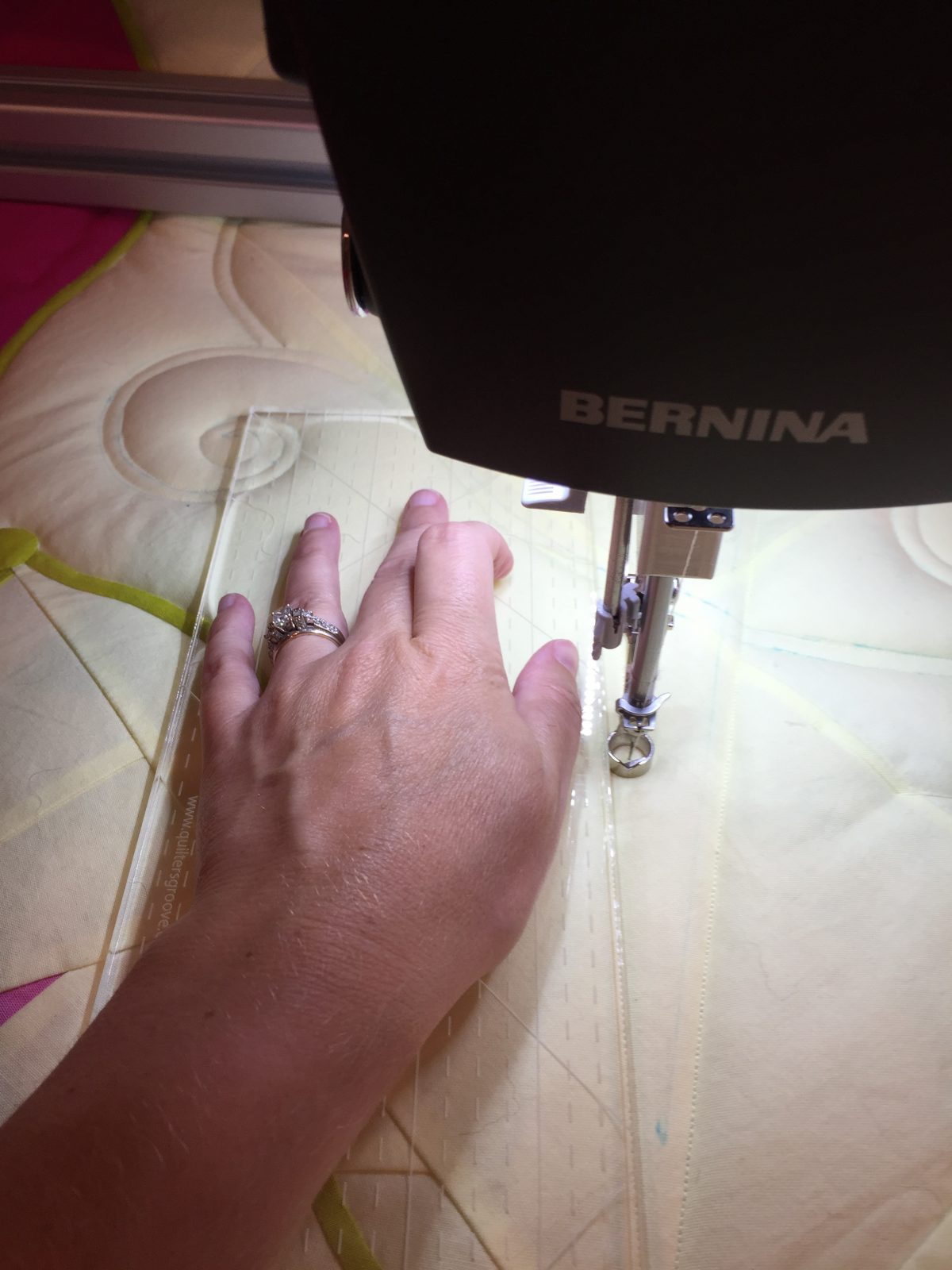 Now I have more control over the ruler now. Of course, I am a happy girl.
Tip #5:  When you start and stop, have your needle in the down position. This is one of the great features on the BERNINA longarms, you can program it to stop in the down position. One has to LOVE not having to worry about whether or not their needle is in the down position once they have stopped. Why is it a big deal to make sure you end any quilting periods with your needle down? Well, this will deter the possibility of knocking the machine and it taking some stitches that you will have, unfortunately, to rip out.
Tip #6:  On the BERNINA longarm, you have a choice between two different stitch regulator modes. Experiment with both modes to see if you prefer one over the other. Personally, I am a fan of completing all of my ruler work with BSR 1, with 13 stitches per inch (yes, that is small, but I tend to put really small stuff around the ruler work) and 250RPM.
The number one of the questions I get asked most often is: "Which ruler should I start with?"  My answer:  You cannot go wrong with a good straight edge and a set of circles. Both of these are terrific beginner rulers because they will supply you with a TON of designs. But I suggest that you make sure you enjoy doing ruler work before jumping in and investing a lot of money on those specialty rulers.
Tip #7:  It happens to all of us when using side clamps and the extended base, you might hit the clamps. What's a quilter to do?  Well here are my solutions for that.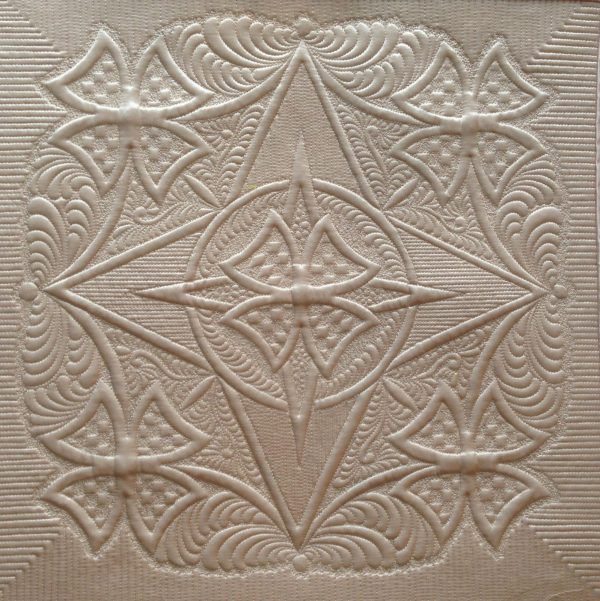 Yes, it's possible to master rulers.  And once you've conquered rulers the skies the limit! Now, grab those orphan blocks and go to town.
Difficulty level

Intermediate

Time to Complete

Weekend

Used Material

quilting ruler

Seasons

all seasons

Techniques

longarm quilting, quilting, rulerwork
What you might also like