Handmade Housewarming Napkins with the BERNINA Stitch Regulator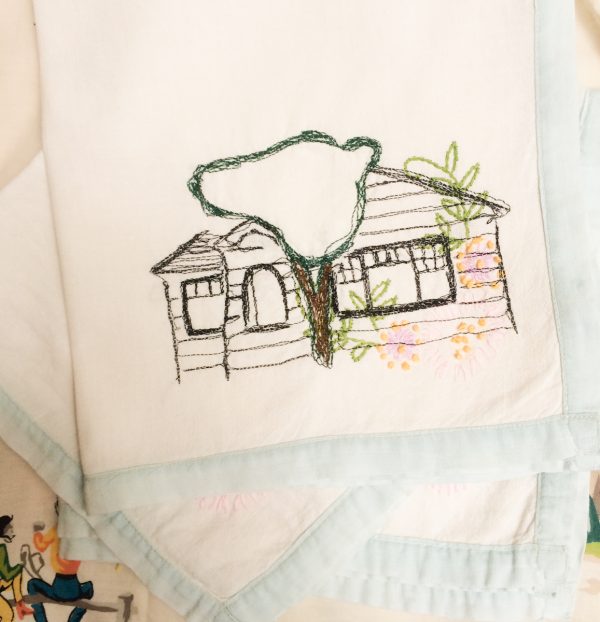 These days, a good picture of a loved one's house is easy to find with a simple Google search. Using either Google Maps, or if you're lucky, a real estate listing (realtors take great pictures!) you can easily find a straight-on view of most homes to transform into a custom gift that is sure to impress. Know a newlywed or a new home owner? I'm sure that they would love to see their home commemorated on a set of linens. Using the BERNINA Stitch Regulator (BSR), this project is a snap, and can easily be completed in an afternoon.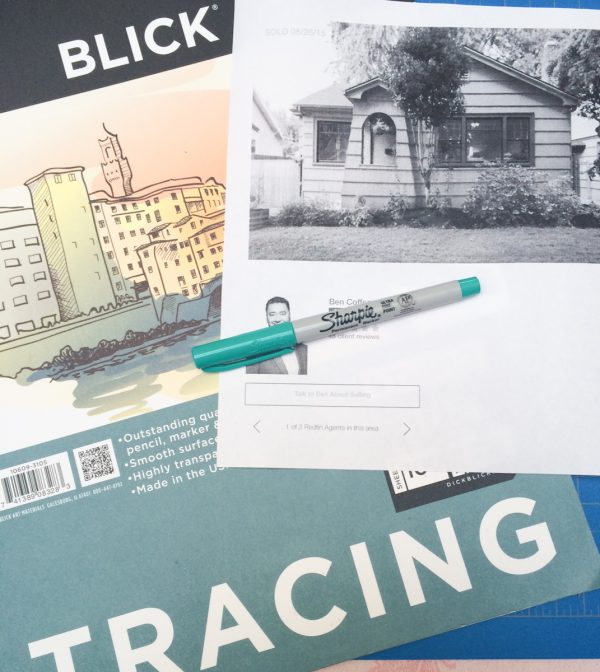 Materials to make your own Custom Housewarming Napkins
An image of the house
Tracing Paper
Permanent Marker
Water soluble sticky-backed stabilizer (I used Sulky Sticky Fabri-Solvy)
Blue Painters Tape or Masking Tape
Cocktail napkins (coasters, placemats, etc. would also be appropriate) I used vintage, but any will do
Thread
BERNINA Stitch Regulator (or your favorite free-motion stitching foot)
How to sew Custom Housewarming Napkins
Step One:
Select your image.  If you don't have a photograph, try searching Google with the address you're looking for. If the house was recently for sale, chances are a great photograph is waiting for you on the realtor's website, or even on Google Maps street view. I found the image I used on a realty website and printed it on my black and white printer. I happened to like the size it printed in, but if you'd like to adjust it, use photo editing software or take it to a copy shop and enlarge or shrink it.
Step Two:
Practice tracing the image onto tracing paper. Tracing paper is cheap, and a good way to play around with what details you will and will not include. Use blue painters tape to tape your image to a window and tape the paper over the top. Trace with a permanent marker. Once you've got a result that you like, remove the tracing paper and trace again onto the Sticky Fabri-Solvy. Be sure you are tracing onto the fabric surface (feels like interfacing) and not the shiny backside.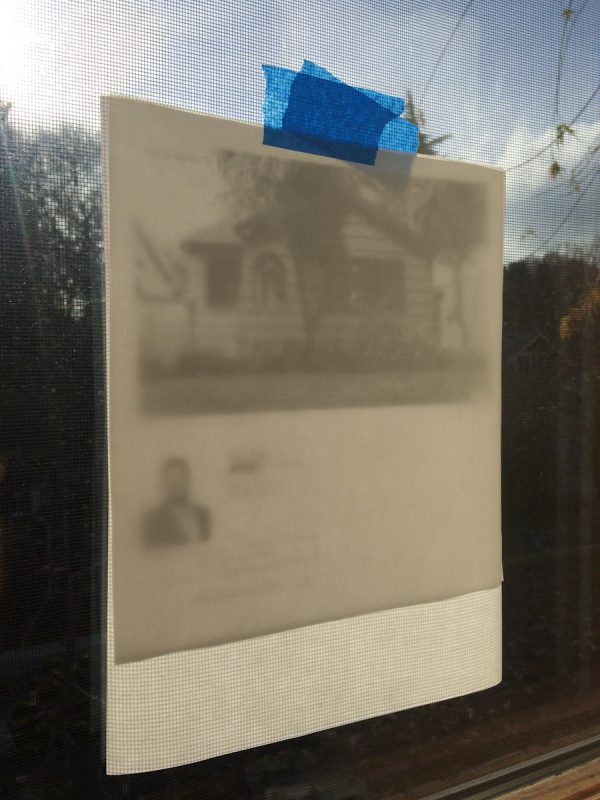 Step Three:
Prepare your linens. If your napkins are new, wash and dry them to prevent shrinkage. If they are vintage and need a sprucing, give them some love in a bowl of oxi-clean before washing. Press, and hold up the Fabri-Solvy to decide where you'd like to place your image. I placed mine in the corner so it will show when the napkins are folded. If, like me, you're using vintage napkins that are already embroidered, consider using the embroidery as a design element. The pink flowers took the place of hydrangea bushes in the house I stitched.  Remove the paper backing and stick the Fabri-Solvy in place. Use an additional piece of Fabri-Solvy on the back of your fabric to stabilize your napkin while stitching.
Step Four: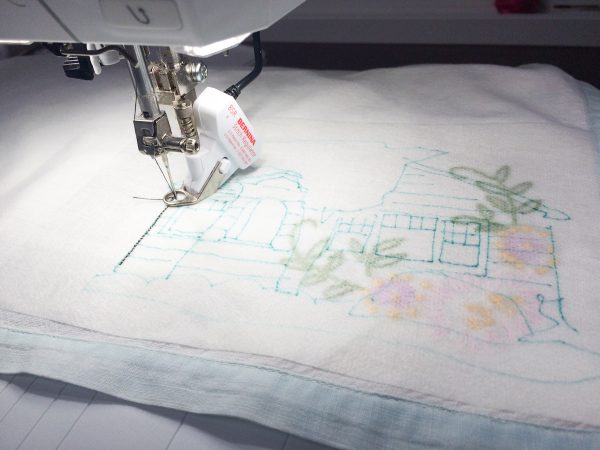 Prepare your machine. Install the BERNINA Stitch Regulator (BSR) and disengage the feed dogs. Thread your machine with your choice of colored thread. I used black for the house and green and brown for the tree out front. Use the BSR to stitch over all your drawn-on lines. You can see here that I used black thread and turquoise ink, making it easy to see what I had and hadn't stitched yet. I recommend a contrasting pair of ink/thread to keep track of what you're doing. Take care during this stitching to take lots of breaks. If you get to the end of a line and you're not sure where to go next, press the thread cutter button and stop, take the fabric out of your machine and decide where to go next. There's no rush, and your lines will be better if you stop and start a few times along the way.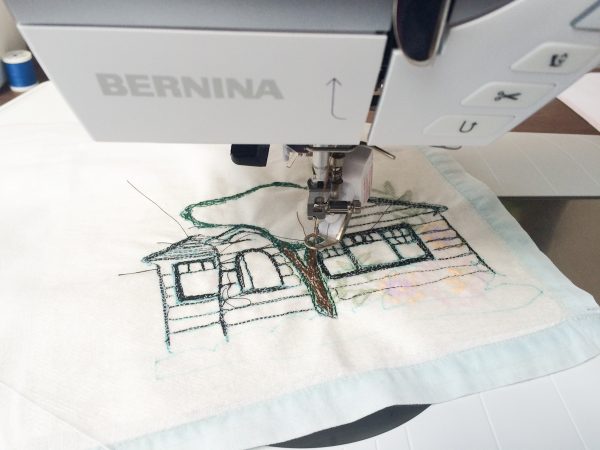 Step Five:
Once you're finished stitching, take a good look at what you've stitched. Be sure you are completely finished with all your stitching before moving on to step six.
Step Six:
Rinse! Once you're done stitching, it's time to rinse the Fabri-Solvy out of your fabric. It's hard to believe, but this stuff is water soluble, and will rinse away with cool water and a little soap to keep the ink from bleeding into your fabric. Fill a large bowl (or your bathroom sink) with cool water and a tablespoon or so of dish soap or delicate detergent (shampoo works in a pinch) and add your fabric. Soak for at least an hour or two or overnight, then rinse under cool water to remove all the stabilizer, which may feel like glue at first.  If your fabric feels stiff when dry, you've got more stabilizer to remove. Repeat the rinse if necessary.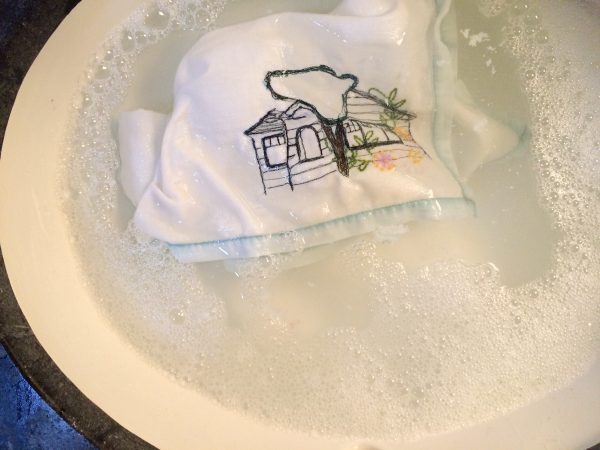 Step Seven:
Repeat the first six steps if you're working on a set of napkins, then press the collection and wrap up in a pretty ribbon for gifting.
Some other ideas:
Know someone who has moved around a lot? How about a full set of cocktail napkins, each featuring a different house?
Add the address or the name of the owners. I can imagine using one of the included BERNINA fonts to do this, or adding it with hand embroidery.
This project easily translates to lots of household items, including placemats, coasters, tea cozies and more. I'd love to hear your ideas. Please share your images and projects in the comments or on the community section on WeAllSew.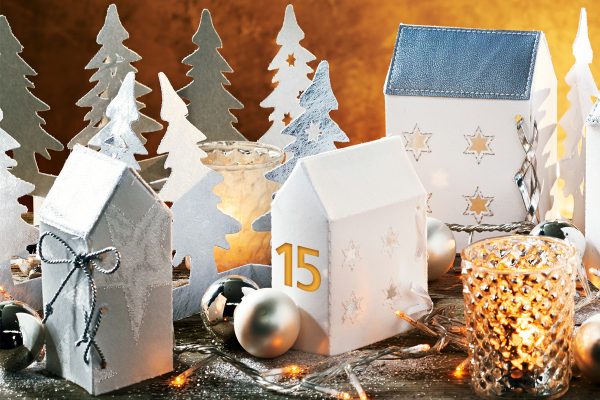 Our December 10 Gift for You
One lucky winner will receive a GoStack; portable, stackable containers to store your little sewing notions or other items to prevent them from getting lost.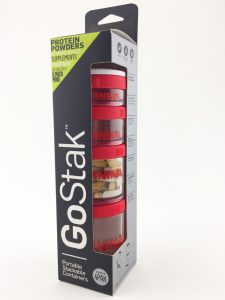 All you have to do is post a comment below answering the following question:
What is your favorite holiday music?
A winner will be chosen at random on December 11, 2016 and announced the following week!
Good luck!
The contest is open for comments until December 10 at 12:00 midnight Central Time. Click here for contest rules.
Congratulations to our WeAllSew reader "crazyquilter", the winner of the December 10 gift. Enjoy!
Projects

home décor

Techniques

embroidery, free-motion quilting, quilting, sewing
What you might also like
96 comments on "Handmade Housewarming Napkins with the BERNINA Stitch Regulator"