3 Trends Spotted at Spring International Quilt Market
Hello there WeAllSew readers! My name is Melissa Mortenson and I am proud to be one of BERNINA's Brand Ambassadors. I also am a fabric designer for Riley Blake Designs and have run a sewing blog called the Polka Dot Chair for the past 8 years. This year, I not only had the privilege of attending the International Quilt Market in Salt Lake City, but also to be a first time exhibitor at the market. I had a booth introducing my new sewing patterns and showcasing my Wonderland fabric line with Riley Blake Designs.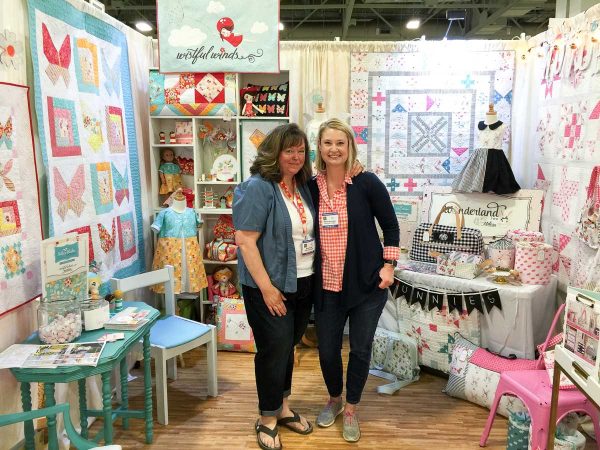 (me, on the right in gingham, with my "boothmate" Shari Butler)
While I was at market I was able to steal away from my booth for a bit and walk the show floor. I'm always so inspired by all of the amazing creations at quilt market every year. Let me just say that there are some VERY talented people in this world. For those of you that don't know, International Quilt Market is a trade only show that is held twice a year. Exhibitors from all over the world come to show their latest fabric lines and products to store owners and press from all over.
As I walked the show floor this year I spotted quite a few trends. Today I'm going to share three of them with you.
Trend 1: Black and White
This year I felt like there was a lot of black and white shown at market. Both in fabric lines and quilt designs. The simplicity of black and white lends it self nicely to quilt designs and you could tell that many designers used this trend to show off some of their latest creations.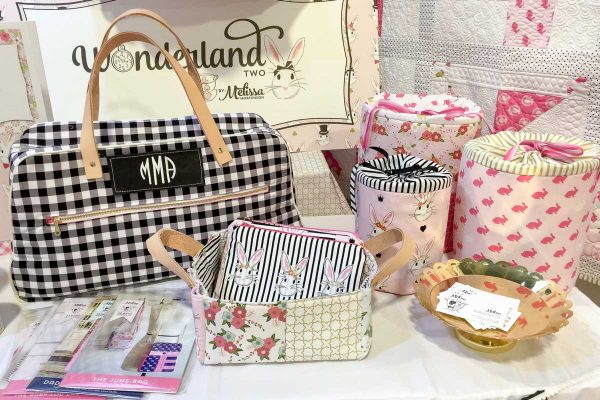 This bag is from my booth and made in Black and White gingham (hey, I did have to throw in at least ONE of my projects right??? *wink*).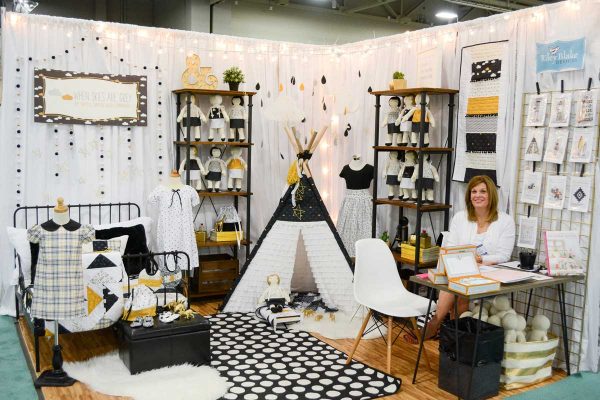 The new line from Riley Blake by Simple Simon and Co, When Skies are Gray, also features a strong black and white color story.
Here are a few quilts that I spied that also exhibit this trend: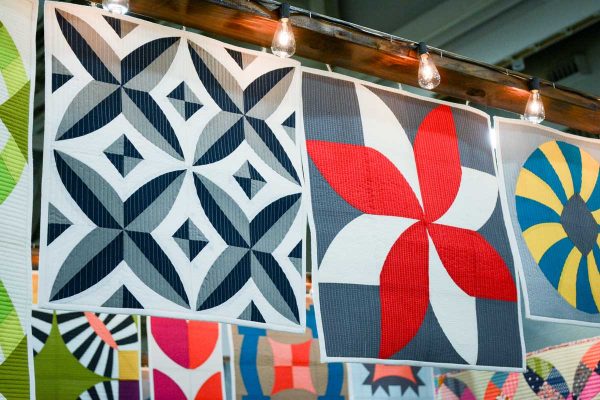 Quilts by Sew Kind of Wonderful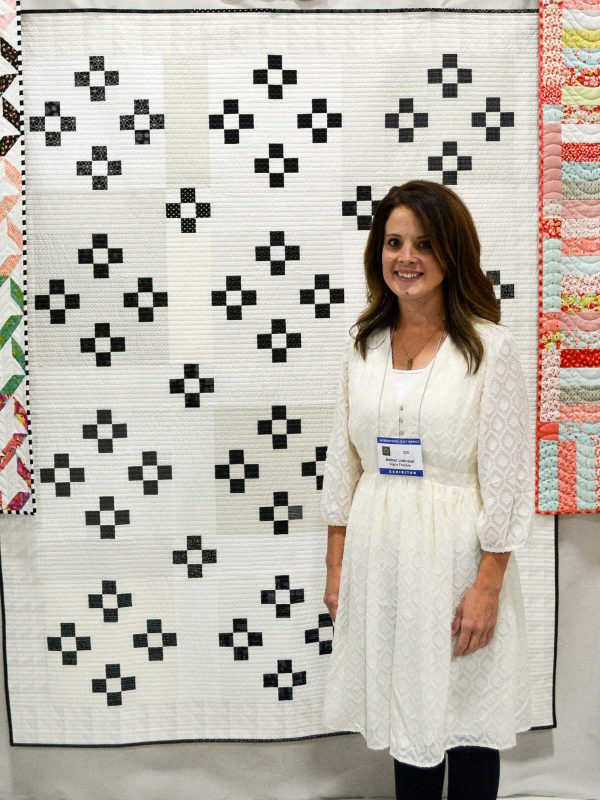 Quilts by Gigi's Thimble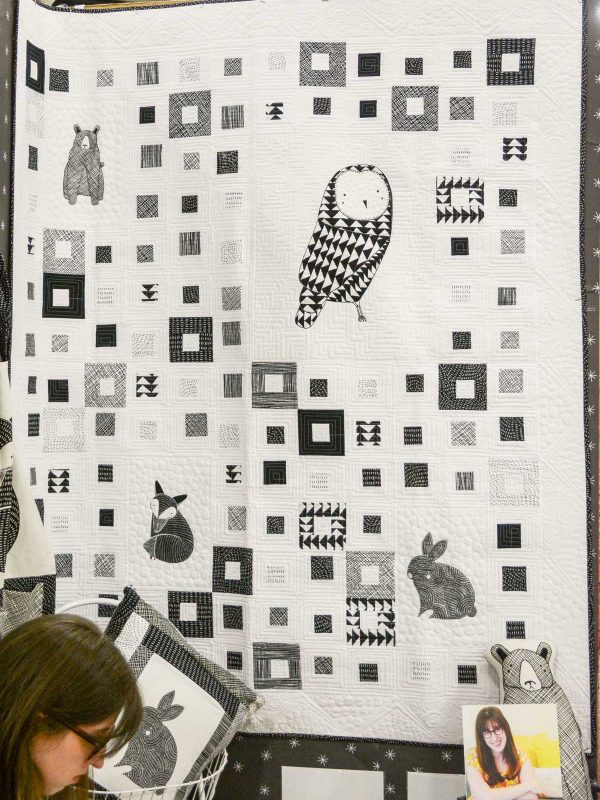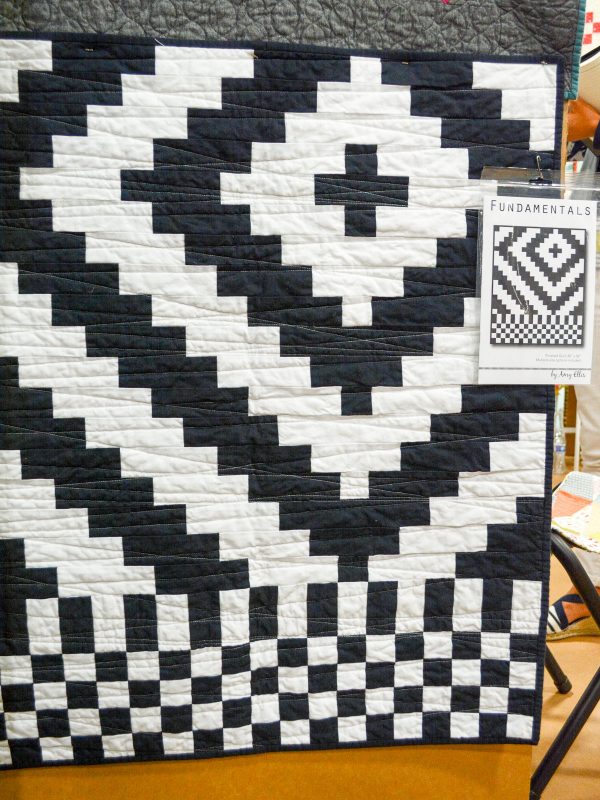 Quilts by Moda
Trend #2: Oversized Images on Quilts
A second trend I spotted was the use of exaggerated or oversized images on quilts. In my opinion, this was one of the coolest things I spotted at Quilt Market.  I absolutely love the genius creativity that was involved in making some of these quilts.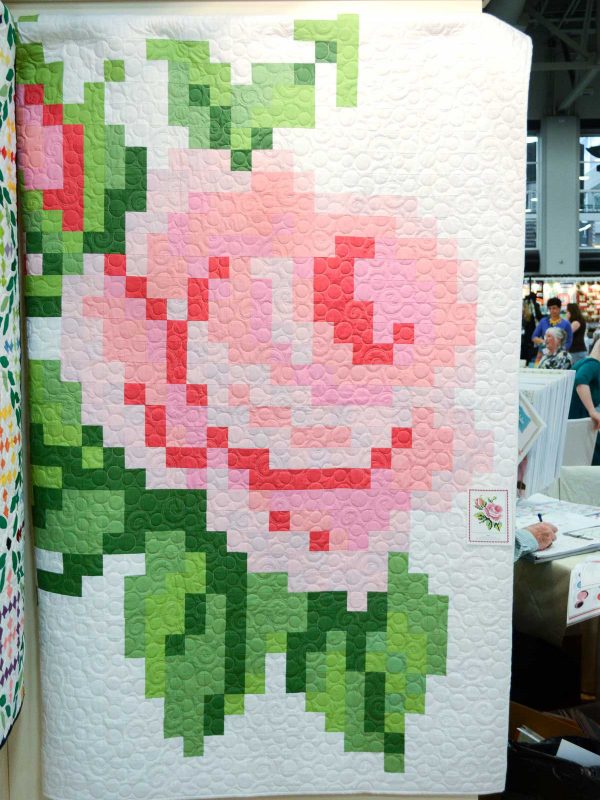 Blossom Quilt @ Riley Blake Design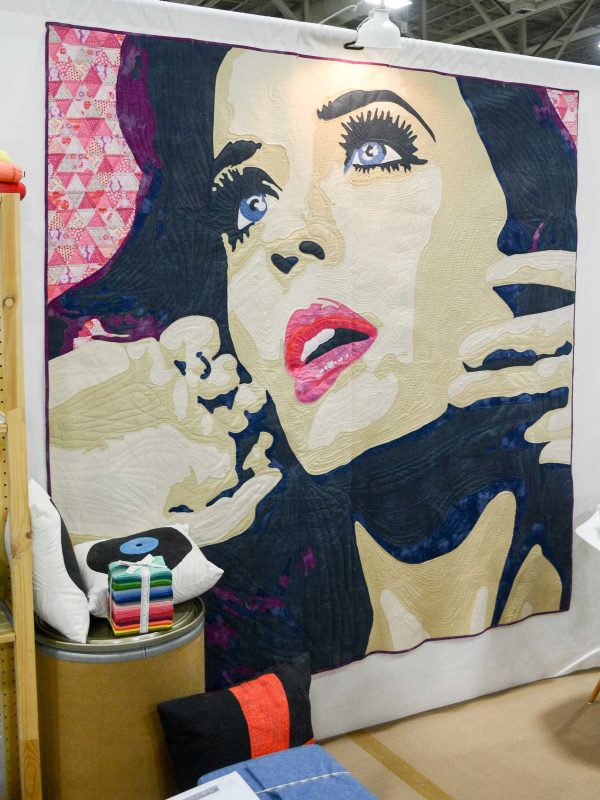 Katy Perry @ Moda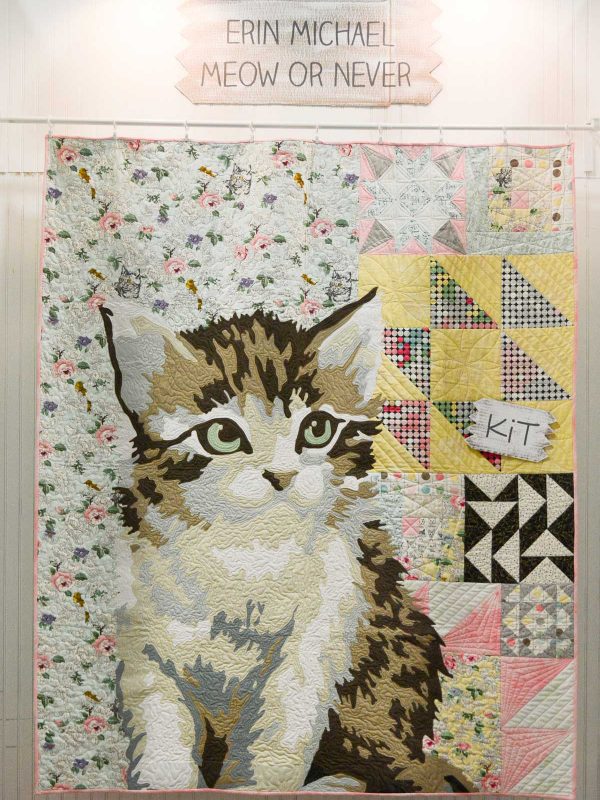 Cat Quilt @ Moda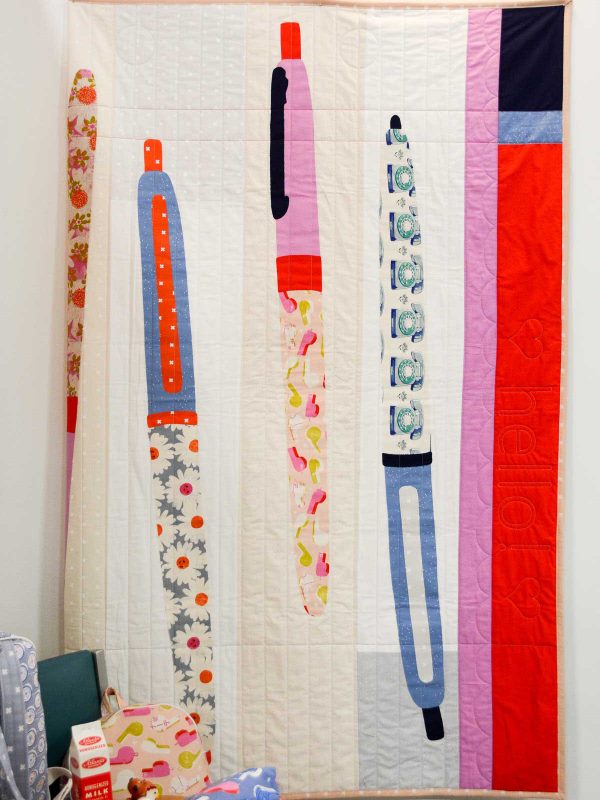 Pens Quilt @ Cotton + Steel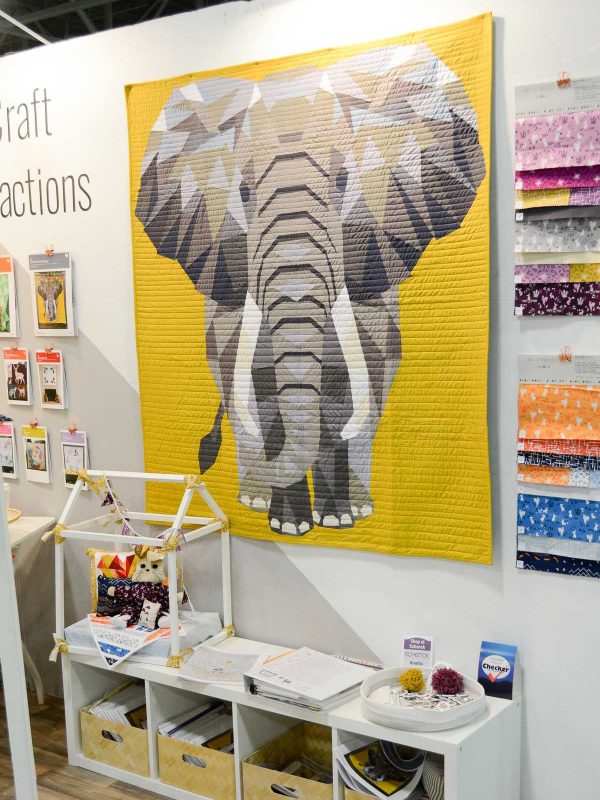 Elephant Quilt @ Violette Craft
Trend 3: Additional Substrates
My background is in apparel sewing. I learned to sew in high school and took to it quite voraciously. As I got older I switched from sewing clothing for myself to sewing clothing for my children. Much of the reason that I stopped sewing clothing for myself was that it was hard to find quality modern apparel fabric.
That is why I am particularly excited about the latest trend coming out of quilt market; additional substrates! Years ago most designers and manufacturers printed only on quilting cottons. When I attended my first quilt market three years ago a handful of companies were printing on knits, rayons and double gauze. This year it seems like most companies have expanded their reach, hopefully because buyers are buying the fabric to construct clothing for themselves. I feel like clothing construction has not been at the forefront of the sewing community in the last 10 years and I hope that this trend continues. Personally, I've already started on three tops and a maxi skirt for myself!
Here are a few things I spied: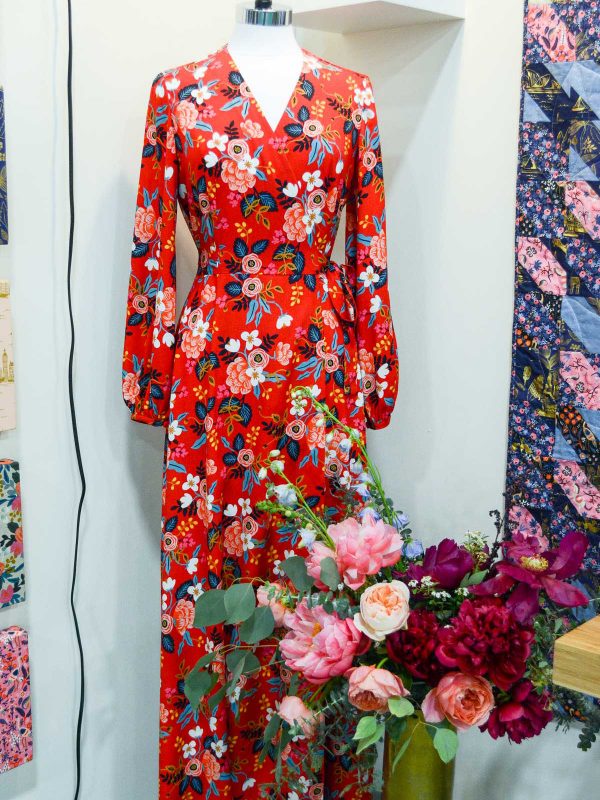 New Rifle Paper Co fabrics by Cotton and Steel- most of these are printed on rayon, canvas, or cotton lawn (the above dress is made from Rayon)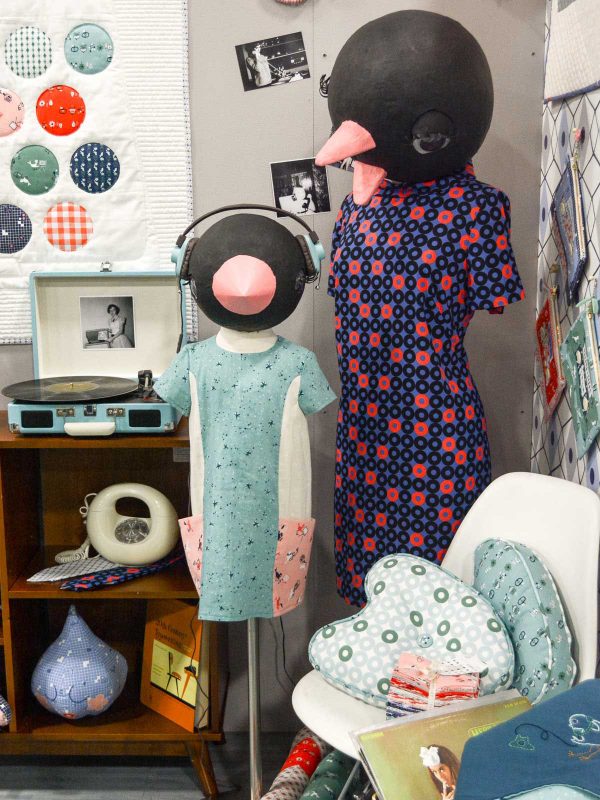 Double Gauze Fabrics at Cotton + Steel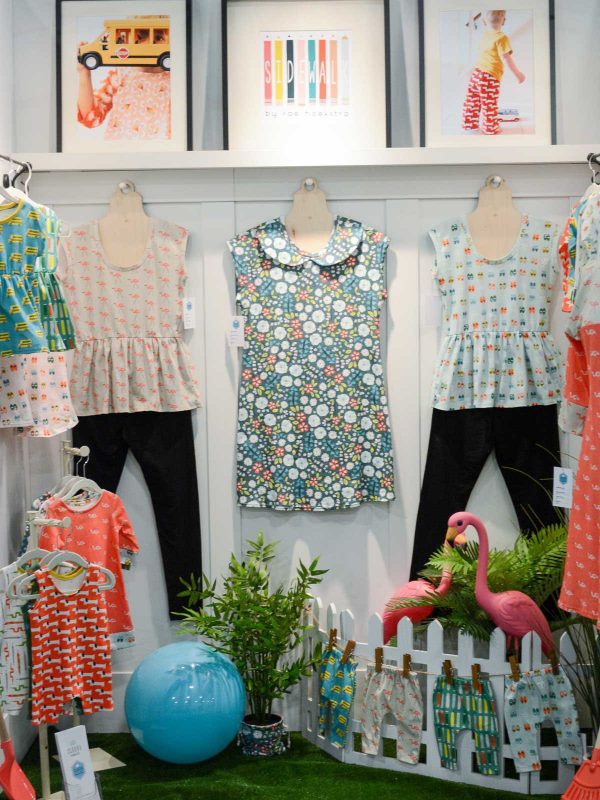 Knit Fabrics at Cloud 9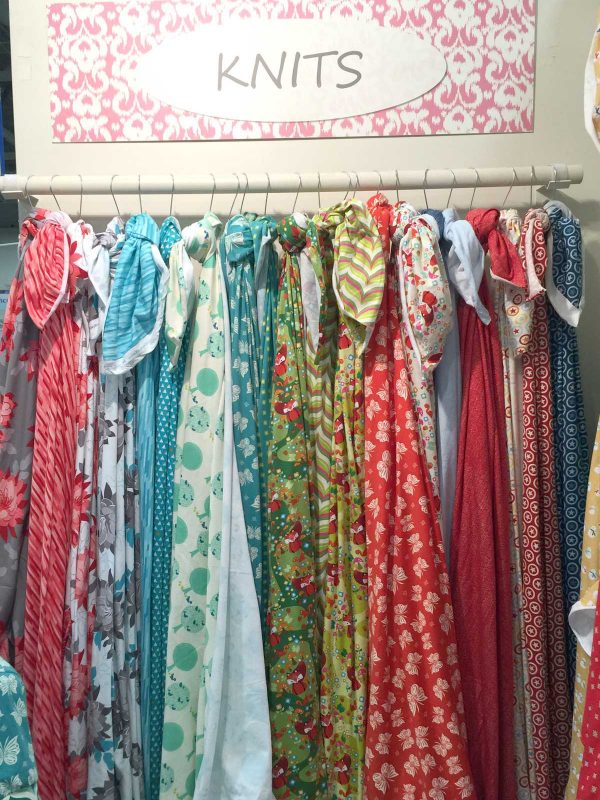 Riley Blake Knits
What about you? I think it's so interesting to see how many people can attend the same event and notice totally different things. If you were at Quilt Market this Spring what trends did you spot?
What you might also like
2 comments on "3 Trends Spotted at Spring International Quilt Market"