Spring Collage Quilt
Join BERNINA Ambassador, Heidi Lund, and create a wonderful brightly colored spring collage quilt.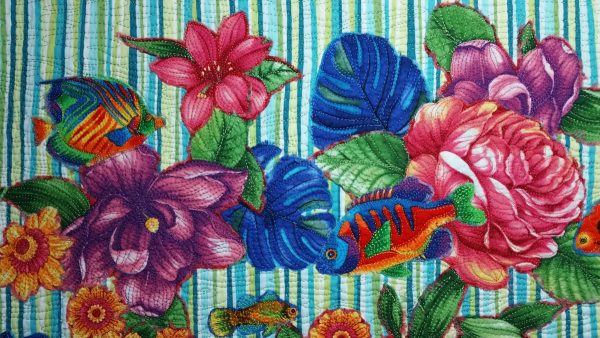 Materials to Create a Spring Collage Quilt
The size of this wall hanging will be determined by your preference. I made this spring collage quilt 20″ wide by 34″ long.
Striped fabric for background (can be cotton/twill/decorator etc)
Novelty fabrics with floral and fish prints
Backing fabric
Cotton Batting
Coordinating rayon thread in various colors
90/14 Topstitch or Machine Quilting sewing machine needle
18mm Rotary Cutter
Spring action scissors for ease of cutting
Steam a Seam II or other double sided fusible web
Wavy blade rotary cutter
Sewing Machine, I sew on a BERNINA 770 QE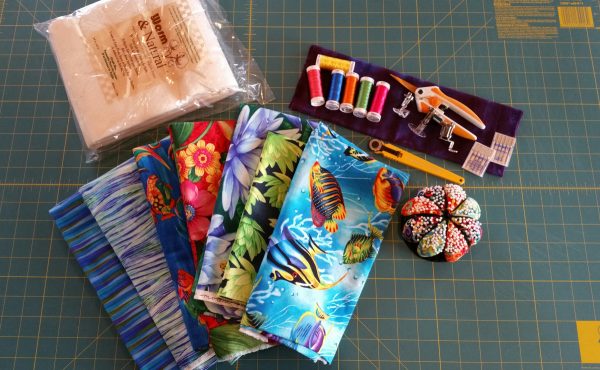 Materials to Create a Spring Collage Quilt
Start by assembling your quilt sandwich. I determined the size of the wall hanging that I wanted to make and cut my backing, batting and background fabric all the same size. Set aside.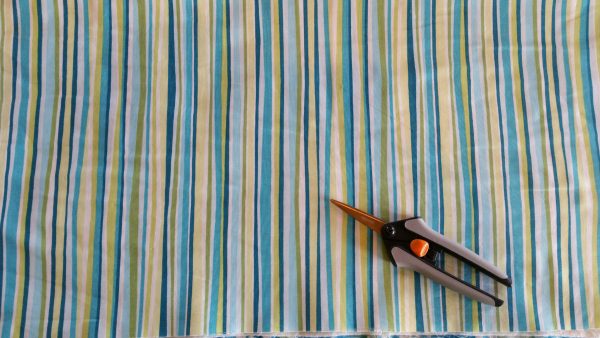 Go thru your fabric stash and pull out novelty fabrics with floral motifs that you like. I put a little surprise in this quilt and added my favorite fish in complementary colors.
Using the small 18″ rotary cutter, trim around each motif that you would like to use, leaving approximately 1/4″ of fabric around each edge.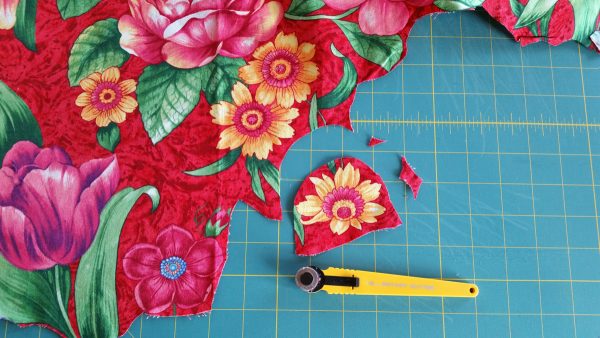 Once you have a nice stack of trimmed motifs, you go back with your small spring snips and trim really close to the design. I call this fussy cutting and it is very relaxing for me. You can do this sitting in your favorite chair, with a small jelly roll pan in your lap to catch the trimming, all the while watching your favorite television program.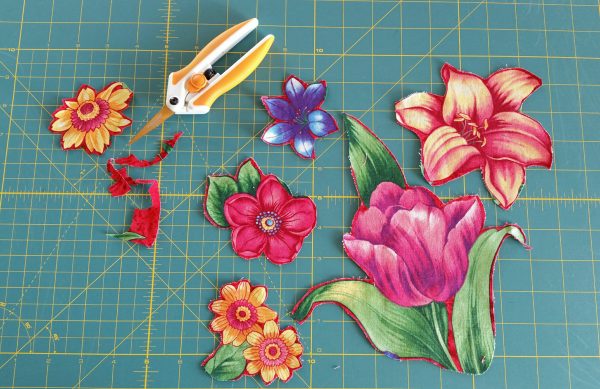 Be sure to have several different motifs cut out to choose from before you begin assembly.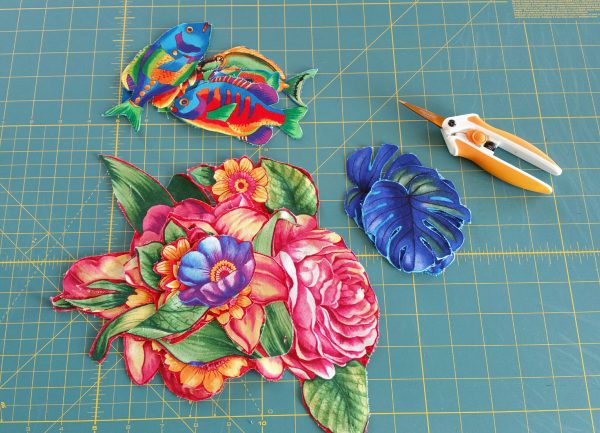 Lay your background fabric sandwich back out in your work area and start placement of motifs on your background fabric. I started with the flowers.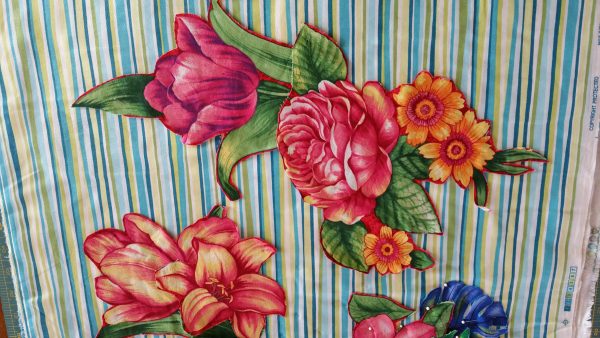 Next, I added the fish motifs.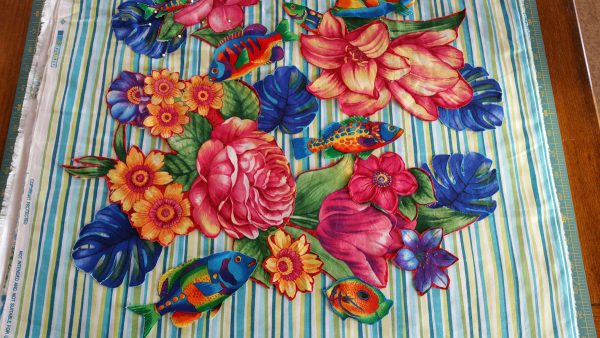 Move motifs around until you have an arrangement that you like. Pin motifs in place.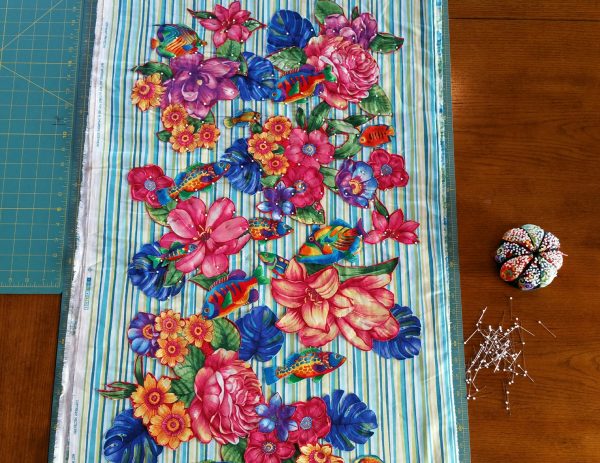 If at all possible, pin in one direction only. This keeps you from getting poked as you sew and makes it easy to pull each pin out.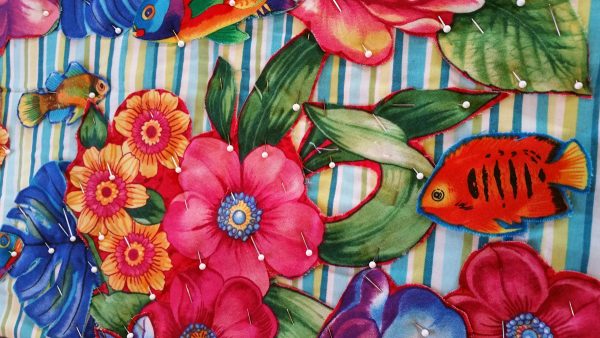 Set your machine up for free-motion. Make sure machine is cleaned and well oiled. Drop your feed dogs and attach your BERNINA free-motion foot #29 or another free-motion foot of your choosing. I used the BERNINA foot #44 as it has a large clear surface that helps hold my motifs down as I sew.
Load your machine with the rayon thread you would like to start with. I load a couple of bobbins with rayon thread that matches the backing fabric. I also lower my top tension a bit so that as I am using free-motion, I do not pull the bottom thread to the top. On my BERNINA 770 QE, I lower the tension to 3.75. I like to use my BERNINA knee lift and thread cutter as I move from motif to motif across my quilt.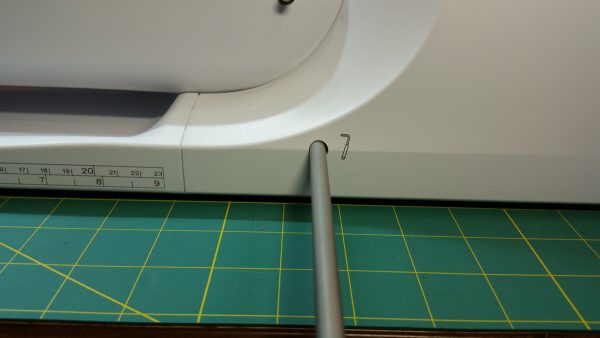 Here is a photo of how the flowers looked stitched down free-motion.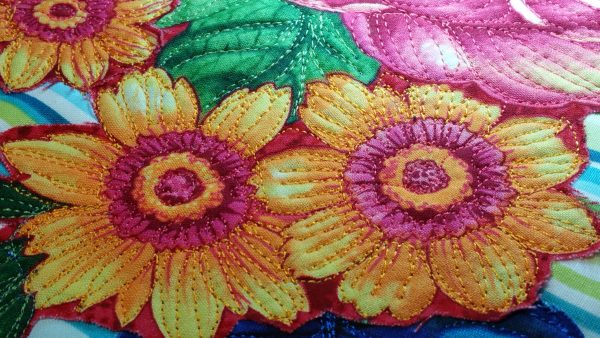 While free-motion quilting down each motif, you can unpin parts, pull them back and stitch under them to secure additional motifs.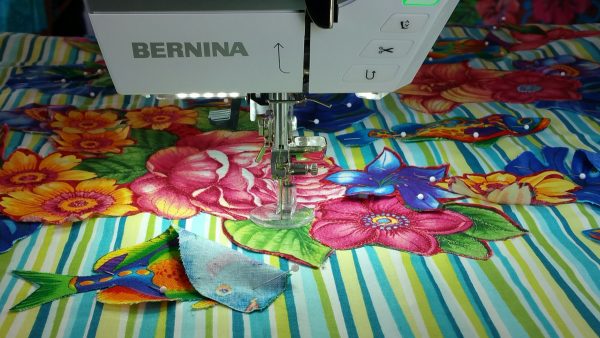 Be bold and switch up your threads to either coordinate or define your different motifs.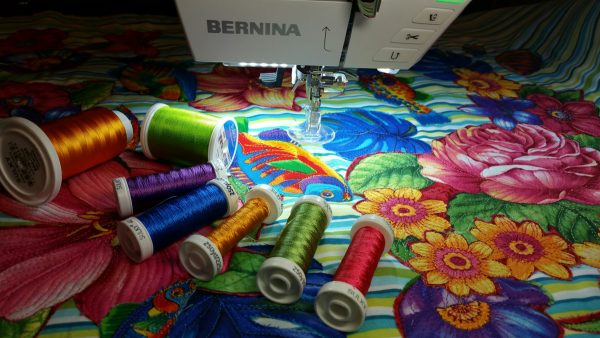 Once all your motifs are sewn down, you will want to sew your background down. I recommend the same free-motion techniques that you have been using all along. In this case, I created a water like pattern.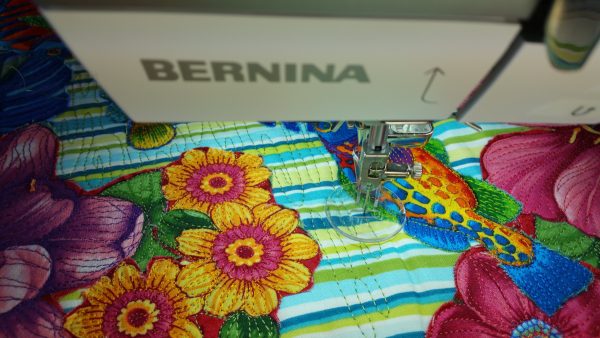 The next step of this collage project is to throw the entire piece into your washer and dryer. It gives the wall hanging a really nice softness. Once washed and dried, you will notice that the fabric motifs are frayed along the edges. You can choose to leave the fuzzy edges or trim them using duck billed appliqué scissors and trim up your thread tails from the back.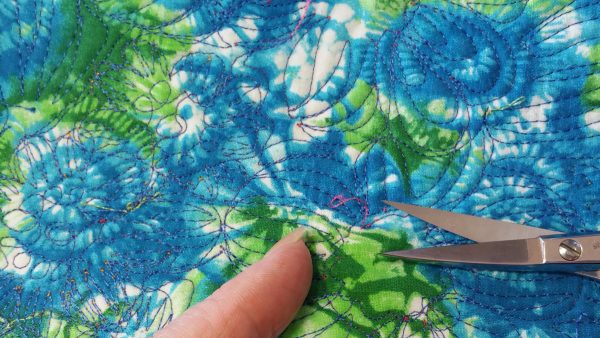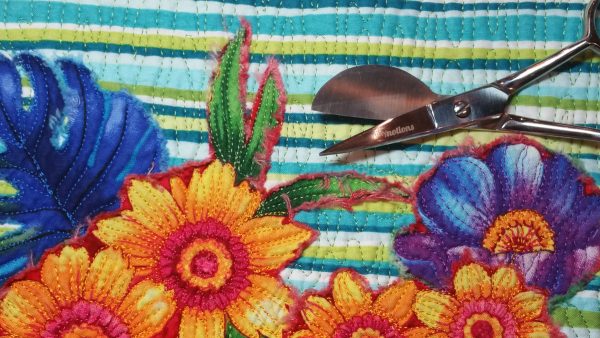 You can now steam and press the piece. You will notice if there are any areas that you need to stitch over that you may have missed. Take your wall hanging to your cutting surface and true up all sides in preparation of finishing.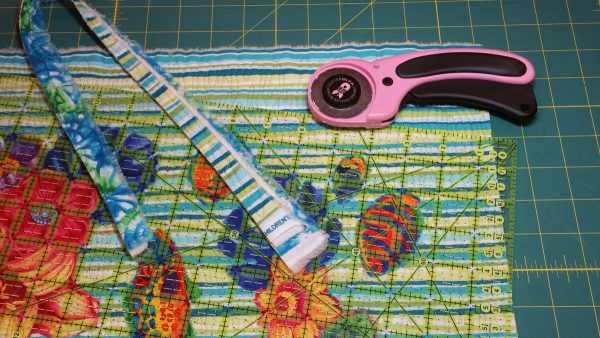 Finish your wall hanging by adding a bind or facing. In this piece, I chose to do a fused binding. I fused steam a seam II to the back of by binding fabric. I used a wavy rotary cutter and cut 2″ strips of fused fabric. Using a medium iron, I folded the binding and pressed.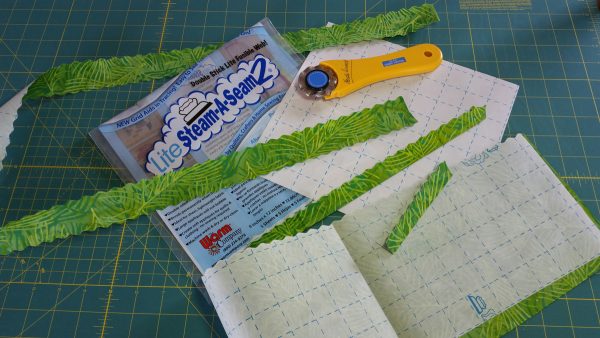 Fuse the binding to your wall hanging and press in place. Take back to your sewing machine and stitch binding down to assure it will never come up.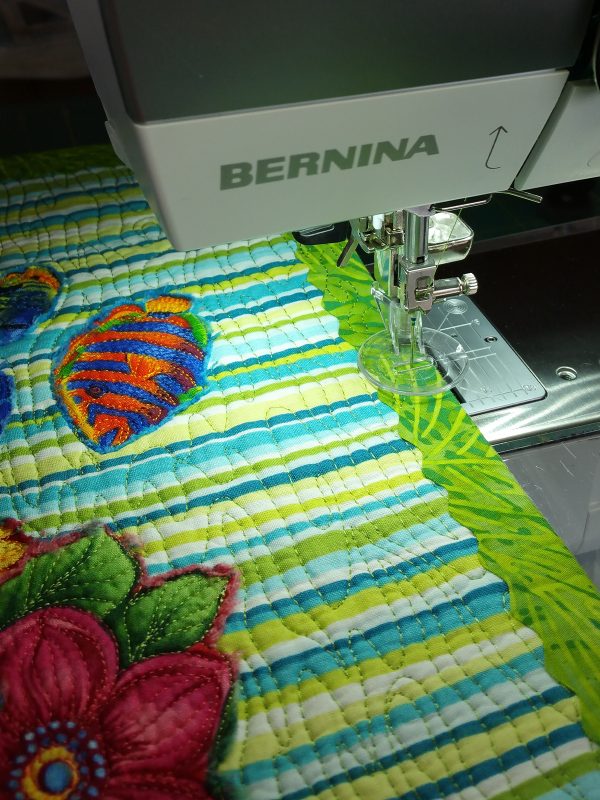 Enjoy your new spring collage quilt. They are really fun and freeing to make. I could hand everyone the same fabrics in one of my classes and not one wall hanging would end up looking the same. Try this fun way of collage.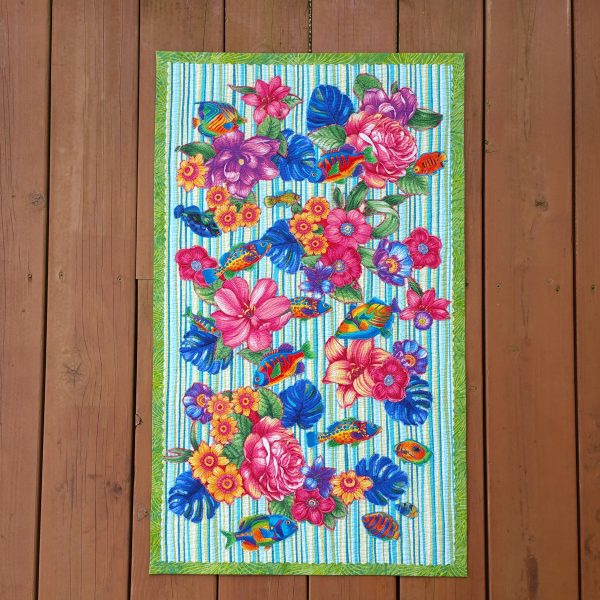 Difficulty level

Intermediate

Time to Complete

Weekend

Used Material

batting, coordinating thread, cutting mat, fabric, fusible webbing, rayon thread, rotary cutter, scissors, topstitch needle 90/14

Projects

home décor, quilt

Seasons

Spring, Summer

Techniques

applique, free-motion quilting, quilting
What you might also like
4 comments on "Spring Collage Quilt"