QuiltCon 2016 Best in Show: My Brother's Jeans
Hello BERNINA friends! Melissa Averinos, BERNINA Ambassador here!
I've been asked to share a little bit about my quilt, My Brother's Jeans, which won Best in Show at QuiltCon 2016 in Pasedena this past February. I still can't quite believe it!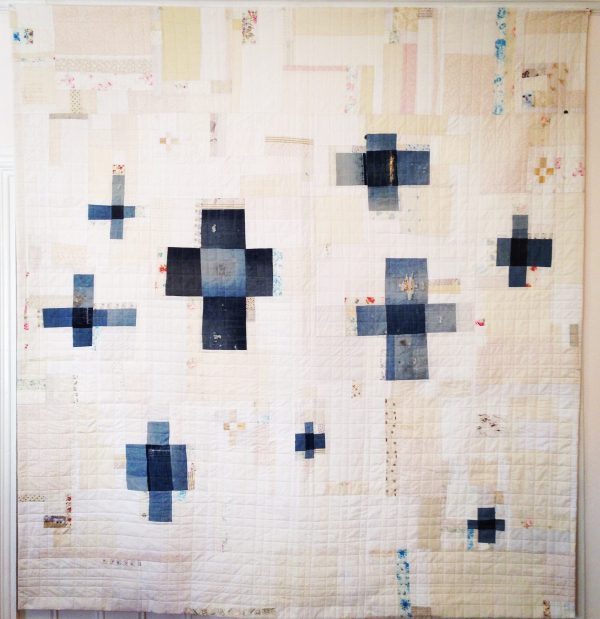 You know about QuiltCon, right? It's the convention/show created by the Modern Quilt Guild. As it says on their website, it's "a huge quilt show featuring hundreds of modern quilts, dozens of lectures and workshops by leading modern quilters, tons of shopping and more!" Also, it's amazing and magical. You should totally go.
And if you don't know about the Modern Quilt Guild (often shortened to MQG) you can check out their website for all the info.
Here's a little bit from their site about modern quilting:
"Modern quilts are primarily functional and inspired by modern design. Modern quilters work in different styles and define modern quilting in different ways, but several characteristics often appear which may help identify a modern quilt. These include, but are not limited to: the use of bold colors and prints, high contrast and graphic areas of solid color, improvisational piecing, minimalism, expansive negative space, and alternate grid work. 'Modern traditionalism' or the updating of classic quilt designs is also often seen in modern quilting."
Although my quilt has kind of an old fashioned vibe—due in part to the use of worn denim and sweet small scale florals mixed in with lots of white, cream and 'low volume' fabrics—it has many of the above characteristics that make it fit in with what the MQG considers a modern quilt. Can you pick out which ones they are from the list above?
So the story of where the jeans came from is a  bit heavy. As you may have guessed from the name of the quilt, they were my brother's jeans.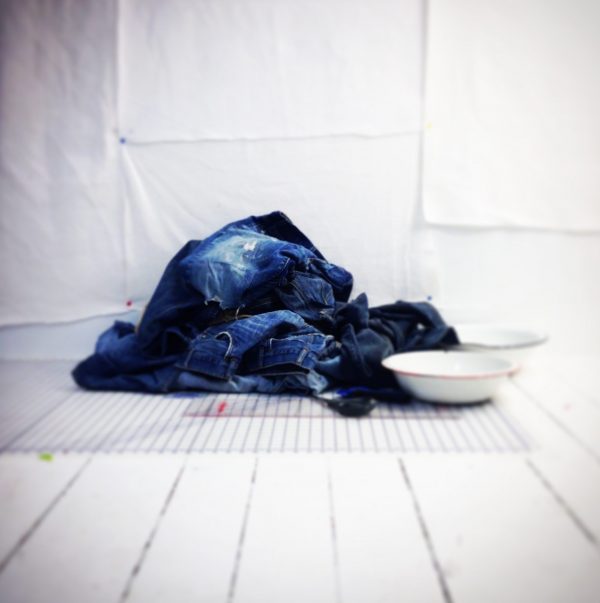 Here's a bit from the description I submitted with the quilt:
"The denim in this quilt is from my brother Michael's work jeans, which I rescued from the dumpster after his suicide in 2009."
I know, it's heavy. I warned you!
But I'm ok!  I'm totally ok talking about it and it's important to do so. There is still such a stigma around suicide and depression so I try to do my part to make it approachable and not scary. I've always been open about my own struggles with depression and anxiety and I'm open about my brother's suicide as well. I share about it because, well, I'm just like that, but also because it's important to me to let other people know they aren't alone in their struggles. I think the more we can talk openly about depression, the more we can head suicide off at the pass. It doesn't feel like a big deal to me to talk about these things, they are simply a part of my life that I don't hide.
And, honestly? That's pretty much it on that front. I didn't intend for the quilt to be a statement. I am just open about stuff and it would have been weird to not say where the jeans were from! I'm glad though if my matter-of-factness about it has opened up some conversation about all of this. I don't think all quilts, or all modern quilts, need to have a story to be beautiful or powerful (or to win awards for that matter) but when they do intrinsically have a story, why not tell it?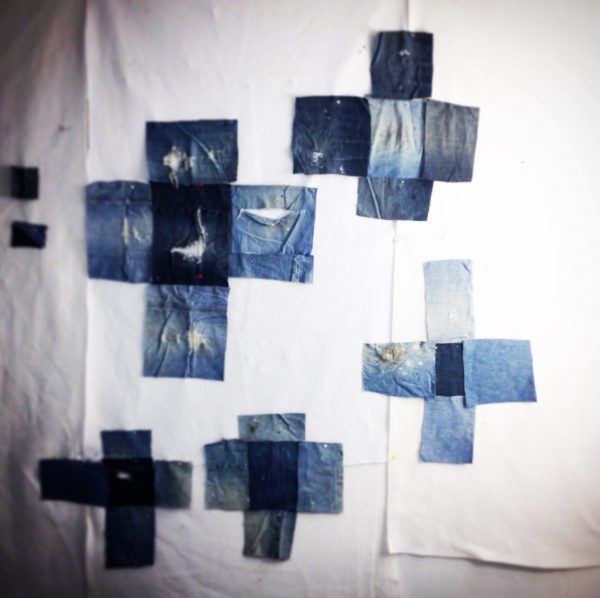 You can see here that instead of choosing the 'good' parts of the jeans, I was more drawn to  the stained and the torn parts.   Rust and peeling paint makes my heart go pitter pat, and so do these jeans.
I'm a lifelong artist and maker so I come to sewing with a different background from many quilters. I use fabric, thread and a sewing machine like I use any other medium—I work from my heart and see what happens. When I paint, I don't draw it out first—I just dive in with my colors and brushes and see what comes up. I quilt the same way. I love improv piecing, it's the only kind I do! Following a pattern is not fun for me—I'm in it for the process of figuring out how to make it as I go and seeing what happens naturally. We all quilt for different reasons and they are all valid. Most of all, quilting should be something we enjoy, right? We should make the quilts we want to make, and respect other quilters for doing the same.
Here's the rest of the description:
"I improvisationally pieced the crosses, which resemble a variation on the traditional nine patch. The pale ground includes subtle gold and white crosses. Grid quilting creates echoes of the cross motif, as well as references my brother's work as a tile installer. I tucked vintage gold ribbon behind some of the tears in the denim. This quilt was a joy to work on, as I love worn materials and find beauty in forgotten and discarded things."
As with my paintings, I'm not concerned with perfection—which is why it never occurred to me that  I would win any quilting awards!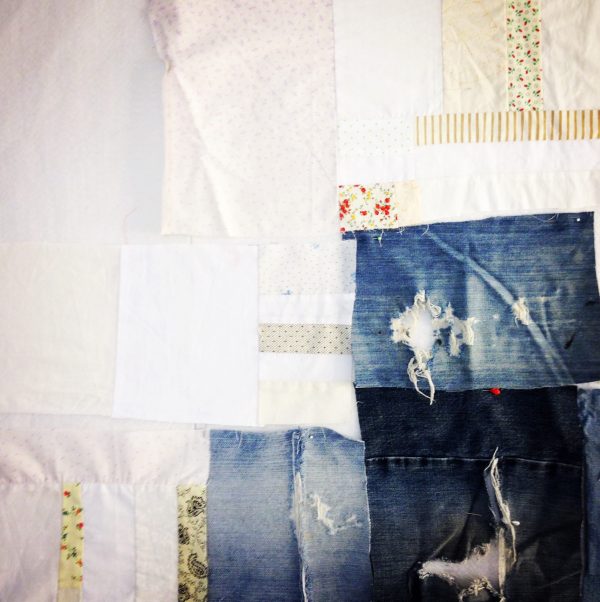 One of the things I appreciate about the MQG  and QuiltCon is how they intentionally put together a panel of three judges with diverse backgrounds and perspectives: one is an NQA certified quilt  judge, one is from the world of art/design/illustration, and one is an established modern quilter.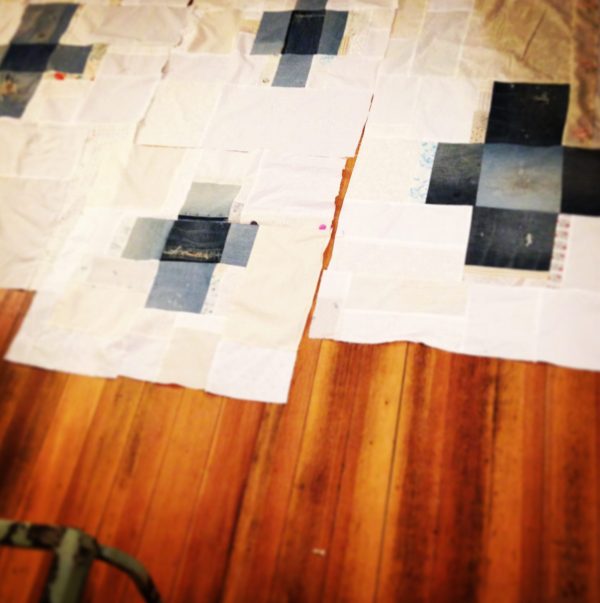 The judges for QuiltCon 2016 were Cheryl Arkison (modern quilter), Lisa Congdon (illustrator) and Scott Murkin (NQA certified quilt judge.) Cheryl and Lisa both wrote blog posts about their experience of judging the show, which you'll get to if you click their names. Violet Craft did interviews with each of the judges on the Portland MQG blog. That post also has a great interview with Heather Grant, Director of Marketing & Programming for MQG. Good stuff! Lastly, fellow BERNINA Ambassador Mandy Leins interviewed  Scott Murkin about judging modern quilts last year.  It's so fascinating to hear what they all have to say!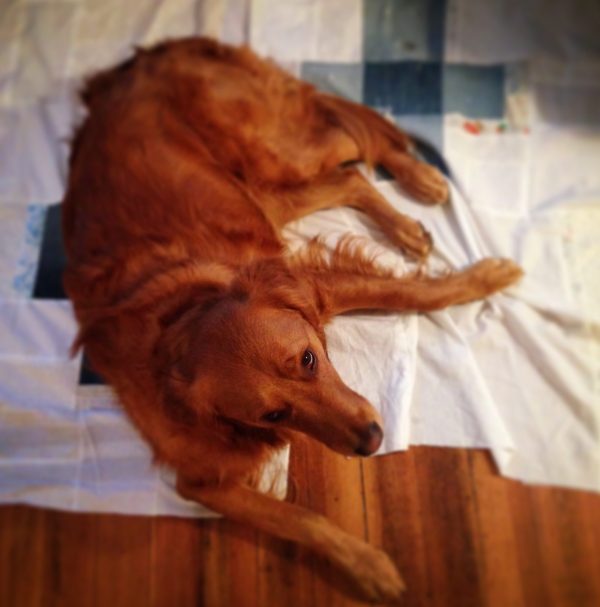 Above, the quilt top gets the Max Seal of Approval.
Before QuiltCon 2015, I had never entered a quilt into a show. I'm grateful to QuiltCon and the MQG for creating a guild and a show that I want to be a part of. I love making and sharing what I make with the community.
Below, a picture of me with the quilt, a few hours after I found out I'd won.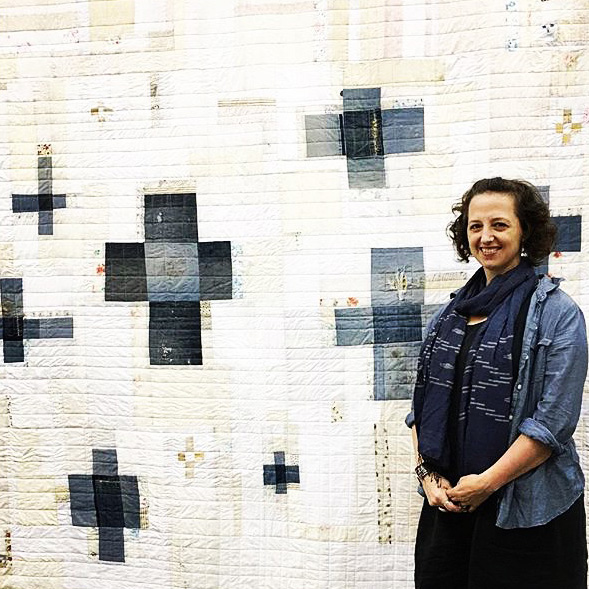 I was teaching at the time and they came in and announced it in class—I maybe swore a little bit in surprise and then promptly started crying! It. Was. Amazing.
There were SO MANY incredible quilts at QuiltCon and I'm  honored to have won Best In Show.
You may see My Brother's Jeans in person sometime, as it's currently traveling the country as part of  the Best of QuiltCon 2016 exhibit. Here are the next dates and locations for the tour:
Sisters 2016, Sisters, OR July 5 through 10,2016
Sewing & Quilt Expo, Fredricksburg, VA September 29 through October 1,2016
Sewing & Quilt Expo, Chicago, IL October 13 through 15, 2016
Sewing & Quilt Expo, Minneapolis November 10 through 12,  2016
If you see my quilt, try to find the two kitty faces hiding in the background!
The next QuiltCon is in February 2017, in Savannah, Georgia. I'll be teaching a bunch of classes there and I can't wait! It's always so nourishing to spend time with my quilty peeps and I've always wanted to visit Savannah! If you go and you see me, please say hello and ask for a hug if you want one!
xo,
melissa
P.S.
This was the first quilt I made with my BERNINA 580! I was a little concerned about sewing with denim but the machine handled it like a champ!
Projects

art

Techniques

quilting
What you might also like
One comment on "QuiltCon 2016 Best in Show: My Brother's Jeans"