Mend your Jeans!
My husband's 'work around the yard jeans' had reached new levels of distress, so I had to step in.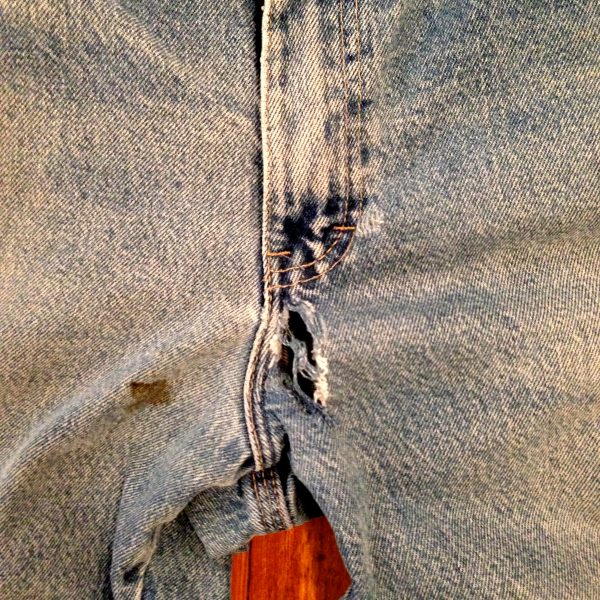 See that stain too? They are his grubby jeans, but you'll see how I took care of that at the end of the post!
I'm not normally the kind of gal who does a lot of mending of my husband's clothes. Ok, any mending of my husband's clothes. But I was on a sewing-clothes-for-myself bender and was so excited about being so handy that I grabbed the jeans and got to work.
Did I know what I was doing? No. Did I look it up? No. I figured, I wasn't going for perfection, I just wanted his boxers not to show, you know? I could figure that out on my own.
First, I used Elmer's washable school glue to tack down a piece of denim in place (face down) over the hole from the inside.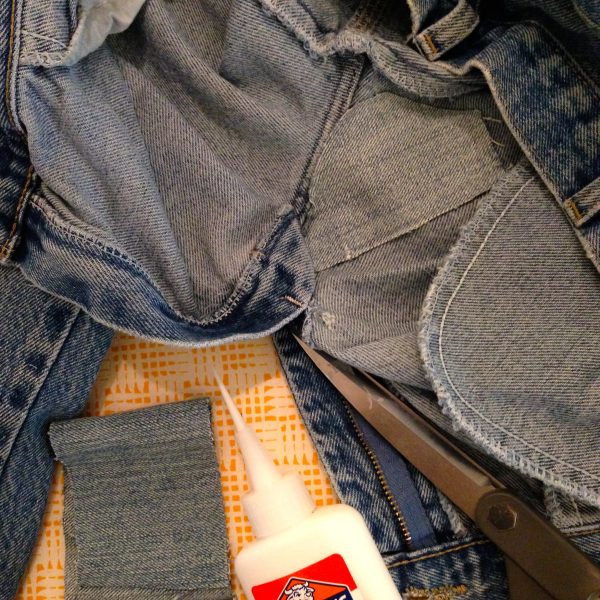 I cut it about 1/2″ larger than the hole on all sides. (The denim was left over from My Brother's Jeans quilt, which I blogged about here on WeAllSew!) A quick press with the iron dries the glue quickly so the patch stays in place without pins—awesome!
I turned the jeans right side out, put the darning foot on my BERNINA 580, and lowered the feed dogs.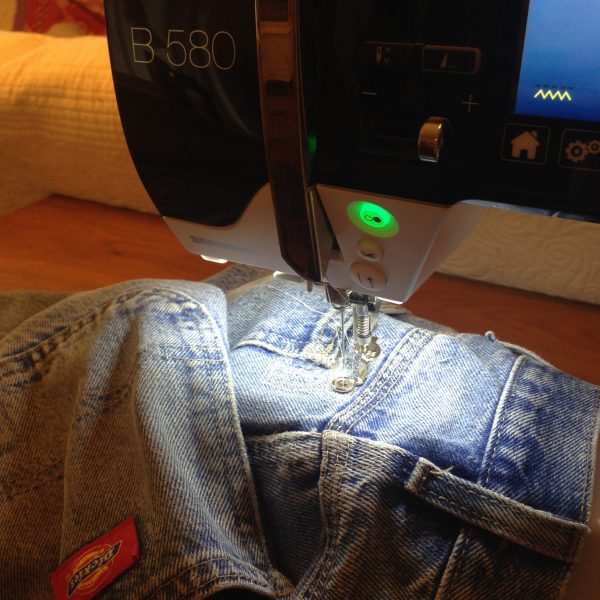 If you haven't tried free-motion quilting or darning, you might like to test out either the Darning foot #9 or the Embroidery foot #26 (with feed dogs lowered) to see how it feels on a couple of layers of scrap fabric first. You need to move the fabric under the needle rather than the feed dogs doing it for you, so it does feel different from regular sewing!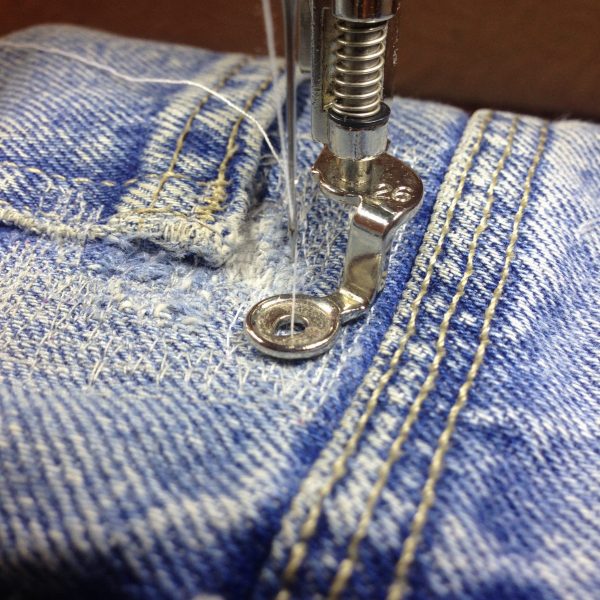 I carefully maneuvered the jeans so I could stitch a bunch of lines through the jeans and the patch, while avoiding the bulky seams! Full disclosure: I did break a couple of needles, but that was because I was moving the fabric too fast! A broken needle, while a bummer, isn't the end of the world—it's a learning opportunity. I slowed down! You might also try using a jeans needle for a bit more stability.
Here's what the inside looks like: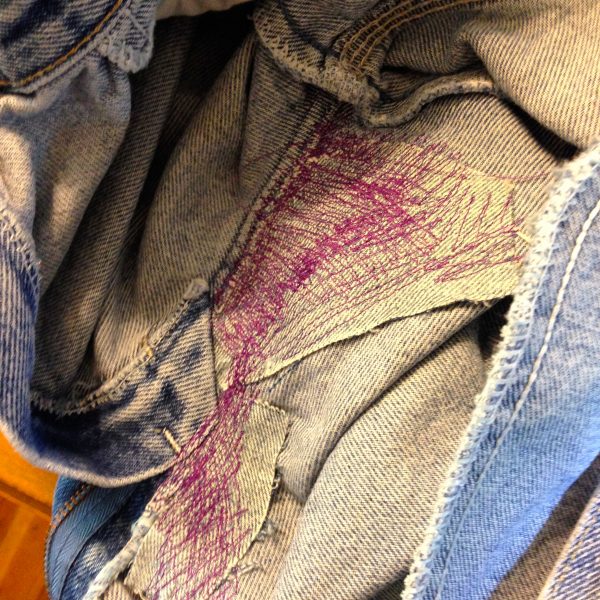 I used the all-purpose threads I had in my machine already—I'm like that. You might choose to use a better matching top thread (and matching bobbin) if you want a less visible repair. I love the look of something that is obviously mended, so I just went with it!
And here's what the finished repair looks like: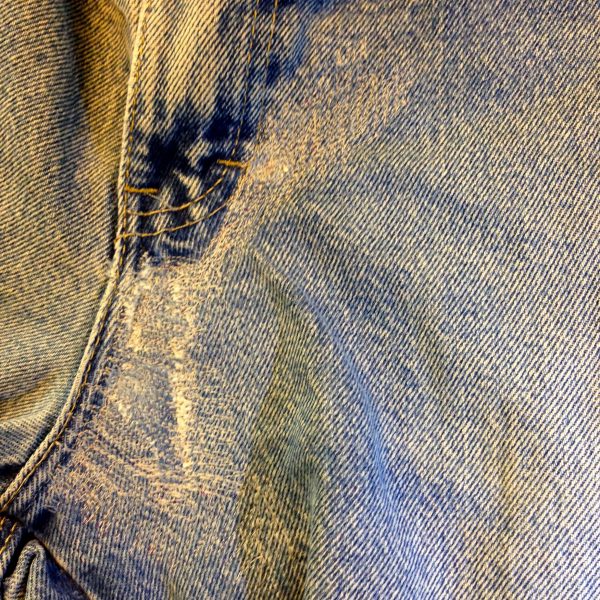 I had  fun doing it and it was fast!  So I decided to fix a few other spots as well.
A little hole beginning around the back pocket:
And a pretty big hole by the  front pocket—and an errant belt loop:
And it may not be technically mending, but I did the same thing on top of that stain I pointed out! See it there on the left?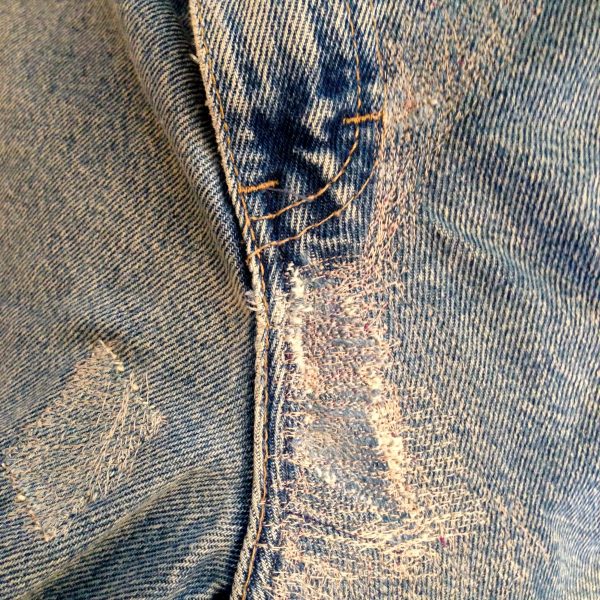 They may not look brand new, but it's good enough for me—and my husband's work jeans!
If I can do it, so can you!
Difficulty level

Beginner

Techniques

sewing
What you might also like
13 comments on "Mend your Jeans!"