AQS Paducah Quilt Show 2012
This past weekend was my first ever trip to the American Quilter's Society Show & Contest in Paducah, Kentucky. I have always heard that this is a pretty traditional show, and there were indeed some absolutely amazing traditional/traditionally- inspired quilts on display. You can see all the winners from this year's quilt contest along with some great interviews with selected winners at the official AQS YouTube channel.
As I was walking around (and around, because you just want to keep looking and looking) the quilt show, I noticed a few trends that really sparked my interest. I saw a handful of quilts that included a full rainbow of color, some that glittered and shimmered, and some that were all hexagons.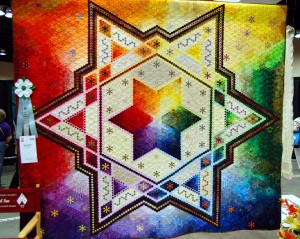 This quilt included both hexigons and all the colors of the rainbow. Star Struck by Cheryl L. See of Ashburn, VA was the recipient of the Hand Workmanship Award, and is an amazing work of art. Take a closer look at these little hexagons!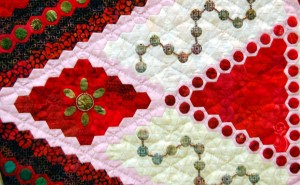 And here are a few other wonderful examples of quilts that included all the colors of the rainbow: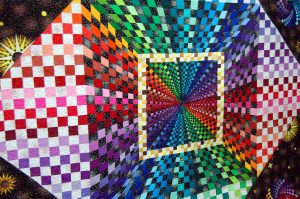 Space Wonder by Beth Nufer and Shelley Knapp of Brookings, OR,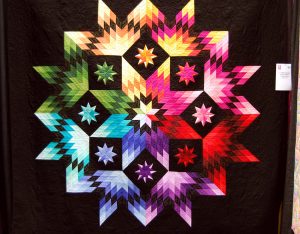 and Loftily Poised In The Ether Capacious by Rosalind Hunt of Lexington, SC.
I also spotted several quilts full of shimmer and shine!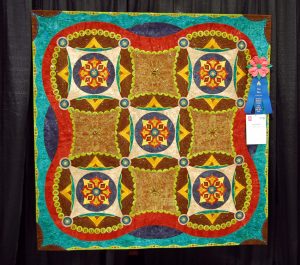 This quilt is aptly named Jewel Box and was created by Cheri Meineke-Johnson and Linda V. Taylor of Corith, TX. The glittery shine comes from the addition of 21,000 Swarovski crystals.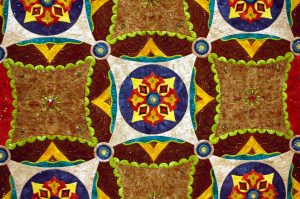 This beauty was the recipient of a First Place ribbon!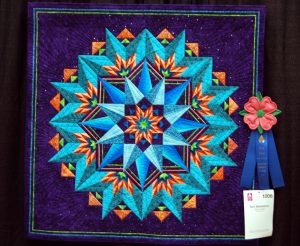 Sun Salutation by Janice Head of Windsor, CA is another beautiful quilt that sparkles with crystals. This quilt also recieved a First Place award.
And there were several quilts pieced from hexagons, one of my favorite patterns!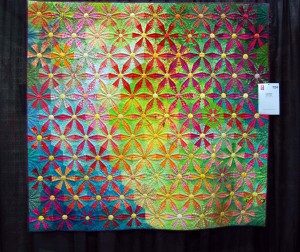 This quilt was a total surprise~ Catena created by Timna Tarr of South Hadley, MA, at first glance appears to be pieced in a flower design. But on closer inspection the hexagons were clearly visible.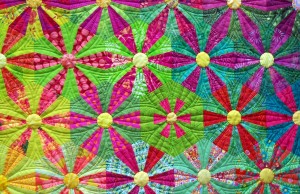 There were also some stunning examples of more traditional hexagon quilts, like the really large Bolero made by Isako Wada of Kurokawa, Miyagi, Japan.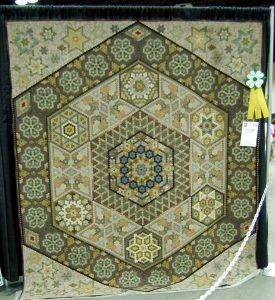 Breathtaking when you get up close to see the intricate details, and this quilt is the recipient of a Third Place ribbon.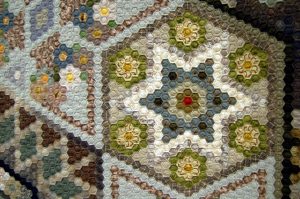 Were you at the AQS Paducah Quilt Show over the weekend, too? What was your favorite quilt or trend in the show?
Techniques

quilting
What you might also like