BadAss Quilters Society
One day I got mad—I was sick and tired of being thought of as a "social dud" because I loved sewing and quilting. So what else was a totally modern chick to do but to post her rant on her blog and then for good measure make a BadAss Quilters Society Facebook page and shout her frustration to the world?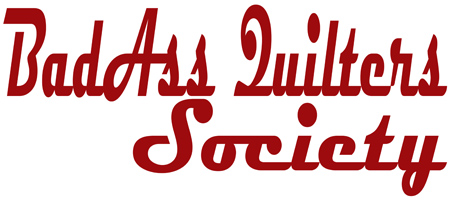 My real surprise came when the world shouted back and joined in support. They joined fast. Within hours of launching the page I had over 100 likes. People wanted to be part of telling the world that they were here and they were relevant. They shared stories that made my heart break and/or lifted me so high I got dizzy. And more joined and the word spread that there was a place that accepted all quilters for who they were (nose ring? cool! guy quilter? awesome!) and thought that they were remarkable for what they were doing. And the word spread some more. Before long there were a few hundred, then a thousand. Soon I started featuring the work of these amazing creatures in the header of the Facebook page and things really got moving!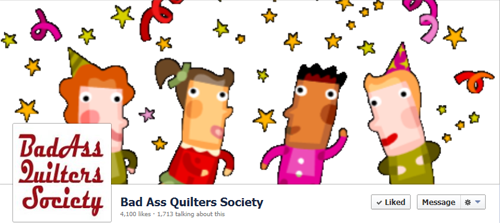 Our membership is open, fresh, and fast-paced. Almost a year later nearly 4000 members are sharing and exchanging the best in quilting and sewing from around the web. On BAQS you will find everyone from the modern machine quilter to the primitive hand quilter and all the stitchers in between! I am especially proud to have created a safe haven for all quilters where there are no lines separating the styles and types of quilter. Where that primitive hand quilter happily rubs elbows with modern purists. This makes my heart swell and even has me shedding the occasional tear with some of the moving stories and the expression of many that they have found a true "home" on the Internet where they do not have to sensor who they are creatively.
The future is very bright for BAQS with the announcement of an exclusive exhibit of the work of the BAQS members as part of the AQS Chattanooga Quilt Show in 2014,  as well as the installation of a more robust platform and an exclusive features section at the BAQS website which will be rolled out late summer 2014. Not to mention that the Bad Ass Quilters Society is getting its very own store! SPOOL opens in September of 2013 and will offer the best in modern fabrics as well as discounts for BAQS members.
And of course we are wildly excited to announce that BAQS is partnering with BERNINA and just over the moon that the crowning jewels of the 4000 Member Giveaway BadAss Quilters Society will be two BadAss Quilter-branded BERNINA 215 sewing machines!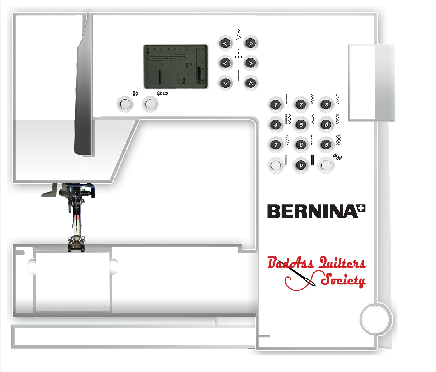 It is all so amazing… I feel so blessed to be supported by so many. It is a great time to be a quilter, that is for sure!
Maddie Kertay is the mother of six and the wife to one amazing and understanding fellow. Her love for all things quilty and crafty are evident in her home where it is said that if you stand still too long she will embellish you! Her passion is for connecting people with the help of social media and random fiber experiences. Maddie's current adventure has her opening up the first modern sewing and quilting shop in Chattanooga, TN, which ironically will be housed in a restored 100-year-old building. Find Maddie on Facebook on the BAQS page or follow here adventure on Instagram where she is @BadAssQuilter.
Techniques

quilting
What you might also like
23 comments on "BadAss Quilters Society"