Four Approaches to a "Pipes and Piping" Quilt Challenge
Yesterday we took a peek at Georgia Bonesteel's "Pipes" quilt; today Georgia shares the story of the PTA (Professional Textile Artists) quilt challenge that inspired her quilt and those of fellow members Connie Brown, Janice Maddox, and Judy Simmons.
"Pipes" by Georgia Bonesteel –
What to do when our Professional Textile Artists group shows up at a meeting with yards and yards of pink and green piping? And then they throw out the name "Pipes."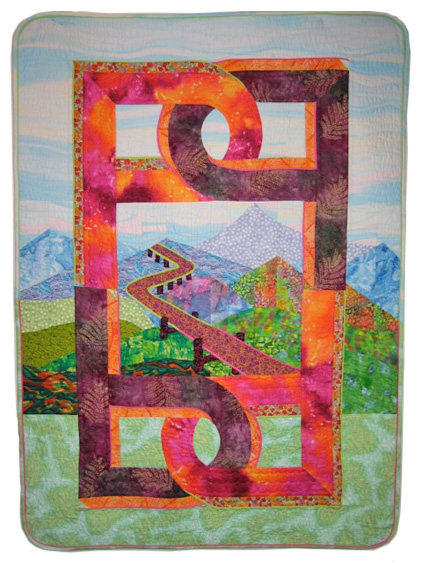 It is so much fun to go home with our design heads spinning and then months later present the outcome. Some of the challenge quilts have been sold since then, but others linger to appear at exhibits and grace our own walls.
My first thought for this quilt was the Alaskan pipeline, but when I finished quilting and stood back it reminded me of the Blue Ridge Parkway, and of course "P" is for Paul, our youngest son. The quilt is strip-picture-pieced, so those mountains are constructed with vertical interrupted rectangles with the elevated pipeline and bridge appliquéd in place. Machine-quilting with my "dogs" down really accented the various fabrics. I used several of my BERNINA presser feet including Bulky Overlock Foot #12, my trusty Edgestitch Foot #10, Clear Foot #34, my clear Freehand Quilting Foot #29, and Walking Foot #50.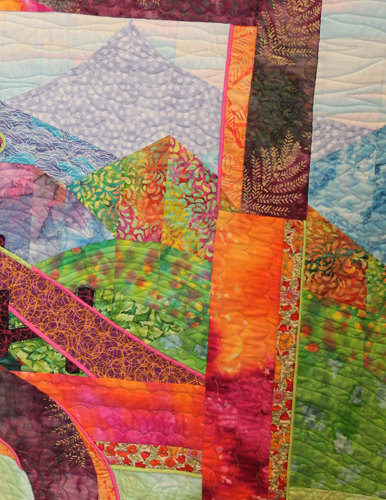 "Pipe Down!" by Janice Maddox
Inspired by a group challenge to use green piping and a "pipe" theme.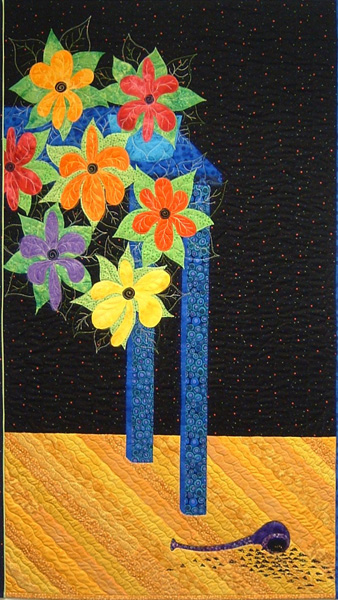 "Bagpipes" by Judy Simmons
This wall-hanging, which measures 31″ x 37″, was made for the AQS Challenge in Nashville. Each group created their own challenge – in this case, "Pipes and Piping." Images of pipes were printed on fabric to be used as handles for the bags. Machine appliqué using rayon thread secured the handbags to the background. Piping was inserted around areas of each bag and bright-colored fabrics pieced together were used to make a binding, finishing off the quilt.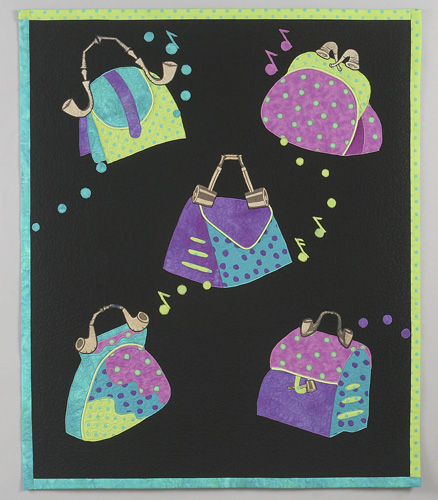 "Pipe Cleaners" by Connie Brown
Once we had decided on pipes as theme and yardage of the pre-made piping on hand, I came up with the name for my quilt. I did not know what I would make but I had a name, Pipe Cleaners…why not! Not those wire fuzzy things. Well, for someone that had been calling in plumbers lately, you know what I had in mind… plumbing pipes. Nothing gross, something humorous, similar to those guys from the video games. I used the green pre-made piping around the pipe ends and joints to define the shapes. The quilt was entirely made on my BERNINA Virtuosa 153. For the invisible machine applique with a turned edge, I used stitch #3 (vari-overlock), size 60/8 needles, invisible nylon thread, and Edgestitch Foot #10, with WonderFil- Invisafil 100wt in the bobbin. For the machine quilting I used Walking Foot #50 and Freehand Embroidery Foot #24 for the free-motion quilting.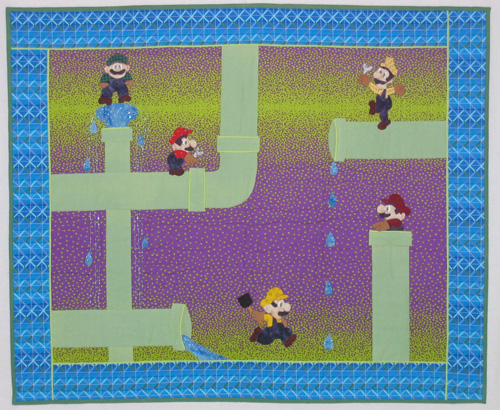 [I'm curious: Have you ever taken part in a quilt challenge? What was the theme? Did you finish? (I have to admit that while I've started a few, most have ended up as UFOs.) Jo]
Techniques

quilting
What you might also like