BERNINA Rocks at Style X, Austin, Texas
For the first time ever, BERNINA will host the first ever "Make and Take" sewing lab during the Style X Showcase at the South by Southwest® (SXSW) music festival, March 16–17, 2012 at the Austin Convention Center, Austin, Texas.
Photo by Kimberly Walker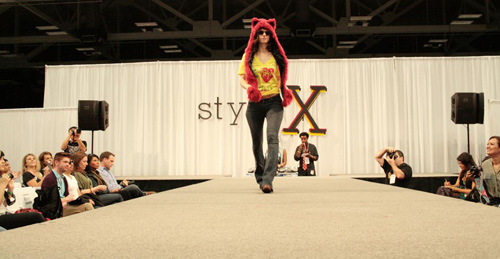 For those of you who may be new to Style X (pronounced "Style by"), here's the skinny:
What is Style X?
It is the official fashion discovery showcase of SXSW. It's a celebration of up-and-coming brands and designers from around the world (50 pop-up shops) along with an inside look at the fashion industry from thought leaders and some pretty spectacular runway shows featuring SXSW musicians as the models.
When is Style X?
Friday and Saturday, March 16–17, 2012 from noon to 8 p.m.
Where is Style X?
Exhibit Hall 4 in the Austin Convention Center (enter at the corner of 4th & Trinity Streets). It's so close to all the action that every SXSW badge is picked up next door to where Style X takes place.
Why go to Style X?
Because it's the newest aspect of SXSW and will give you an inside look at what's next in the fashion industry.
In addition, BERNINA will be there and will host the first ever "Make and Take" sewing lab at the Style X from noon until 8 pm. Those who stop by will have the opportunity to create a variety of free projects on a BERNINA 380 sewing machine, including their choice of a unique iPad ® or tablet case, smart phone case or eReader case and a fun project for wear made from wool felt. The "Make and Take" sewing lab will be supported by Sew Much More, a BERNINA dealer in Austin, Texas www.sewaustin.com/index.html. BERNINA machines and accessories will also be available for sale at the booth.
BERNINA is also sponsoring the BurdaStyle and Style X Design Challenge. The three lucky winners and designers of the Style X Design Challenge will show off their rock star fashion looks worn on the runway by a true rock star featured at SXSW Music!
For the BurdaStyle and Style X Design Challenge, BurdaStyle asked its members to post one fashion sketch and one mood board detailing a rock star fashion look on its website by February 7, 2012. From the entries, BurdaStyle, BERNINA and Style X selected three finalists, which included one menswear look and two women's designs. The winning designs are featured on the BurdaStyle blog http://www.burdastyle.com/. Each finalist will also create a one-of-a-kind look for a well-known musician that will be showcased during the Style X Runway Show Friday, March 16 and Saturday, March 17 from 6:15 p.m. to 7:15 p.m.
So what are you waiting for? Pack your rock fashion and visit us in Austin. And BTW, entrance to the showcase is free! For those who cannot make it, see show highlights, pictures and more, on www.WeAllSew.com or you can follow us on BERNINA's Facebook page at www.facebook.com/berninausa or Twitter at twitter.com/#!/berninausa.
Projects

fashion

Techniques

sewing
What you might also like
One comment on "BERNINA Rocks at Style X, Austin, Texas"