Her Universe Fashion Show with BERNINA Ambassador, Jedimanda
Every late July, fans from around the world have their eyes set on San Diego Comic-Con. This convention brings fresh entertainment news, celebrities, exciting interactive experiences, and of course cosplay to the masses both in-person and online. There are so many events that happen during the 4-day convention that it's tough to keep up with. The Her Universe Fashion Show is one of the key events that happen during the convention.

The Her Universe Fashion Show is a juried fashion show that consists of about 25 contestants creating and wearing their fandom-inspired couture fashion on a runway. This event is created and run by the brand Her Universe, which is a pop culture/fandom-based fashion brand. The show happens on Thursday night of the convention in a massive ballroom in front of about a thousand people. Once the show concludes, the judges and audience select two winners to then receive the opportunity to create a collection for Her Universe/Hot Topic.
This year, I was chosen as a finalist and had the opportunity to compete in this show. I'm beyond honored to have been chosen out of 300 artists to get the chance to do this, it was a ride! Come with me on my journey from design to the runway.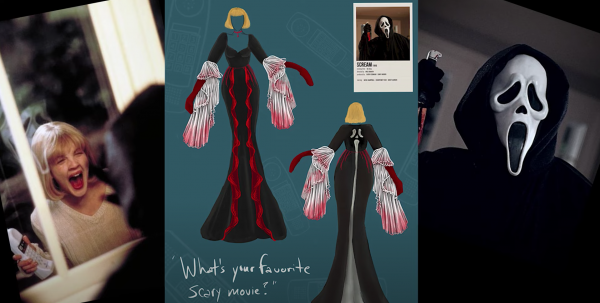 As long as it's a piece of pop culture represented at Comic-Con, it's up for inspiration when you create your design. I chose to represent horror films by designing a couture gown based on the movie, Scream. Scream is one of my favorite movies so this was an easy choice for me, however, this is my first big push to make fashion and not a costume. That was a lot harder to design for than I thought. I eventually took inspiration from a gothic aesthetic and blended the main killer, Ghostface with his first victim in the film, Casey Becker. I added a blonde wig, red velvet opera gloves, and a rhinestoned phone clutch and my design was finished. I submitted the design in April and it was chosen! Now the hard part began, I had to make the ensemble.
Between the months of April and July, I created the gown, accessories, and its prop. I put my BERNINA 570QE to the test! I put yards of velvet, pleated chiffon, and silk charmeuse under that foot. My dual action capability on that machine was key. Also, being able to adjust my pressure foot settings was ideal for the different fabric types I was using. If you'd like to see how I created it, from pattern to closures, check out my video on how made it here: How I Made My 2022 Her Universe Fashion Show SCREAM-inspired gown
Once my outfit was complete, it was off to San Diego! I flew into San Diego two days before the runways show. We had two days of rehearsal and runway practice. I will say that I honestly thought I knew how to walk down a runway, I was proven wrong! I had to practice so many times plus think of an attitude/act I wanted to present down the runway. The audience responded to fun and unique runway walks and I wanted to go for it.
I practiced and rehearsed my "act", so then it was showtime. During the down times, I loved being backstage, putting my makeup on, and chatting with the other contestants. We all made friends and supported each other throughout the days. The backstage vibe was great and really helped me focus on the show.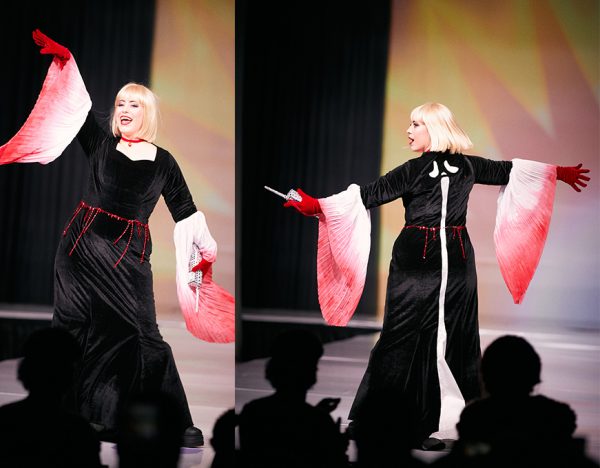 I was in group 5 which was the last group to walk the runway. During my walk, the DJ played "Everybody Wants to Rule the World" by Tears for Fears. I don't think she could have picked a better song. I rocked that runway and did my act which included me exiting the stage with a giant scream!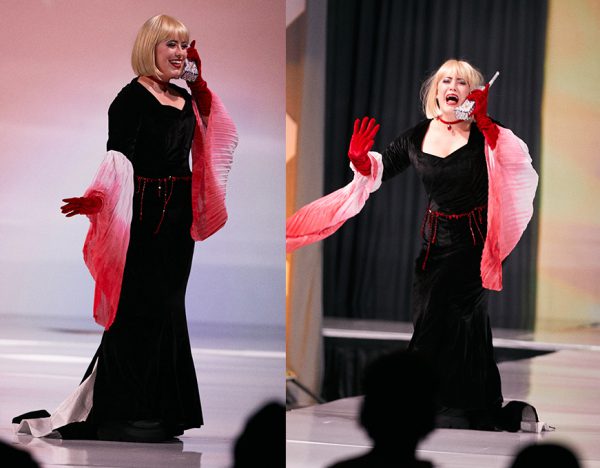 We had a final runway walk then the winners were announced. Even though I didn't win, I had an absolute blast. This was an incredible journey that really challenged me and I'm grateful for it. If you are interested in applying or know someone who is, follow Her Universe on social media. They usually announce a call for entries around March of each year.
Thanks for following me on this journey!
-Jedimanda
What you might also like