Studio Tour With BERNINA Ambassador Erika Mulvenna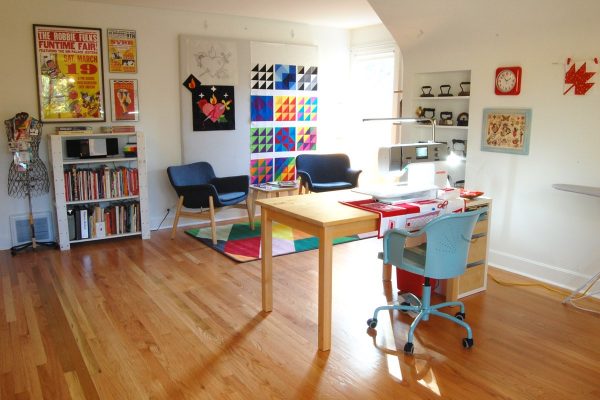 We recently remodeled the second floor of our home, including my brand new sewing studio! Come on in and let me give you a tour, and I'll share some of my sewing room organizing tips along the way.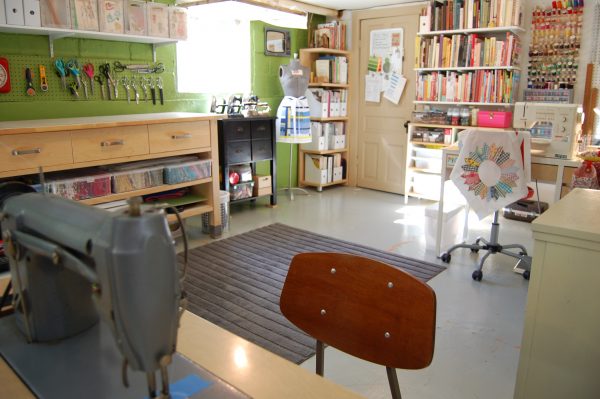 My previous sewing space was in the basement separate from the rest of our living space. It wasn't a big deal to have sewing tools and notions out in the open where I could easily reach them (check out the photo above), I just had to close the door to keep out little people and furry friends out of the room.
The new sewing studio is in a shared area of our home at the top of the second floor, and we all walk through this room to reach our bedrooms, bathroom, and second floor laundry. Since I will not be able to easily close a door to keep out little paws and hands, my goal is to keep all sharp, pointy, fragile things out of the way to discourage little people and pets from possibly getting into danger.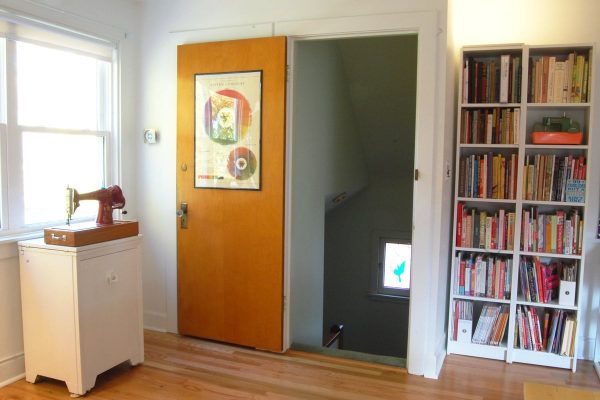 Enough chit-chat, let's start the tour! Walk right up the front stairs and through the door into my sewing studio. Behind the door on the left is a little closet that I've turned into fabric storage.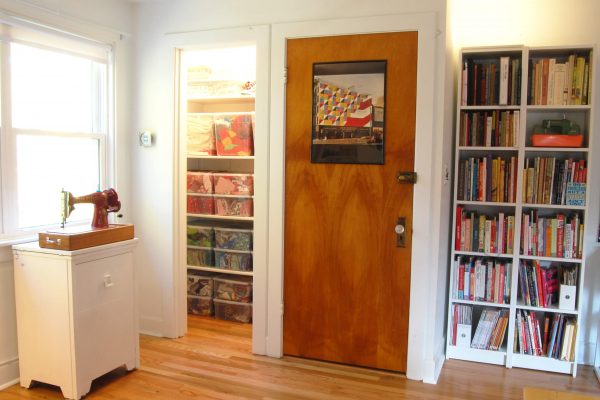 I used plastic storage bins from The Container Store for the fabric. These are Sweater Boxes made of acid free polypropylene that close securely but do not make an airtight seal. Important so as not to create a micro-climate inside the box that could eventually cause damage to the fabrics.
They stack perfectly, and I spaced out the shelving in the closet to fit the bins.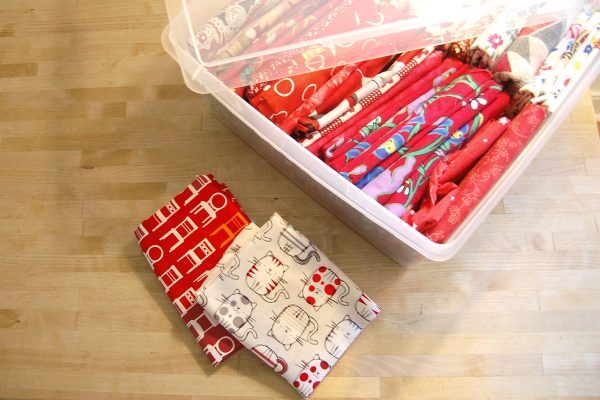 These hold folded fat quarters and scraps organized by colors. It's easy to see right through the boxes and grab exactly what I'm looking for.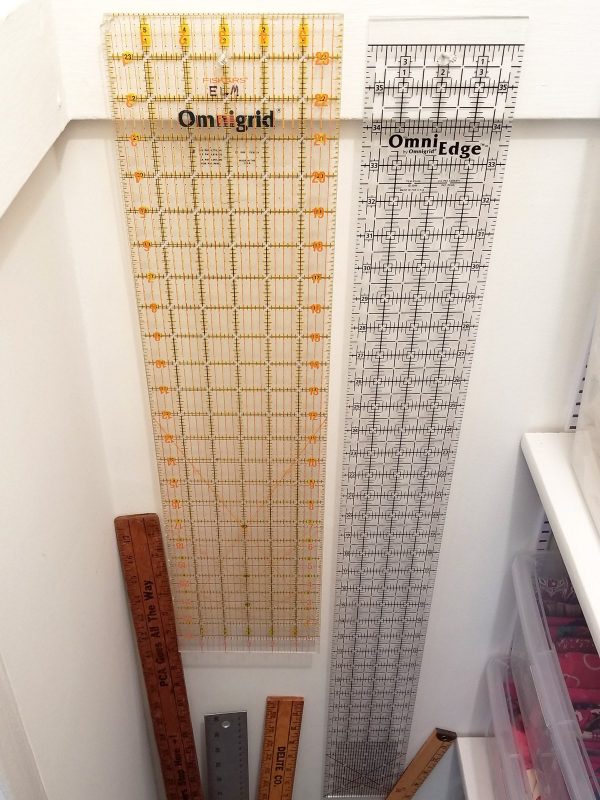 I also used the wall right inside this closet to store some of my longer acrylic rulers and collection of yardsticks. Is it really possible to have TOO MANY rulers? I don't think so!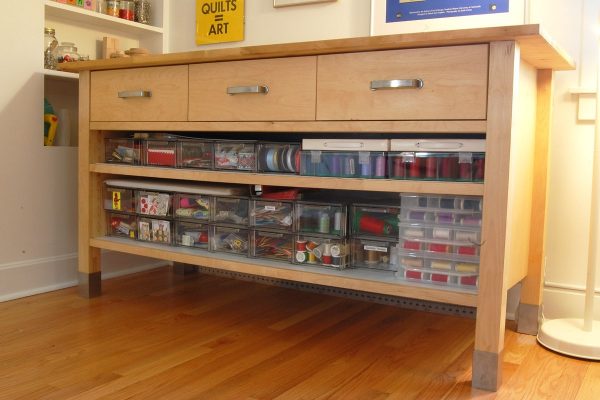 I have used this IKEA kitchen island as a cutting table for the past 10 years, and the shelves make for great storage.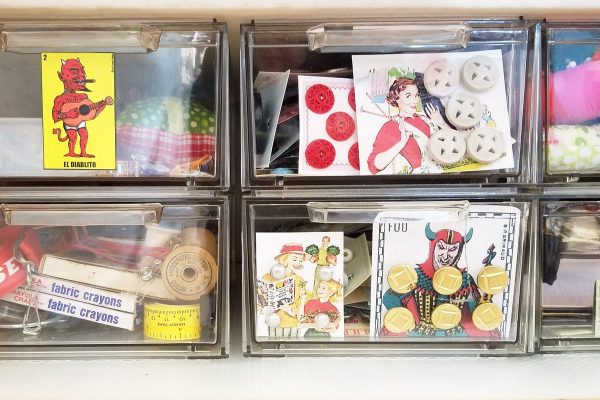 I use clear bins with pull-out drawers on the shelves to store all kinds of notions—from vintage buttons to hand sewing needles, pins, snaps, and more. These are Clear Shoe Drawers also from The Container Store, and I've been using these through several moves and three different sewing spaces for the past 10 years. Can't live without them!
Easy to see inside, and easy to pull open. In fact, the drawers can pull all the way out if you need to search through the bin and then pop it back after you found what you're looking for!
I use Isacord thread for embroidery and quilting, and have multiple spools stored in specialty bins that keep the spools from getting tangled or dusty. There are lots of thread boxes out there, and I just purchased boxes that would fit the dimensions of the shelf under the cutting table.
Did you notice the built-in shelves at the end of the cutting table? Most of the stuff on these shelves is just for fun, but I do have some notions in jars that are easy to grab when I need them—like these quilt basting pins.
The cutting table also has three great big drawers. One holds all my sharp cutting tools like shears, snips, rotary cutters and blades. I have them organized in a large utensil tray.
Another drawer holds all my small rulers, super handy when I'm actually cutting on the table top.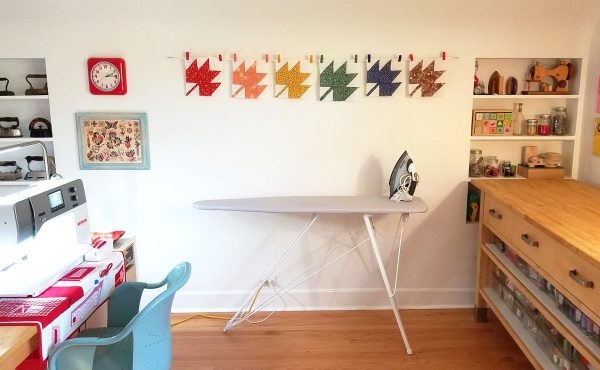 The ironing station is between my sewing table and cutting table. This ironing board is only temporary, we're building a custom ironing station that will be a better fit (a good winter project for my husband!).
I hung a small clothesline on the wall right above my ironing station as a way to keep blocks organized while pressing. I haven't been sewing enough yet to know how handy this will be, but it's also a pretty neat way to create a temporary display area. Although it's not in the picture, I do have a small rolling cart that holds all of my pressing supplies like starch, a clapper, press-cloth, and other irons—it's stored in another closet when not in use.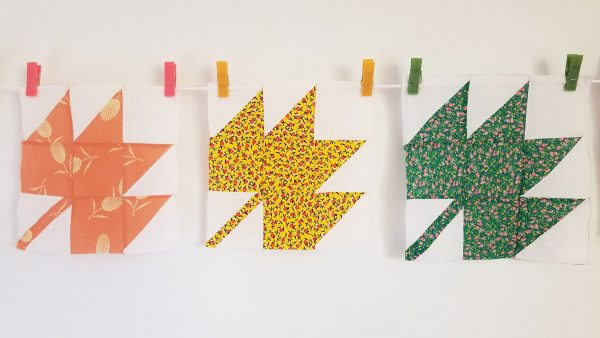 These leaves are vintage blocks I picked up at a second hand store years ago. I totally forgot I had them! They were uncovered when I sorted through my old storage bins full of fabric scraps. Finding lost treasures has been the best part of getting organized!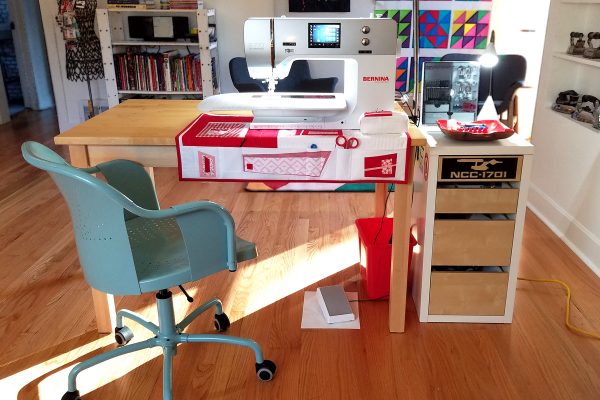 This table is just temporary until I can find the type of sewing table that will work best for me, but it's working out okay for now.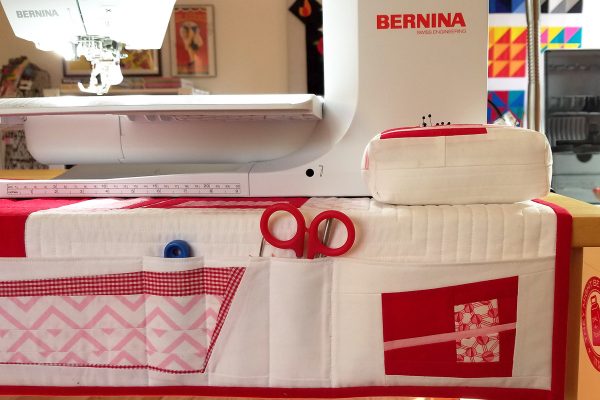 I use a mat with pockets under the sewing machine to help keep small tools within reach when I sew. It's very handy, I'm not sure I could live without it! (Psst! Look for a sewing machine mat project right here at WeAllSew after the holidays, I plan on sharing the instructions for making one that will fit BERNINA 7 Series and smaller machines!)
A small set of office drawers sits right next to my sewing table. This has been so handy to store all the small tools and things I need when I sew! The red vintage ashtray has been next to my sewing machine for 12 years, and is perfect for holding presser feet, spools of thread, or other little things I need as I am working on a project. The top drawer holds sewing machine needles organized in a small office supply bin; it's super easy to reach right over and grab a new needle when needed.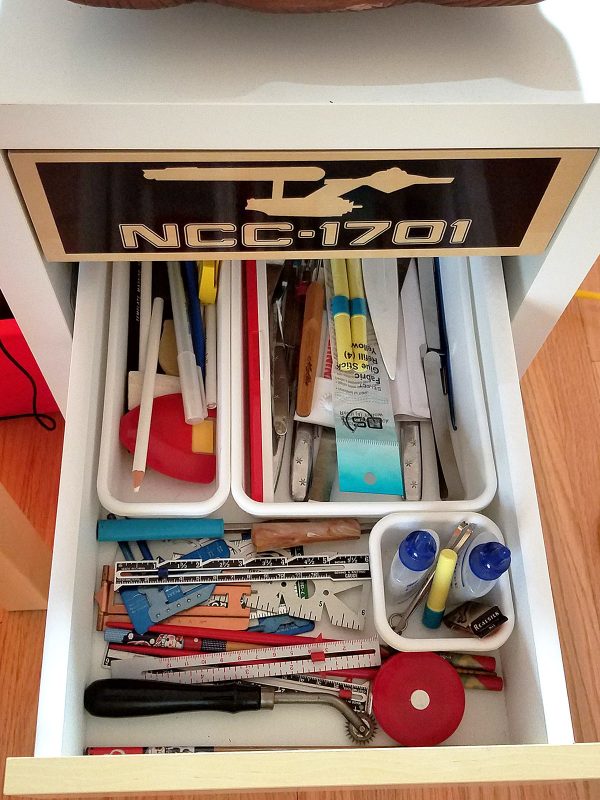 And the second drawer is organized with pen and pencil bins which work perfectly for small sewing tools. I always know where I can find a bodkin, a sewing gauge, or a point turner!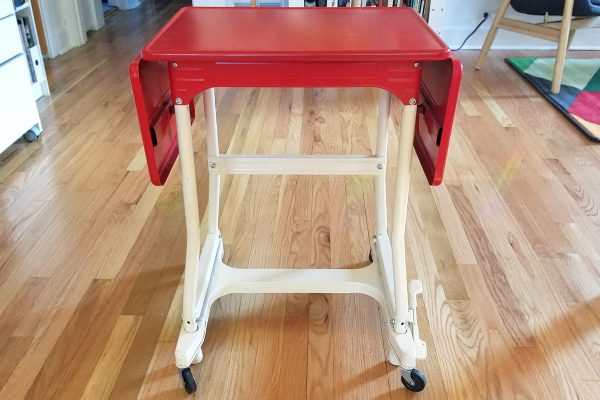 Have you seen one of these before? This is one of my all-time favorite sewing tools, a refurbished vintage typing table. It rolls on retractable wheels and has two leaves. I store it away in a closet when not in use.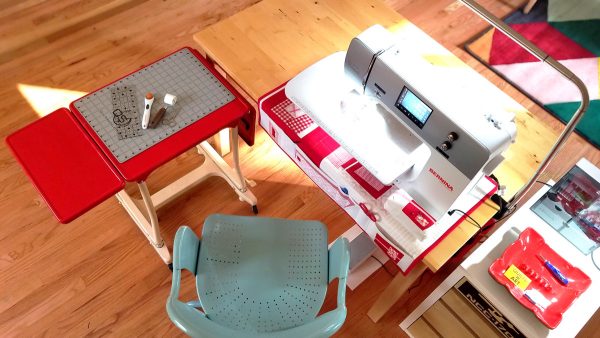 This little guy gets wheeled to the side of my sewing table when I need just a bit more space.  It's perfect for paper piecing and small cutting. And this little guy makes a fantastic laptop desk when I need one. Like I mentioned above, this has become one of my can't-live-without sewing tools!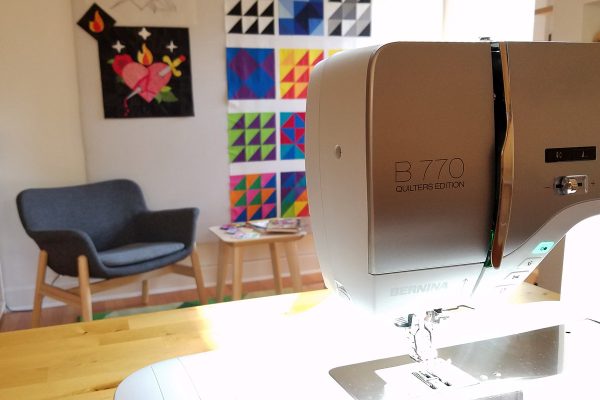 The sewing table is in the middle of the room facing the design wall. That way, if there's something I need to make a decision about on the design wall, I can think about it while I'm sewing.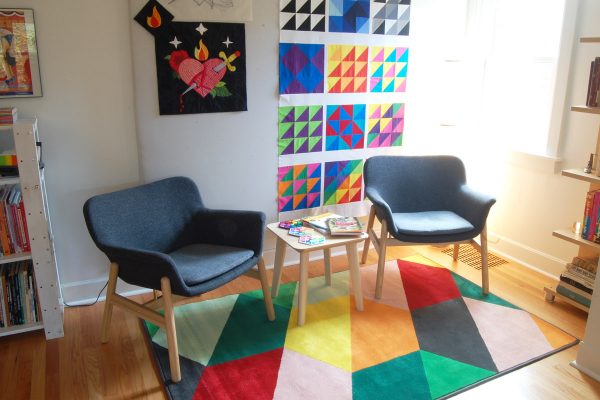 Check out the lounge area in front of the design wall (my husband calls this the "waiting room!"), it's the perfect place to sit while taking a break, or to read a book, do a little hand sewing, or invite a friend over to visit. No worries about the chairs in front of the wall, I can easily move them if I need full view of the design wall.
I applied the same ideas of keeping all tools stored away to my office space. Although my main concern for office space was getting enough storage for my books, because you can never have enough books. It's a fact I keep telling my husband, although I'm not sure he's on the same page with me on that one!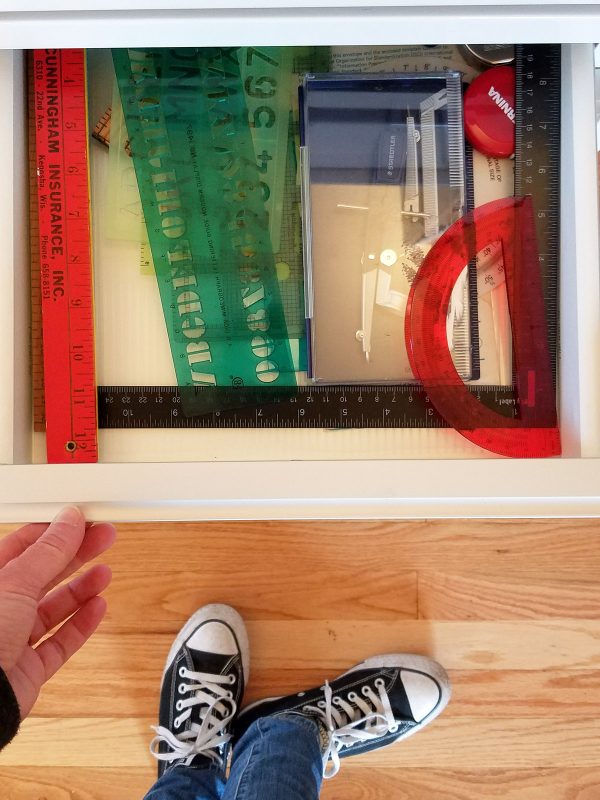 All my desk tools are stored in the many drawers, easy to get to if needed.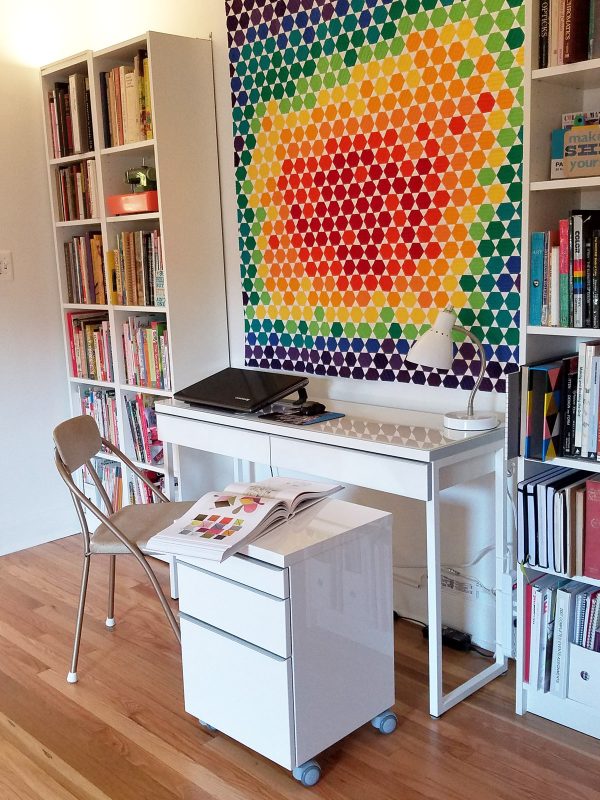 And the small drawers on wheels double as extra space if I need to open a book, work on a sketch, or write in my planner.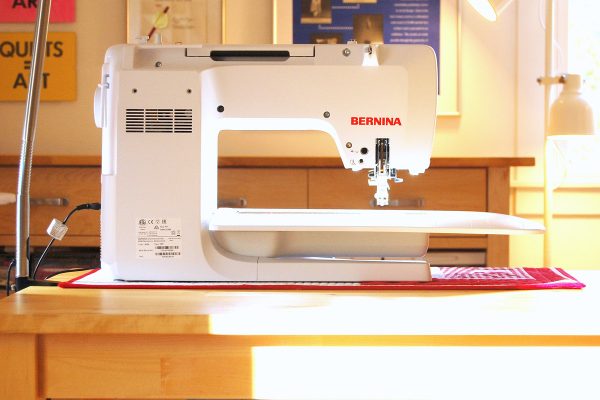 By far my favorite thing about the new sewing space is all of the natural light. It's a very bright and sunny room in the afternoons! And if it's a bit too sunny, I have roller shades to block out and tone down the bright sun.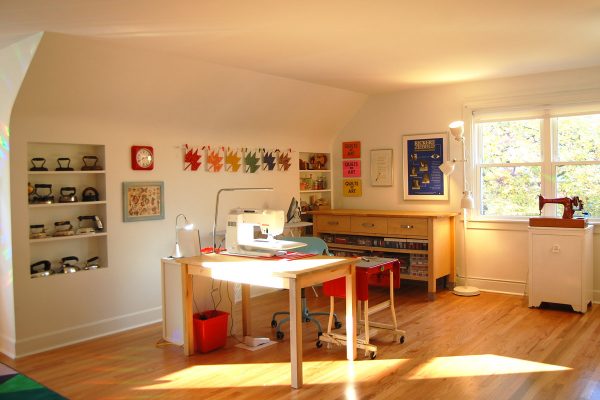 Thanks so much for stopping by! I'd love to see how your sewing space is organized, why not share some photos in the WeAllSew Community section with some of your favorite organizing tips?
Difficulty level

Beginner

Time to Complete

Evening

Seasons

all seasons, fall, Spring, Summer, Winter
Used Products
What you might also like
17 comments on "Studio Tour With BERNINA Ambassador Erika Mulvenna"