Clever Sewing Organization Tips
You know that old adage "A place for everything and everything in its place?" We think this piece of advice is really important for your sewing space! Keeping things organized where you sew can help you be more productive and save time when the tool you need is always within easy reach. Here are some really clever sewing organization tips to try in your own sewing space.
Pegboard for Sewing Tool Organization
Pegboard is probably one of the most versatile ways to organize in your sewing space. You can use pegs of different shapes and sizes to hang notions like thread spools or tools of all kinds. Pegboard and pegs of all shapes and sizes can be purchased at your local home improvement or hardware store.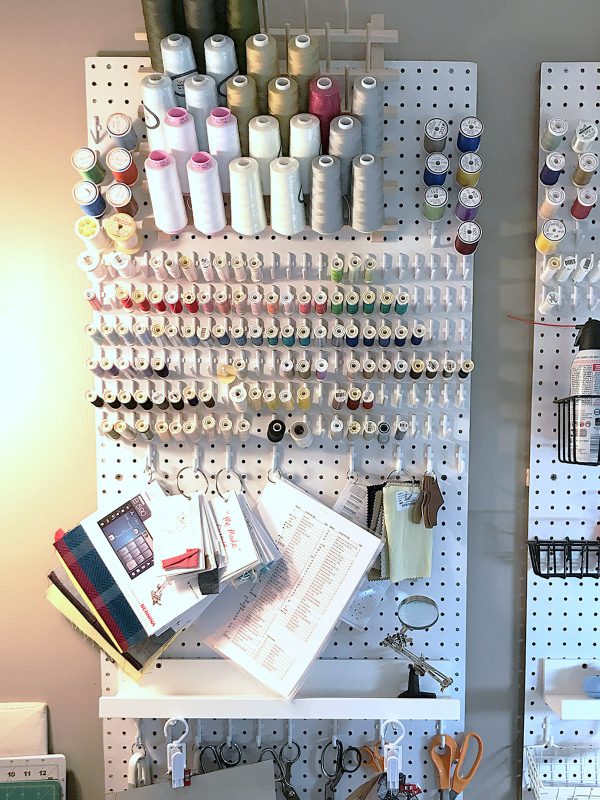 Caroline Henbest uses pegboard to organize threads, scissors, and other tools that she uses frequently.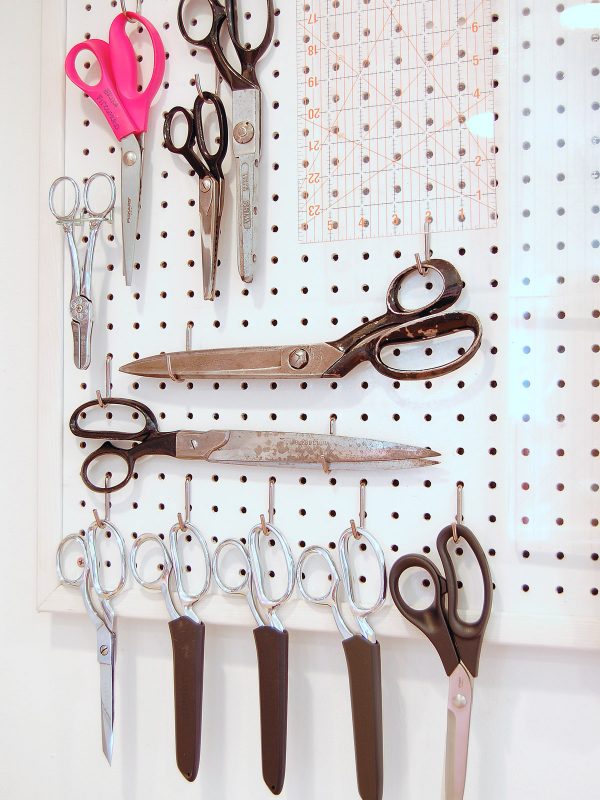 Erika Mulvenna has used pegboard as a way to keep scissors handy and display some of her vintage shears.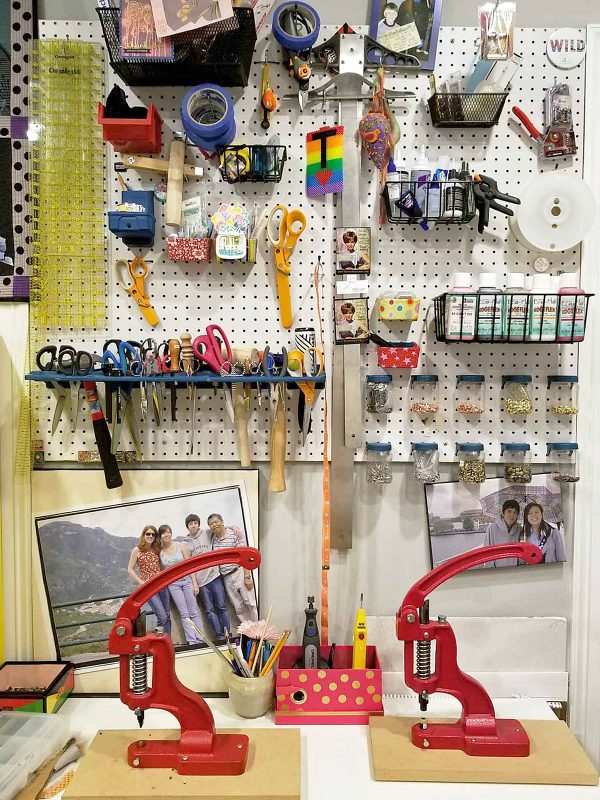 Teresa Duryea Wong makes great use of pegboard to keep all kinds of sewing and craft supplies easy to find.
Organizing Rulers in your Sewing Space
Rulers can be tricky to store, especially odd-shaped or large sized rulers. Check out these clever solutions to the problems of ruler storage. Using Command Brand Hooks or nails on a wall or door  to create custom storage for large or odd-shaped rulers. Standing file folder or magazine holders also make fantastic organizers for rulers, and can be found at any office supply store.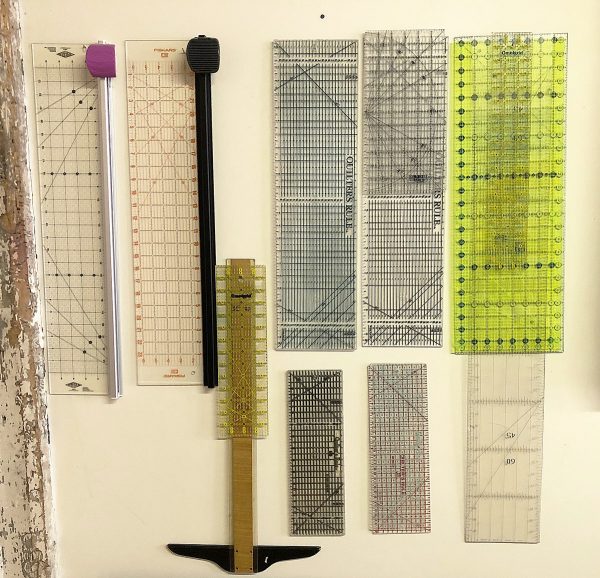 Robbi Joy Eklow created the perfect place to store rulers on a wall in her brand new studio. Command Brand Hooks will also work, and can be removed later without damaging walls.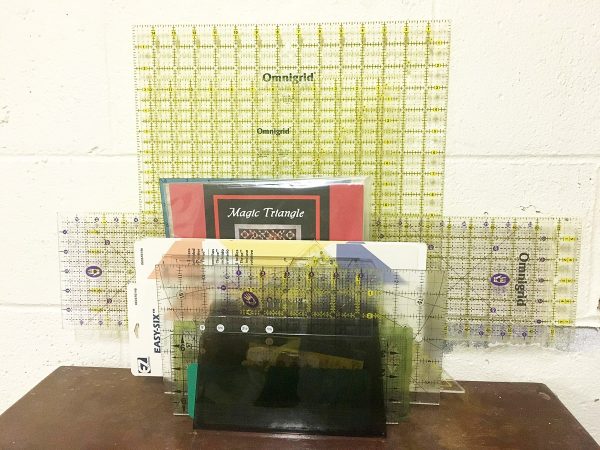 Scott Murkin uses a file folder organizer to hold rulers, patterns, and die cutting templates.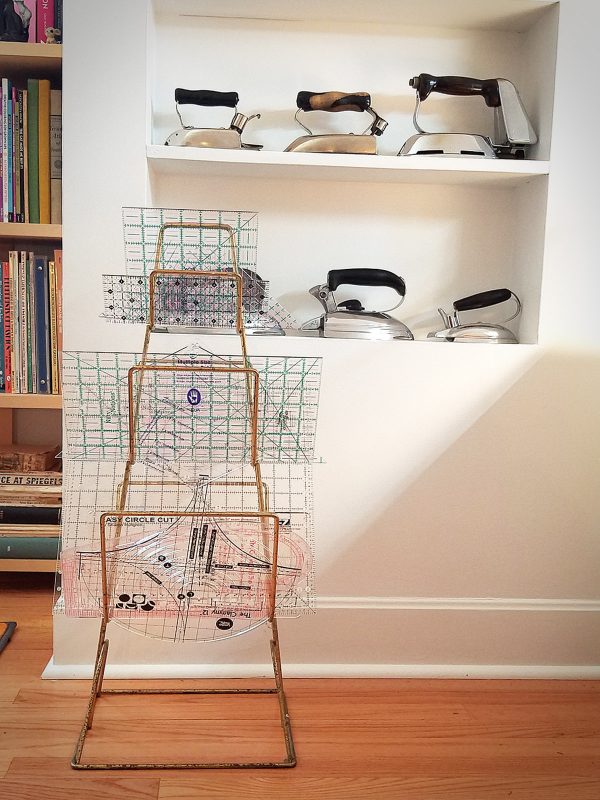 Erika Mulvenna uses a magazine holder to store rulers of all sizes in an easy-to-access way.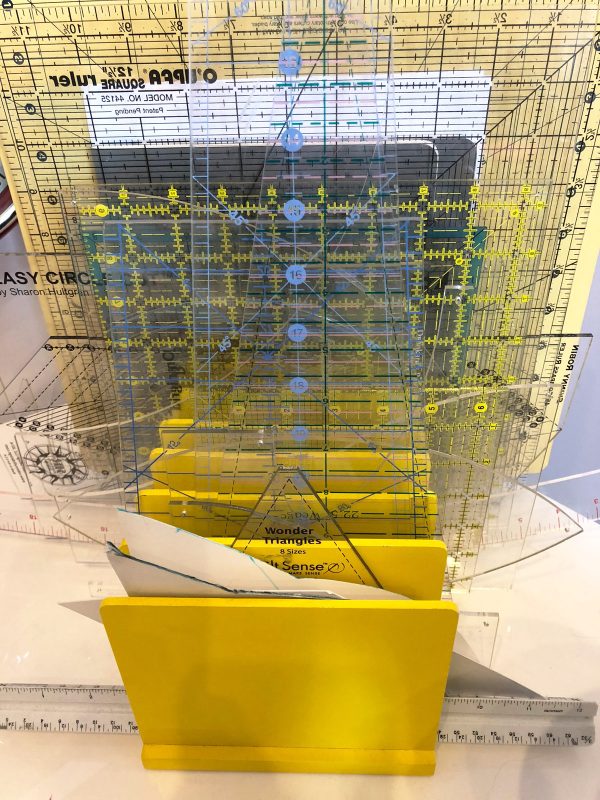 Jacquie Gering uses a brightly colored vertical file organizer to keep all of her many, many rulers in order.
Rolling Carts to Organize Sewing Tools and Notions
Rolling carts have been appearing more in sewing spaces as handy ways to store notions, tools, and supplies. Since these carts are on wheels, you can easily store them out of the way when you don't need them, and roll them out when you do. These carts come in all shapes and sizes and you can find them with bins or drawers.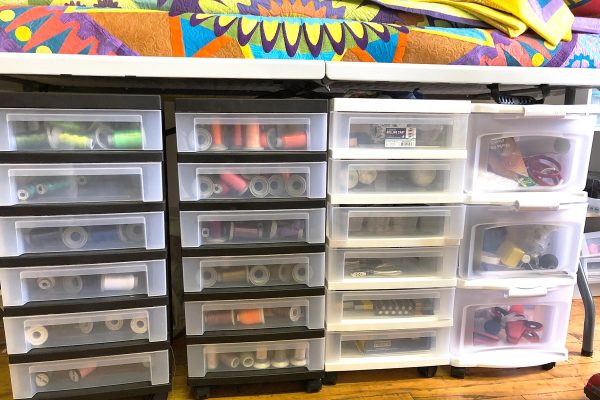 Robbi Joy Eklow uses rolling carts with drawers to organize all kinds of tools and supplies! Just look at how many Isacord thread spools she's got organized in those carts.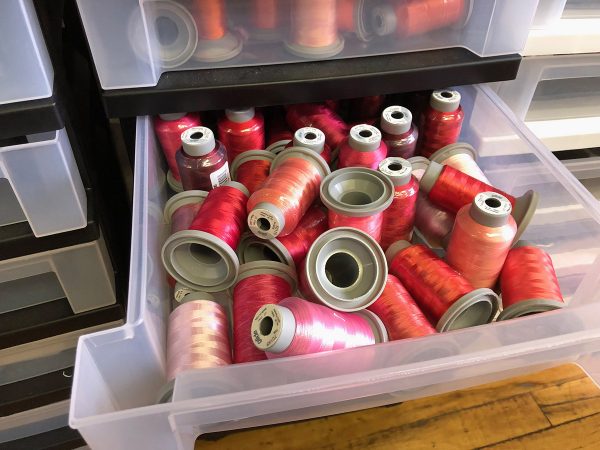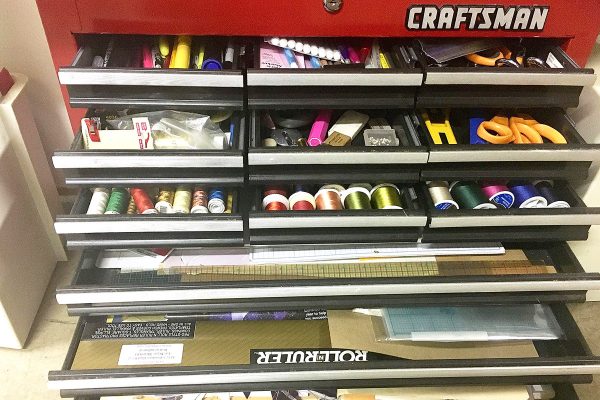 Scott Murkin's rolling storage is the ultimate use of a large rolling tool chest! Very large flat drawers pull out all the way to access all kinds of tools and notions.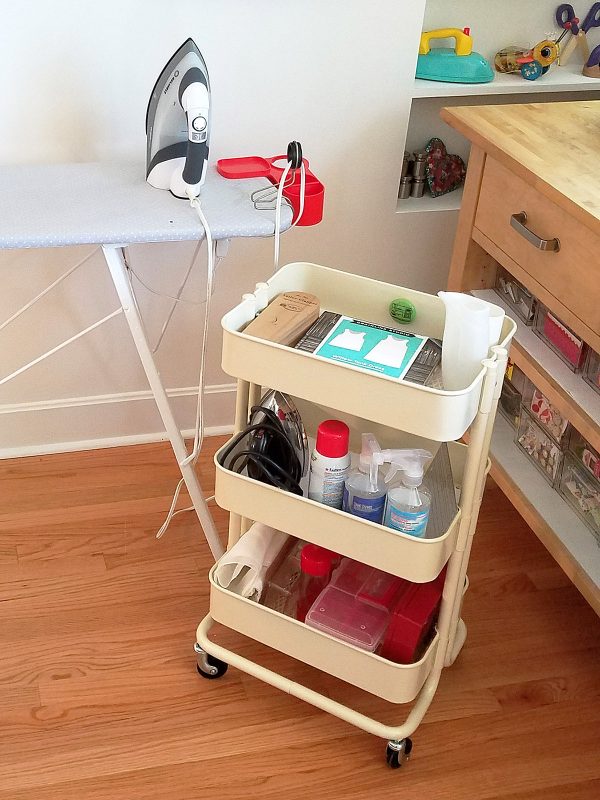 Erika Mulvenna uses an open rolling cart to store pressing and ironing supplies, handy at the ironing board just when you need it.
Tackle and Tool Boxes to Organize Sewing Supplies
Containers make to hold tools, fishing supplies, or other small supplies can make excellent storage boxes for sewing supplies or sewing machine feet and accessories.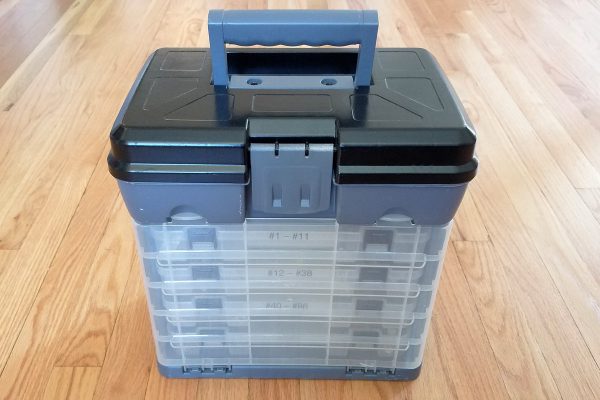 Erika Mulvenna uses a simple tool box to organize sewing machine accessories and feet.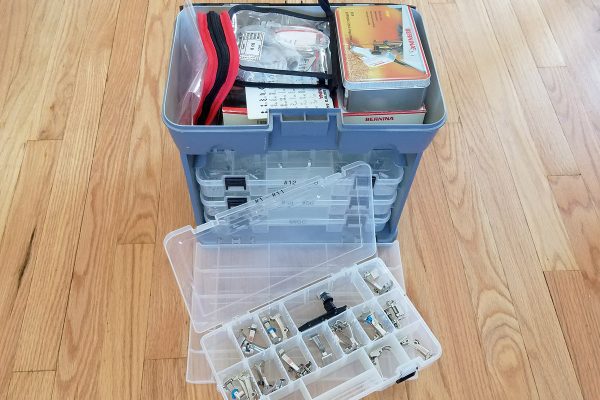 This toolbox has a deeper storage area on top, and smaller bins that pull out from the front of the box cleverly organize feet and accessories.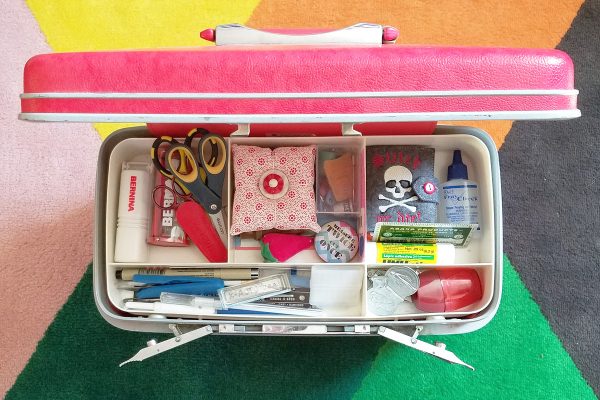 And here's a small travel case meant to hold toiletries that's been transformed into a sewing box.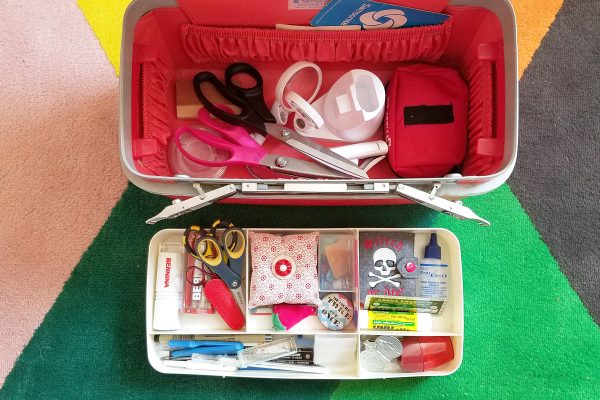 Small compartments in the top tray hold all kinds of notions and supplies, and there's plenty of space in the travel box for a travel sewing light, scissors, and more.
Flatware and Office Supply Storage to Organize Sewing Supplies
It just so happens that flatware and utensil drawer organizers are the perfect size to hold sewing supplies! You can purchase these organizers at virtually any big box store, or look for similar drawer organizers in office supply stores.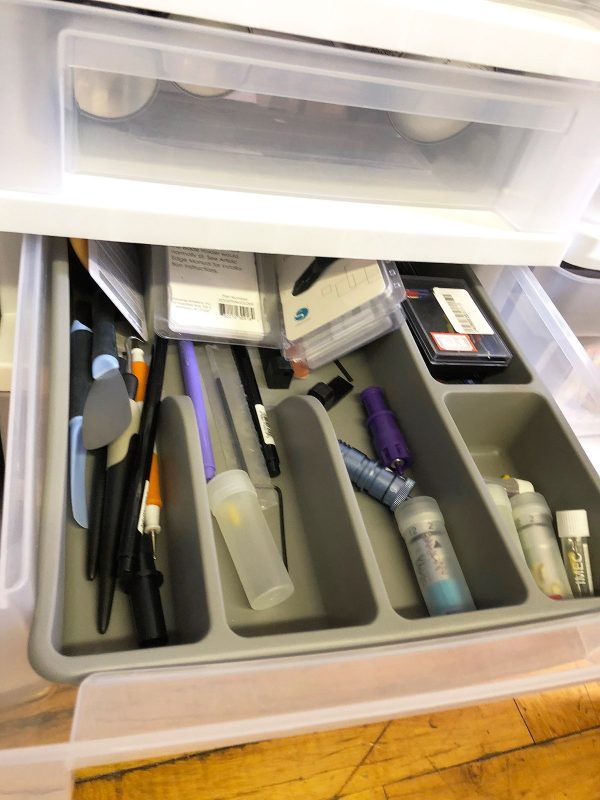 Robbi Joy Eklow keeps small tools and supplies organized in a rolling cart with a simple flatware organizer.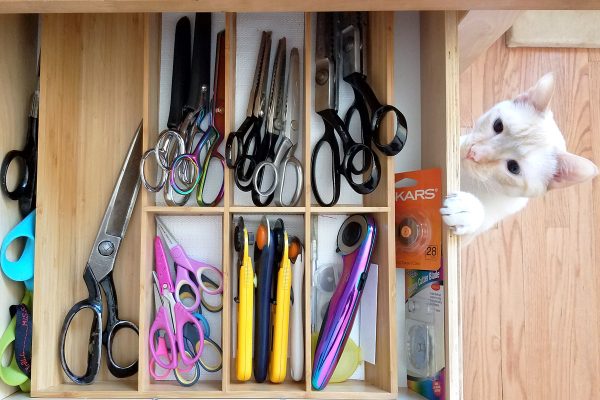 Erika Mulvenna organizes sharp cutting tools inside a flatware tray stashed away in a drawer where little paws can't get to them.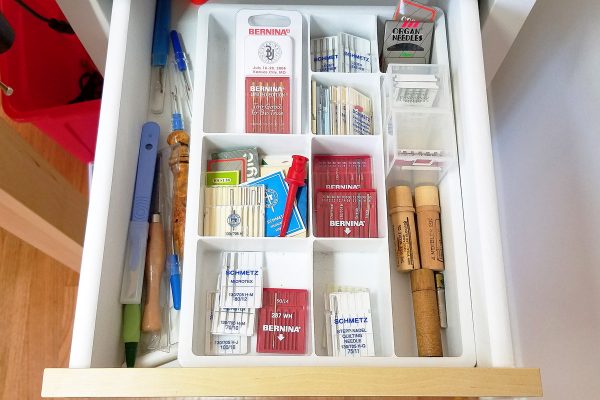 Drawer organizers sold in office supply stores meant to keep paper clips and rubber bands in order also create order for sewing machine needles.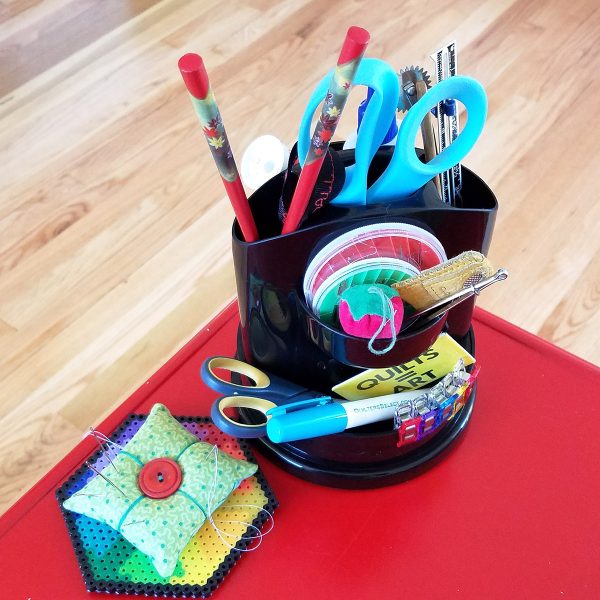 And desktop organizers have just the right kind of compartments to keep sewing tools in place next to your sewing area.
Difficulty level

Beginner

Time to Complete

Evening

Seasons

all seasons
What you might also like
16 comments on "Clever Sewing Organization Tips"