Sewing with Lace: Tips and Tricks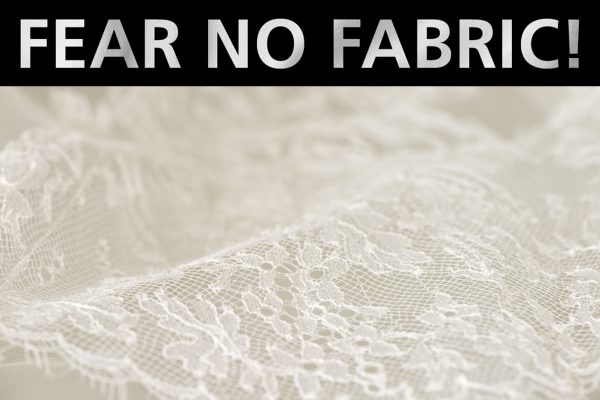 Fabric Characteristics of Lace
Lace is a delicate fabric made of yarn or thread in an open web-like pattern, made by machine or by hand.
Lace runs the gamut from very fine, sheer materials to heavy, coarse fabrics.
Lace is available in a variety of fibers such as nylon, polyester, linen, wool, cotton, and rayon.
Lace is used for all types of garments, from casual clothes to formal bridal gowns.
Care and Use of Lace
Most items made from lace or with lace as an accent should be hand washed using cool water and mild detergent.
Avoid vigorous scrubbing, which will distort the fibers.
Rinse well and do not wring to remove water, but gently squeeze lace.
Hand washing is the gentlest method for cleaning; however, if you choose to use a washing machine place the lace item in a mesh lingerie bag and use the gentle cycle.
Recommended BERNINA Presser Feet for Sewing Lace
Zigzag Foot #0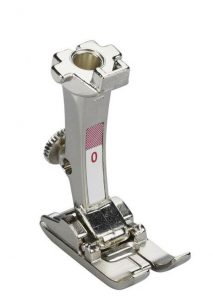 The smooth, flat sole of the Zigzag Foot #0 holds the fabric firmly against the feed dog of the sewing machine, aiding in the feeding of the fabric under the needle. Use when attaching a lace edging.
Edgestitch Foot #10/10C/10D
Edgestitch Foot #10/10C/10D foot is most often associated with straight stitching, but may also be used with zigzag or decorative stitches. This foot can also be used for lace edging, lace insertion, lace-trimmed tucks, entredeux or heirloom stitching.
Open Embroidery Foot #20/20c/20D
The wedge-shaped indention on the sole of the Open Embroidery Foot #20/20C/20D allows thick, bulky stitches to pass under the foot without building up and inhibiting the feeling of the fabric.  Great for lace applique and stitching the edges of a lace motif to the background fabric.  
Tips for Sewing on Lace
Compared to many other fabrics, lace is fragile. Although it should be handled with care, it is easier to sew with than you might think.
Things to Know About Lace
Lace is very forgiving. If you make a mistake, it can frequently be hidden.
All laces are semi-transparent.
Most laces do not ravel.
Lace does not have a grainline, although they have more stretch in the width than in the length.
Many laces shrink when laundered.
Lace is easily damaged by hot irons and carless pressing.
Most laces have a one-way design, as well as motifs that require matching, thus requiring extra fabric. To accurately determine the amount required, plan your layout before making the purchase.
Consider the garment design and use when selecting your lace. If it is for a special occasion, purchase the best lace you can afford, even if you have to combine it with other fabrics.
When using lace with another fabric, it should be similar in weight, texture and color.
Don't be afraid to add a bit of lace to your next project. You can see that sewing with lace can be fun and add a fantastic decorative element.
For more tips, tricks and projects with lace, check out these WeAllSew blog posts:
Happy Stitching~
Heather
Fear No Fabric!
Seasons

all seasons

Techniques

sewing
What you might also like
2 comments on "Sewing with Lace: Tips and Tricks"