Sewing Knit Fabrics without a Serger: Tips and Tricks
Introduction to Knits
Sewing knit fabric without a serger is a topic that is highly debated among beginner sewers. These lycra-based fabrics tend to stretch out of shape and become wonky once they are fed through a sewing machine. There are so many different kinds of knits out in the market today. There is Cotton Jersey which is known to be made into the classic t-shirt that we all know and love. It is also the simplest and the easiest option when you are new to working with knits. Another example is Ponte or Ponte De Roma. This is a much more stable knit and works beautifully for pants and jackets. You can also tailor with this fabric as I have been doing recently.
The images seen throughout this post are a few examples of sewing with knit fabric without a serger. The garments in the image above were made out of jersey knits. The white top was cut from a cotton, rayon jersey blend combined with a black, laser-cut polyester knit fabric. The printed bodysuit was made out of a cotton jersey. Both lower portions of the sleeves were cut from the same knit as the top. Notice the difference in the fit of these garments. In the image below, there is a section that is gathered into the laser-cut knit fabric. This created a graphic look while playing with texture. After stitching, the seams are pressed toward the white jersey. Depending on the garment and type of knit being sewn, gathers and darts are possible.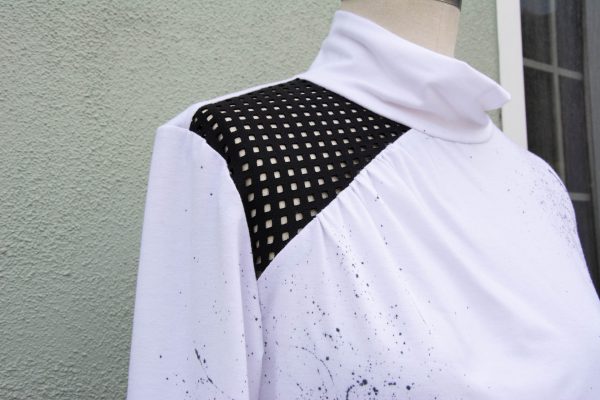 Sewing Knits with the bernette 77
 In my video tutorial, I give you starting points for sewing Jersey and Ponte. I have found that once you have sewn a few projects with these fabrics,  you can tackle other variations of knits. Using the b77 makes the construction process easier and enjoyable. The dual feed and presser foot pressure control are crucial in obtaining seams that lay nice and flat. This machine also offers stitches that work well for construction. Using a size 90/14 Stretch Needle with good quality All Purpose thread will help in achieving consistent stitch quality. A Serger is very popular when sewing knits BUT it is not completely necessary if you do not own one.
The plaid jacket mixes a medium weight flannel, Denim, and Sweat Shirt Fleece. This jacket is a great example of utilizing the Dual Feed feature on the b77. The most important trait that all of these fabrics have in common is how stable they are. If you are experimenting with mixing materials, you want to be sure that they are compatible with one another. Be mindful of the possibility of going up or down in needle sizes. Test sew on scraps for best results.
The ultimate test came when creating this knit top. This piece combines a bamboo jersey and metallic mesh. Again, making use of the presser foot pressure control and the dual feed on the b77 made this execution possible. Reducing the pressure on the foot plays a huge role in keeping your edges from becoming wavy. This is also a tell-tell sign of being homemade.
I hope that this helped you to better understand sewing knit fabrics. As you can see, having a solid conventional machine such as the b77 is all you need to get started. This machine will be there to guide you and allow you to enjoy the process all while discovering new design possibilities. Feel free to leave any questions you may have in the comment section below.  You may also write to me over on Instagram.
Happy Sewing!
Difficulty level

Intermediate

Used Material

90/14 stretch needle, all-purpose thread, sewing machine

Seasons

all seasons

Techniques

garment sewing, sewing with knits
Used Products
What you might also like
9 comments on "Sewing Knit Fabrics without a Serger: Tips and Tricks"