Sewing with Faux Fur: Tips and Tricks
Have you seen and felt the soft, luxurious plush materials available these days? From faux fur to minky, the available textures, colors and prints are endless. Shannon Fabrics is my favorite go-to online store when I'm looking for something snuggly.
They offer a line called Luxe Cuddle® that comes in solids, prints and embossed. Included in the line are some amazing faux fur prints. Pictured below are just a few of their Luxe Cuddle® prints.
Warning: It's difficult to choose just one or two or ten! I have made way more infinity scarves than I would ever use in a lifetime. Guess what my Christmas gifts are this year! Following is my recommended presser foot and sewing tips that will help you easily sew faux fur and without the furry mess! Ready?
Fabric Characteristics of Faux Fur
Usually an acrylic/polyester blend
Most have a nap
Usually on knitted backing
Lots of lint and fuzz
Stretchy
Bulky
Care and Use of Faux Fur
Wash in cool water on a gentle cycle
Tumble dry on low
Do not use fabric softener
Do not iron
Recommended BERNINA Presser Foot for Faux Fur
Walking Foot #50
Walking Foot #50 is designed to feed fabrics that don't move easily under the presser foot. There is a rubber gripper that works with the soles and the feed dog to move the fabric layers evenly.
Three Sole Walking Foot with Guide #50 comes with three soles—standard, open and center guide—and two seam guides. There is also a collar and a small screwdriver to attach the seam guides.
Tips for Sewing with Faux Fur
Use a 90/14 stretch needle such as Schmetz Stretch Needles. Faux fur usually has a knitted backing, so using stretch needles will prevent holes and skipped stitches. Stretch needles have a slightly rounded point.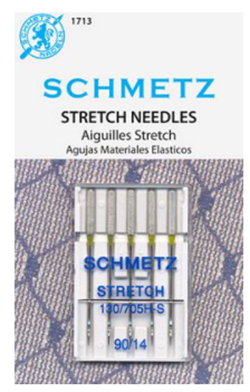 Use polyester thread such as Mettler Metrosene which is very strong, iron-proof and colorfast.
Increase your stitch length to 3 – 3.5 mm. Faux fur is thick so you need the extra length.
Use long pins such as these Flower Head Pins by Clover—again, faux fur is thick! Also, double pin to keep fabric stable. While sewing, remove the first row of pins and keep the second row in place. The second row of pins needs to be at least 1" from the edge to avoid hitting the Walking Foot. The second row will keep the fabric stable until you are done sewing.
Reduce presser foot pressure. If the faux fur is not feeding well, try reducing presser foot pressure.
Mark faux fur on the wrong side before you cut. I use a Sharpie – no problem!
Keep the fur contained by using a wet washcloth after cutting to wipe up excess on the cutting mat. Then, throw the washcloth into the dryer on low or no heat for 5-10 minutes. The cut fibers will collect in the lint trap. Or do what I do and cut fabric near the backdoor and immediately shake it out.
I've listed a few free projects from Shannon Fabrics and our WeAllSew blog. Find out for yourself how easy it is to sew with faux fur now that you have the right presser foot and a few good tips!
Blogs from WeAllSew
Fear No Fabric!
Used Material

flower head pins, polyester thread, stretch needles, walking foot

Projects

jacket, vest

Seasons

all seasons
Used Products
What you might also like
2 comments on "Sewing with Faux Fur: Tips and Tricks"