Sewing with Fleece: Tips and Tricks
Synthetic fleece can be coined as a recent invention, making cold bodies warmer since 1979. Synthetic fleece was the new alternative to wool garments created by Malden Mills out of Maine. A few years later the clothing company, Patagonia, worked with Malden Mills to create their patented fleece called "Synchilla." This fleece fabric would be used in the creation of their iconic Synchilla Snap-T Fleece Pullover, creating a fleece production boom. Fleece is readily available in any color, pattern and thickness one can think of.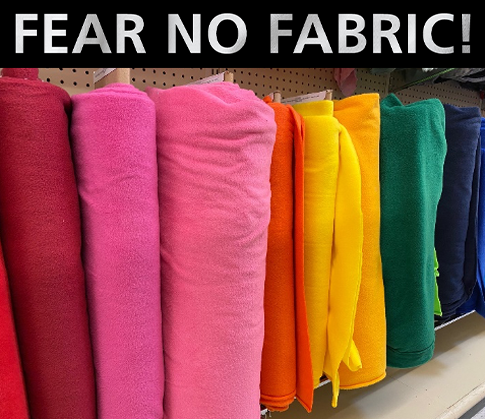 Fabric Characteristics of Fleece
Positives
Won't fray or ravel
Most fleece on the market is polyester but can have blends with cotton, lycra/spandex or rayon
"Anti-pill" fleece was also invented to combat the wearing out of the fabric over time/washings
Doesn't shrink when washed
Has a right and wrong side, the fabric will curl towards the wrong side
Repels water
Breathable, but also insulating
Challenges
Certain types of fleece can pill with extensive wear/improper washing
Can be bulky
Static (people will know if you have a dog or cat!)
Will melt under an iron
Will stretch when sewing
Types of Fleece
Here are some popular types of fleece and their uses:
Sherpa Fleece
Looks like fluffy wool, used in linings, jackets and blankets
Slub Fleece
Usually two different colors for a "heathered look", used in clothing popular for work/office wear
Microfleece
Thin, soft double-sided, popular in workout wear/outdoor gear
Polar Fleece
Blankets and jackets
Cotton Blended Fleece
Sweatpants, sweatshirts
Lycra Spandex Fleece
Fitted women's and kid's clothes (Think fall/winter fleece lined leggings)
Polyester Fleece
Smooth shiny outside, plush inside, used in blankets
French Terry (Fleece)
Sweatshirts, casual wear, lounge shorts
Choosing the Right Weight of Fleece
100 Weight—Thinnest option, great for transition temperature days
200 Weight—Most common of fleece, jackets, great for fall and early winter
300 Weight—Best for the coldest winter days/very chill temperatures
Care and Use of Fleece
Do not iron directly on fleece. . . it will melt
Stain? Spot treat/hand wash if possible
If an all-over wash is needed, turn inside out, gentle cycle, cold water, lay flat to dry is preferred
No bleach, fabric softener or dryer sheets, this will damage your fabric
Fleece can go in the dryer if in a hurry, lowest heat setting and remove when done
BERNINA Presser Feet to Sew Fleece
Depending on the project, you can use many BERNINA presser feet to get great stitches. BERNINA Overlockers also do a wonderful job with fleece.
BERNINA Edgestitch Foot #10D
BERNINA Edgestitch Foot #10D is great for joining two pieces of fleece without the bulk of a seam by using a zig-zag stitch.
BERNINA Three-Sole Walking Foot with Seam Guides #50
BERNINA Three-Sole Walking Foot with Seam Guides #50 helps to keep both layers from shifting and/or stretching.
Tips for Sewing Fleece
Longer stitch length
Zigzag stitch or a straight stitch
Lower your pressure foot pressure
Keep your sewing machine clean when sewing with fleece—time to break out the lint brush
Needles to Use: Universal or Stretch use size appropriate for your thread
Fleece does stretch, so make sure not to pull or stretch the fabric when sewing
Use pins or Wonder Clips to help fabric from shifting
Use the Height Compensation Tool to stitch over extra bulky seams
As I sit here at my desk writing this post, I'm wrapped up in my fleece "Desk Blanket," the one you keep in the office for when the AC is blasting in the summer or snuggle under in the winter. Fleece is such a popular textile these days, you can make almost anything with it; clothing, blankets, winter wear to pet accessories. Get ready for winter today and find the right fleece to keep you warm and stylish!
Fear No Fabric!
Seasons

all seasons, Winter
Used Products
What you might also like
11 comments on "Sewing with Fleece: Tips and Tricks"