Take a Sewing Studio Tour with Pat Bravo
Pat Bravo's studio explodes with energy. Her love of color, history, and design can be seen all around her "creative nest," as she calls it. "I can spend hours here, lost between sewing books and colorful moodboards."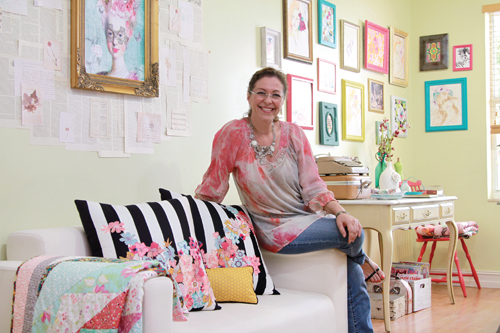 Pat learned how to sew at a young age in her native country Argentina. "For me, a sewing machine is everything… At the age of nine, I sat down for the first time before my mom's sewing machine. When I was 13, I joined a sewing school in my native Buenos Aires, where I learned everything about fabrics, dressmaking, and patterns."
After moving to the USA in 1989, she soon discovered the beauty of quilts and she fell in love with them. From traditional quilting, she moved quickly to art quilts and was very attracted to landscape quilts in particular. It was then, when she was looking for different shades of colors and couldn't find them, that she started to handpaint her own fabrics. Quilters loved the fabrics, so she began designing colorful fabric yardage for famous art quilters as well. The demand was so big that her husband Walter proposed that she start manufacturing commercial fabrics by the bolt.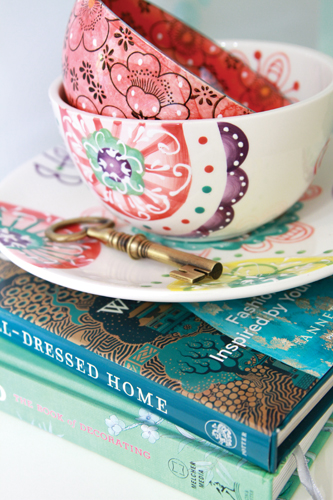 Pat began designing fabric collections for Art Gallery Fabrics and making lots and lots of quilts to showcase her design lines. All of this involved sewing for long periods of time. She used many sewing machine brands… until she bought her first BERNINA.
She loves accuracy, versatility, and freedom of control, and "I could only get these things together when I sat down in front of my BERNINA 730. It is what I call stitching perfection!" The touch screen display is what has her most captivated, because "you can change any of the settings with one finger! Isn't that amazing?" she says. She is now a BERNINA Ambassador and she is so excited to work with the new BERNINA 780.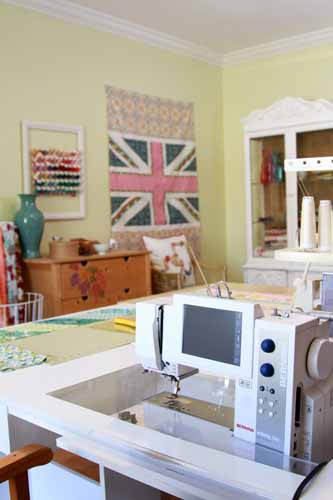 In her sewing studio she creates all her patterns and she designs the quilts that will be seen in magazines later. She has everything she needs and more! From a shabby chic white vintage cabinet where she organizes her fabrics, to a big cutting table where she does all her fabric cutting.
"I am convinced that everybody is born "to do something" in life. It is possible that in the path of life you will have some twists and turns at some moments; but at the end, you will always find your purpose, your destiny, your place. This is what I was born to do, and I am sure that this is what I will do for the rest of my life. Moreover, I am blessed with the privilege of working at something that excites me. But I feel happier for being able to share my passion for sewing and fabrics with all sewists, the passion for "handmade with fabrics."
Visit Pat at her website – patbravo.com – and her Soulful Eyes blog.
What you might also like
3 comments on "Take a Sewing Studio Tour with Pat Bravo"