Colette Pattern Studio Tour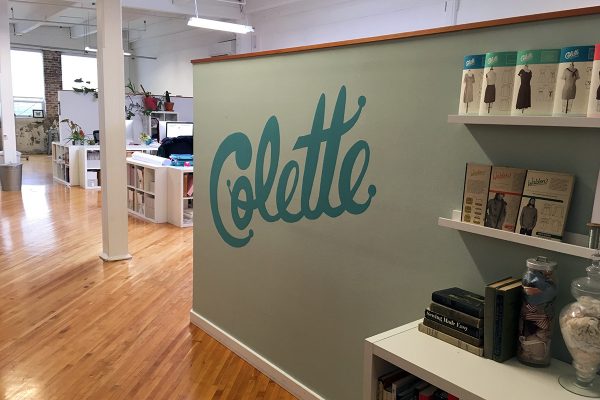 First of all, my apologies to those of you who tried to join us for our Facebook Live tour on Friday, November 12. Sometimes it is hard to know just how "well," or in this case, "not well" your WiFi connection will function once you start a live stream. We were honored that Sarai Mitnick welcomed us to tour the space and visit the team at Colette Patterns Headquarters in Portland, Oregon. I was fortunate to get to spend a whole day working with the team, showing them features and feet on our BERNINA machines. I am excited to share the visit with a bonus blog post about it.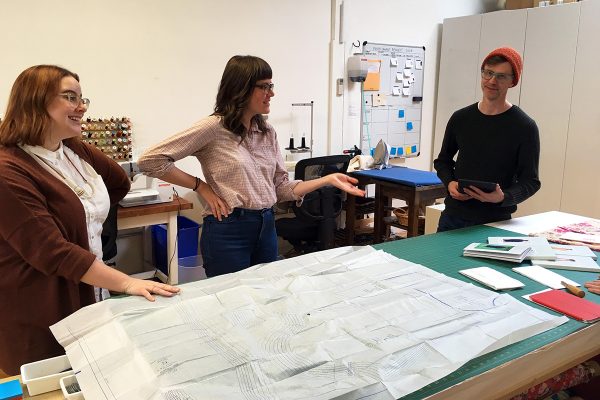 Behind the scenes helpers for Facebook Live: Haley Glen, Meg Stively and Trey Hock
Colette Patterns is headquartered in the beautiful Bakery Building built in 1918. It is a lovely white building full of other creative businesses and office spaces. On the ground level are several shops like the Jasmine Pearl Tea Company.  The team of twelve including co-founders Sarai and Kenn, along with ten employees, share an open style workspace. The space is complete with a lounge, kitchenette, transformable photo corner, sewing room and shipping/storage area. They start each day with a team meeting to review their agenda for the day's work. Then they all set off onto their varied roles to complete the tasks for the day. The space is cozy but amazingly efficient. Throughout the day you could hear the hum of sewing machines peppered with conversations and light-hearted laughter. From my outside perspective, it was like perfectly composed musical score of teamwork.
Started in 2009, the main goal of Colette Patterns is to revive the art of sewing. These patterns are one of the first independent patterns that I discovered as a beginner garment sewist and they truly made me excited to sew my own clothing. The original Colette sewing blog hosted many sew-alongs to help guide you through the patterns step-by-step. Since then, Colette Media has launched an online magazine, Seamwork, which brings monthly sewing stories and patterns to your inbox. I truly believe that Sarai re-imagined and paved the way for a wave of new indie designers since.  She has evolved Colette patterns into more than just a pattern brand, but a sewing lifestyle about empowering women and body positivity. I am so thankful for her contributions to this industry.
Colette founder, Sarai Mitnick and BERNINA Educator, Jaime David 
Studio Tour at Colette Patterns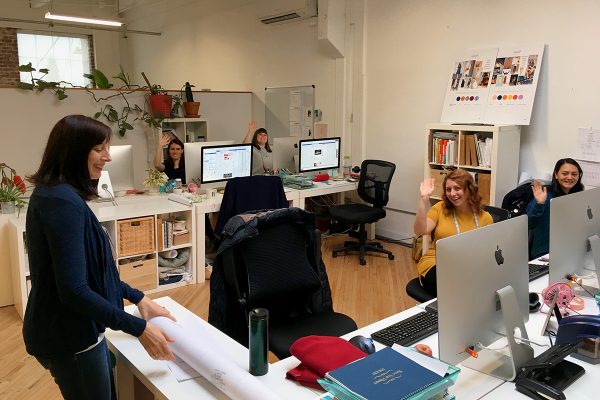 Colette Patterns Team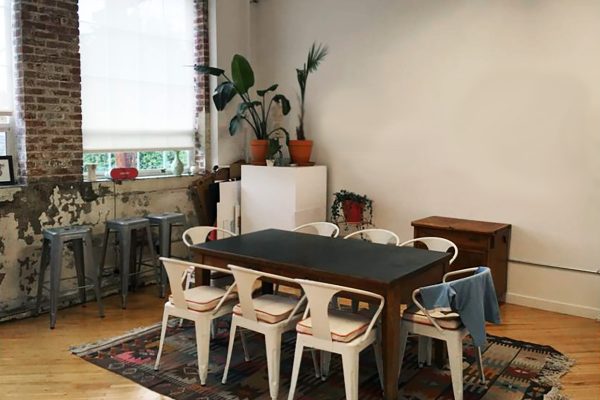 Conference space and transformable photo studio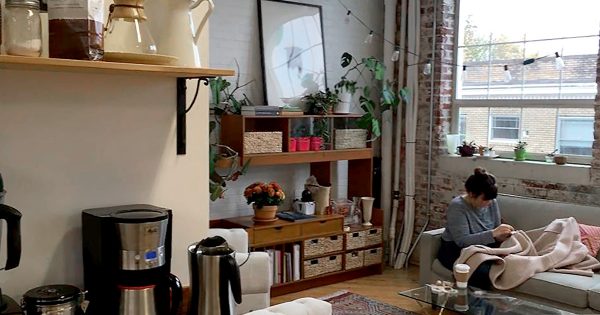 Lounge and kitchenette
Colette Patterns
The packaging is so special. This is something I remember from my first Colette pattern. I loved the booklet format. The first pattern that I made was the Beignet skirt. My husband bought me the pattern and the fabric as a birthday gift and I took so much care into learning the fit, making a detailed muslin and I even ended up writing a blog post for the Colette blog about how to make buttonholes. Back then, even the pattern covers were illustrated in delightful watercolors done by Sarai herself. Later, the pattern covers changed to pink and mint green with line drawn illustrations of the front. The contents inside and booklet format remained the same as before.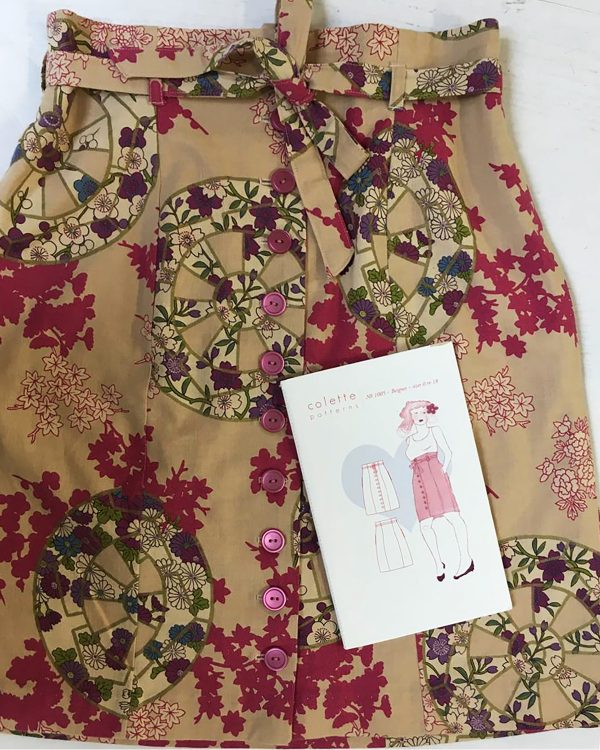 Jaime's first Colette Patterns project, Beignet skirt
Now the pattern packaging has transformed again and the booklet comes packaged inside a box with a full color photo on the front. The quality is that of a magazine, with beautifully styled photography of and helpful illustrations inside.  It includes color inserts of "snippets" the sewing tips compiled by the team. They have also split the sizing to better accommodate the range of sizes from 0-26. We asked Sarai about this during the live post, but they also have this post where you can read about why splitting the size ranges is important.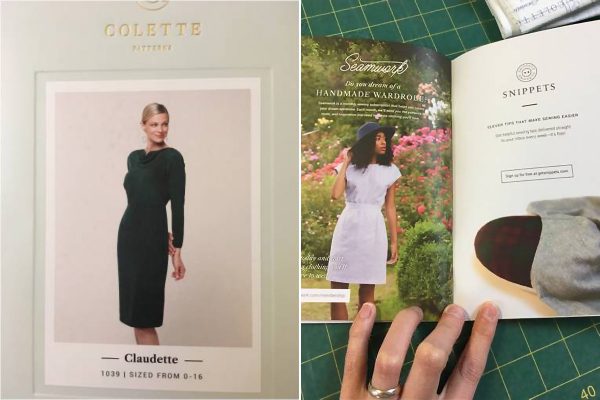 Claudette: latest pattern offering by Colette
Tool Tips: Pattern Markings and Transferring
There is so much important information on the pattern tissue that you will want to become familiar with. The first thing to notice is the grainline. Matching this is key to cutting out a flattering garment. Also, you will find marks for placing zippers and notches for matching pieces together. Did you know that sleeves are notched with single marks for the front and double marks for the back? It makes is easy to denote front and back of patterns, while keeping you from sewing a left arm sleeve to the right arm of your garment.
Sarai showed us a great tool for punching a hole in the middle of the pattern paper. This tool is often found in bookmaker supplies, and is called a screw punch. I picked up one of these tools on a trip to Japan a few years ago and had never considered using it for patterns until now. By punching a hole in the middle of the pattern paper, it is easy to then mark your final fabric through that hole with a fabric marker or chalk.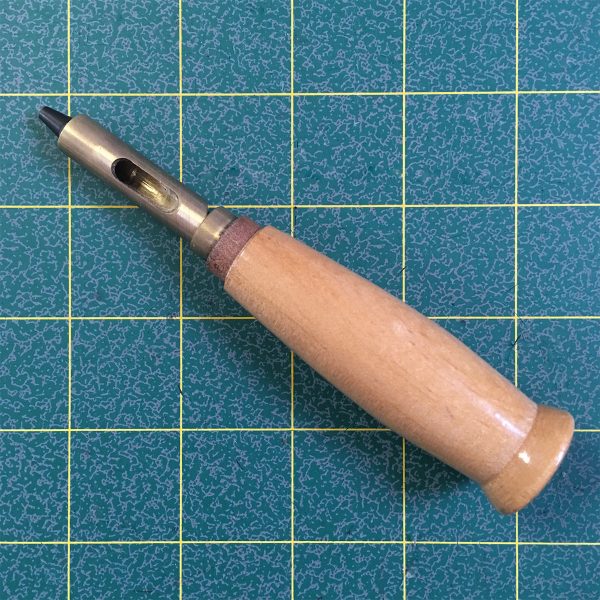 Thanks for tuning in and don't forget to check with your local BERNINA store and see if they are participating in Capsule Club. The BERNINA Capsule Club is a quarterly garment sewing program that aims to cultivate a community of garment sewists in your local BERNINA dealership. We have visited with three independent pattern designers in Facebook Live interviews this year; Colette Patterns, Grainline Patterns and Sewing Workshop Patterns. I hope you enjoy learning more who and where your favorite patterns are coming from.
Check with your local BERNINA store to see about joining Capsule Club today!
What you might also like
One comment on "Colette Pattern Studio Tour"