Studio Tour With BERNINA Ambassador Rebecca Ringquist
Hi! Rebecca Ringquist here, I'm excited to show you around my studio.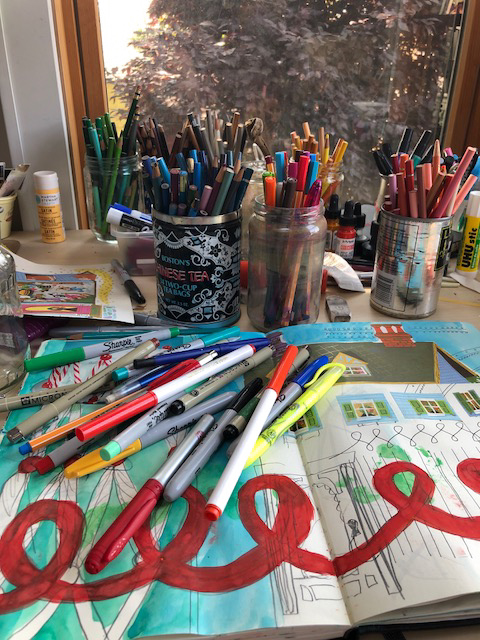 A lot happens in here, on one side of the studio I run my business, Dropcloth Samplers, and on the other, I draw, sew, and embroider my artwork. Let's look around…
Before moving to Portland I shared a studio space with a bunch of other makers in Brooklyn, NY. Here's an overhead picture of that tiny space that I shot while the photographers were shooting pictures for my book. It was a shoebox, but it did have a great view of the Manhattan skyline.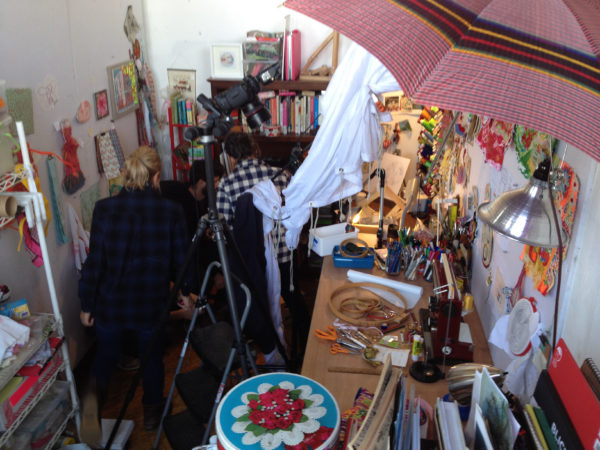 While I miss working with other people around, the move to this space was a big upgrade. One of my favorite things about my studio is that it has a giant skylight. Even in the rainy Portland winters, I almost never turn the lights on in the daytime. There's TONS of natural light. I shot all the pictures for this post with just natural daylight from the skylight. Of course, when the rains come in Portland, it's not quite so sunny, but the rain on the roof has its own appeal.  
This is my drawing table, with lights for drawing after dark. I spend a lot of time drawing in my sketchbooks to develop ideas for samplers and artworks. I use gouache, watercolors, ink and colored pencil.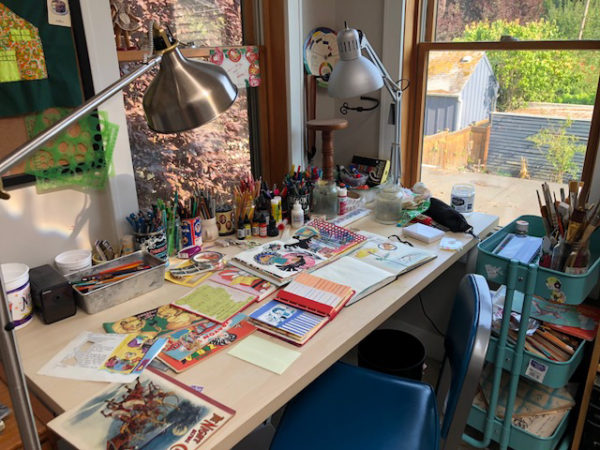 I recently installed shelves along one wall of my studio to hold sketchbooks open as inspiration for future embroidered works. It has been so fun to see my favorite pages as I walk into my space in the mornings.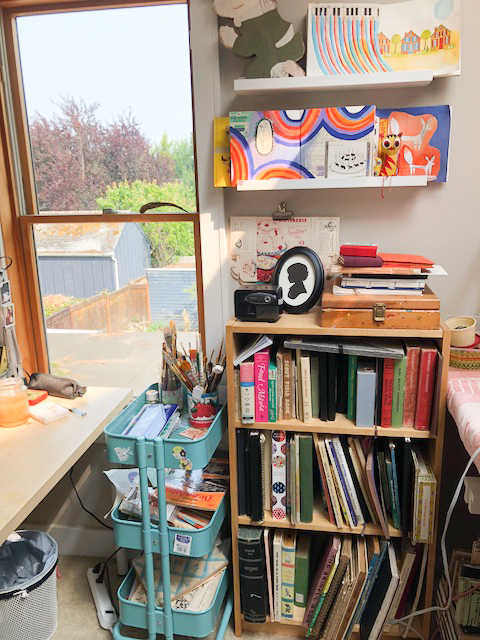 In the center of the room is a big cutting and ironing table. I made it out of a hollow core door and saw horses from Ikea. I wrapped the table in wool blankets and covered it in a vintage linen table cloth. I don't do a ton of ironing, so most of the time the table is covered in a big cutting mat. Today it's covered in a big pile of fabric, as I'm sorting fabrics for a new project I'm working on.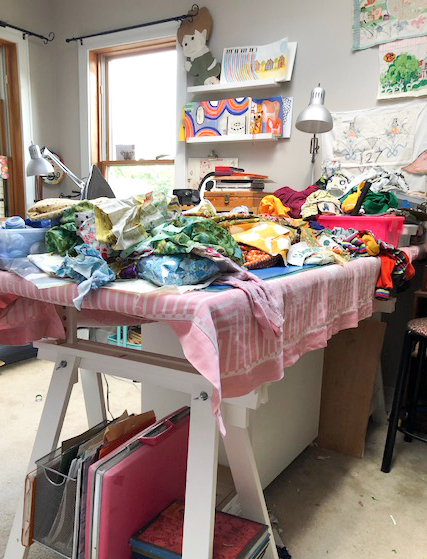 I keep my sewing machine on a heavy duty folding table that I found at a yard sale years ago, and have moved across the country twice now. It's solid and prevents any shaking. Above my machine I keep all my threads in semi rainbow order. On one side I have small spools, and on the other I keep my big cones.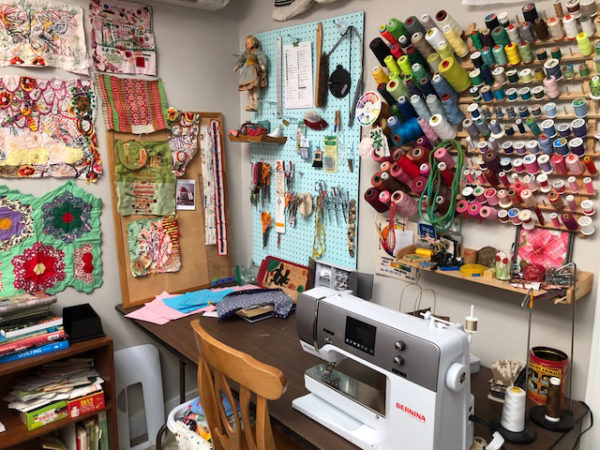 Did you know you can use cone thread with a regular sewing machine? You just need a cone thread adapter. It makes thread SO much more affordable. In my embroidered works I go through thread really quickly, and these cones make so much more sense economically and environmentally. Those little plastic thread spools really add up. I stocked up on thread cones when I was living in New York, where you can get every color under the sun in cone format in the garment district. If anyone has tips on where to get great colors in Portland or online, I'm all ears!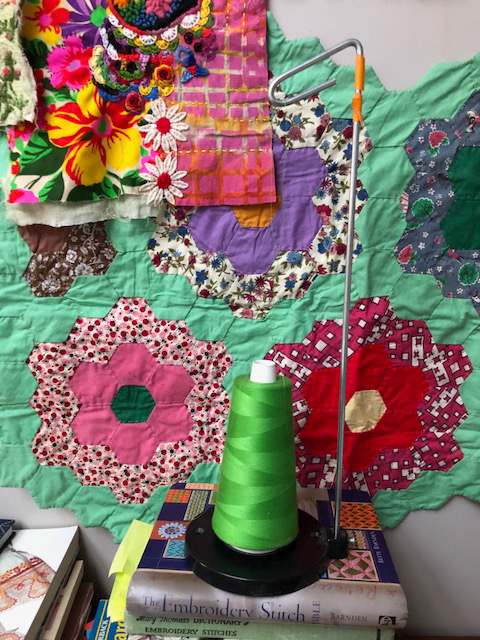 Next to my machine is my big design wall. Right now it's covered in works in progress and bits and pieces that are either finished projects that I made or things I find inpiring. I've always got multiple projects going on at once. Embroidery (even machine embroidery) is really slow going, and like most people, I get bored. It helps me to switch it up now then. I also really like the cross pollination that happens from working on multiple projects at once.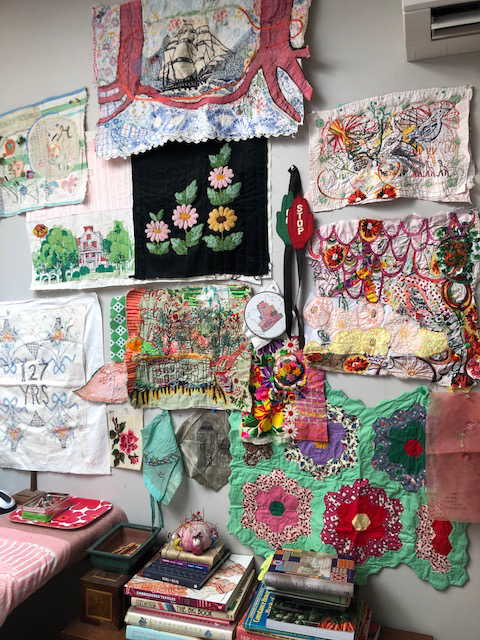 With all the natural light in the studio, I'm also very lucky to have a huge walk in closet to store my embroidery threads and fabrics in to keep them out of the sun. I keep all my hand embroidery threads sorted by color in plastic bins. The opposite wall holds fabric and other art supplies, and a third shelf holds all the packing supplies and stock for my business. While my studio is often a big mess, the storage closet stays pretty neat and tidy so that I can find what I'm looking for.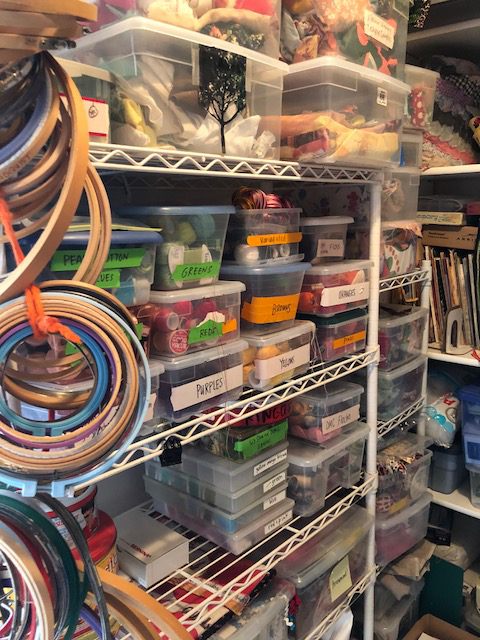 The business side of being a working artist is not as sexy as the art side, but the reality is that I spend a lot of time at my computer, proposing projects, running my business, and editing photos and writing. Here's where I do it.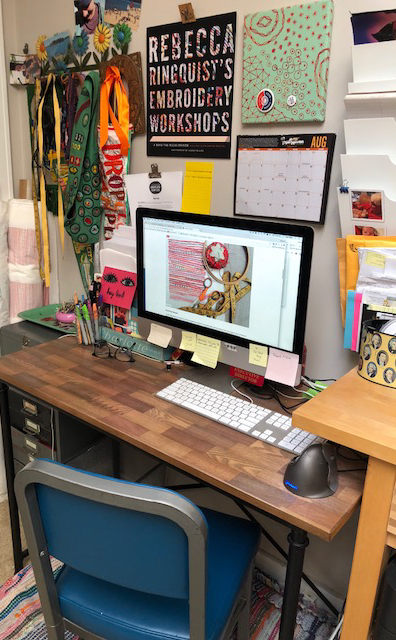 To the right of my desk is the packing station where I fill all my orders for Dropcloth Samplers.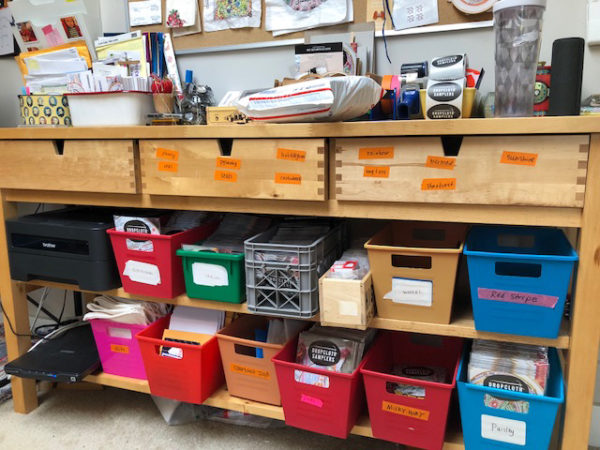 Last but not least, this is the little corner that my son Leo occupies and makes his own drawings and creations in. The little table is one that my dad built for me when I was a kid, and it's pretty special to see my own kiddo drawing on it these days. I love hanging out in the studio with him and making things. We've been collaborating on some drawings lately, and it has been a lot of fun.
Used Products
What you might also like
2 comments on "Studio Tour With BERNINA Ambassador Rebecca Ringquist"