Kids Shorts Tutorial Series Part III, The Gathered Shorts
Welcome to Part III of our Kids Shorts Tutorial Series by Shauna Wightman of Shwin And Shwin—the gathered shorts.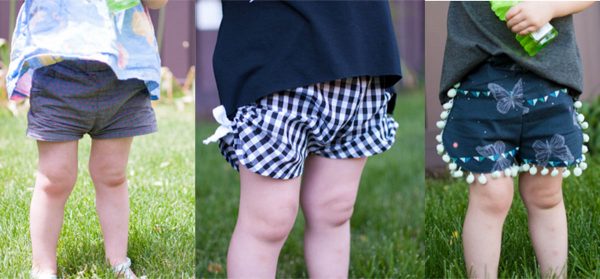 Today is the last style alteration of the basic shorts, covered in part I of this kids shorts mini-series. For instructions to sew the curved shorts, click here.

Materials to sew gathered shorts for kids: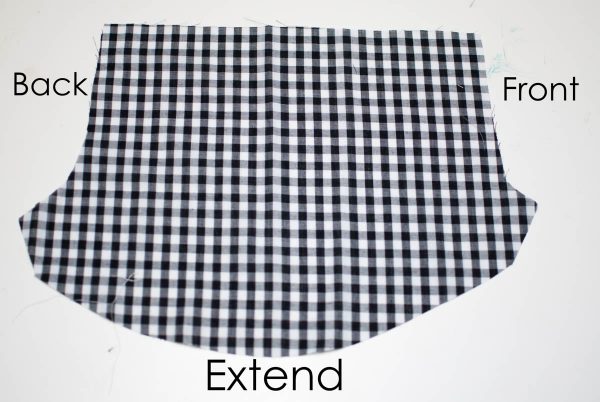 For this alteration, cut the side seam allowance off (marked on the pattern). Tape the front and back pattern pieces together at the sides. Extend the hem line down in a curved line so it's 3-4″ longer at the mid point. Cut two of these and reverse one. Measure from the waist down to the curved edge at the middle point. Then cut two rectangle pieces that are that length and 2″ wide. You will also need the waistband pieces.

Step 1
Hem the bottom curved edge of the shorts piece, but turning the edge under by ¼″ and again by ¼″, then sew along the folded edge.

Step 2
Take the rectangle piece you measured out. Fold the side edges under by ¼″ and press. Then fold the bottom edge under by ¼″ and sew in place to hem.

Step 3
Place the rectangle down wrong sides together, to match the center of the rectangle to the center of the shorts piece. The hemmed edges should match up. Then sew along the side edges of the rectangle and straight down the center. Leave the top and bottom open.

Step 4
Cut four ribbon pieces the length of the shorts. Then tie a knot in the end of each ribbon.

Step 5
Slip the ribbon through the casing created by the rectangle, one ribbon on each side.

Step 6
With right sides together, sew the inseam of the shorts. Finish seam as desired. Repeat with other leg.
Then finish the shorts by following the basic shorts directions starting at step 11.
Congratulations! You are done with style number three for a basic shorts alteration.
Kids Shorts Tutorial Series
Difficulty level

Beginner

Projects

fashion

Seasons

Back to School, Summer
What you might also like