Simple Festive Pillowcases
One of my New Year's resolutions is to find simple ways to celebrate each holiday with my family. Which can be hard, since I am a stay-at-home, part-time work-from-home mom. And between chores, work, and taking care of our 4-year-old Fidget, there's little time to spare! That's why I am in love with the idea of stitching up a quick pillowcase for each special holiday.
I just finished stitching the first of this year's special holiday pillows for Fidget. She loves it, and actually helps make her special Valentine's Day bed each morning with her favorite friends (she drew the "pattern" for the three heart friends and I helped her to cut, stitch, stuff and embellish).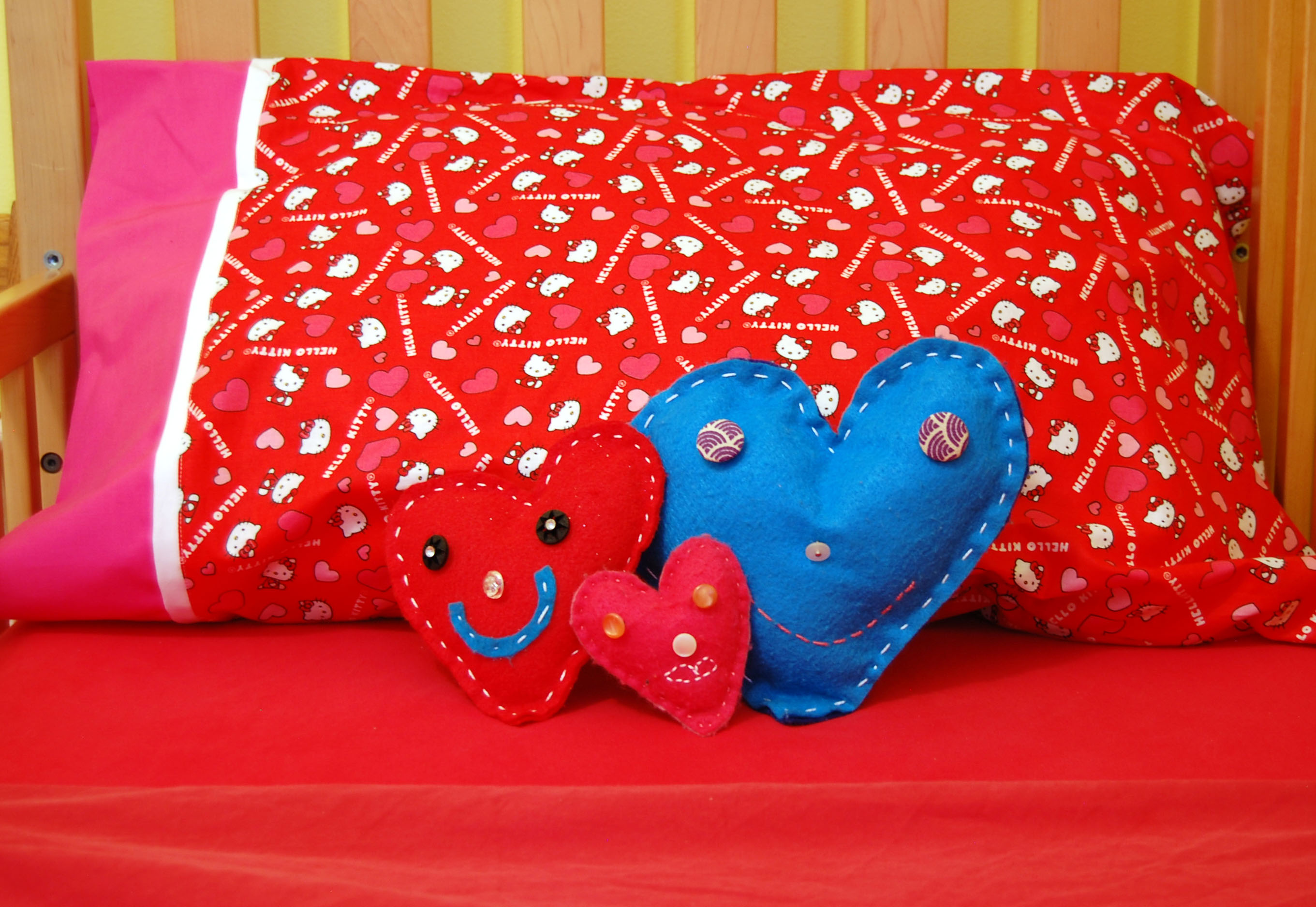 Fidget picked out the fabric for the pillowcase herself, and it only took me about 20 minutes to stitch together during her afternoon nap time! Yay for pillowcases! Oh, and here's even MORE reasons to love this project:
Even if you are just learning to sew, YOU can make a simple pillowcase! Once you get the hang of it, you can whip out a simple pillowcase in 30 minutes or less.
If you're a more advanced stitcher, you can have fun adding details to your pillowcase, like appliqué shapes, pieced bands, or fancy ruffled trims.
For those of you with large fabric collections (you know, your beloved fabric stash!), just start with a little less than a yard for the body, and then look through your scraps to find matches for the band. An easy project AND you're using up your stash!
Have you ever seen how a few fancy pillowcases brighten up a room? Seriously, I can't think of an easier way to dress up your bed!
Kids love anything "special" for the holidays, and having a special pillowcase for each of the major holidays is another way for kids to look forward to the celebration.
Are you getting inspired to try a pillowcase or two? Great! Here are a few of my favorite pillowcase projects and tutorials from around the web to get you started.
 SUPER SIMPLE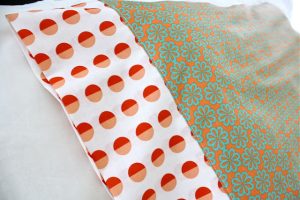 This is by far my favorite super-simple pillowcase tutorial from Dana at DanaMadeIt.com. This is also the first project I teach beginning stitchers to sew up, so if you are new to sewing I highly recommend this one!
A TOUCH OF CLASS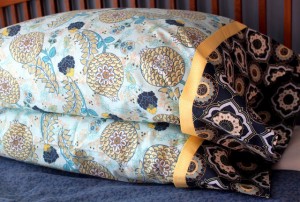 Learn to make French seams while making a pair of designer-look pillowcases with Lindsay's 15-Minute Pillowcase tutorial at her blog, The Cottage Home. Great details in this pillowcase, but it is still simple enough for a confident beginner to tackle.
PILLOWCASE PALOOZA 

For an absolute plethera of pillowcase patterns, visit AllPeopleQuilt.com's 1 Million Pillowcase Challenge page, and click on the Free Patterns tab. You'll find over 25 free, downloadable patterns for all kinds of pretty pillowcases! I've donated several pillowcases to the 1 Million Pillowcase Challenge, and there is a whole list of charities at the Where To Donate tab if you want to join me in doing the same.
Do you have a favorite pillowcase pattern or tutorial that I missed? Leave a comment and let me know – because I'm always looking for new pillowcase ideas!
Projects

home décor
What you might also like
One comment on "Simple Festive Pillowcases"