How to Make a Shades of Lace Pillow
Give the humble pillow a new dimension with bands of intricate lace. 
Mix-and-match layers create an intriguing effect. Perfect for odds and ends of leftover lace tapes and ruffles.
Tip: Add ribbon, rickrack, or other flat trims.
Guaranteed to be one of a kind.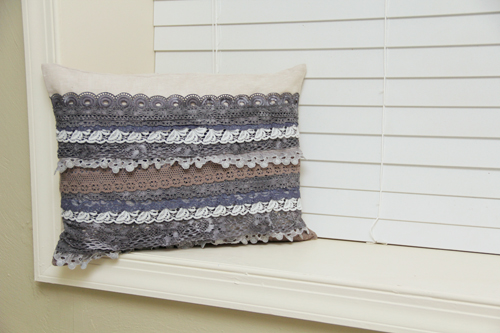 Supplies
3/4 yard of fabric for pillow
Various lace strips, approximately 7 yards total length
Scissors
Pins
Coordinating thread
Standard presser foot (BERNINA Reverse Pattern Foot #1)
12″ x 16″ Pillow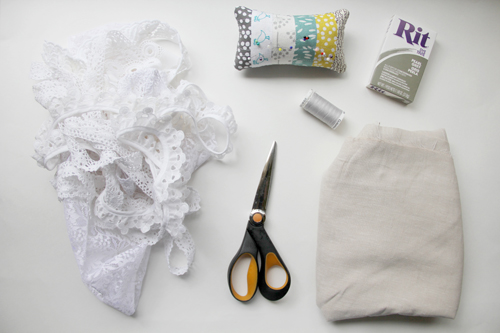 Step 1) Dye the lace.
The beautiful thing  about working with lace is that the various fibers all hold the color differently, giving you gorgeous shades.
Adhering to the instructions on your RIT Dye, color all of your lace strips.
Wash and dry. Iron lace as needed.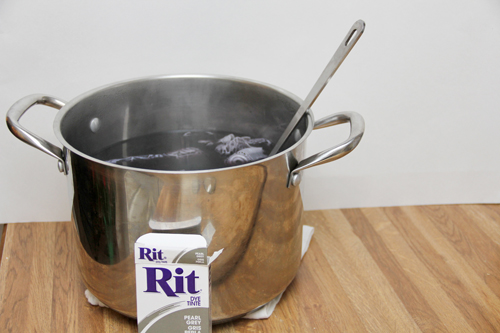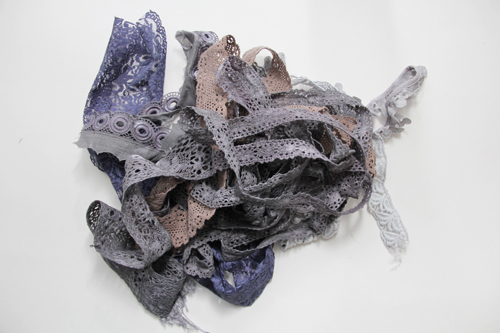 Step 2) Cut the pillow pieces.
Cut out the following from your fabric:
One 13″ x 17″ rectangle for pillow front
Two 9″ x 17″ rectangles for pillow back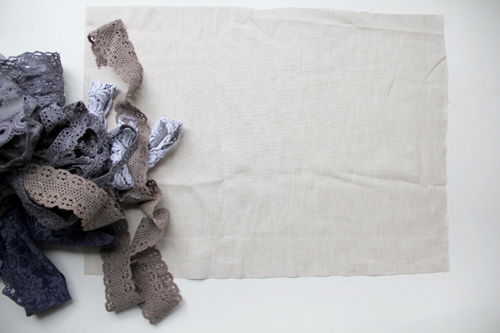 Step 3) Stitch the lace to the pillow front.
Starting at the bottom of the pillow front, place one strip of lace either directly straight across or at a slight angle; pin the top edge in place.
Trim the lace so that it is the same size as your pillow.
Sew a straight line along the top of the lace.
Continue adding strips of lace, having the bottom of each strip cover the top of the previous one. You may choose to have them go straight across, or at various slight angles to give it a more quirky look.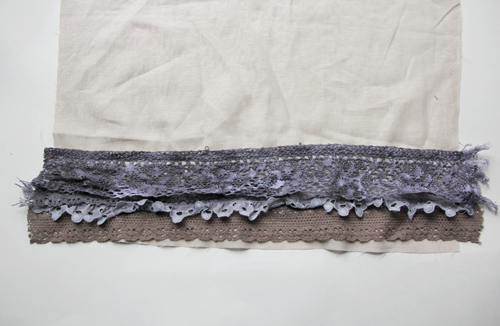 Make your way up the pillow until you are about 1″ away from where you want the lace to stop.
Take one strip of lace and place it with the finished edge facing the opposite way, towards the top of the pillow. Pin and sew along the bottom edge.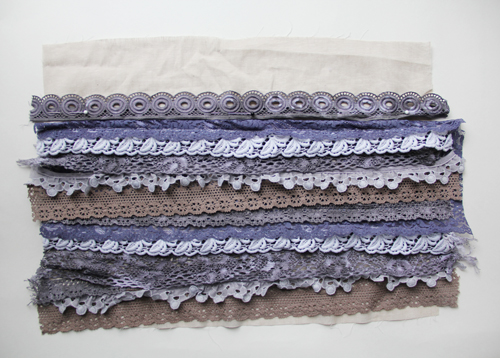 Take a smaller strip of lace and place it directly over the bottom edge of your upside down lace, right side up. Pin along the upper edge, and sew.  Set the pillow front aside.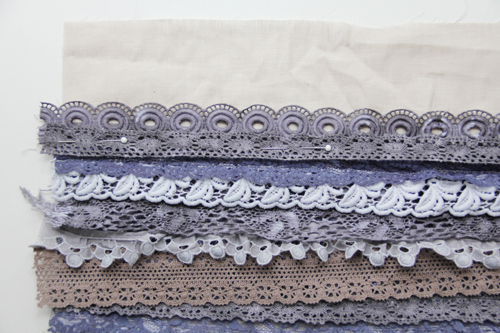 Step 4) Construct the pillow.
Take one pillow back rectangle and fold the upper edge towards the wrong side 1/2″: press.
Fold again another 1/2″ and press, enclosing the raw edge.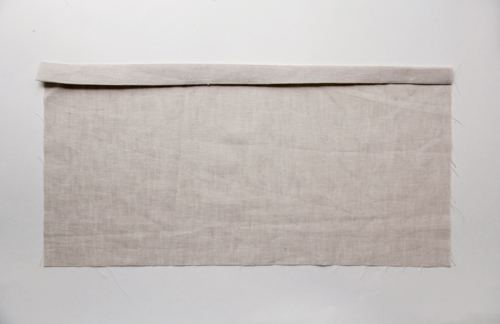 Edgestitch close to the fold.
Repeat for other pillow back.
Place one pillow back right sides together with the pillow front, matching raw edges. Pin around the bottom and side edges.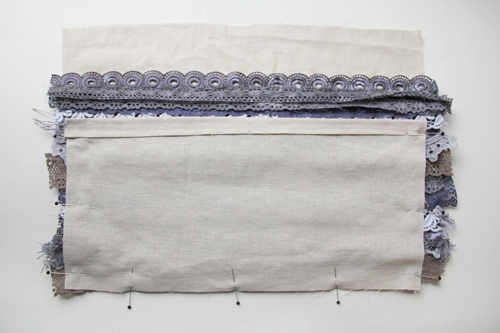 Take the other pillow back piece and place it right sides together with the other side of the pillow front, once again matching the raw edges. The two folded edges should overlap in the middle. Pin around all sides.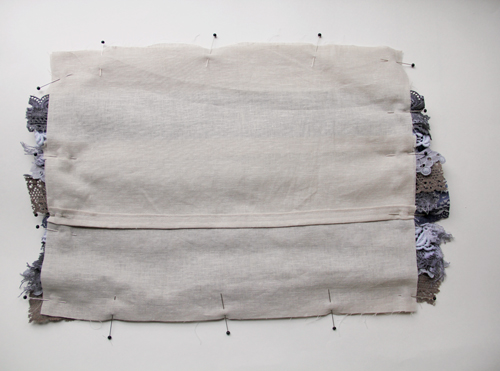 Sew using a 1/2″-wide seam allowance.
Trim the excess lace from the edges.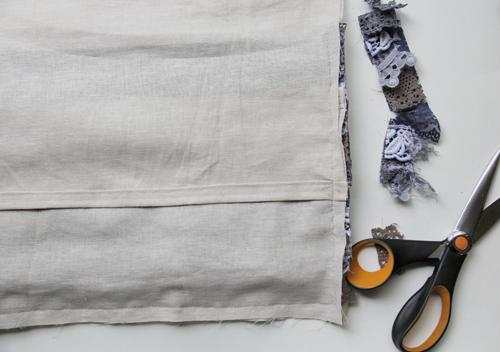 Finish the raw edges with an overlocker/serger or with a zigzag stitch.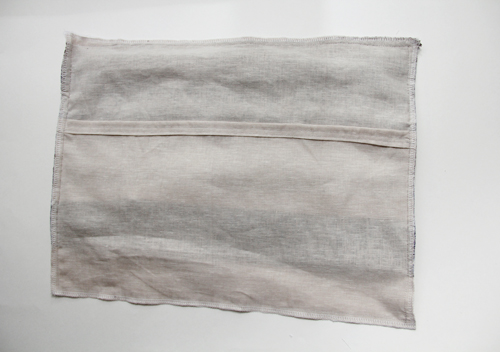 Turn the pillow right side out through back opening, being sure to push out the corners. Press.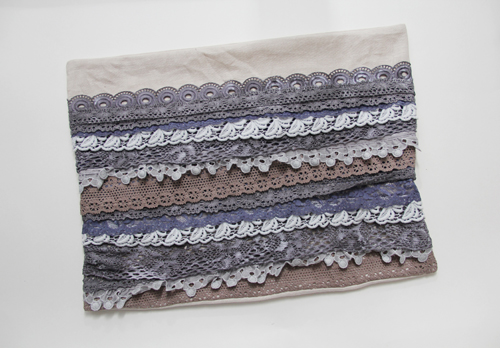 Insert the pillow form and you are finished!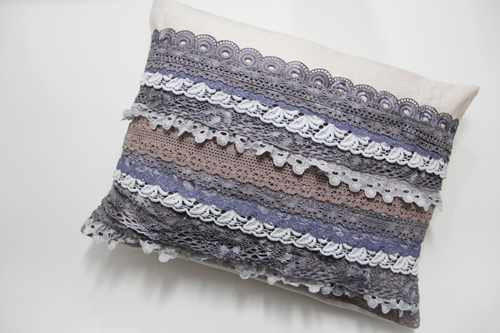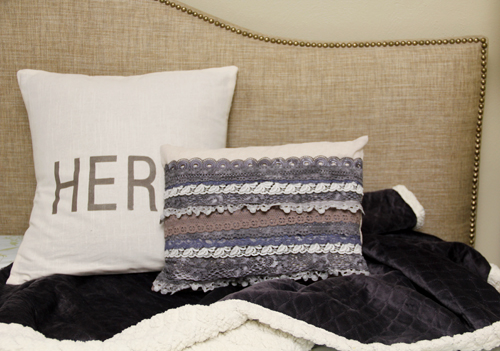 Projects

home décor
What you might also like