Stitch, Draw, and Glitz – with Your Embroidery Machine
Don't you just love this little sign? It'd make a fabulous gift for a house-warming, wedding, birthday, anniversary… even "just-because-you're-my-friend-day." (Yes, I made that up, but don't you think it's a nice idea? Maybe every Wednesday…) A little info on the design: A combination of thread, ink, and crystals, all stitched or drawn by embroidery machine. Because everything is digitized, you can stitch/plant/glitz as many times as you want. Jo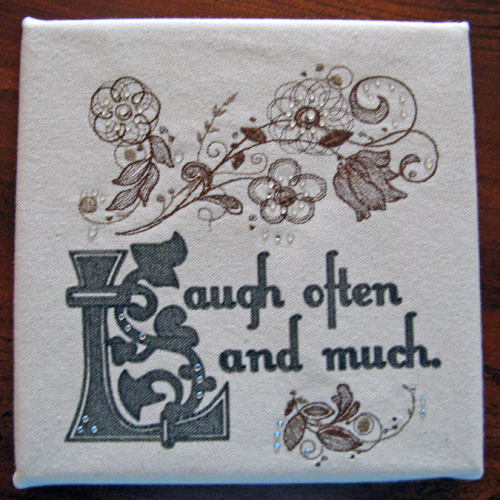 I used Amanda's lesson on the Sepia Petals Companion Collection CD to make this picture. I will admit, I was a little nervous at first to hit the GO button to cut the crystal stencil. That was silly! It was so easy!
The paint and embroidery were done on a light canvas-like material, then I added the crystals. Then got my staple gun out and attached the completed piece to an 8″ artist canvas from the craft store.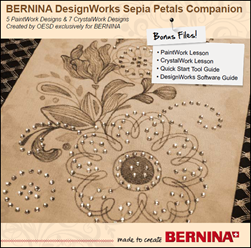 Instructions for this project are included on the CD with the Sepia Petals Companion Collection. The alphabets are free fonts available from webpagepublicity.com/free-fonts.html – Floral Majuscules, 11th c. and FontleroyBrown. PaintWork and CrystalWork  elements were digitized in DesignWorks Software. 
Projects

home décor

Techniques

embroidery
What you might also like
One comment on "Stitch, Draw, and Glitz – with Your Embroidery Machine"