Machine Embroidery and Coloring with Crayons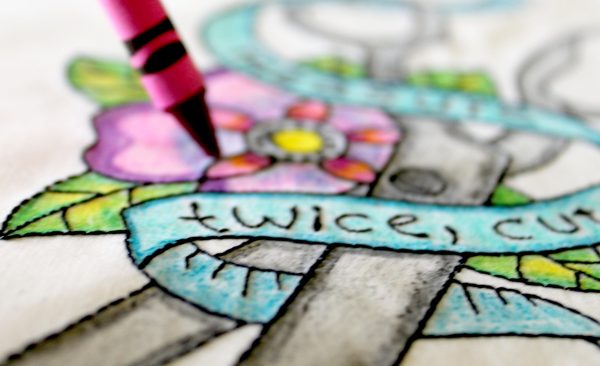 Inspired by one of the hottest trends in 2015, today's project marries our love for BERNINA's precision stitching and the stress relieving qualities of coloring which has become all the rage with designer adult coloring books. Have you guys seen the amazing options out there available from Tula Pink and Amanda Murphy?
This technique is perfect for anyone who might still be a little intimated by their embroidery machine. I found the best way to gain confidence along the way was to successfully stitch out light stitching or typography designs without the pressure of thread breakage, spool changing, heavy satin stitches, and 60+ minute stitch sessions. Embroidery Online offers a variety of 'redwork' designs that can be used to color in with crayons later. The design I used today is not a redwork design but I was able to skip stitch sequences to achieve only the black outline. I chose a Measure Tatto design from the Viva le Craft embroidery collection.
To get started with machine embbroidery and crayons you'll need
White Kona Cotton Fabric (Polyester & poly blend fabrics do not work as well)
Heavy Fusible Stabilizer
Black Isacord Thread
Sewing machine, I sew on a BERNINA 580
Large Oval Hoop
Crayola Crayons
Press Cloth
Iron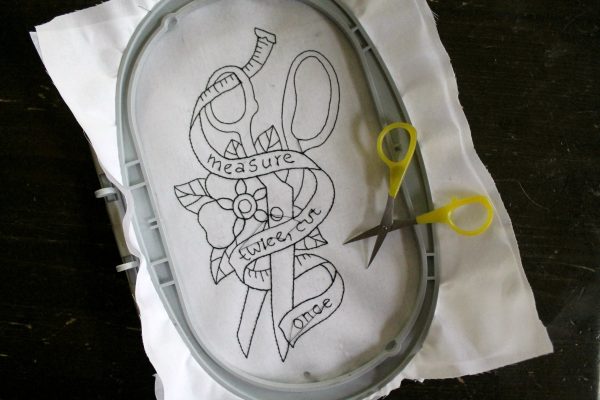 Stitch out the 10th sequence from the Measure Tattoo design only. When you finish, you can unhoop the design but it's helpful to keep interfacing attached to provide extra stability when you color the fabric.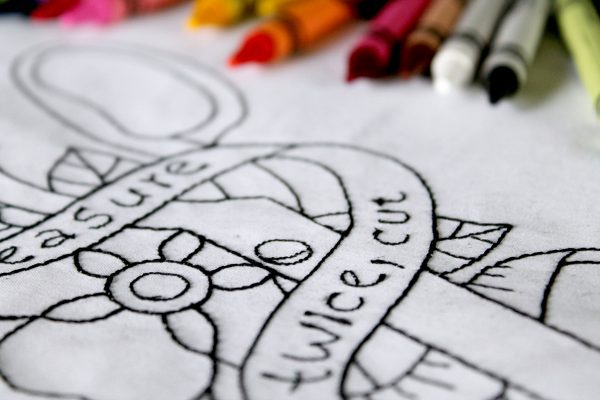 Using regular crayons color in your embroidery design. Outlining shapes with a darker color and working your way in is good practice. It allows you to add depth and layer colors as your inspired to. To set the crayon color into the fabric you will need to use a cool wool/cotton setting on your iron paired with a press cloth. The press cloth is important so don't forget otherwise you will end up with with crayon wax on your iron or smearing colors on the fabric.
Tip: Resist any and all urges to sweep away crayon dust of flakes (it will lead to smearing!)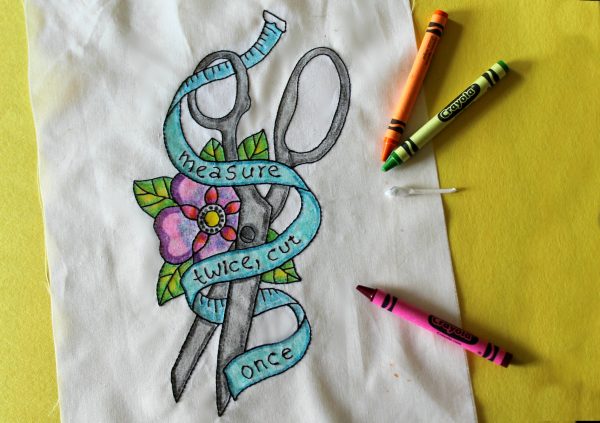 Whether adding some pizazz to your machine embroidery, hand embroidery, or color me fabrics, this crayon method will withstand wearable abuse & washes if properly heat set. Explore some creative freedom on your next sewing project by adding mixed media elements to your quilts,  pillows, and so much more.
Techniques

embroidery
What you might also like
4 comments on "Machine Embroidery and Coloring with Crayons"