Michelle Morris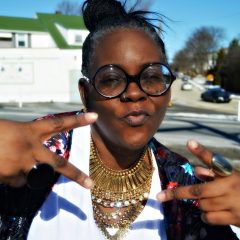 Michelle has a background in fashion design and tailoring. She took quite a few years off from sewing and she just returned to sewing at the end of 2013. Michelle has gotten her sew-jo back and now is super excited to share the things that she is making. Clothes are like art to her and she has a love for boldness and anything colorful. She is a master at mixing and matching prints.
Michelle tells her audience, even though they may not like everything that she makes, as long as they're talking about what she made, It's all good!
2015 was an exciting year for Michelle's sewing. She won the first annual Rippin Ain't Easy sewing competition with Prettygirlssew.com. She was a judge for the Super Online Sewing Match II with sewmamasew.com. Her blog was chosen as one of the 50 top blogs on burdastyle.com. She is currently a blogger for Fabric Mart as well as a contributor for several online sewing communities and she has also been featured on these outlets. Michelle is excited to start 2016 by partnering with BERNINA as an ambassador and can't wait to see what you think about her work!
Latest Posts from Michelle Morris