Holly Leaf Ornament
It's the Holidays and you want to make something special to dress up your Christmas tree or a perhaps a package. Let's pull out some holiday fabrics and make a few 3-dimensional Holly Leaf ornaments. The leaves themselves are made using free-motion zigzag on your machine and there is a little bit of handwork of embellishments for assembly. Today I am sharing a step by step tutorial on how I assemble these holiday gems.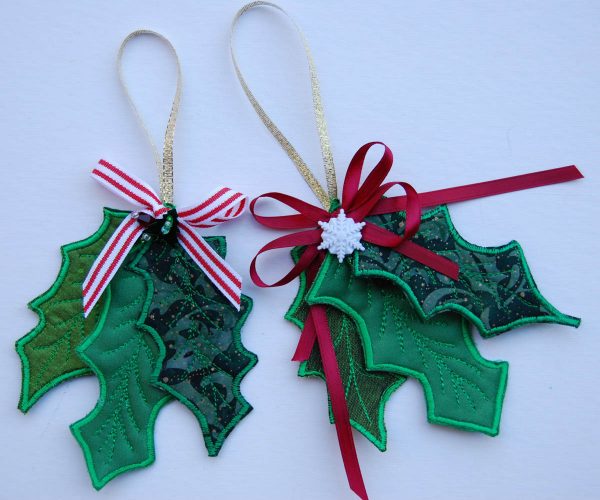 Supplies to create the Holly Leaf ornament: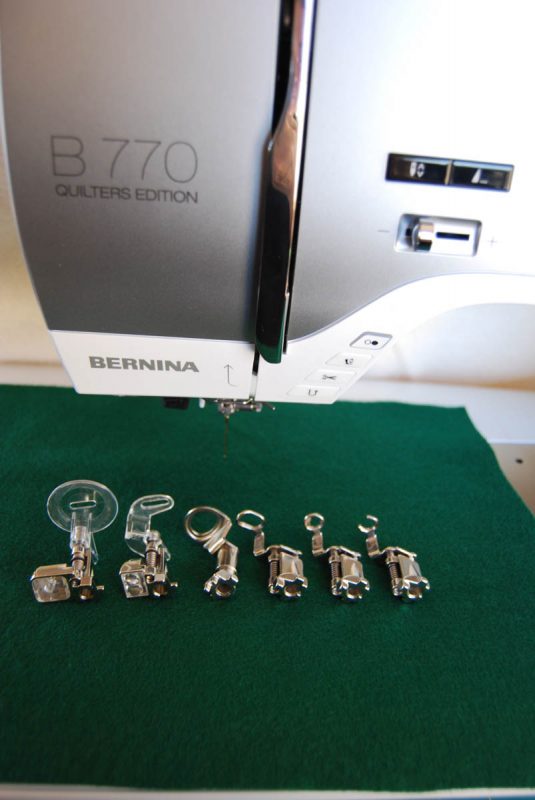 Your sewing machine, I sew on a BERNINA 770 QE
double sided fusible like Steam a Seam
thread
scissors
felt
iron
Step 1
Trace Holly Leaf Pattern onto template plastic and cut out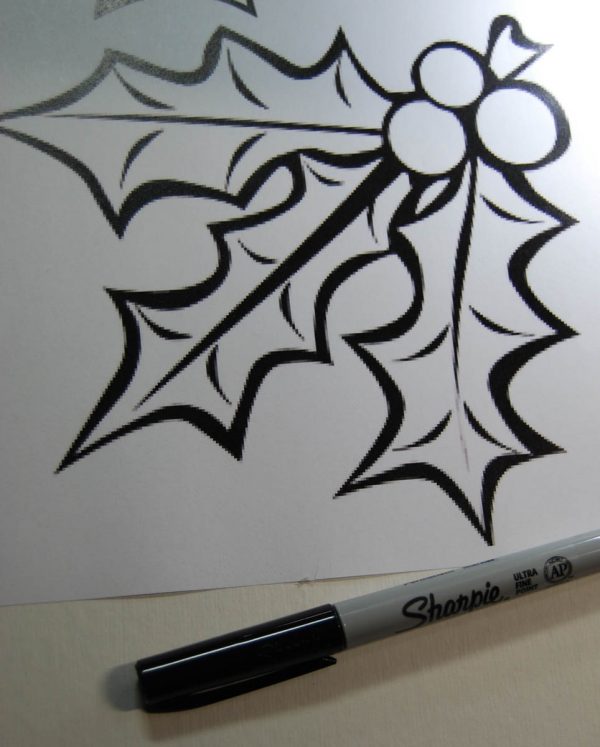 Step 2
Using a double sided fusible like Steam a Seam 2 and a medium iron, fuse your choice of fabric to felt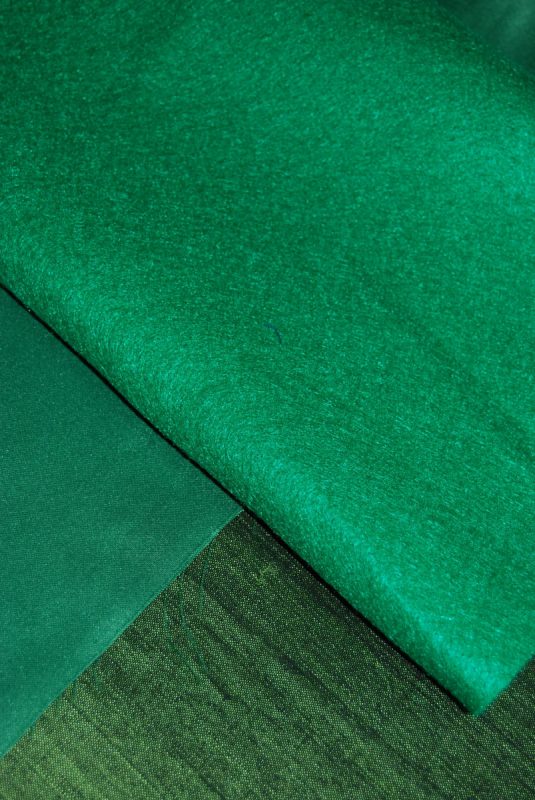 Step 3
Using your template, trace several holly leaves onto your fused fabric with a permanent marker

Step 4
Set your machine up for free-motion. Make sure your sewing machine is cleaned and well oiled. Drop your feed dogs and attach your free-motion foot.
Step 5
Load your machine and your bobbin with matching thread. Use a beautiful rayon or blended cotton or metallic.

Step 6
Set your machine for a zigzag satin stitch approximately 2.5 to 3.0 in width. You do not have to set your length, because you are sewing free-motion.

Step 7
Starting at the top of the holly leaf, stitch free-motion zigzag around your leaf design. Once you get back to the top of the leaf, switch to free-motion straight stitch and add the veins to your leaves.  Move onto the next leaf and repeat.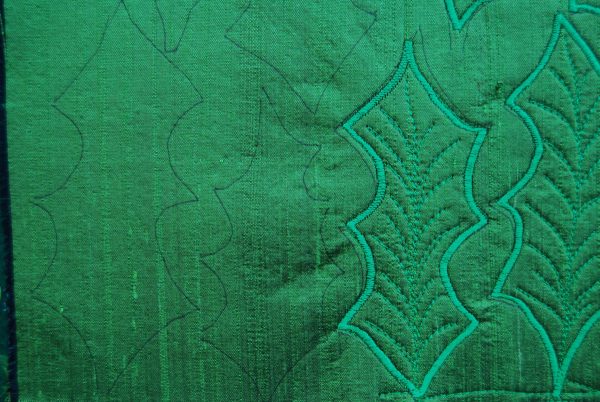 You can switch it up by using one color thread for the outline of the leaf and another color, perhaps metallic for the veins of the leaf.
Step 8
Once you have completed a "sheet" of leaves, use a sharp pair of scissor and cut out each leaf by trimming close to the stitching lines.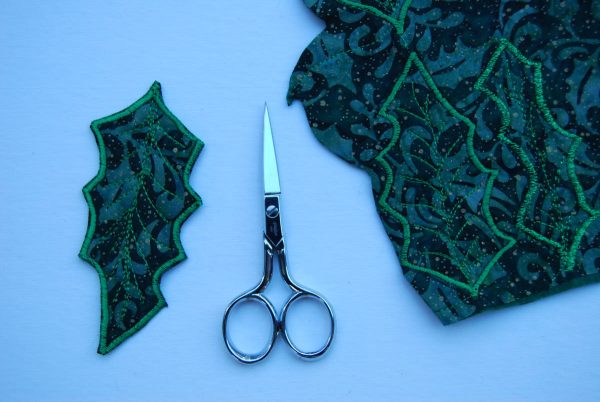 Step 9
This is where the handwork starts. Load a size 10 beading needle with beading thread.

Step 10
Cut a 6″ piece of the 1/8″ ribbon, make a loop and tie a knot. This is your "hanging loop".
Step 11
Take three leaves, pivot them a little and with your beading thread, using your threaded needled and a thimble, stitch up and down through the leaves. On the second time of going back through them, stitch through the knot of the hanging loop.
Step 12
Now it is time to add your embellishments. Using the same needle and beading thread, add a shanked button or sequins, beads and trims.
These make perfect ornaments for the tree, but also work to dress up a package or a bottle of wine for a great gift. You can also change them up by changing the color of your thread to a red, burgundy or even a metallic gold.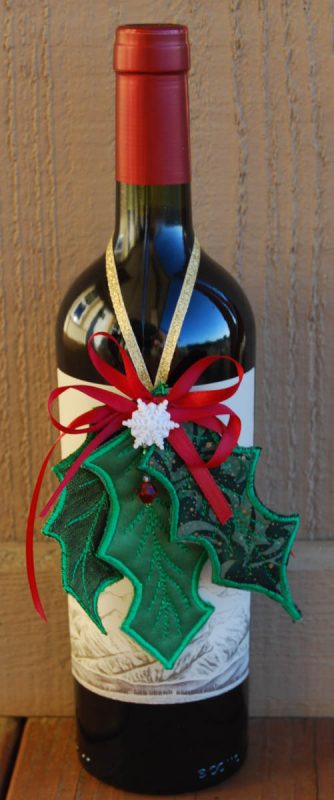 Happy Holidays from Heid Lund of Heid Lund – Sewfiber Inspirations.
Our December 24 Gift For You
Today's gift is the design CD with the entire Continuous Line Holiday collection from OESD including a set of matching embroidery thread to one awesome WeAllSew fan.
All you have to do is post a comment below answering the following question:
Where would you decorate this Holly Leaf Ornament?
A winner will be chosen at random on December 26, 2015 and announced the following  week!
Good luck!
Congratulations to our WeAllSew reader "zino", the winner of the December 24 gift. Enjoy!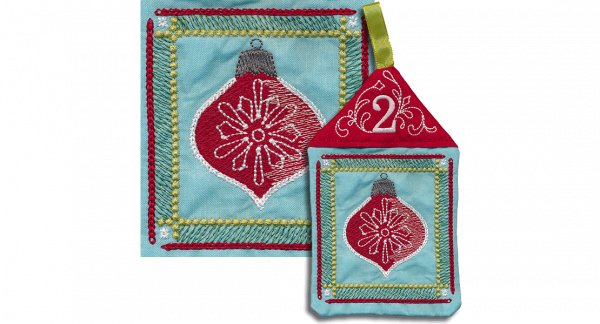 Difficulty level

Beginner

Projects

home décor

Techniques

sewing
What you might also like
112 comments on "Holly Leaf Ornament"