Decorate Your Christmas Table, a Feast for the Eyes
Make hearts beat faster this holiday season by transforming your table into a feast for the eyes! Whether you prefer a traditional meal or like to experiment with new recipes, every holiday table can create a vivid, unique memory guaranteed to thrill your family and guests.
Begin by deciding on your colors. For me, this often starts with the color of the tablecloth I will be using. For a Christmas table, you may lean toward traditional combinations of red, green and/or white. You might go with an elegant palette of gold or silver with white—or with an amazingly sophisticated and stunning black tablecloth. Go crazy with hot pink and lime green, which, I can tell you from personal experience, is both unexpected and spectacular!
Once you have selected your color palette, then set out your basics, perhaps a pretty, white tablecloth, flatware, and glasses. For me, candles are a must for any holiday table. Feel free to mix and match candlesticks. You can choose to dress them up with ribbons or a bit of greenery, as shown here.
Then turn your attention to the decorations. Consider adding a table runner, placemats (which could even be colorful wrapping paper, cut into placemat sizes and shapes), or chair covers. Don't limit yourself to the tried-and-true; handkerchiefs or doilies may serve your purpose.
Over the years I have amassed quite an assortment of table linens, candle holders, candles, garlands, ornaments, ribbons and other assorted bits and pieces. There's no need to spend a fortune! I shop at thrift stores and garage sales for inexpensive candle sticks. Little girl's hair bows from a dollar store can make adorable napkin rings. Once you start looking around for small items that can contribute to a gorgeous table display, you will be amazed at the number of things that are readily available for your use.
Lighting definitely creates a mood, whether it's the soft romance of candlelight or the flashing strobes of disco dazzle. Candles—available in so many shapes, colors and sizes—remain a favorite or you can step it up with lamps or lanterns. Avoid strongly scented oils, though, as you will want the wonderful aroma of the food to tantalize taste buds.
Look at the difference a bold splash of color at each place setting makes! No napkins in the right color? No problem! Just use yardage and quickly hem them into 15 inch squares. It's a good idea to use double-sided fabric but if you don't have any, a single-side print will be fine. (Remember to make an extra one or two for the bread basket.)
If you are using place cards, get creative and utilize a color, font or artistic addition which ties them to your general theme. Glue a bit of glitter to them, a few tiny, colorful buttons or beads, a small ribbon or yarn bow or, if yours is a formal setting, perhaps just a small doodle in gold or silver ink. Another way to impress your guests is to print a slender menu, including beverages and desserts, and placing it on each plate. You can also combine place cards and menus by putting the person's name at the top.
Go three-dimensional down the center of the table in order to make a bold impact. I decided to amp up the seasonal red by scrunching gleaming, sheer red fabric and placing the candle holders on top. Look closely and you will notice there are small boxes wrapped in red tissue paper under the fabric for added height.
Now to the really fun part! Start adding layers to your tablescape. Keeping in mind that people will want to talk across the table, you don't want to go higher than about 14 inches.
Use common items in unusual ways. Picture frames, baskets, boxes, or bottles can be unique table decorations. Utilize your favorite collection—salt and pepper shakers, decorative plates, origami animals, shot glasses. Anything goes!
By all means, add some botanicals. It doesn't have to be the expected floral centerpiece. Add a single flower in a tiny vase or a small (spineless!) cactus at each place setting, a few small plants or evergreen swags, a display of fruits and vegetables to the mix. An orchid or three is an unbeatable touch of elegance. But don't stop there; flowering branches, painted bare branches in interesting shapes and even mosses can help transform your table display into something special.
Create levels. You could simply set each element on the table and call it good but why not add more interest and a sense of movement by varying the heights of individual components? Arrange a stack of books at various angles and top them with a candlestick and a single rose. Candlesticks do NOT need to match. In fact, it's much more interesting if they are all different heights, shapes and colors. Mix them with (also unmatched) colorful votive holders. Really, this is the time to go crazy! 
Time to pull it all together! Deliberately mismatched votive candle holders and napkins pulled through inexpensive Christmas decorations (all dollar store finds) add a bit of sparkle. On each plate is a personalized menu listing the feast's tantalizing goodies and, at the top, is each guest's name. These serve as both place cards and mementos of the day. The red boxes under the center fabric provide the perfect stage for glittery, fanciful Eye Candy Quilts which lets everyone know, "A quilter lives here!"
Finish up with bold textures and a lot of sparkle. Blend soft with hard, sleek with rough for a fascinating vignette. Colorful baubles and glass Christmas tree ornaments combined with soft ribbons or lengths of sheer fabric look great. Metallic ribbons, in either a fine or a very coarse weave heighten drama.
Decorating your table can be one of the most creative parts of your holiday. Consider key words to define future party and holiday themes, such as "outrageous", "sweet", "family", "woodsy" or "sophisticated." What objects do you have or can you find or sew that exemplify those moods? It won't take long before you have an amazing list. When it's time to party, develop your theme by using a few choice items off your list that, when combined, will make your tabletops the talk of the neighborhood.
Melody Crust is a nationally recognized, award-winning quilter, teacher and author. In addition to her busy teaching schedule, Melody has authored Stitching Through the Layers; The Art and Elegance of Straight Line Quilting, Quilt Toppings; Fun and Fancy Embellishment Techniques and Eye Candy Quilts; Super-fast fun with beads, baubles, buttons and more! Check out Melody's workshops, order autographed copies of her books or contact her directly at melodycrust.com.
Buttons, ribbons and a variety of beads all contribute to this Eye Candy. The horizontal lines are deliberately at a slight slant to create the feeling of lively movement, which matches the playfulness of the design. The colorful buttonhole stitching adds texture and helps hold the binding in place. 2 ½″ x 3 ½″.
The inspiration here was certainly the wonderful purchased beaded fringe. The center is a hand-dyed fabric in pink and green with matching ribbon attached using beads. To marry the boldness of the fringe to the inside design, I blanket stitched, by hand, around the edge with hand-dyed pearl cotton. But the show is really all about the fringe! 5″ x 7″.
Our December 25 Gift For You
Today's gift is an embroidery design CD with the entire Merry and Bright collection to one awesome WeAllSew fan. All you have to do is post a comment below answering the following question:
What will your Christmas table look like this year?
A winner will be chosen at random on December 26, 2015 and announced the following week!
Good luck and Happy Holidays from BERNINA!
Congratulations to our WeAllSew reader "gloriap", the winner of the December 25 gift. Enjoy!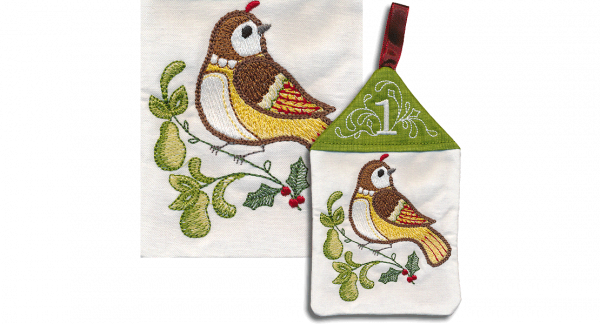 Projects

home décor
What you might also like
47 comments on "Decorate Your Christmas Table, a Feast for the Eyes"