Onyx at Christmas Table Runner Pattern
Good Morning!  My name is Jessica Dayon and I'm so happy to be here today to share another free table runner pattern with you! I have been working on a really fun table runner series to share with you on WeAllSew and today I am sharing the second table runner pattern in this series!
If you missed the first one, you can find Onyx in Autumn here.  There are also YouTube videos for each block in this runner on my YouTube channel here.
Today I am releasing Onyx at Christmas!
Onyx at Christmas Table Runner
You can download the free PDF pattern of Onyx at Christmas here.

I'll be doing YouTube videos for each block in the table runner again so subscribe to my YouTube channel so that you don't miss those!
Quilting the Runner
Once the table runner top is together, it's time to quilt it!  I'm using my Q 24 with Q-matic to quilt this runner.
Importing a BQM File into Q-matic
The Q-matic library has lots of designs to choose from.  This time, though, I decided to import one that I purchased from Urban Elementz. This is very easy to do! Let me show you…
When the Q-matic software is open, go to Design Library, then Import Design.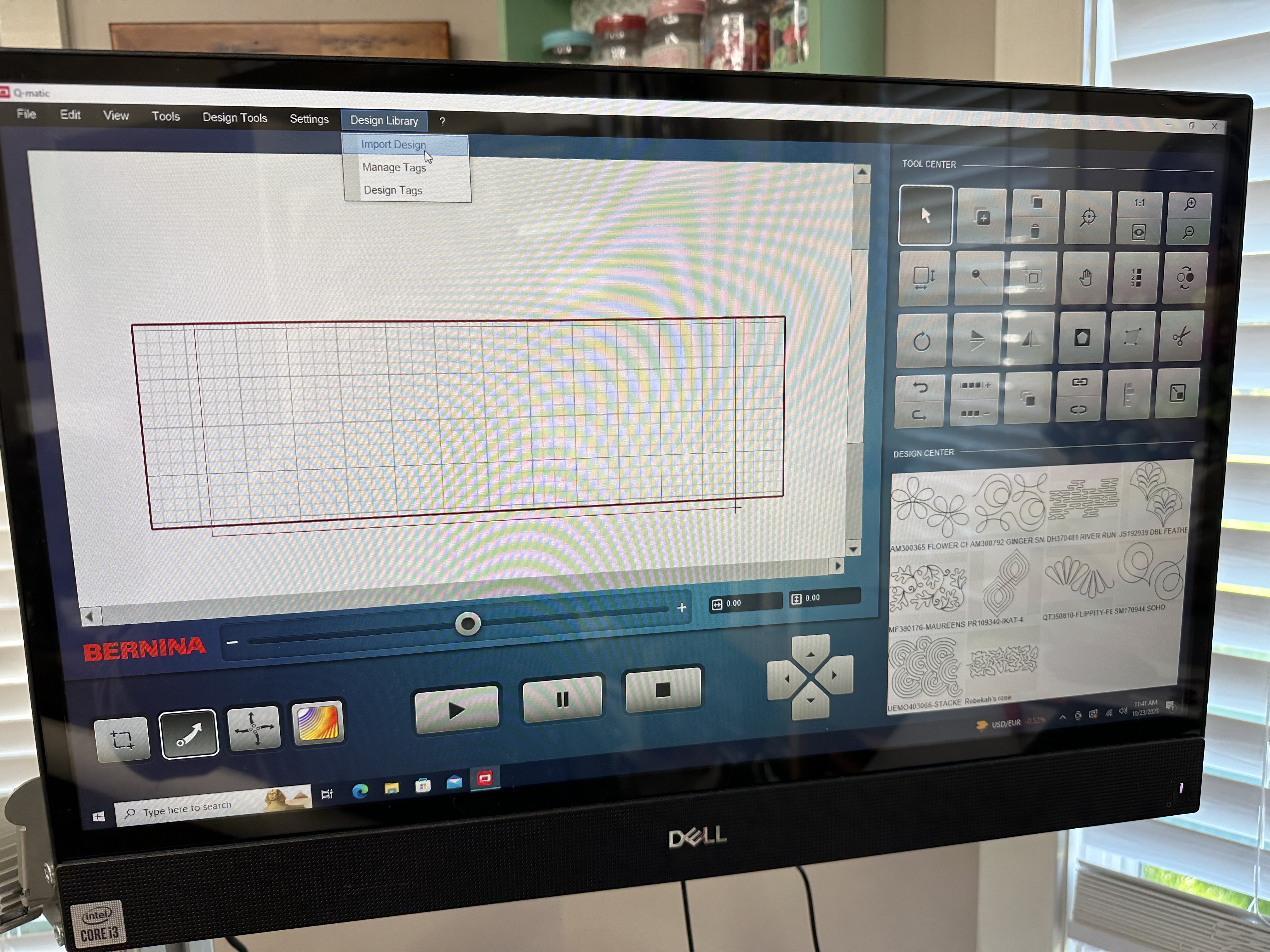 Next, choose the location of the BQM file. I usually put mine on the desktop so that it is really easy to find. Today I am going to be using the A Merry Lil Christmas Petite. I click on it to highlight it.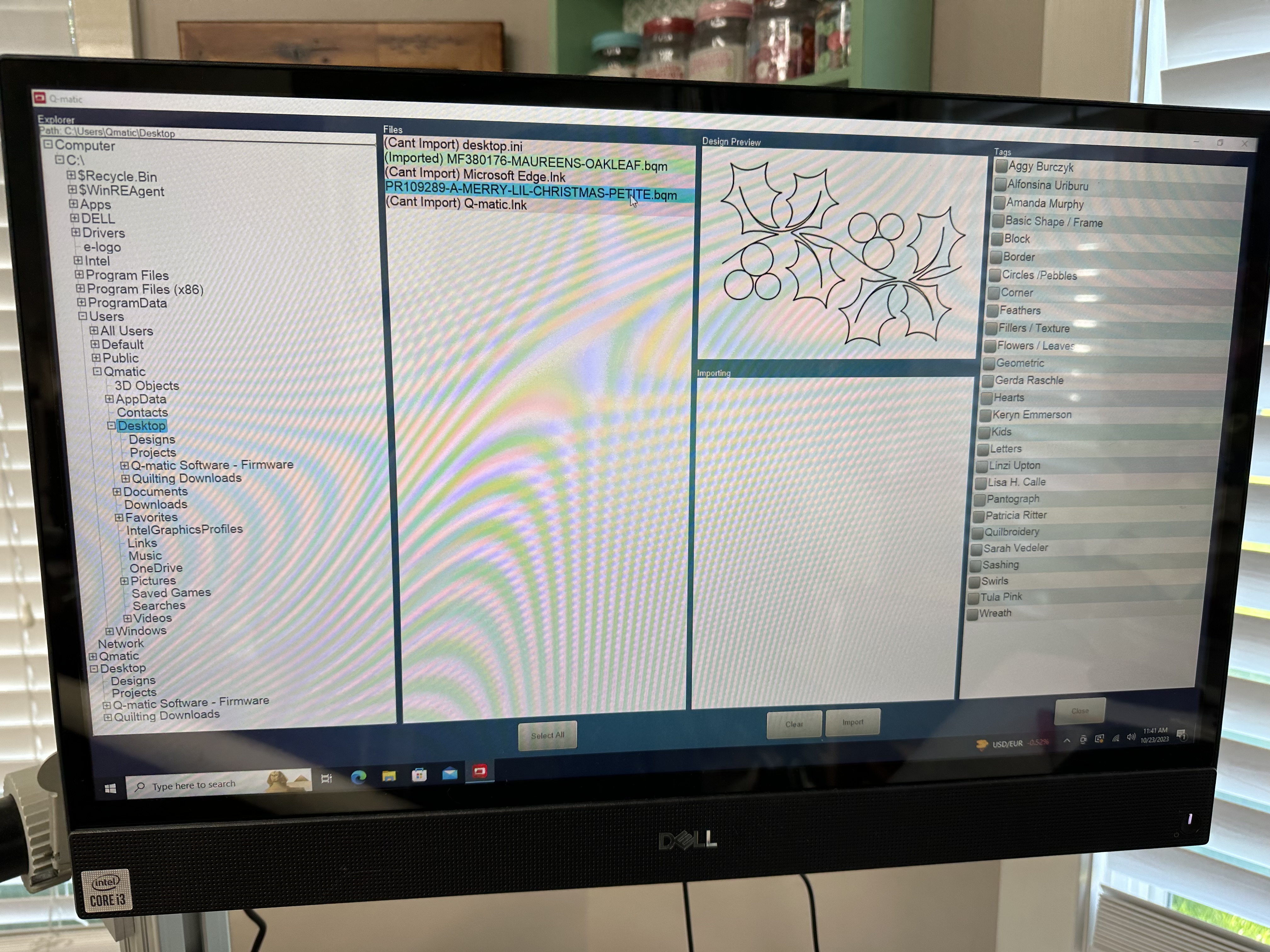 Preview the BQM File
Once I click on it, the design preview appears. Then, I click on the name of the design under the 'Importing' window and click the Import button at the bottom.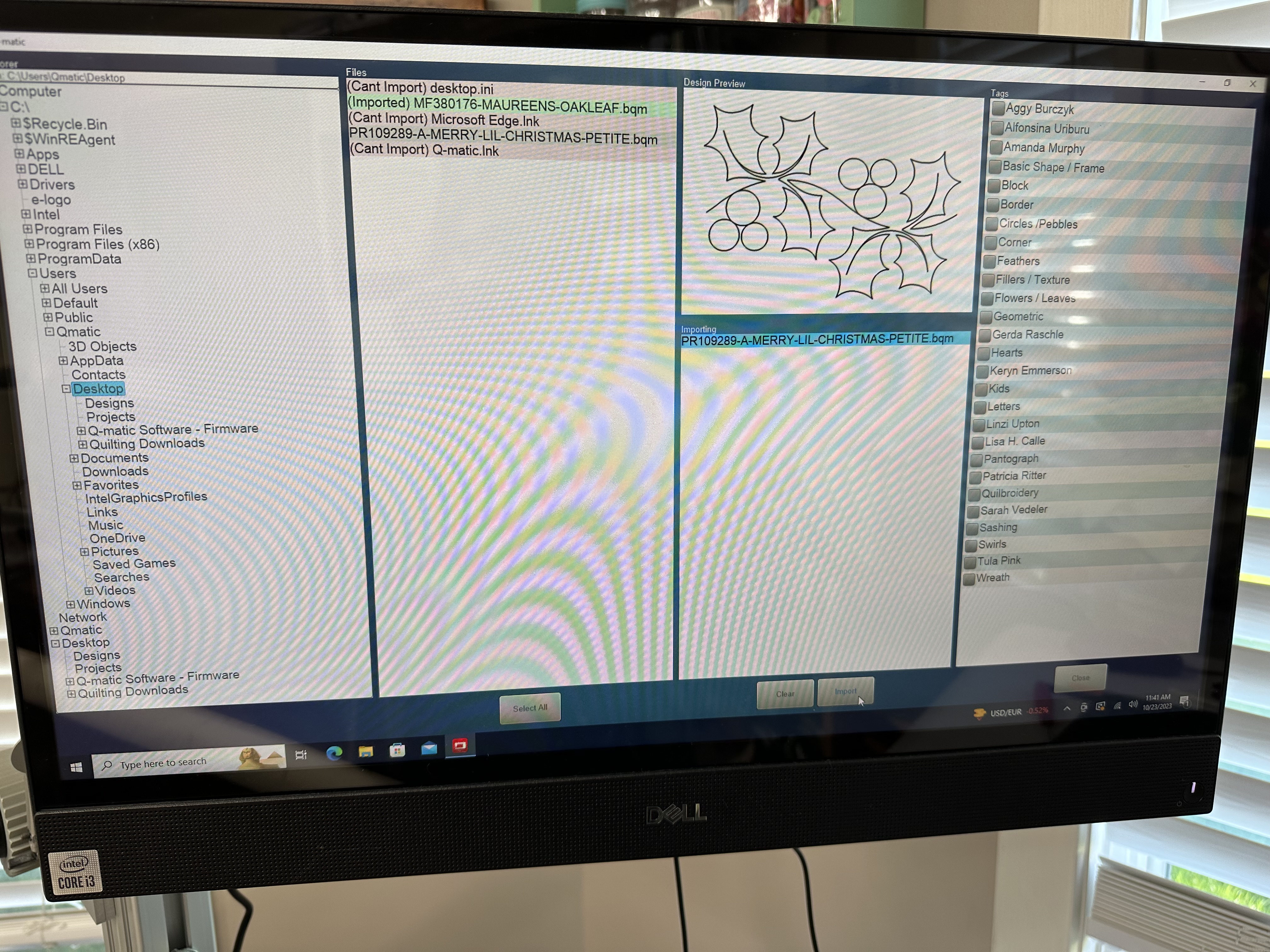 Select or Search the Design Pool
After you have imported the design, it will be located in your design library. You can use the search bar at the top right to name search for the design you are looking for. It will show up in the 'Design Pool' window.  Double-click on it and it will be added to your Design Center.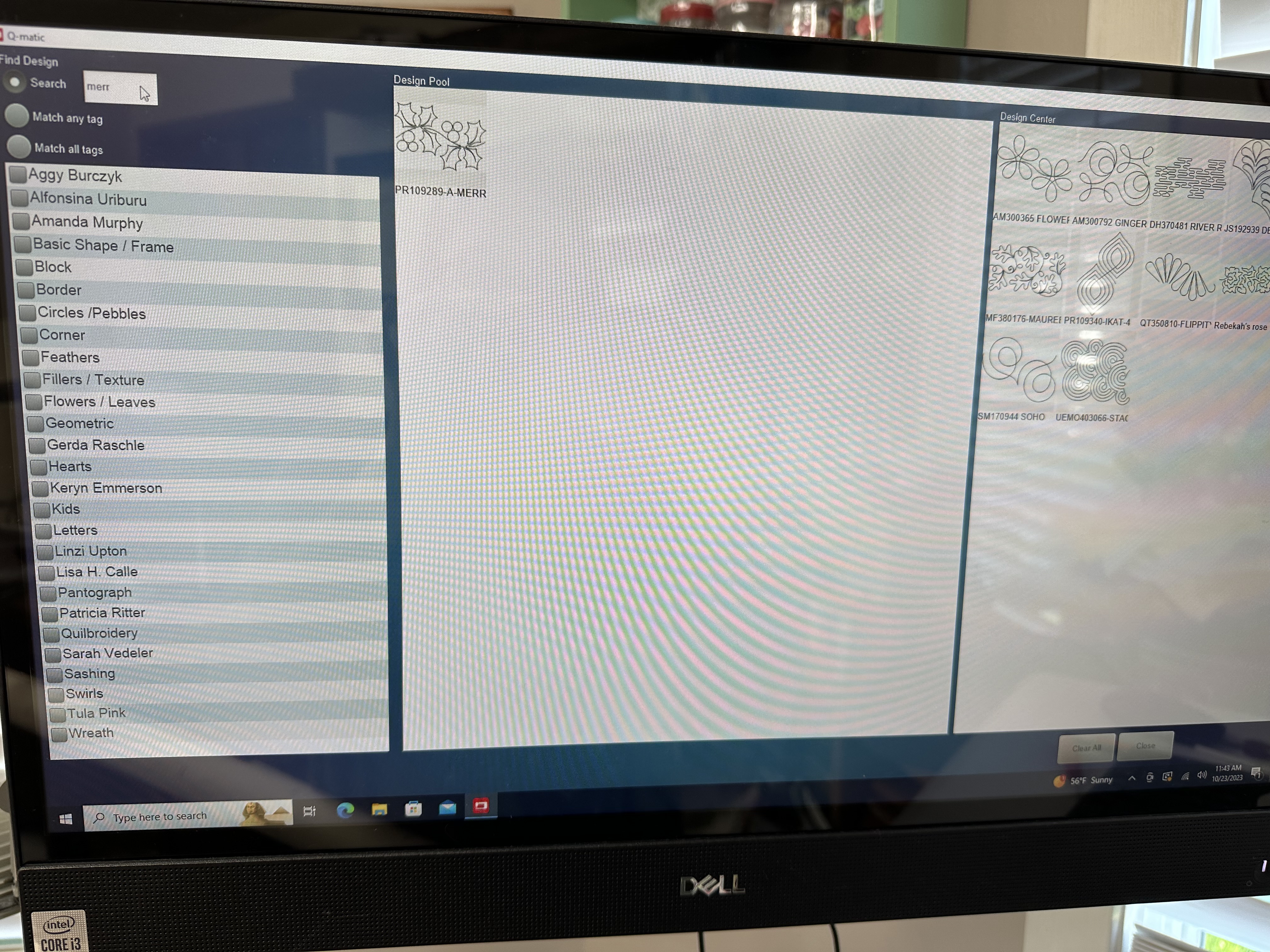 Resizing the Design
When the design is in your Design Center, double-click on it to add it to your project.  It was placed on the project at the size that the design file has it programmed.  However, the size of the design can be made smaller or larger depending on the look you are trying to achieve. When I added the design, the scale was larger than I wanted for my table runner.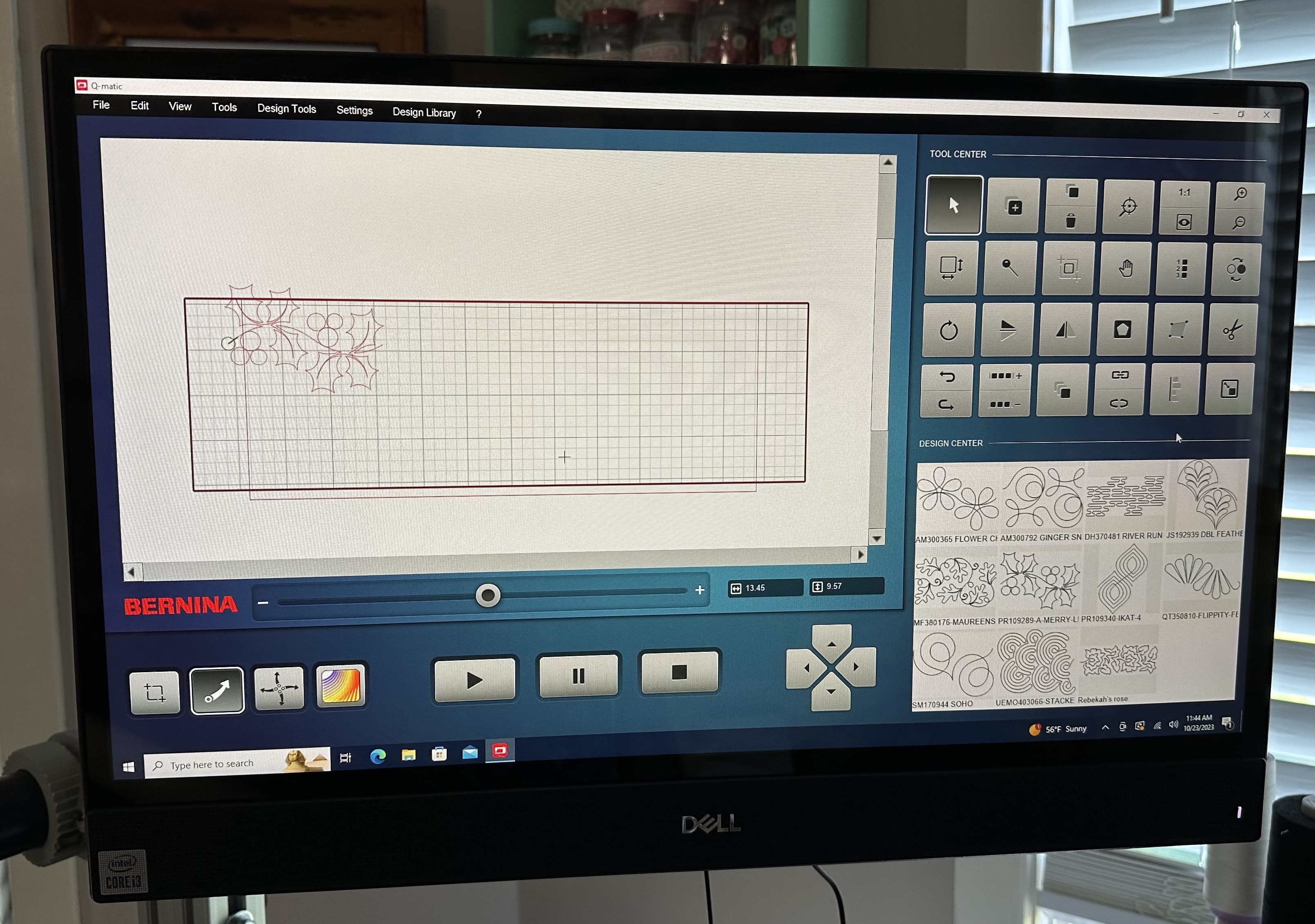 I decided to resize my design. I used the Keypad to resize and I chose a size in inches that I thought would look nice on my table runner.  I wanted a very dense, small quilting on this.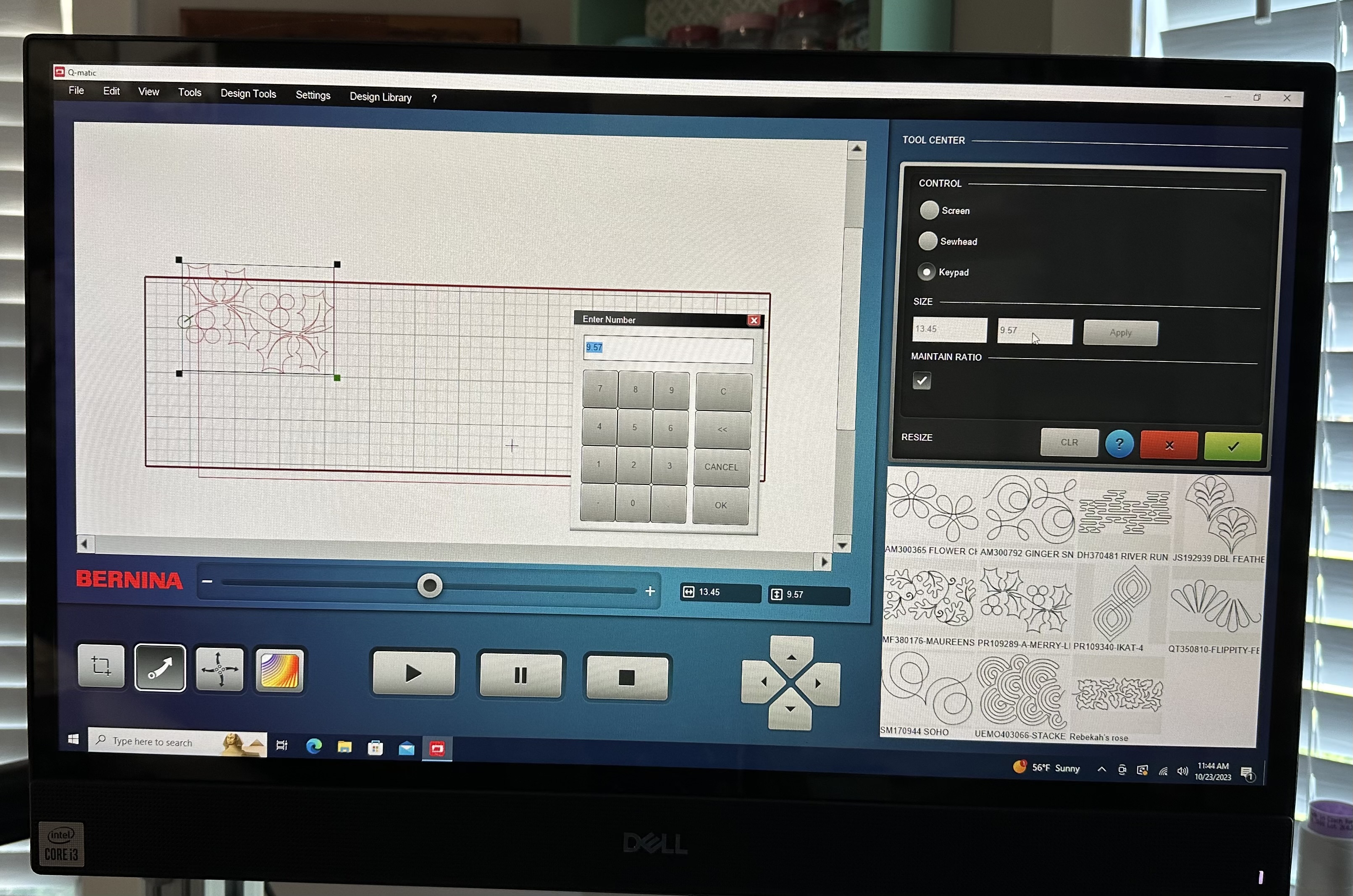 I resized it down to 4″ using the keypad.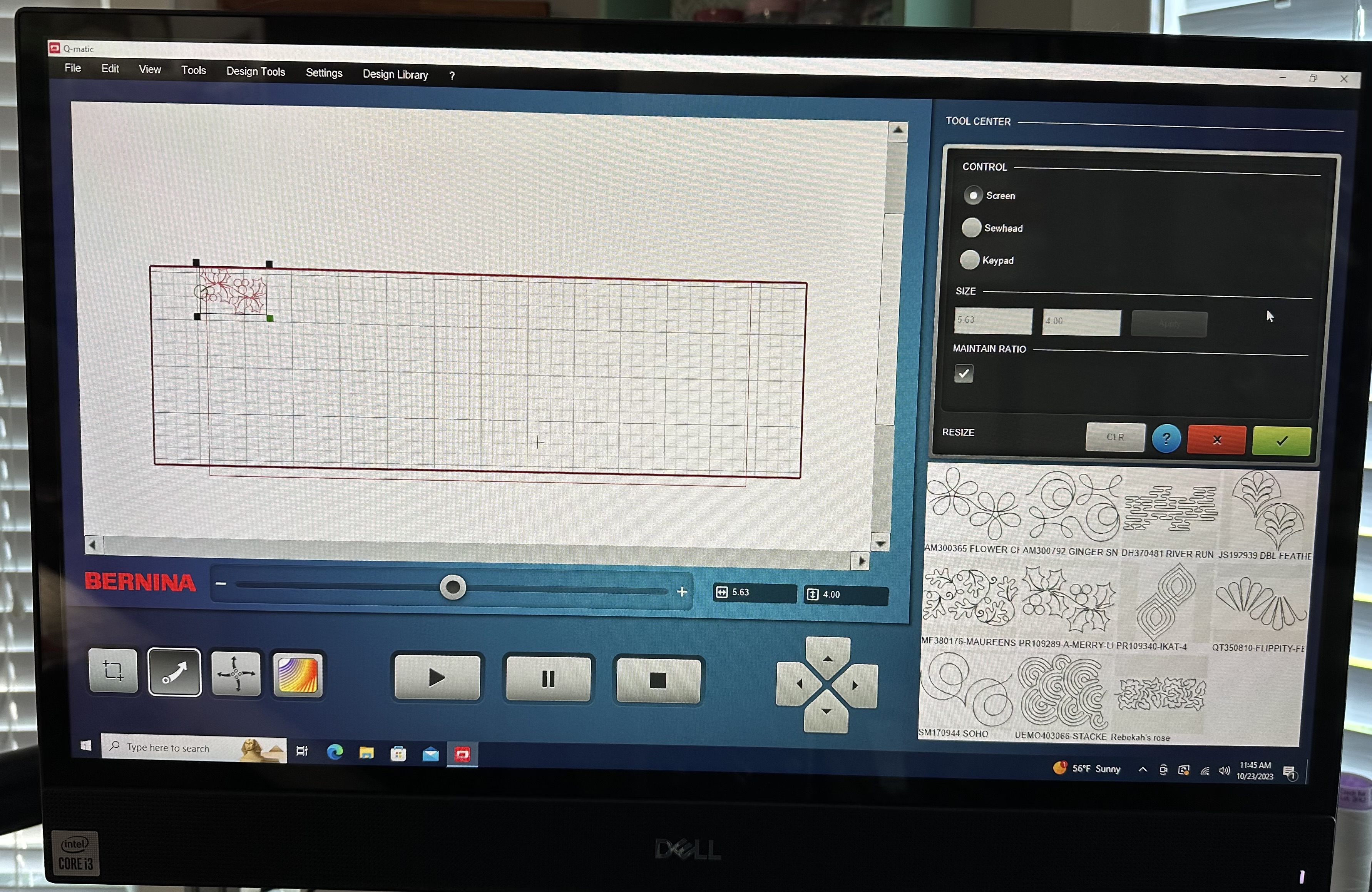 Then I filled in the area of my project with the resized design. I also trimmed it to fit my project.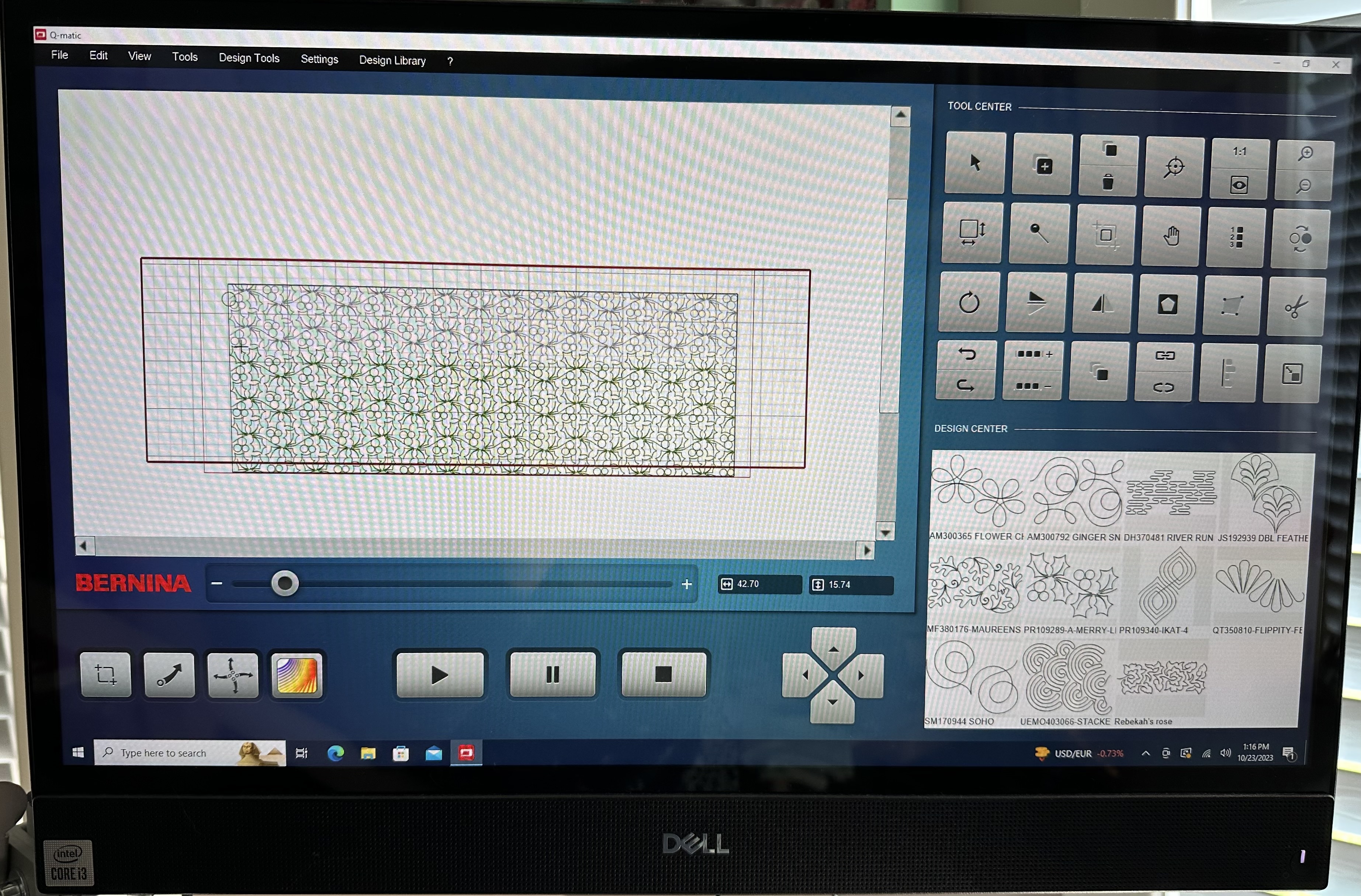 Finally, I started the Q-matic by pressing play and it stitched out the design on the table runner.
Completed Autumn at Christmas Table Runner
I am so happy with how it turned out!  The pantograph stitched out beautifully.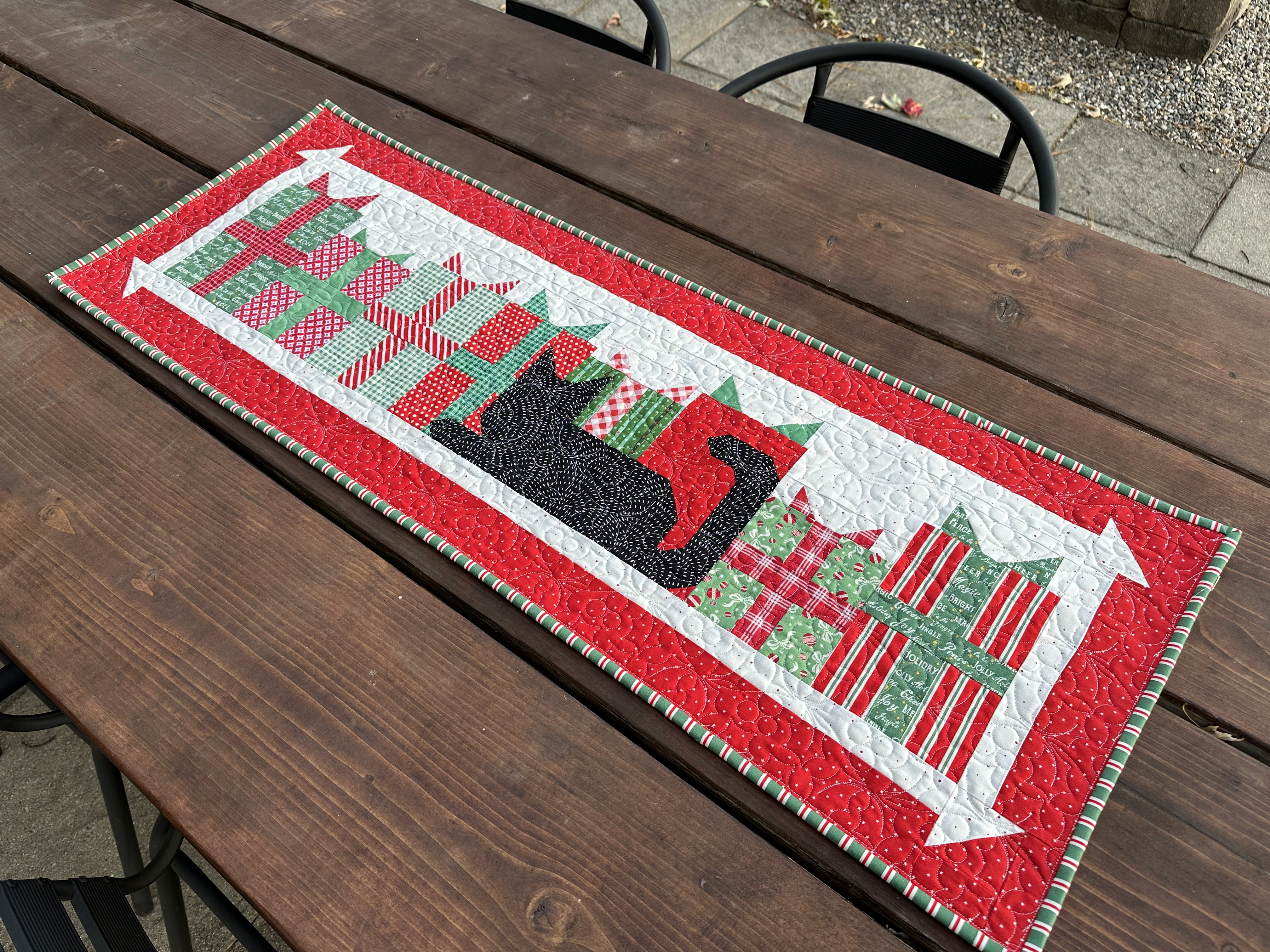 The density of the stitching was exactly what I was looking for!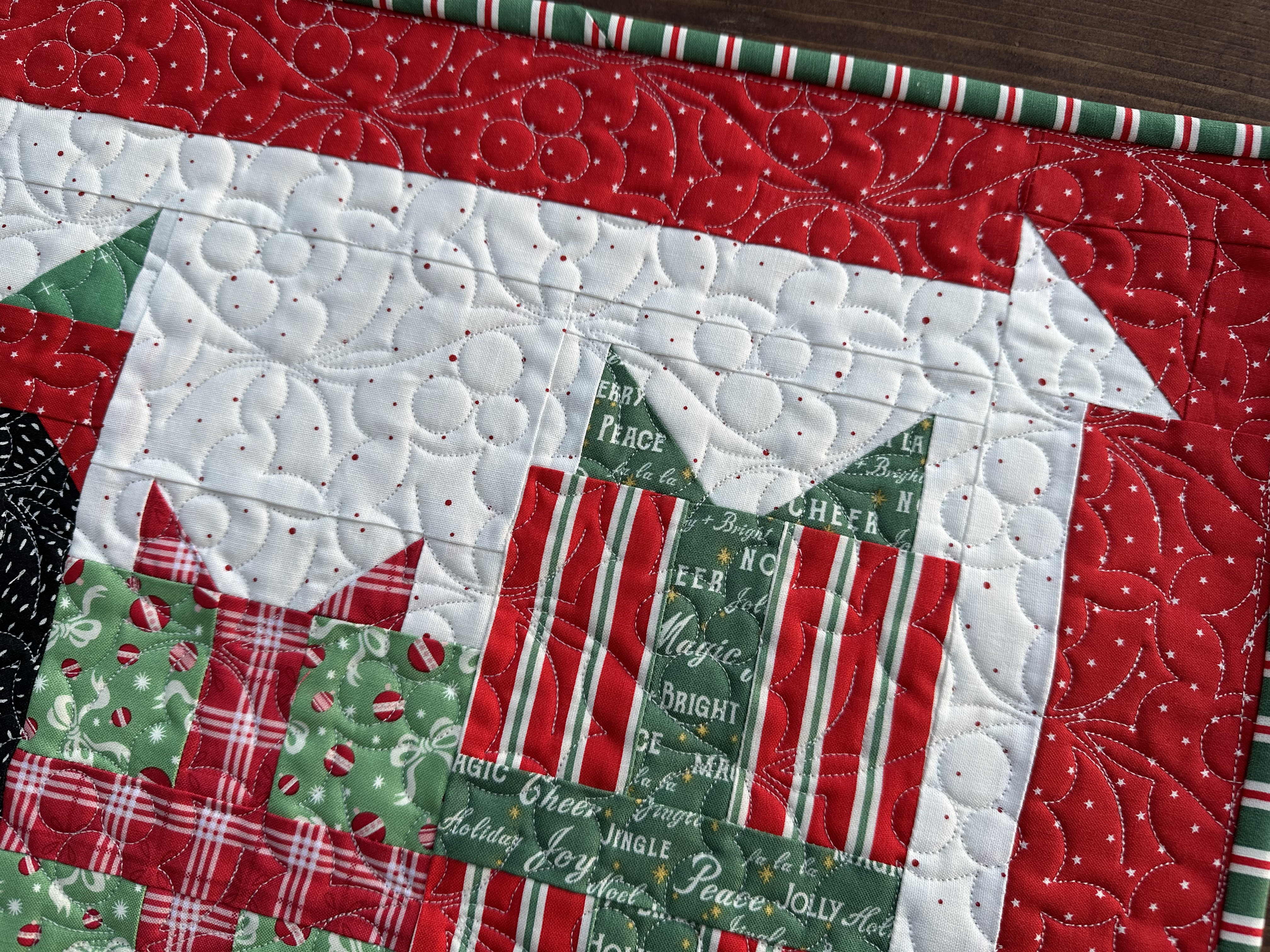 Thank you for following along with me today! I hope you love this table runner as much as I do and that you enjoy making it!
Share Your Projects
You can share your progress and completed project on Instagram using the hashtags #onyxatchristmas #onyxtablerunner #jessicadayonpatterns #berninausa #madetocreate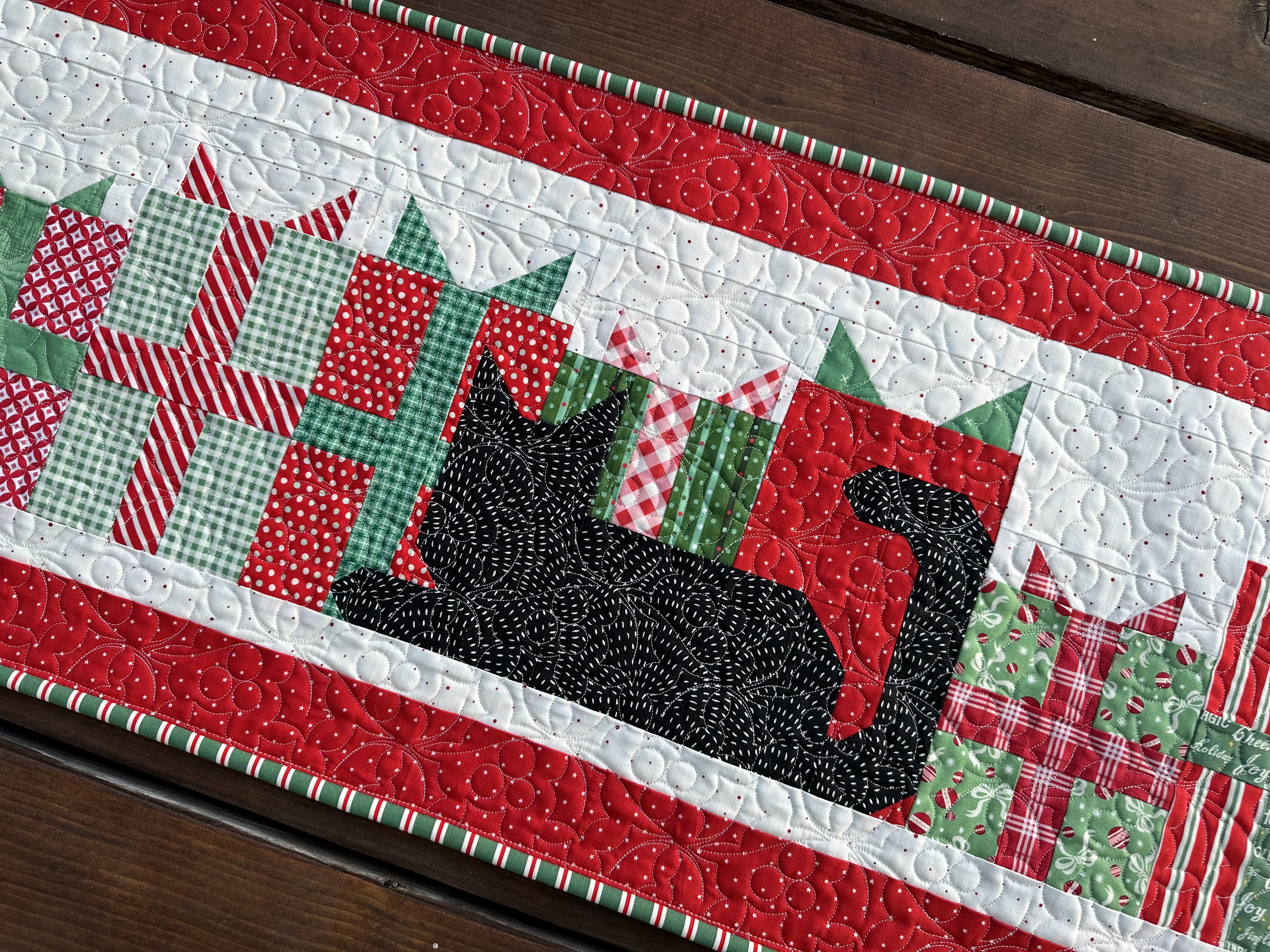 Stay Tuned – More Table Runner Patterns Coming
Also, if you remember what I mentioned above, this will be a series of table runners!  So look out for the next pattern that will be coming soon!
-Jessica
Difficulty level

Intermediate

Time to Complete

3-4 hours

Used Material

50 wt cotton thread, batting, cotton fabric, cutting mat, fabric, iron, rotary cutter, ruler, sewing machine

Projects

home décor, mini quilt, quilt, quilted table runner, table runner

Seasons

Christmas, Winter

Techniques

longarm quilting, patchwork, patchwork, Q-matic quilting, quilt piecing, quilting
Used Products
What you might also like
One comment on "Onyx at Christmas Table Runner Pattern"