Home Décor with Rachel Faucett of Handmade Charlotte
One of my favorite things to do is spend hours on the web seeing what other creative types are doing with their sewing machines. All it takes is to land on one fantastic creation and then there you go—from blog to blog to Pinterest to Flicker to whoops!—down the wormhole! But it's an inspired trip. Lately I've been swept up in home decor projects. I love the range they span, from simple to more involved.
Whether you have a weekend to spend whipping something up, or a few hours, here are some of my favorite projects that can be made as shown here or reinvented and readapted for any style or room.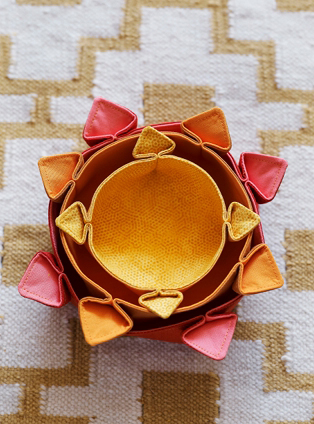 Brooklyn-based TV host and designer Brett Bara's latest book, Sew in a Straight Line, is chock-full of amazing bright, colorful, stylish (and did I say amazing?) easy-to-make projects—all you need to know is how to sew a straight line. What's best, though, is that none of the projects look easy. I'm in love with the placemats and these colorful round bowls, perfect for storing kid tchotchke or ripe stone fruit. What's even better is Brett has shared step-by-step instructions on Vimeo. Check it out! http://vimeo.com/26606422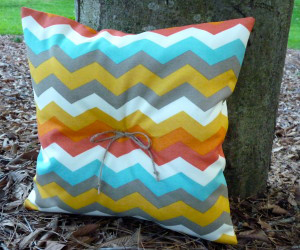 I'm also loving this twine-tufted pillow from HomeDecGirl—super easy, yet super inspired! What's great about this take on a classic is it's designed with the great outdoors in mind. You can remove the twine and unzip the cover for easy washing. Wouldn't it be great to sew up a few and have them on hand for picnics, camping, or deck chairs? After all if your house is anything like mine, it's probably bursting with throw pillows. Why not spread the love out to the lawn.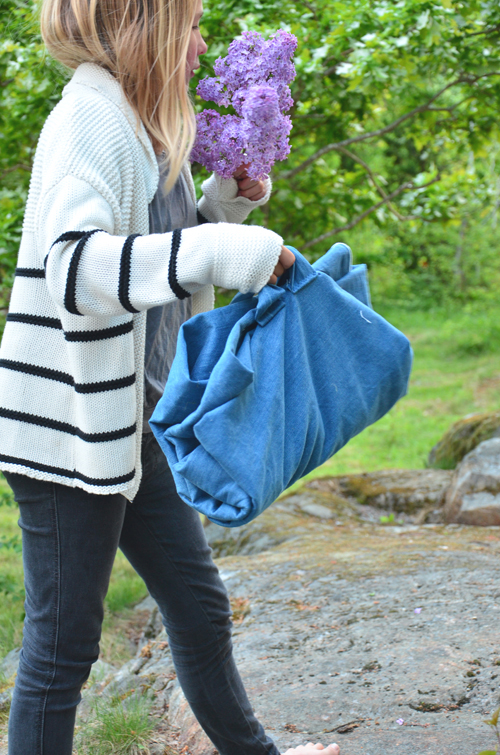 Next on my list is this cloud picnic blanket and napkins from DesignMom. The kids are heading back to school and summer is winding down, so I figure we could all use a little reminder that the warm days aren't quite over. And when fall has officially rolled in, just roll a little blue sky on the table and reminisce about berry picking and outdoor fun and look forward to next year! Check out Swedish blogger Gina Vide's easy-to-follow instructions for a great kid- and-grown-up collaboration project.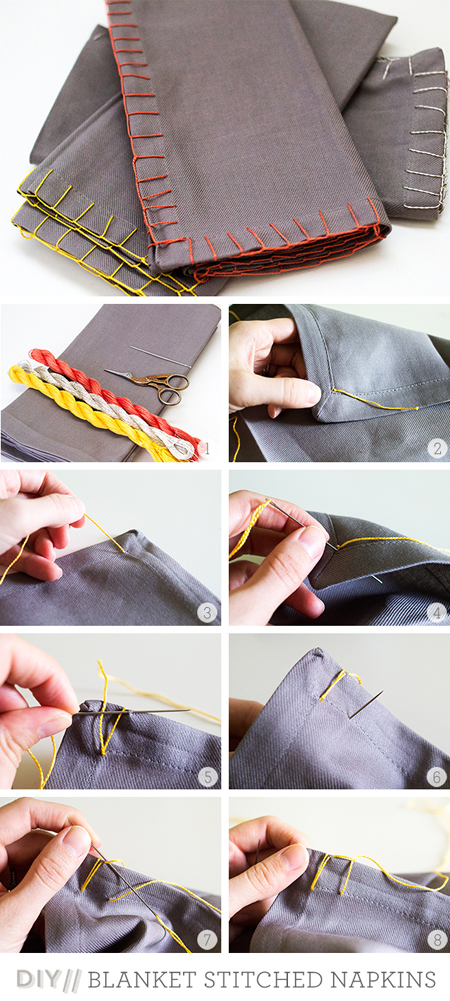 Speaking of simple napkins, you have to check out these blanket-stitched napkins dreamed up by Sarah Khandjian, ofSarah Hearts, on the fair exchange. What I love, love about these is that they're entirely customizable. You can use your existing fabric stash or find something new for the perfect recharged table topper. The blanket stitch in a contrasting color brings a modern touch to any piece of cloth, making them perfect for an ordinary or dressy dinner. They make great gifts, too!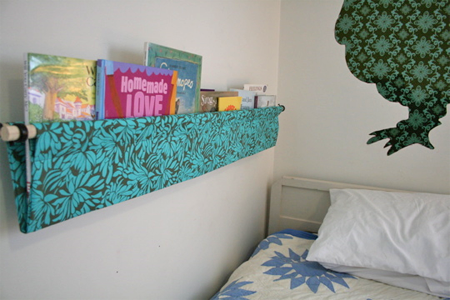 As a mother of five little ones, I'm bonkers over this cloth hanging book display from penny carnival. This is a seriously, super easy project but with big payoff. Sew one up in fun, lively fabrics and never have to straighten a bookshelf again! Yay! Liberation! Let your kids pick out their favorite titles and stuff them in a cozy spot by the bed or somewhere reachable.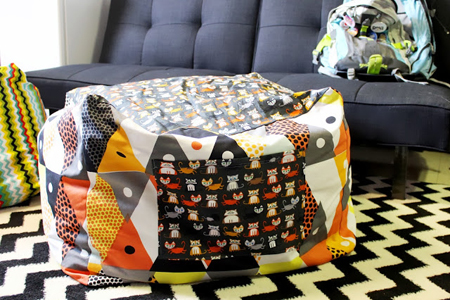 Now for some home dec crazy fun. I'm a firm believer that whether you live in a farmhouse, a college dorm room, or an urban dwelling, beanbags are a must! (Granted, you don't have to go all out with loud and proud fabric; solids and subdued prints work well to.) Whatever your style, you and the kiddos can flop and sink into one for a little R&R. This Bean Bag Swag project by Dana's Designs even features a little pouch for your favorite magazine.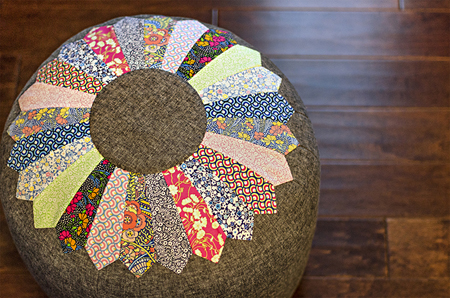 If beanbags aren't your thing—no fear—try out its more sophisticated sister the Dresden Poof. Holly DeGroot, blogger of Bijou Lovely, offered up this lovely tutorial on a charming, 1930s-inspired poof, using Liberty prints. It's a great project because you can pick any combination of prints and get a look that's fitting for any room in the house.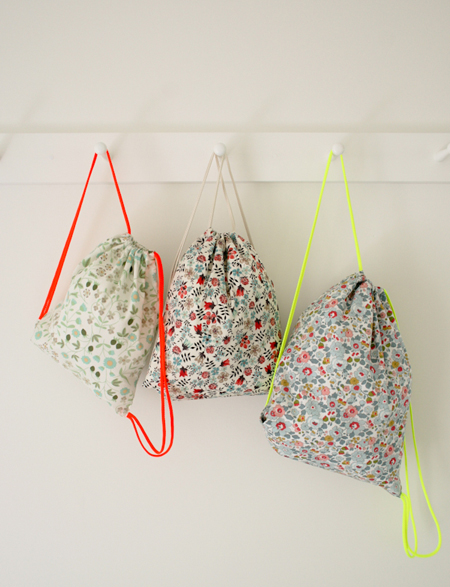 Okay, I admit it, this is pushing the home décor category a bit, but who wouldn't love some Liberty of London prints hanging around the house? Whether you have a houseful of kiddies or just want to designate a carrier for different errands, whip up a bunch of these super sweet sacks made in Tana of Lawn prints and hang them in a common area, putting whatever your favorite fabrics are on display. Corinne over at The Purl Bee, offers up a tutorial for not one, but three sizes, so that you can sew one up for anyone or any occasion.
Projects

blanket, home décor, pillow

Techniques

crafts, sewing
What you might also like