How to Make a Churn-Dash Quilt, Part 1
Hello fellow sewing-enthusiasts! I am so excited to share this quilt-a-long project with you here at WeAllSew. I learned to make quilts from my mom when I was growing up. About fifteen years ago I began doing it in earnest and took classes to broaden my skills. I have since worked in a quilt shop where I taught beginning quilting classes. I still love to teach quilting basics on my blog, Diary of a Quilter, which I have been writing for over five years now.
For this quilt-a-long we are going to make a traditional Churn Dash quilt block using some short-cut techniques to speed up the process and with very little fabric waste. This is a classic quilt block with a huge potential for a variety of looks, depending on the colors and fabrics used, including a modern, updated version.
Week 1: Choose and cut fabrics.
This specific design works best with two contrasting sets of fabrics. Here is a version using traditional quilt fabrics such as shirtings and other reproduction fabrics in high-contrast red and white.
The same pattern in more contemporary aquas and green prints contrasting with the more the modern solid white.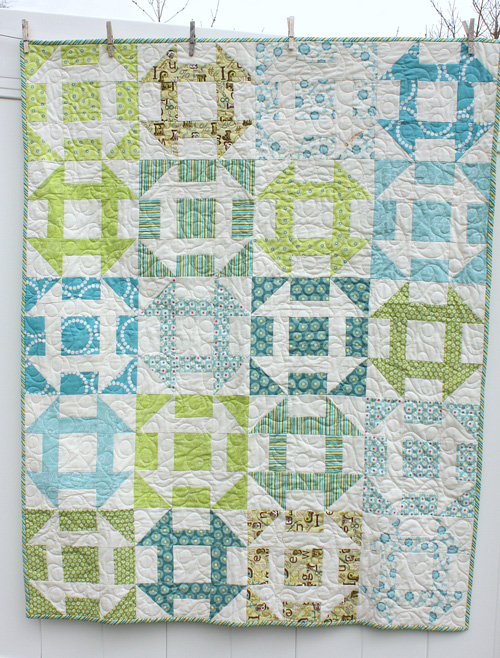 For this version I wanted to try something more subtle and "low-volume" (or low-contrast) to create a quilt with a slightly more washed-out palette inspired by spring.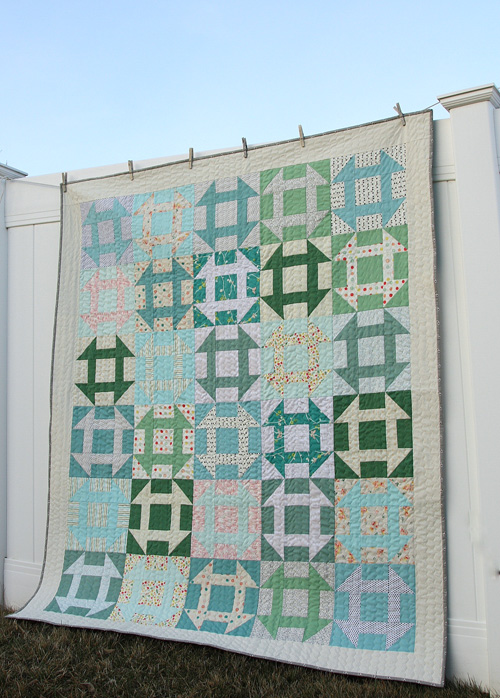 To give it more of a modern look I chose solids again as one set of my contrasting fabrics but this time I went with a range of colors in the blue and green spectrum.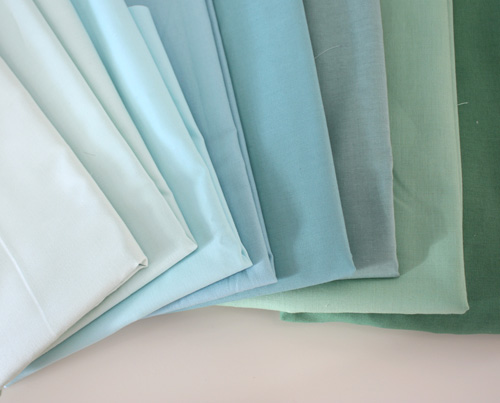 For the contrasting fabrics I went with low-value prints on light/white backgrounds. (Also popularly called "low-volume" prints right now and a fun current trend in modern quilting.) I added some variety of colors in my prints. One way of adding visual interest to any quilt design is to throw in a color that is slightly unexpected. I love the term "zinger" for those unexpected colors. In this case, looking at the selection of prints, notice how the pink print and the yellow print stand jump out.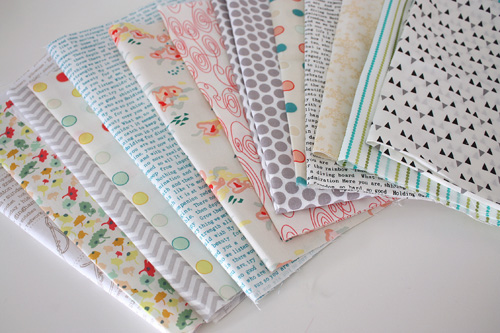 A variety of scales (sizes) of prints can also add visual interest to a quilt design. Using the prints paired with the solids gives the quilt contrast, but giving a variety of scales of prints ads even more depth and visual texture.
And then, just to be a little bit rebellious, I added one dark print fabric that blended with my solids.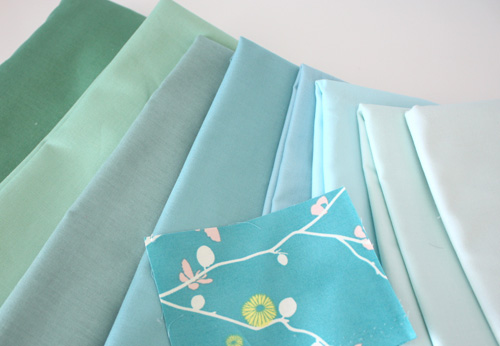 Fabrics used in this quilt:
Sea Glass
Blue Skies
Cove
Notting Hill
Beach House
Nile Green
Prints from collections such as
This quilt is based on 1/8 yard strips of fabric. You can use either a traditional 1/8 of a yard strips (4-1/2″ x 44″) or something called a Fat Eighth. This size piece is a really convenient size to find. A Fat Eighth comes from cutting a quarter yard of fabric (Fat Quarter or traditional quarter) in half to create a boxier shape (9″ x 22″). Some fabric manufacturers also sell bundles of pre-cut Fat Eighth pieces.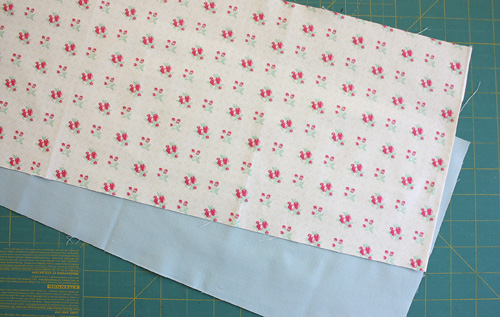 Fabric Requirements are:
15 "light" eighth of yards (4-1/2″ x 44″) or Fat Eighths (9″ x 22″)
15 "dark" eighth of yards (4-1/2″ x 44″) or Fat Eighths (9″ x 22″)
5/8 yard border fabric
1/2 yard binding fabric
3-1/2 yards backing fabric
This quilt finishes at 58-1/2″ x 69″.
If you prefer a bigger quilt size the fabric requirements for a twin size version (70″ x 91″) are:
24 "light" eighth of yards (4-1/2″ x 44″) or Fat Eighths (9″ x 22″)
24 "dark" eighth of yards (4-1/2″ x 44″) or Fat Eighths (9″ x 22″)
1 yard border fabric
5/8 yard binding fabric
5-1/2 yards backing fabric
Prepare to piece your blocks by pairing up a contrasting "light" eighth yard and a "dark" eighth yard cut to create 15 sets of fabric. Match them right sides together and cut two sets of strips 4-1/2″ x 21″. Keep these two sets together.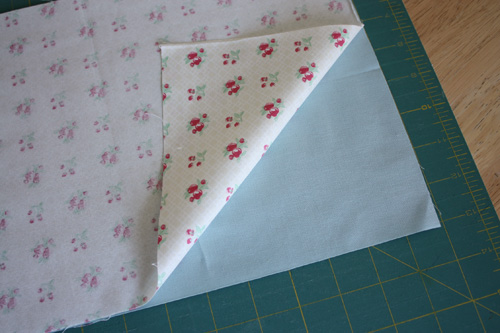 Next time we will talk about cutting and piecing the blocks.
Techniques

quilting
What you might also like
21 comments on "How to Make a Churn-Dash Quilt, Part 1"