Western Mug Rug
This project is my take on a mug rug by Kay Hickman. Needless to say, I have an inability to follow directions 🙂
When I recreated the project for myself I decided to work with leather. I found a great pair of leather pants at the secondhand store for only $5! Working with leather I could really make it look like a rug… fringe and all.
The frame design is design #21004DW from the "To the Letter" PaintWork and CrystalWork Companion Collection. The font for the text is Algerian. I used American Crafts metallic markers for the PaintWork sections of the design. The metallic pigments show up nicely on dark fabrics, and the pens don't need shaking, so they're perfect for the PaintWork Tool. And I like the look of the shiny metallic paint with the sparkly crystals.
I designed the "rug" in CutWork Software with a rectangle and a single line. The linear array feature in the software did the math for the fringe for me!
It was so easy to finish –I  just popped on the CutWork Tool and let it cut out the finished "rug."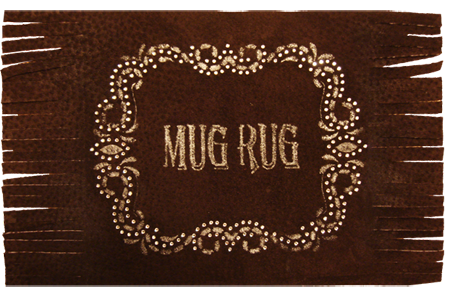 Projects

home décor

Techniques

embroidery
What you might also like