25 DIY Summer Entertaining Projects
In the summertime there's nothing I love more than hosting a gathering of friends or family. And I find it especially fun to add some DIY touches to create a memorable experience for my guests. Whether it's cloth napkins, a table runner, napkin rings, a tablecloth, or even a bunting, these tutorials will make it possible for you to add your own unique touch to your next party.
1. Classic Bunting
The Goodness has an easy tutorial for the classic bunting. Hang this in your trees and everyone will know it's time for a party.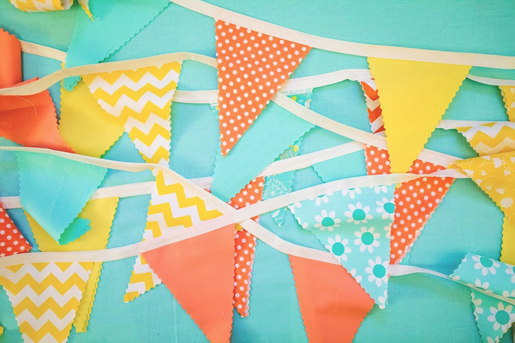 2. Fabric Star Garland
A garland stitched from fabric stars is a quick way to make your backyard feel patriotic this summer. Tutorial by Aesthetic Nest.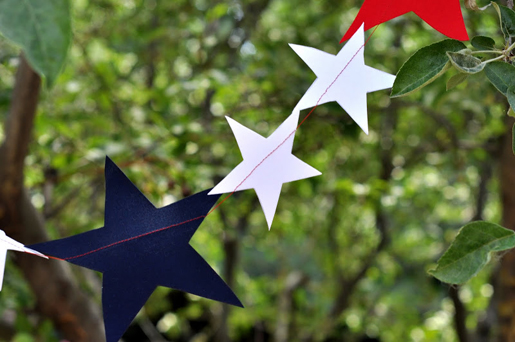 3. Ruffled Streamers
These ruffled streamers by MADE would be so much fun to make for a summer fiesta. Or for a birthday party in the guest-of-honor's favorite colors.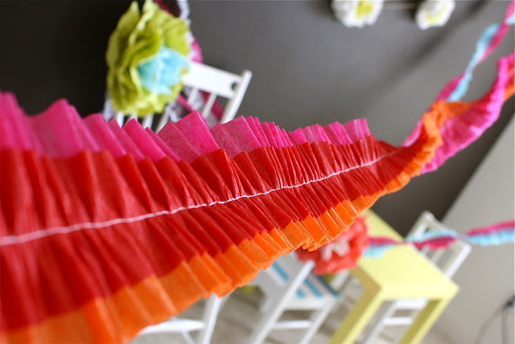 4. Framed Linen Napkins
These linen napkins by the Purl Bee are "framed" in ombre colors of a summer sunset. They'd be perfect for a dinner under the stars.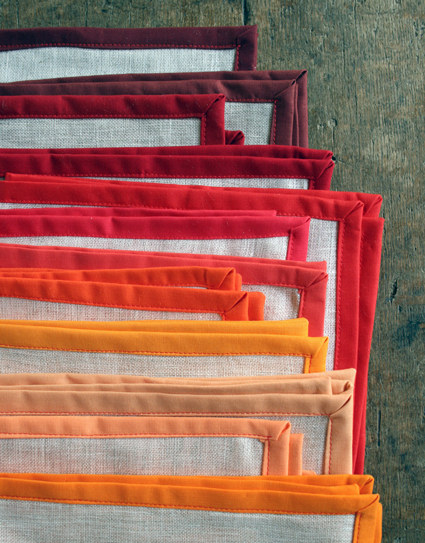 5. Reversible Double-Stitched Napkins
A double needle would make sewing these reversible double-stitched napkins by Living With Punks a breeze! Having a stack of these at the ready woul d make any impromptu barbecue beautiful!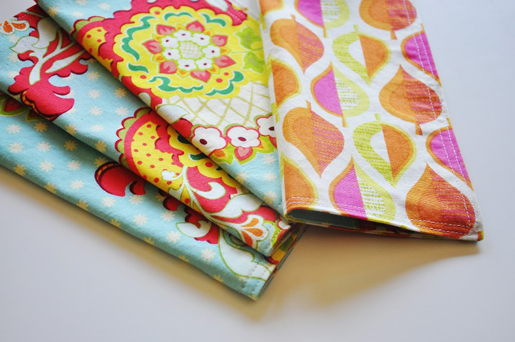 6. Calico Napkins and Pom-Pom Napkin Rings
These calico napkins and pom-pom napkin rings by Aesthetic Nest would add a youthful, feminine touch to an al fresco lunch.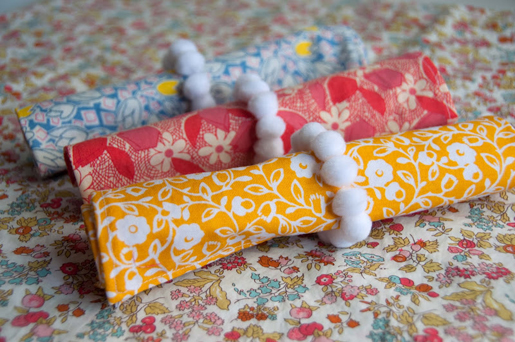 7. Bound Edge Napkins
The pretty bound edge on these napkins by Alidiza would dress up a summer celebration.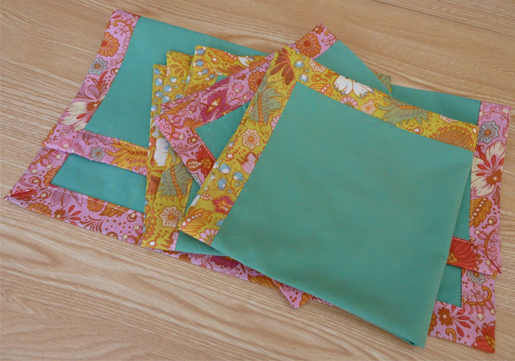 8. Mitered Corner Napkins
These pretty mitered corner napkins by Pretty Prudent can double as a gift at a summer wedding or baby shower.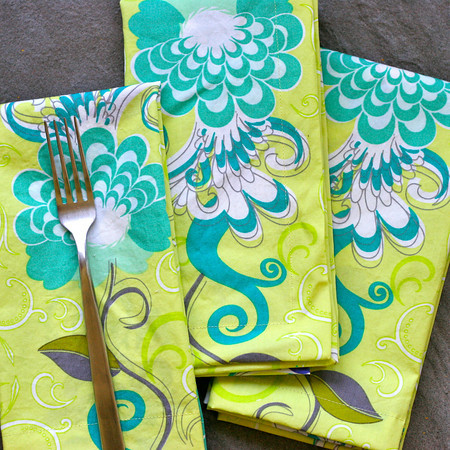 9. Rickrack Reversible Placemats and Napkins
What could be more fun at a child's birthday than vintage-looking placemats and napkins trimmed in rickrack? Tutorial by Aesthetic Nest.
10. Kitschy Napkin Rings 
These Kitschy Napkin Rings by Frolicking Freckles would be the topic of conversation at your next ladies' lunch.
[The link broke; we'll fix it as soon as it's working again – ed.]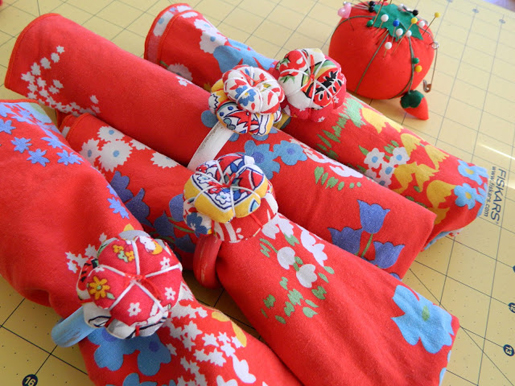 11. Buttonhole Napkin Ties 
These buttonhole napkin ties by Aesthetic Nest makeit easy to add a party motif toeach table setting.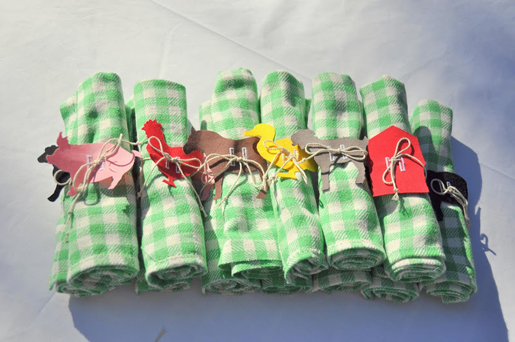 12. Reversible Buttoned Napkin Rings 
These reversible napkin rings by Pretty Prudent double as a place card holder. A great way to help your guests find their seats.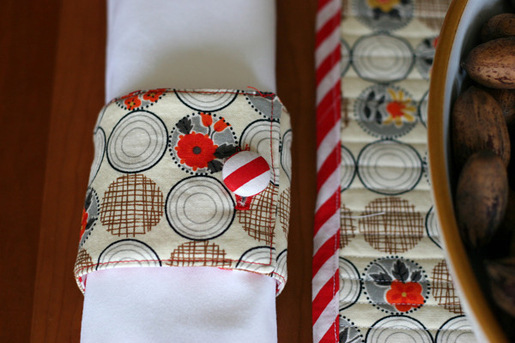 13. Pom-Pom Trimmed Reversible Tablecloth
This pom-pom trim would make any backyard gathering feel like an exotic vacation. Reversible tablecloth tutorial by Living With Punks for Momtastic.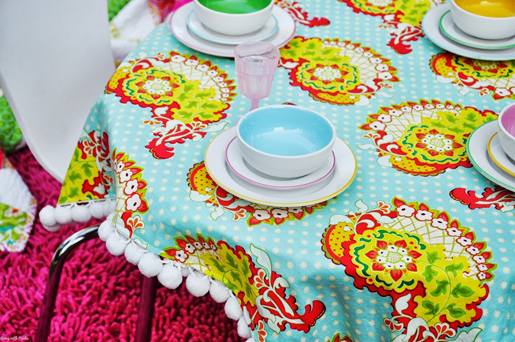 14. Rickrack Trimmed Oilcloth Tablecloth
Giant rickrack trim is a quick way to spruce up a waterproof picnic tablecloth. You canmake a whole pile and be ready for anything. Tutorial by Aesthetic Nest.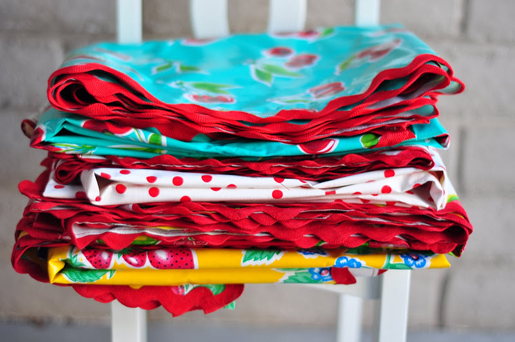 15. Ruffled Table Cloth 
This ruffled tablecloth by Sew Dang Cute is simplerto sew than it looks. And it wouldmake such a big impression at a summer tea party!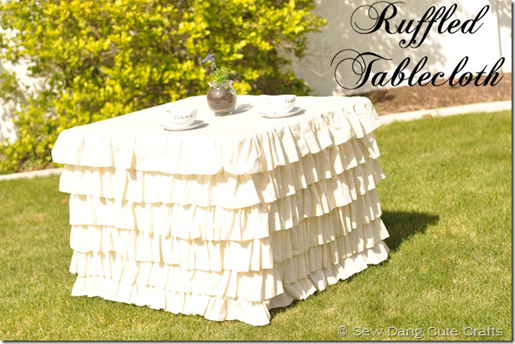 16. Bandana Quilt Tablecloth
A Bandana Quilt is a quick way to add a western touch to a family barbecue. Tutorial by Aesthetic Nest.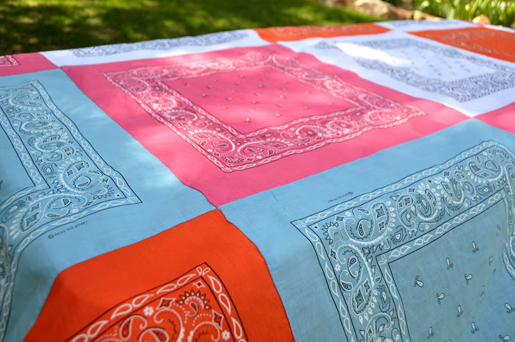 17. Perfect-Fit Tablecloth
Tailor a vinyl tablecloth to fit your outdoor dining table perfectly and your dinner party can withstand even though most breezy summer evening. Tutorial by Smashed Peas and Carrots.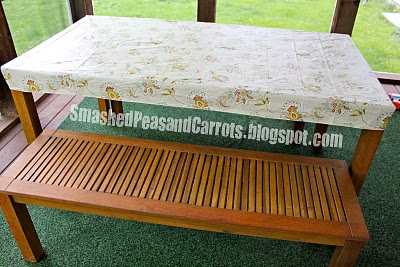 18. Tablecloth with Built-in Runner
This built-in runner is a pretty way to set off a summer spread of side dishes. Tutorial by Running with Sisters.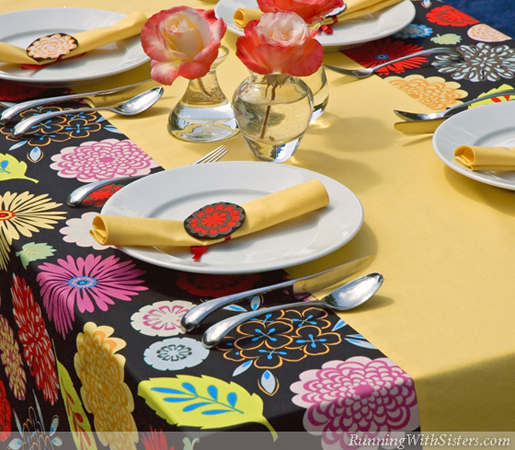 19. Round Scalloped Oilcloth Tablecloth
This scalloped edge on an oilcloth tablecloth would brighten a weekend brunch this summer. Tutorial by Nicole at Home.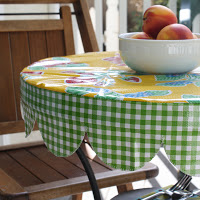 20. Color-Blocked Table Cloth
Color-blocking your tablecloth would bring the latest fashion trend to your table. This tutorial by Aesthetic Nest shows you how.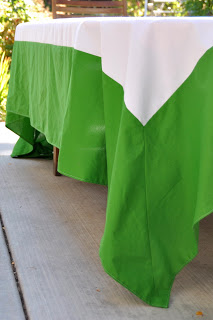 21. Vinyl Round Sit-Upons
These vinyl round sit-upons by Lil Blue Boo would be perfect for a child's birthday picnic. And when the meal is over they'd double for games.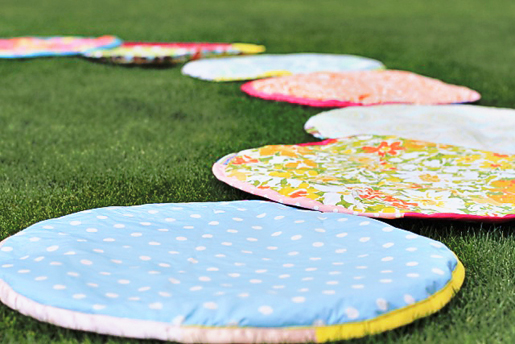 22. Banded Table Runner
This banded table runner by Two More Minutes is quick to make and would make it easy to get ready for company.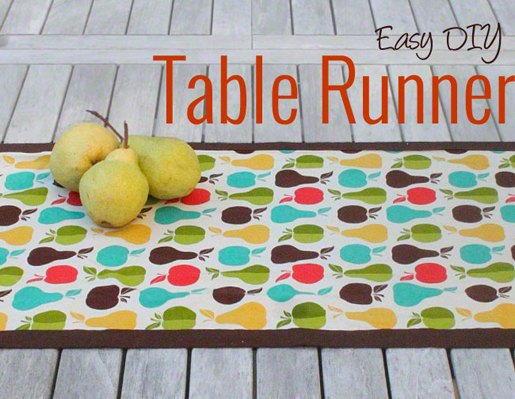 23. Quick Mitered Table Runner
This mitered table runner by Aesthetic Nest is an economical way to change up yourtable setting for every event you host this summer.Two yards of fabric will yield two to three!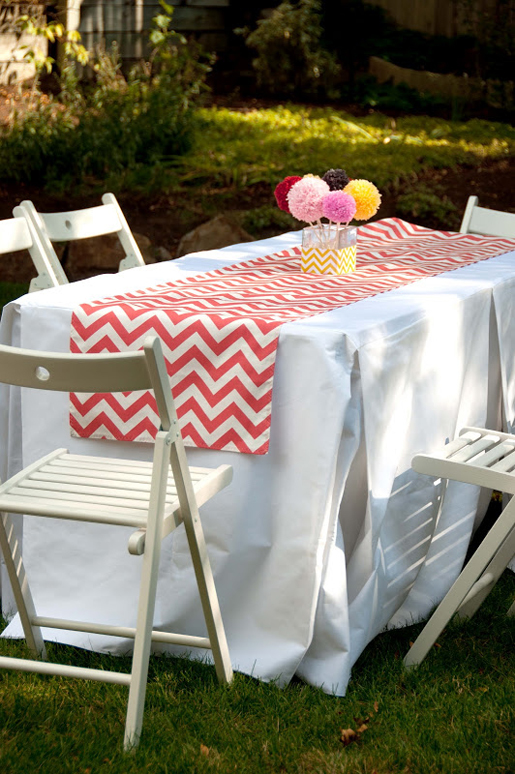 24. Puff Quilt Chair Cushions
These puff quilt chair cushions by Sew Sweetness would be a gorgeous addition to your summer patio.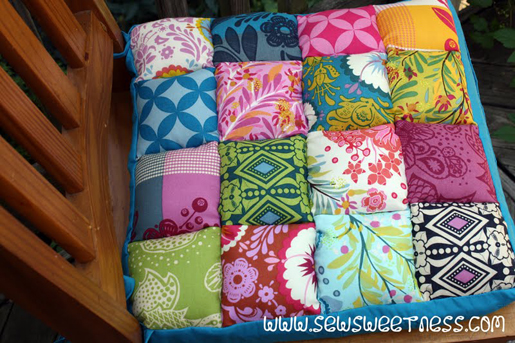 25. Quilted Seat Cushions
These quilted seat cushions from The Brown Needle would keep all your guests comfortably seated. They are non-slip too!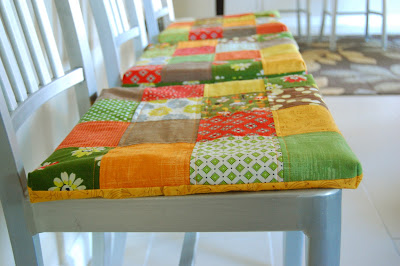 Projects

home décor

Techniques

crafts
What you might also like