NEW! Patchwork Foot #97/97D for 7 mm Feed Machines – FREE Video Tutorial
The newest accessory from BERNINA made its debut last week at our annual dealer event, BERNINA University – Patchwork Foot #97/97D, a quarter-inch foot designed especially for use with machines having a 7 mm-wide feed system such as the BERNINA 7 Series and 8 Series. It was a huge hit! Watch for them to be available in your local BERNINA store soon! Here's a short video about the new Patchwork Foot #97/97D with Patchwork Seam Guide, including markings for stitching perfect 1/8″ and 1/4″ seams. There is also a setting for 7.5 mm seam allowances, as used in Europe. 
Also included on this video is a tutorial on stitching mitered corners in patchwork blocks, such as those in Tumbling Blocks and Shadowbox quilt blocks. The same technique also works for home decor and garment projects.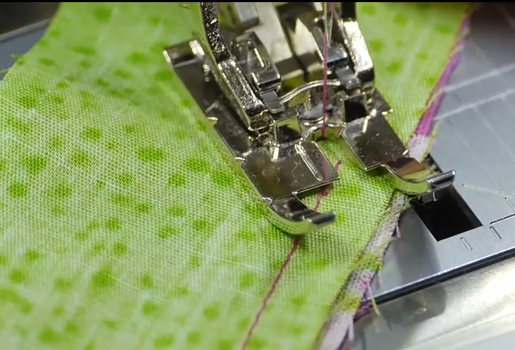 Techniques

patchwork
What you might also like
One comment on "NEW! Patchwork Foot #97/97D for 7 mm Feed Machines – FREE Video Tutorial"